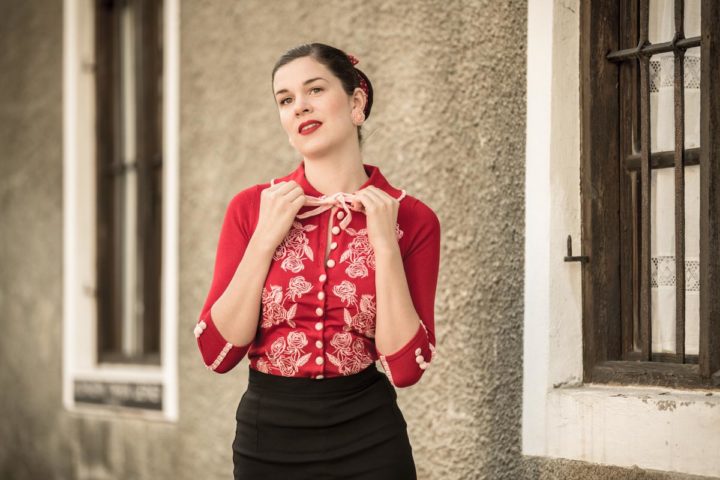 In my last outfitpost, I told you that I'm tired of all the reds after Christmas, just to wear the colour of love again for this post. 😉 But in combination with light pink, red looks great even after the holidays, doesn't it? Especially when wearing red in form of the gorgeous Dita von Teese Cardigan by Wheels and Dollbaby.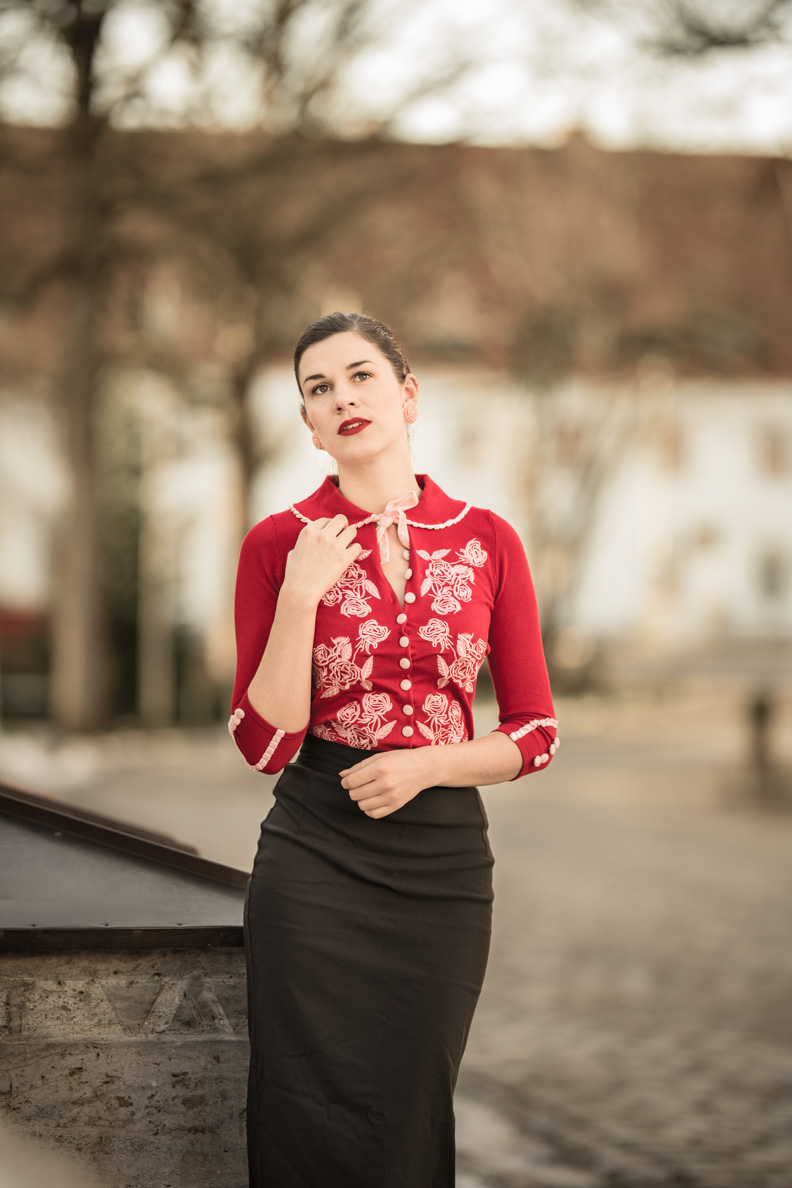 The Dita von Teese Cardigan by Wheels and Dollbaby
I've wanted to have one of the beautiful Dita von Teese Cardigans for a very long time now. However, in the end shipping costs to Germany and custom duties were to high for me. So when I saw that the Dita Cardigans were available at my favourite boutique Maison Chi Chi Vintage in Munich, I was over the moon excited and of course had to buy one. Especially as I found out that the lable closes just a few days later. So I'm even more happy that I got my hands on one of the rare cardies.
And the Dita von Teese cardigan is simply amazing! The vibrant red looks great against the gloomy weather we have, while the light pink flower embroideries are a nice contrast to the rest of the cardie. The buttons are covered with a velvet fabric and everything looks really glamorous. Therefore, it's obvious that Dita von Teese was involved for creating the design. 😉
I teamed the Dita Cardigan with a pencil Skirt by Pretty Retro which I already introduced here. The cardie also looks amazing in combination with capri trousers, but unfortunately, it's ways to cold for bare legs right now. This is why I chose gorgeous tights by Chantal Thomass as well as lovely shoes by Miss L-Fire. Colour matching rose earrings by Glitter Paradise finish this simple but glamorous retro outfit.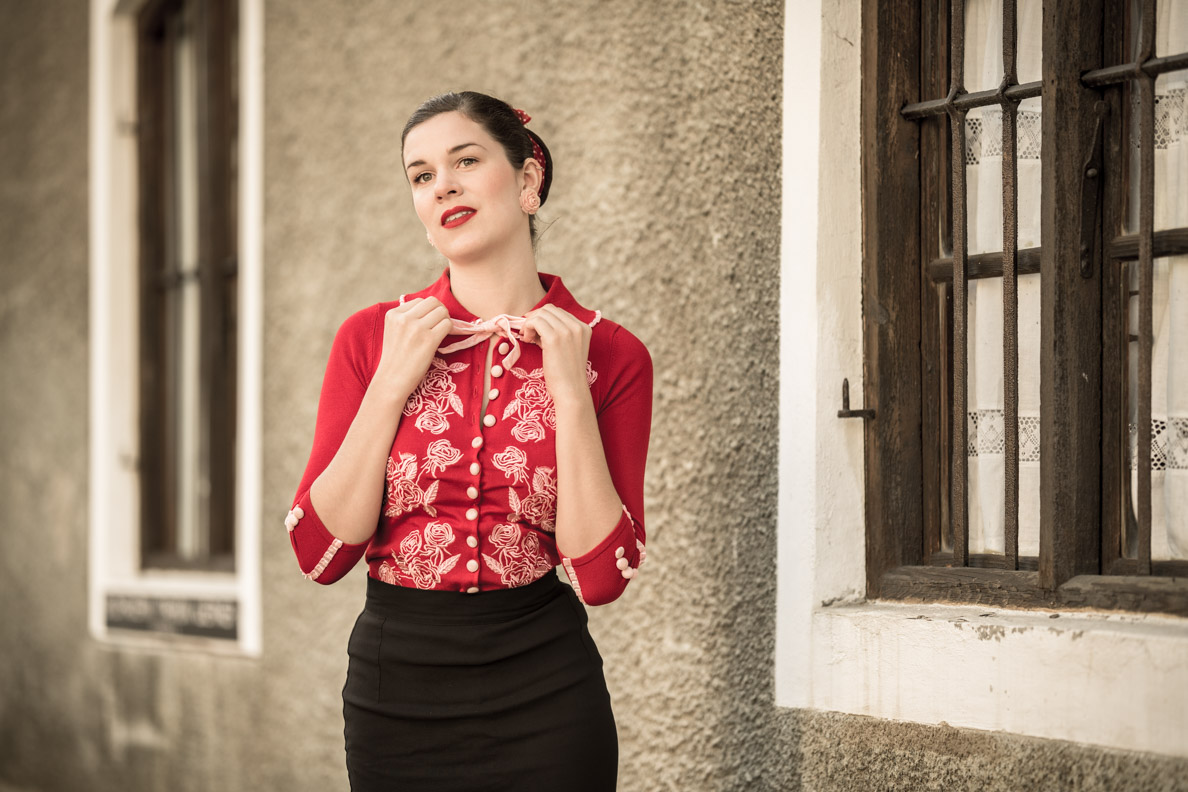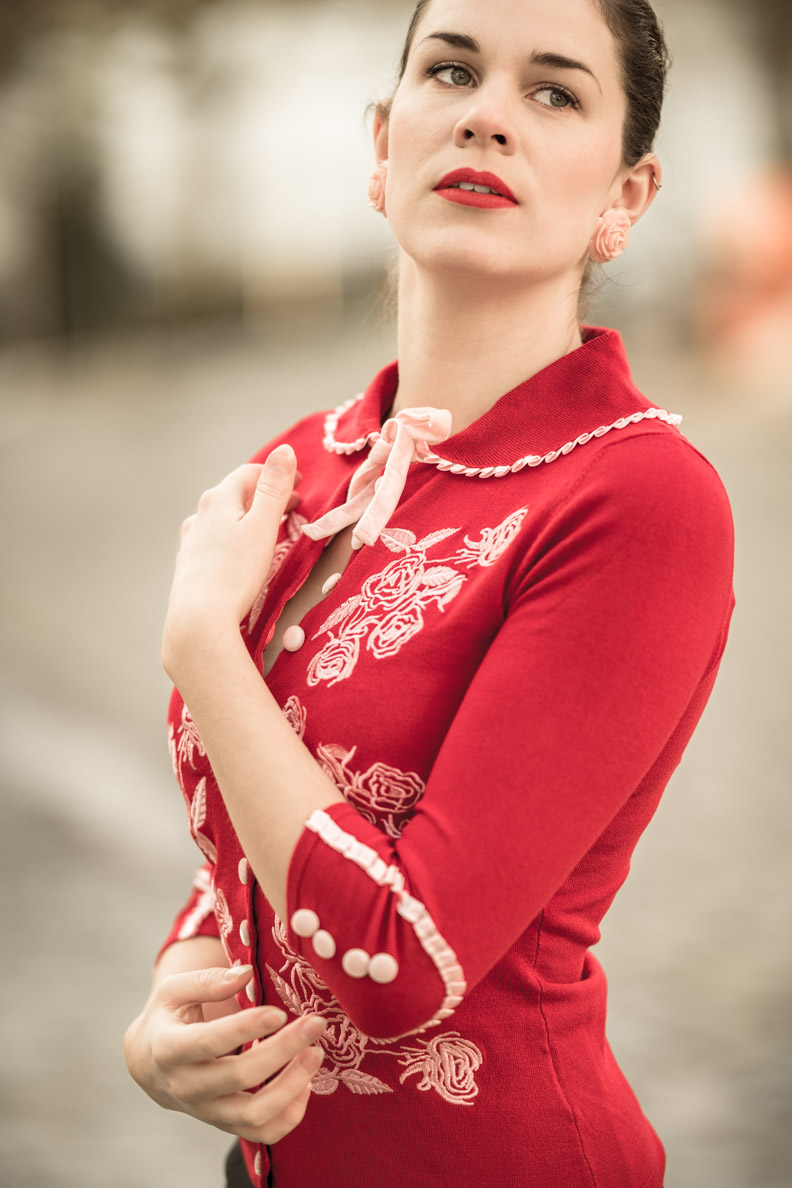 ---
Shop the chic vintage inspired Outfit (EU):
Dita von Teese Cardigan: Wheels and Dollbaby via Maison Chi Chi, similar here
Pencil skirt: c/o Pretty Retro
Tights: Chantal Thomass, similar here and here
Schoes: Miss L-Fire, similar here
Earrings: Glitter Paradise
---
Shop the Look (US):