Summer is just around the corner, and I really can't wait to go on vacation in August! Until then, I have to be content with the most beautiful accessories for summer that make me think of sunny days at the beach.
The most beautiful Accessories for Summer
Of course I'm going to tell you what my favourite accessories for summer are! This is why I'm going to introduce them to you in this blog post. Spoiler alert: it is going to be fancy and hot!
Pretty Ethnic Earrings
I love huge ethnic earrings! I not only wear them in combination with boho outfits, but also team them with my classy retro looks. This breach of style adds that certain something to my outfits and makes them a bit more interesting. My favourite ones are a sparkling pair by Stella & Dot as well as a pair made of wood, which I bought in Prague a while ago.
---
More pretty ethnic Earrings:

---
---
Fancy Cat-Eye Sunglasses
Sunglasses are my favourite accessories in summer! I especially love cat-eye sunnies in all colours and shapes. One of my favourite pieces are the sunglasses by Miu Miu (shop them here). Another fave are the black cat-eye shades by Dolce & Gabbana (get them here). Both of them aren't bargains, however, I really enjoy wearing them and they are my faithful companions in summer. When I go to the beach, though, I prefer more favourable ones. Retro Peepers, for example, offers some lovely budget-friendly sunglasses.
---
More fancy Cat-Eye Sunglasses:

---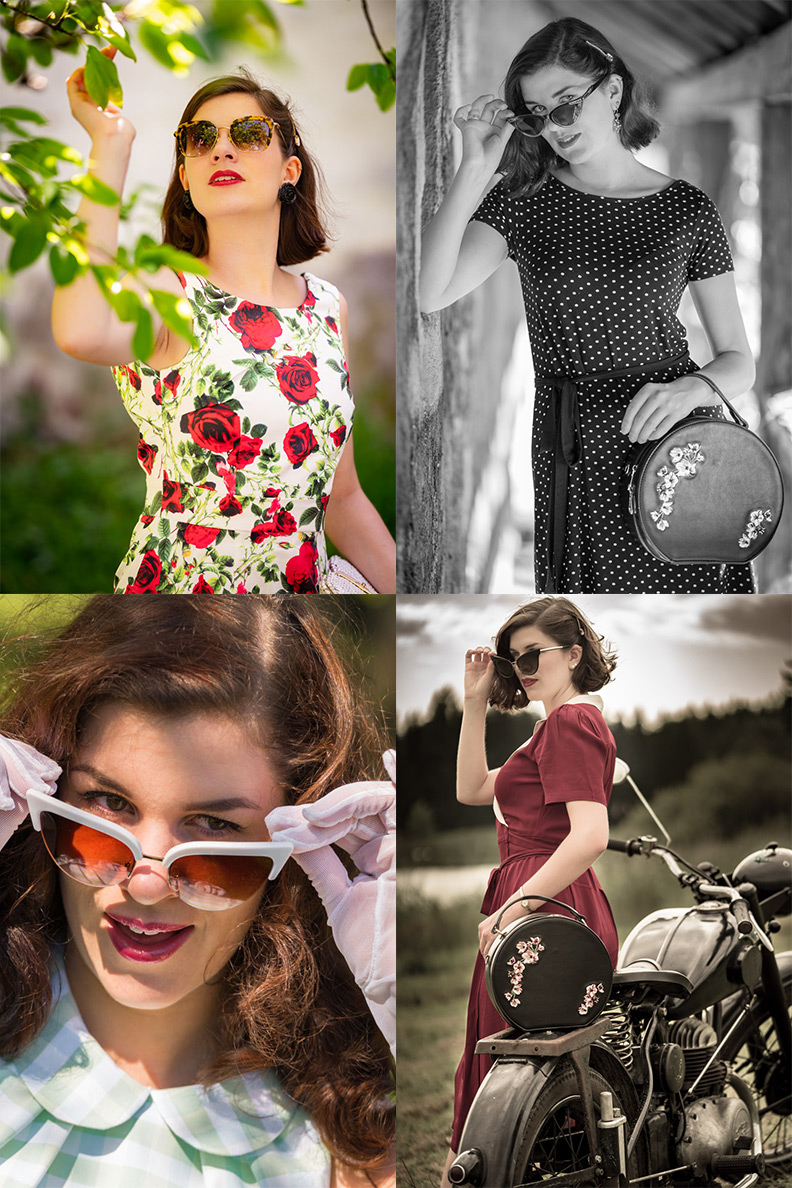 ---
Summery Straw and Basket Bags
I already told you more about my favourite handbags for spring and summer in this blogpost. However, as straw and basket bags are a must-have for summer, I didn't want to skip them in this article. 😉 I bought most of my bags at vintage and second hand stores. There are also pretty ones available at Etsy. And since basket bags are absolutely en vogue right now, you will also find gorgeous ones at Mango and other big shops.
---
Shop the summery Straw and Basket Bags:

---
---
Lovely Flats, Sandals and Wedges
Summer also means it's time for open shoes! I love my lovely flats, ballet flats, and wedges! My pink flats are by Petite Jolie, you will find very similar ones here. Another brand I really like when it comes to shoes is Miss L-Fire. TopVintage, for example, offers some lovely ones from this brand.
---
Shop the Flats and Wedges:

---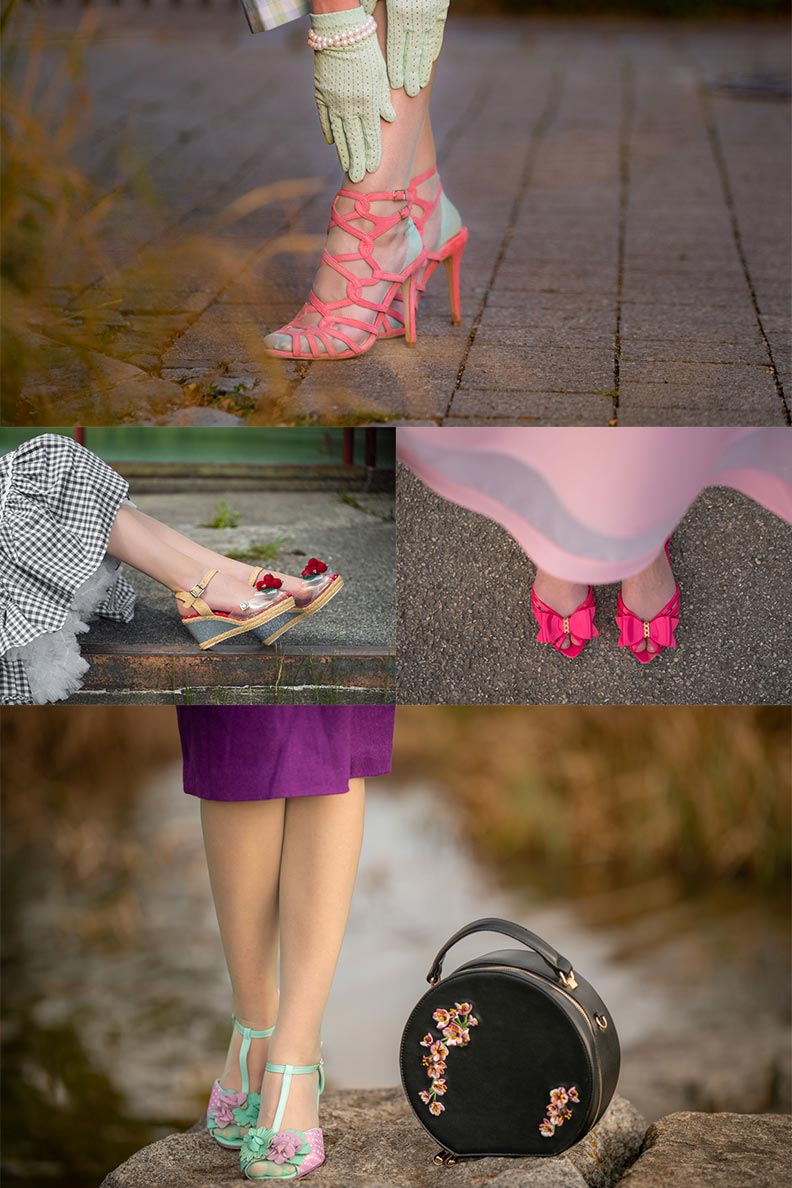 ---
Nylon Stockings in Sorbet-Colours
Yes, I wear nylon stockings in summer! I especially like the sorbet-coloured ones with seams by Secrets in Lace – Europe. The ones you see in the photos are available here and here. And in this blogpost, I tell you my best tips on how to wear seamed stockings in spring and summer!
---
Colourful Hairflowers
Colourful hairflowers always raise my spirits and make me think of spring! My favourite ones are by Sophisticated Lady Hairflowers. Find the full range of hairflowers here.
---
More colourful Hairflowers:

---
---
Stylish Straw Hats
Hats not only protect us from the sun, they also look super stylish! I especially love my vintage staw hats! Straw hats are already available for only a few euros and always look great! By the way: In this blogpost, I show you my ten favourite hats. 😉
---
Shop the stylish Straw Hats:

---
---
Stylish Parasols
Hats are great, however, they don't spend enough shadow. This is why I always take my parasol with me on very hot and sunny days. You can shop it here. By the way: TopVintage offers parasols as well, just have a look here.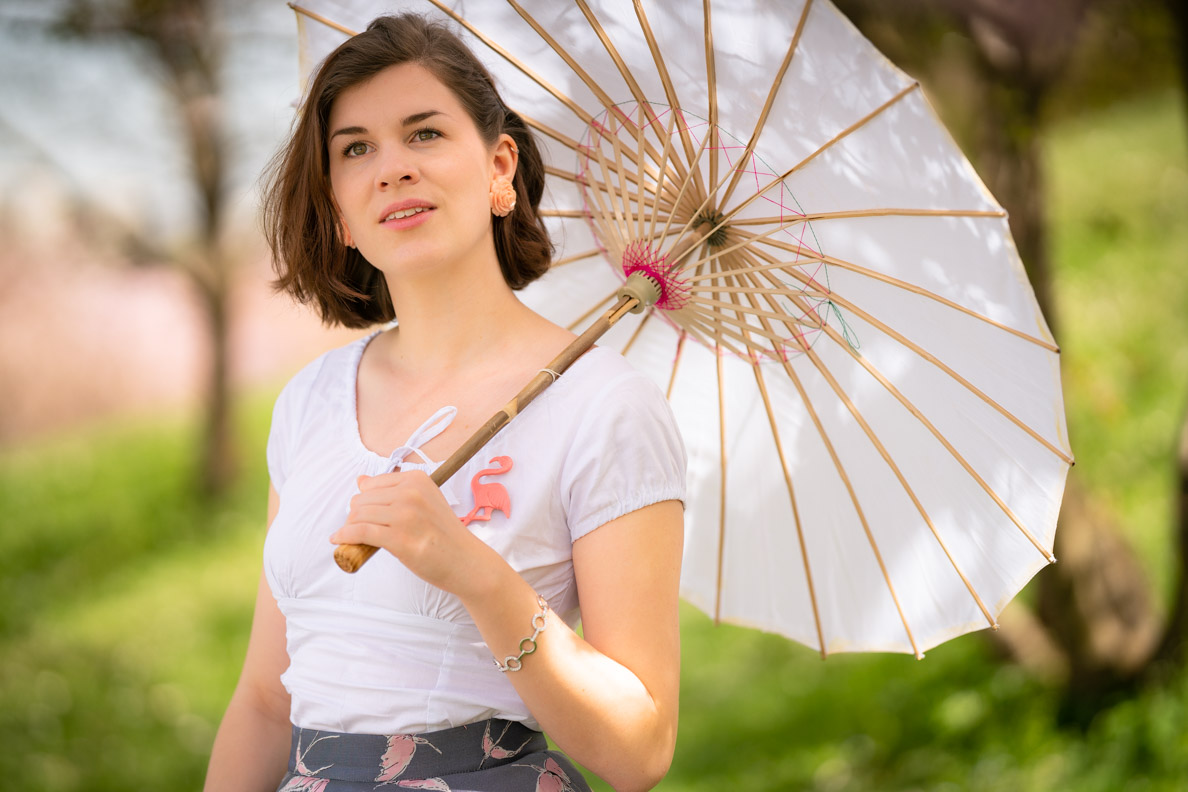 ---
Delicate (Nylon) Gloves
Yes, one definitely can wear gloves in summer! Especially delicate ones made of nylon like these ones by Secrets in Lace. I also love to team very glamorous outfits with gorgeous over-the-elbow gloves (get them here). Of course I like to wear gloves which match my outfits perfectly. Pretty vintage inspired gloves are also available at TopVintage. Now, I only need huges sunglasses (see point two) and a vintage car. 😉
---
Shop delicate vintage Gloves:

---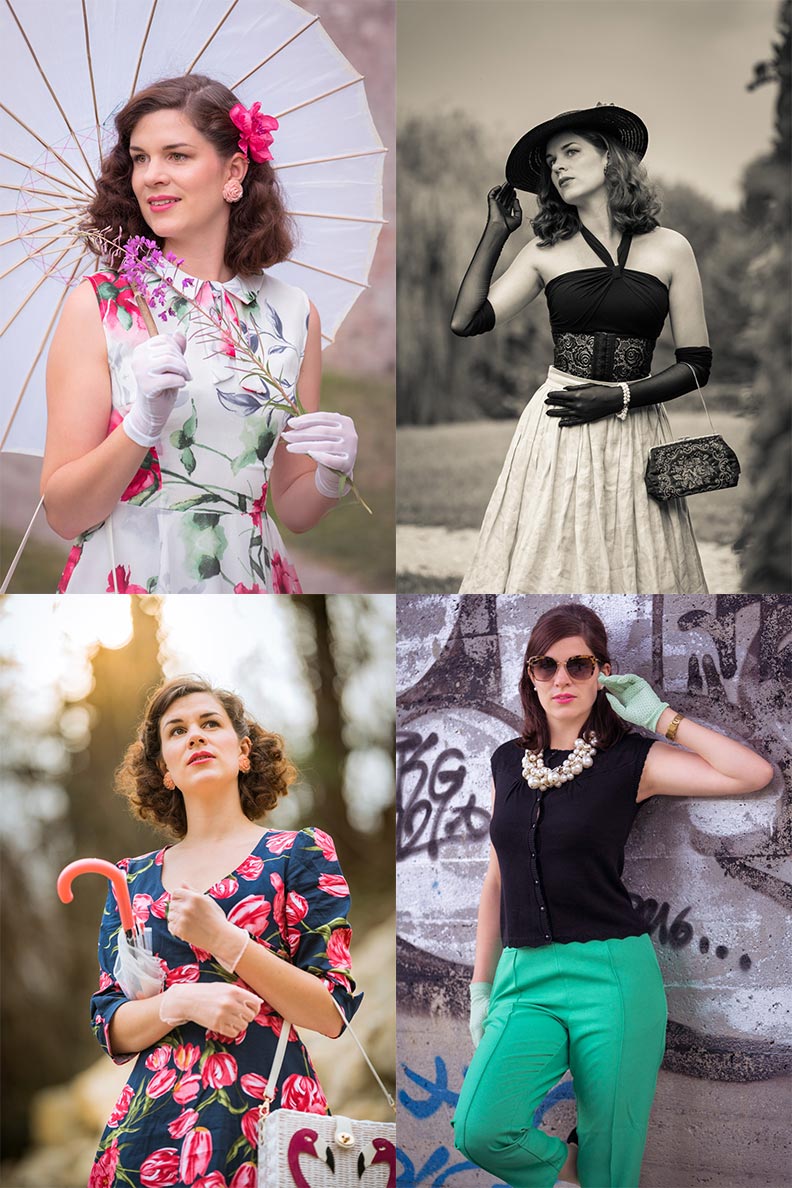 ---
What are your favourite accessories for summer? Leave me a comment if you like. 😉