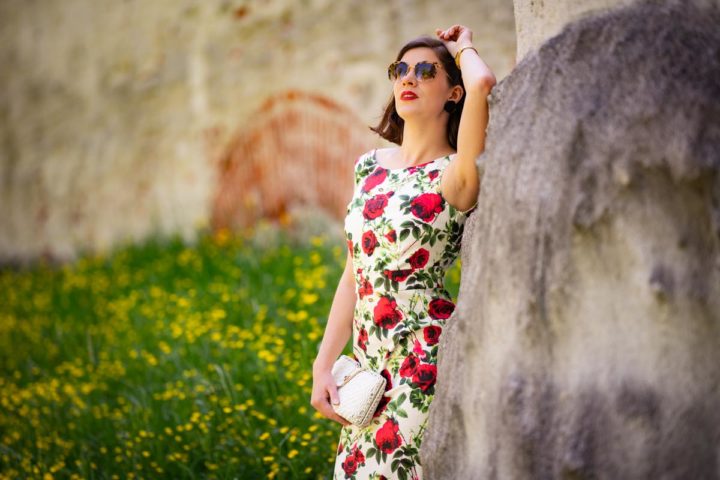 The Floral Rose Dress & beautiful tights
This blogpost contains affiliate links and pr samples (marked with c/o)
Roses are the most fascinating flowers, in my opinion. I love their scent, taste, and how they look, of course. But I not only look at them, I also use them for my skin care routine (read more about this topic here), and even drink them! The green Rose Tea by Lov Organic is by far my favourite tea. I drink it every morning to start into the day. The only things that would make me more happy in the morning are a bouquet of roses (Martin, this is a hint for you ;-)), and if I would be able to even wear roses. Thanks to the Naomi Floral Rose Dress by Dolly Dotty, at least the latter is no longer a problem.
Roses over Roses: The Naomi Floral Rose Dress by Dolly and Dotty
The fitted cut of the retro dress looks amazing and enhances ones curves. The rose print is a dream and makes the Naomi Floral Rose Dress a real eye-catcher. The only thing I didn't like so much about the dress was the back neckline which looked a bit weird on me. So my mum helped me and we changed the round back neckline into a V neckline, which I like much more! If you would like to see how the back neckline looked before, have a look here. I don't wear a bra underneath, but if you like, you can try a bra that "sticks" on your body, like this one.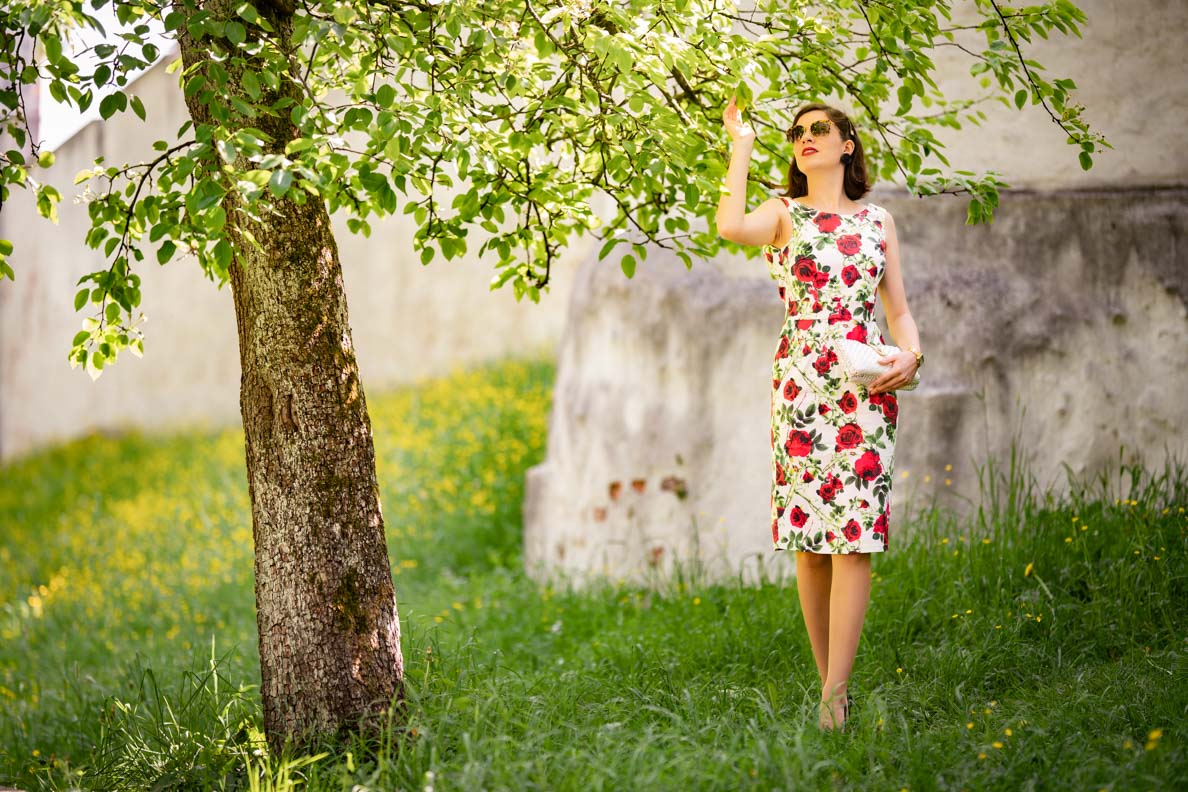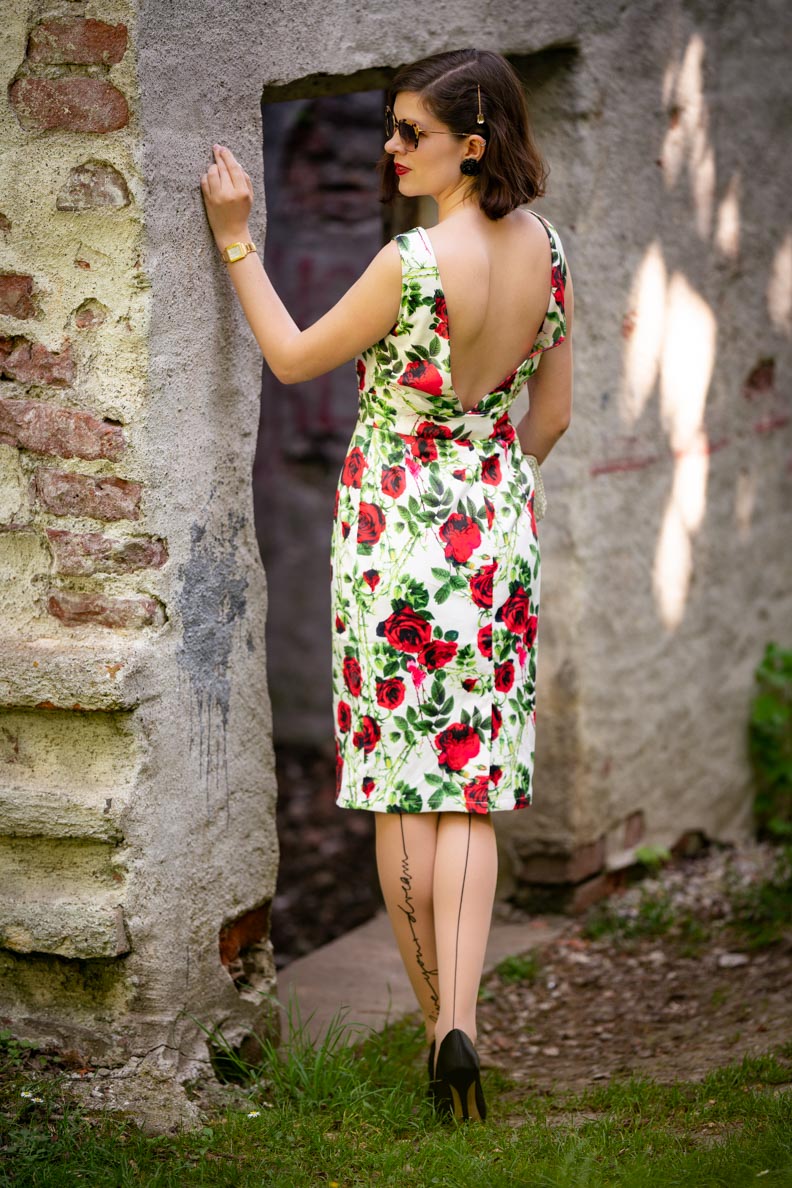 When it comes to accessories, I sticked to the rose motto. I'm wearing black rose earrings by Glitter Paradise and a matching bracelet by Swarovski. My pumps pick up the black of the earrings, while the beautiful Dream Tights by Wolford add that certain something to the look. A white vintage basket case and chic sunglasses by Miu Miu finish my retro outfit.
---
Outfit Details:
Naomi Floral Rose Dress: c/o Dolly and Dotty
Dream Tights: Wolford
Sunglasses: Miu Miu
Earrings: Glitter Pardise
Pumps: Menbur, similar here
Basket bag: Vintage, similar here

---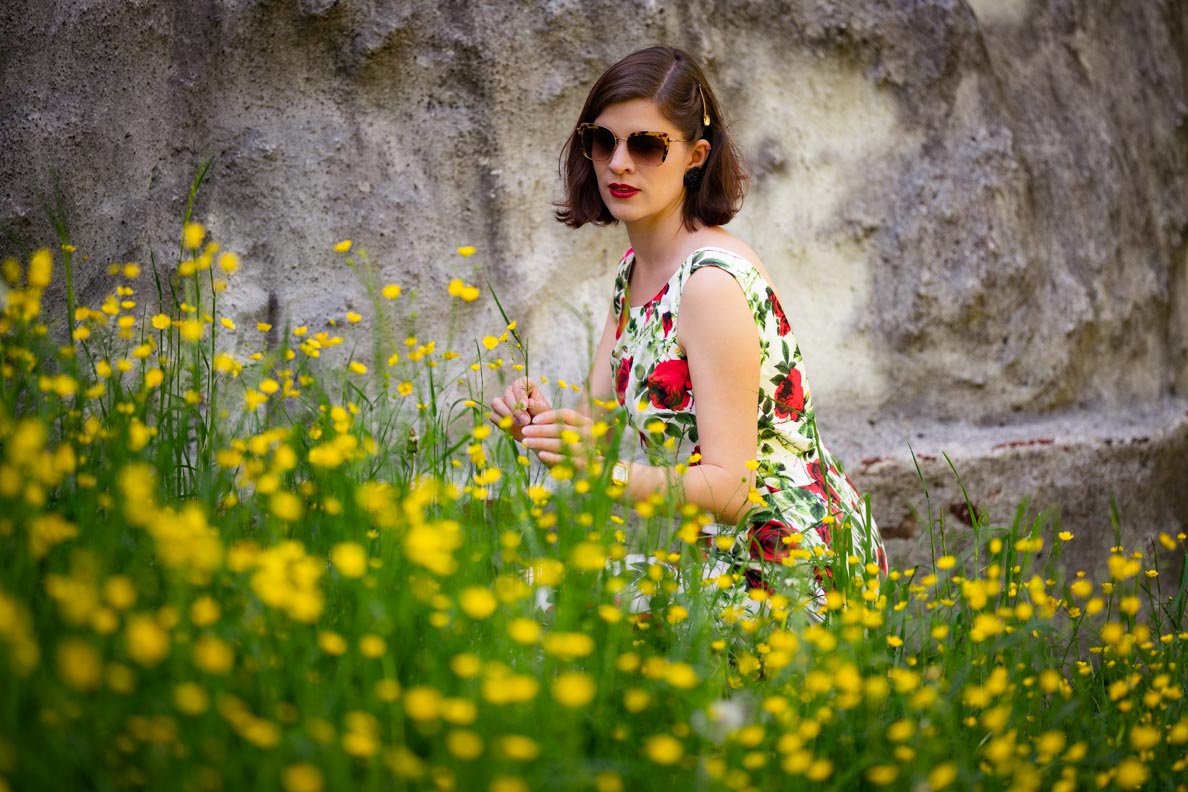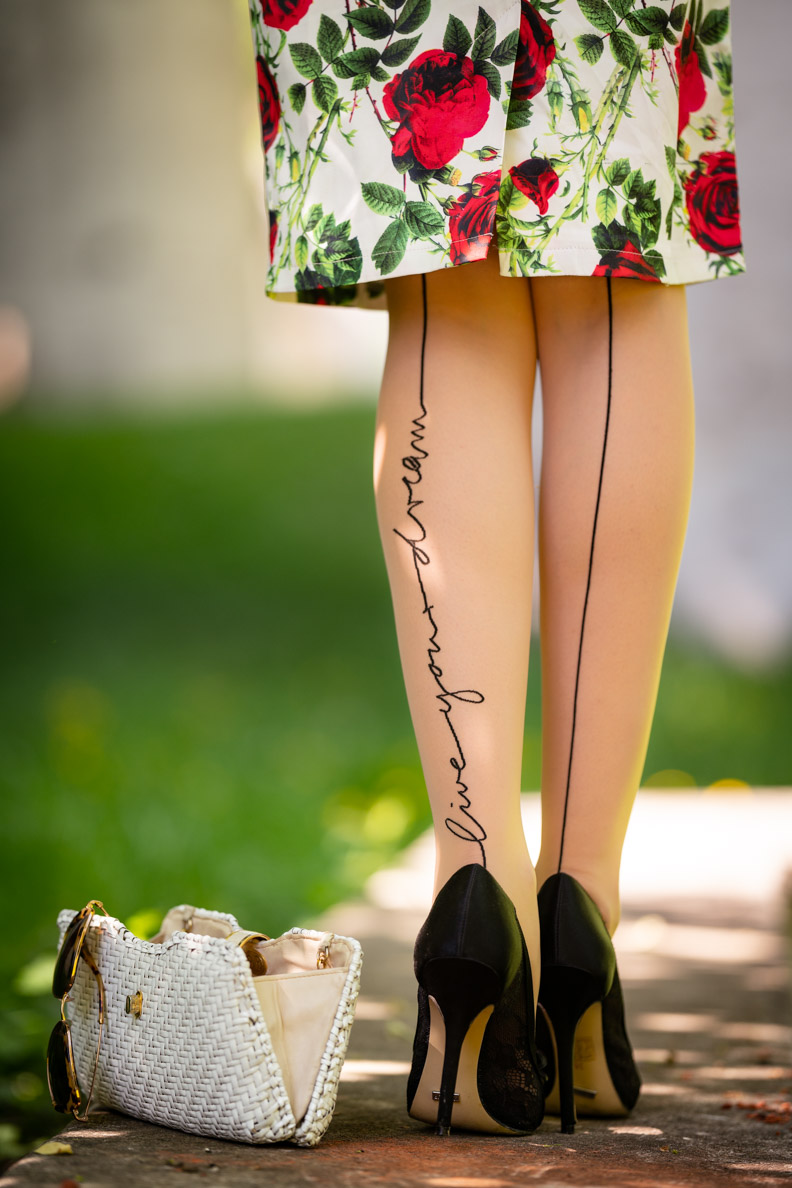 ---
Shop amazing Tights & Stockings:

---
A classy vintage Makeup
My makeup is pretty classy. First, I use the Chanel CC Cream with a high SPF and then the Guerlain Météorites. I didn't use more eye makeup than mascara, this is why I'm wearing huge sunglasses. 😉 On my cheeks, I applied red blush and last but not least, I used a classy red lipstick by Mac.
---
Makeup Details:

---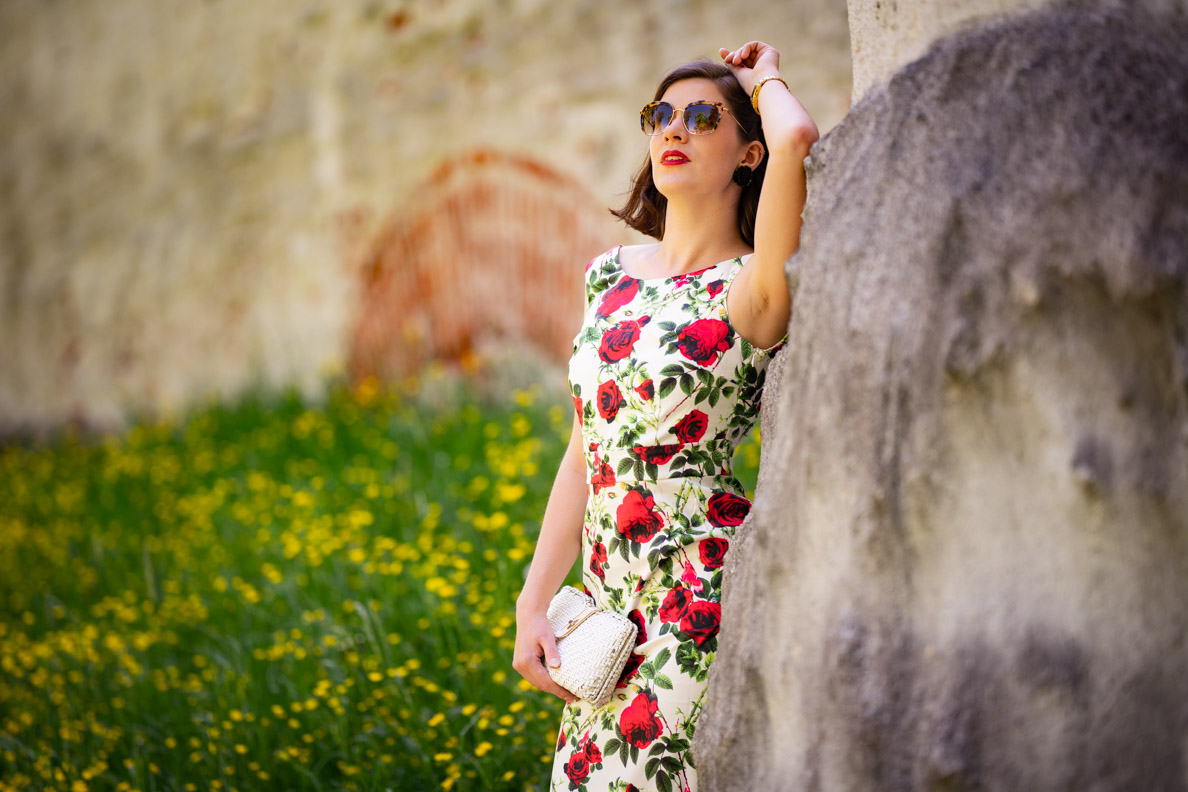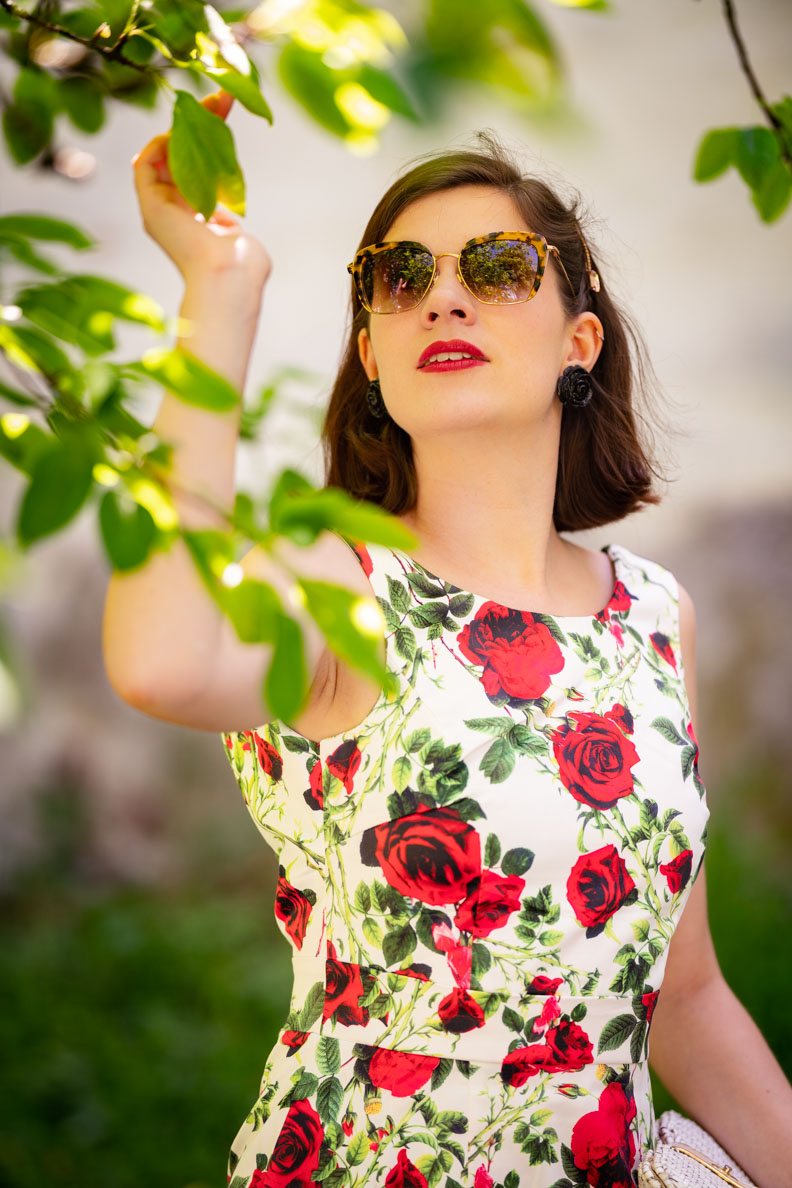 ---
Shop the Post (US):

---
A note on comments: On May 25th 2018 the GDPR (General Data Protection Regulation) will come into force within the EU. There will nothing change for you here on RetroCat.de. However, if you want to leave a comment, you have to agree, that I'm allowed to save your personal data (name, mail address). Of course, I will keep your data confidental. I'm always very pleased when I get comments, so I hope you are still going to give me feedback. 😉