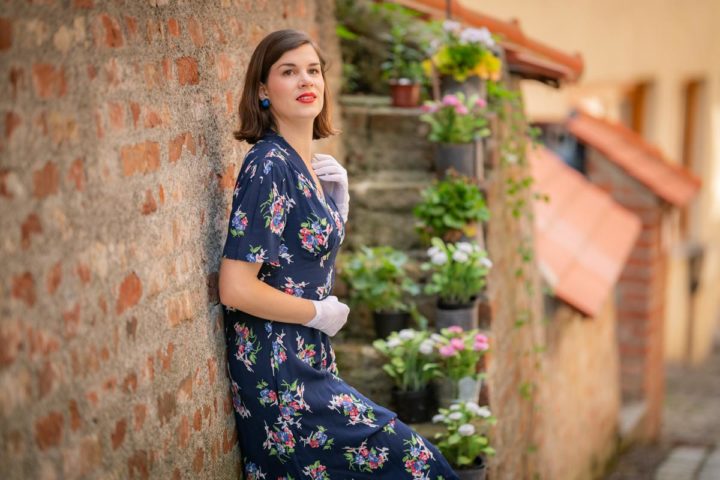 On warm days, I like to wear flutterly, floral dresses made of light and comfy fabrics. A brand that offers exactly this kind of vintage inspired garments is The Seamstress of Bloomsbury. This time, I went for a brand new design called "Dolores" with the super pretty pattern "Navy Floral Print".
Floral Beauty: "Dolores" by The Seamstress of Bloomsbury
The comfy crepe de Chine fabric feels so light and is therefore perfect for summer. But of course, the 1940s cut of the dress is amazing as well. On the shoulders and underneath the bust, there are some pretty ruffles. A waist band just below the bust area looks great and sits high enough that one is able to eat lots of ice cream and the dress still fits great. 😉 And the best about the dress: It has pockets! Another highlight is the print. I simply love the red, baby blue, green, and white details on the navy blue ground. And of course, I matched my accessories with this print.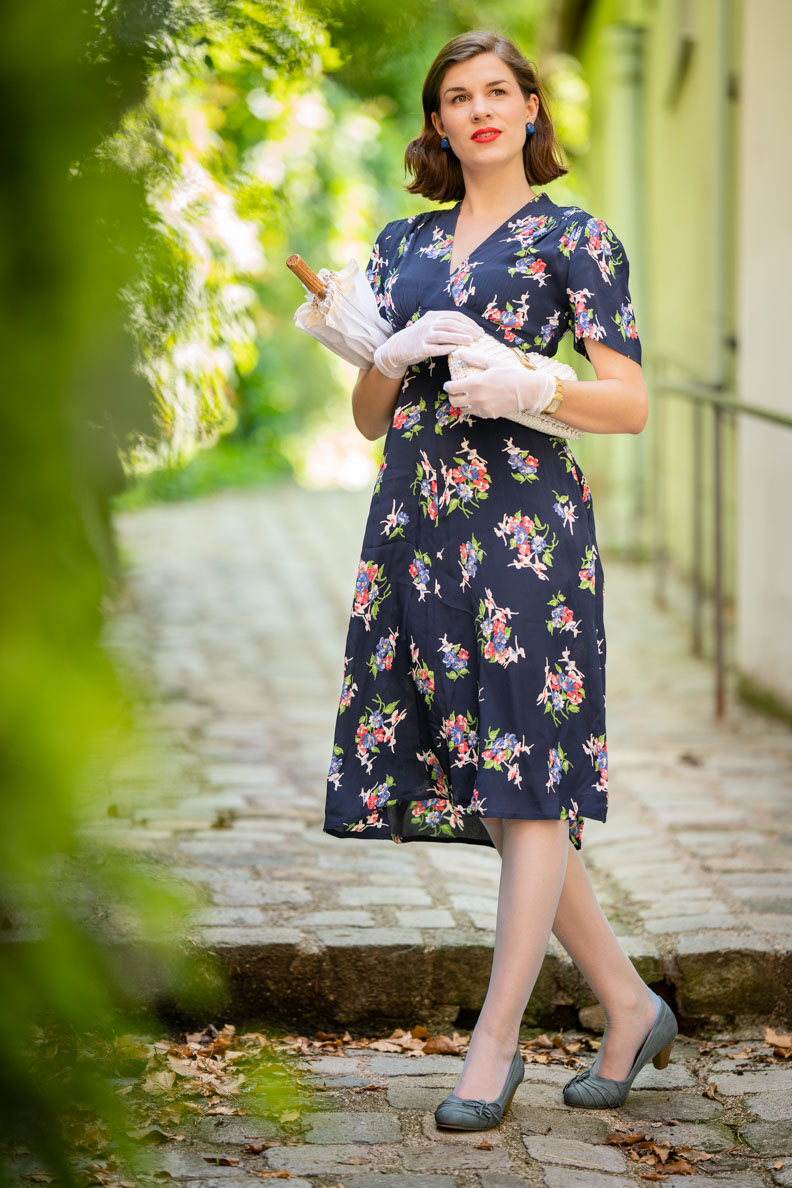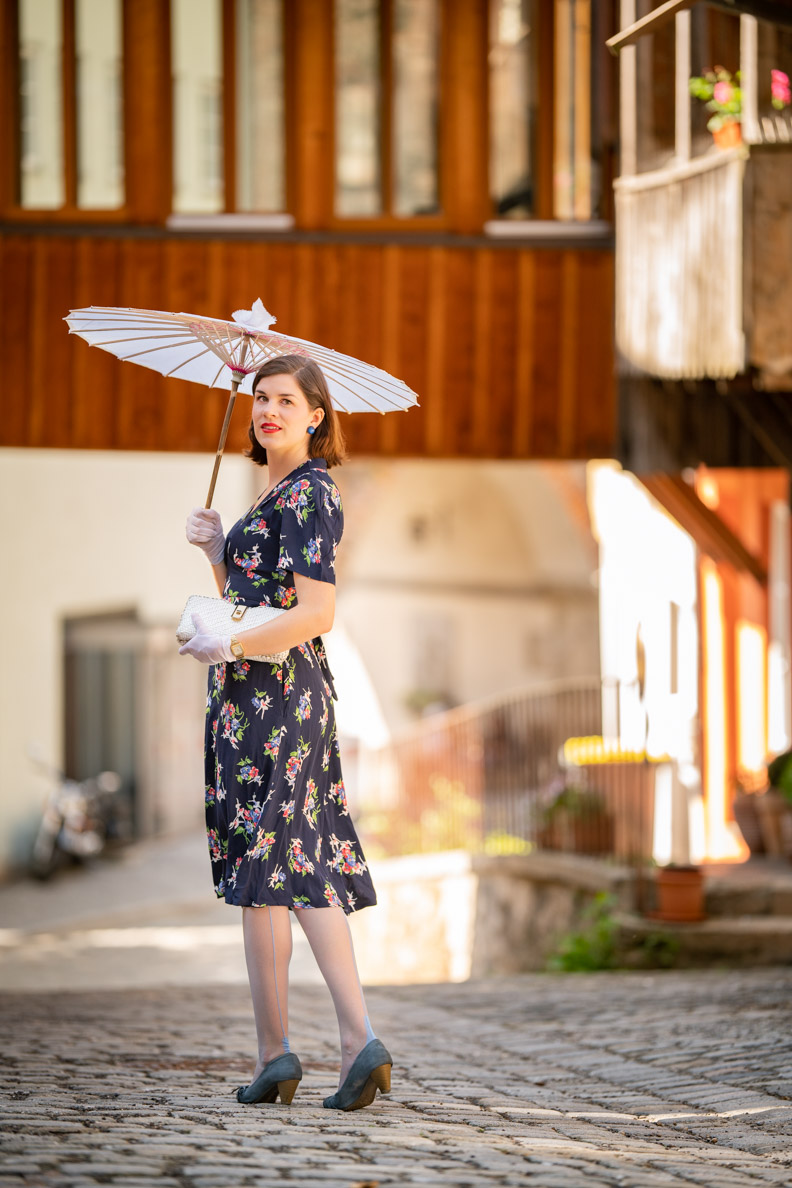 ---
Summery retro Accessories in Blue and White
Not only Bavaria's heaven is blue and white, but so are my accessories. To match the light blue flowers on "Dolores", I'm waring the Spanish Heel Stockings by Secrets in Lace in "blue", wich you maybe already know from this outfitpost.  (By the way: In this blogpost, I tell you how to wear seamed stockings in spring and summer.) My shoes have the same colour. To protect my skin from to much sun, I like to take my white parasol with me. A white vintage basket bag looks great and is perfect to take my smartphone, keys, lipsticks and credit card with me. Nylon gloves by Secrets in Lace as well as blue earrings by Glitter Paradise finish the 40s inspired outfit.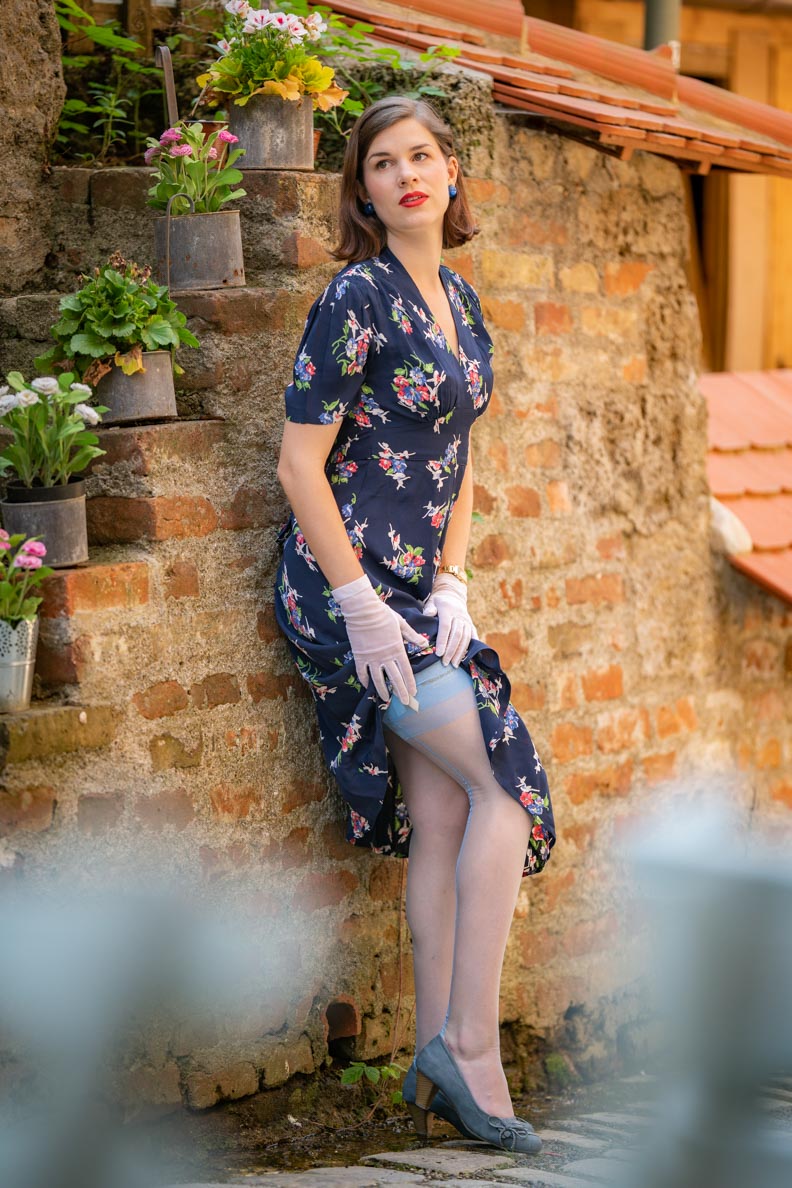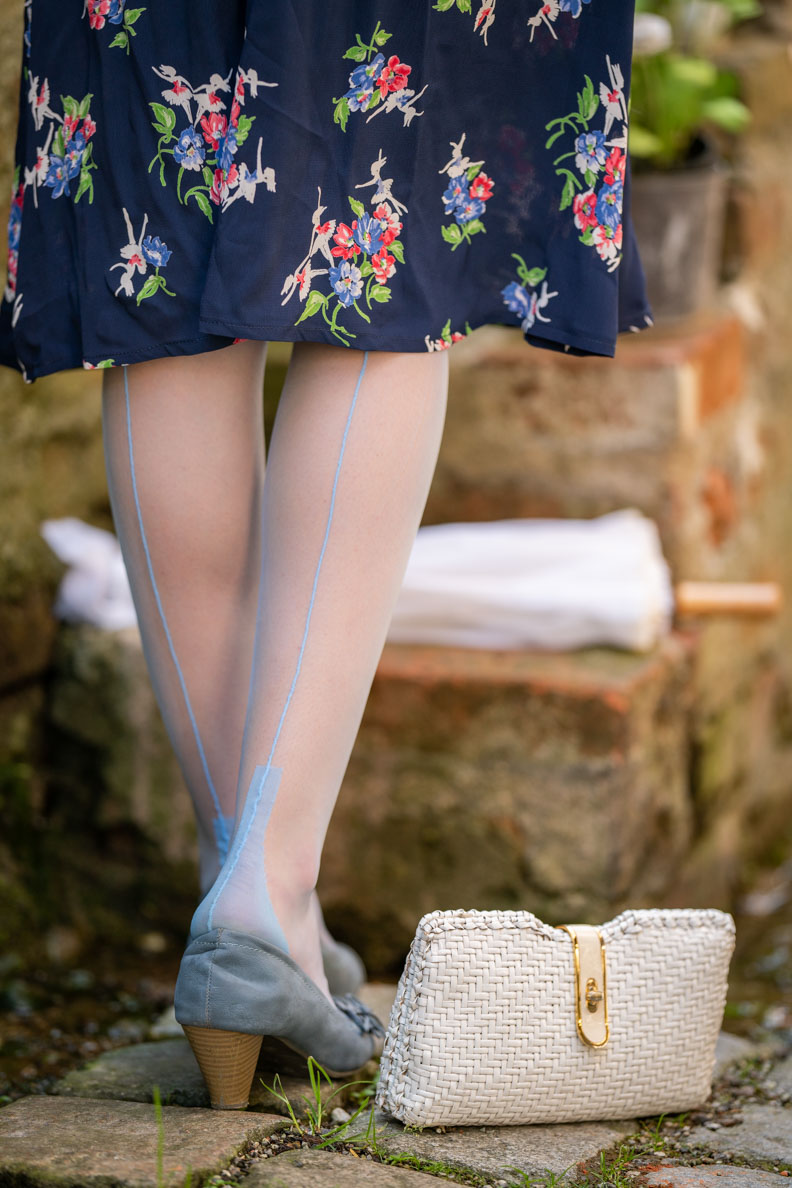 ---
A summery fresh retro Outfit – the Details:
Retro dress"Dolores": c/o The Seamstress of Bloomsbury
Spanish Heel Stockings: c/o Secrets in Lace – Europe
Speakeasy Fashion Garterbelt: c/o Secrets in Lace – Europe
Gloves: Secrets in Lace – Europe
Parasol: Available here (I also like this one)
Basket bag: Vintage, similar here
Earrings: Glitter Paradise

---
A summery retro Makeup
As always, I like to match my makeup with my outfit. I start with the Chanel CC Cream and the Guerlain Météorites for a glowy complexion. On my eye lids, I first apply the Urban Decay Primer Potion and a soft pink or beige eyeshadow afterwards. Then I use mascara and enhance my eyebrows. "Exhibit A" by NARS, a classy red blush, makes my skin look fresher. The fiery red lipstick "Fire & Ice" by Revlon finishes this summery retro makeup.
---
Makeup Details:

---