This blogpost contains affiliate links (marked with *). If you shop products via those links, I may get a small provision which helps me to maintain my blog. Of course the price doesn't change for you.
How to wear nylon stockings in winter
To be honest, as soon as the temperatures get very low, snow falls or an icy cold wind hits the streets, I usually prefer warm thermal tights over delicate nylons. However, on some days I simply miss this old Hollywood feeling and the rustling of my nylons. Of course, I still don't want to freeze, though. So in the following, I am going to tell you how to wear nylon stockings in winter withouth freezing.
Wearing Nylon Stockings in Winter: The Conditions
We don't want to be reckless. When it is freezing cold, snowing or super windy, skip the nylons and wear warm tights instead. Believe me, I learned this the hard way, deep snow and nylons are not the best team. So only wear nylons in winter, when temperatures are a bit more pleasing and the weather is quite good.
---
Nylons and warm Winter Outfits
If your legs are only covered by a thin layer of nlyons, make sure the rest of your outfit is cosy and warm. I recommend cosy turtleneck sweaters, warm skirts or a warm winter dress. Another layer of clothing also is a good idea. So I like to wear petticoats underneath my dresses/skirts. However, as especially rough tulle petticoats can damage your delicate nylons, I recommend to wear a smooth (satin) underskirt* underneath. This also adds another layer of clothing, which never is bad in winter. Another helpful tip: Instead of a teeny tiny thong, rather wear some bigger pants like French Knickers*, for example, so that you don't literally freeze your butt off. 😉
*Affiliate links

---
A warm winter coat, like the Pearl Coat by Collectif Clothing, for example, finishes the outfit. Also make sure to take some warm accessories like gloves and maybe a hat with you. I must say I really like the combination of delicate nylons stockings and warm winter fabrics like wool or fake-fur.
*Affiliate links

---
The matching Shoes: How to wear Nylons in Boots
Nylons won't really keep you warm, so warm shoes are a must. As long as my feet are warm, I don't really care what is going on on my legs. So I like to wear warm boots with my nylons. Pumps, by the way, are not the best choice for winter (I almost froze my toes off while we took the first photo of this blogpost, so please be smarter than I was back then ;-)). But when wearing boots with nylons, there are a few things to keep in mind:
Make sure you are wearing high-quality shoes on top of your nylons that don't have any threads or uncovered zippers that might damage your delicate stockings.
My pro-tip: Wear (knee-length) socks on top of your nylons when wearing nylons in boots. This not only keeps your feet and calves warm, but will also protect your nylons.
Warm soles for your shoes are a good choice as well.
For an elegant and more thrilling look, make sure a few centimetres of your legs in nylons show between the hemline of your dress/skirt and your boots.
Make sure your boots fit quite well around your calves. If they are too loose, it might look a bit weird.
More casual lace-up boots create a great contrast to delicate nylons, while classy boots with a slim heel look very elegant. So while I like to wear the first ones in everyday life, I prefer the second ones for occasions like a dinner, for example.
*Affiliate links

---
Take a pair of Thermal Tights with you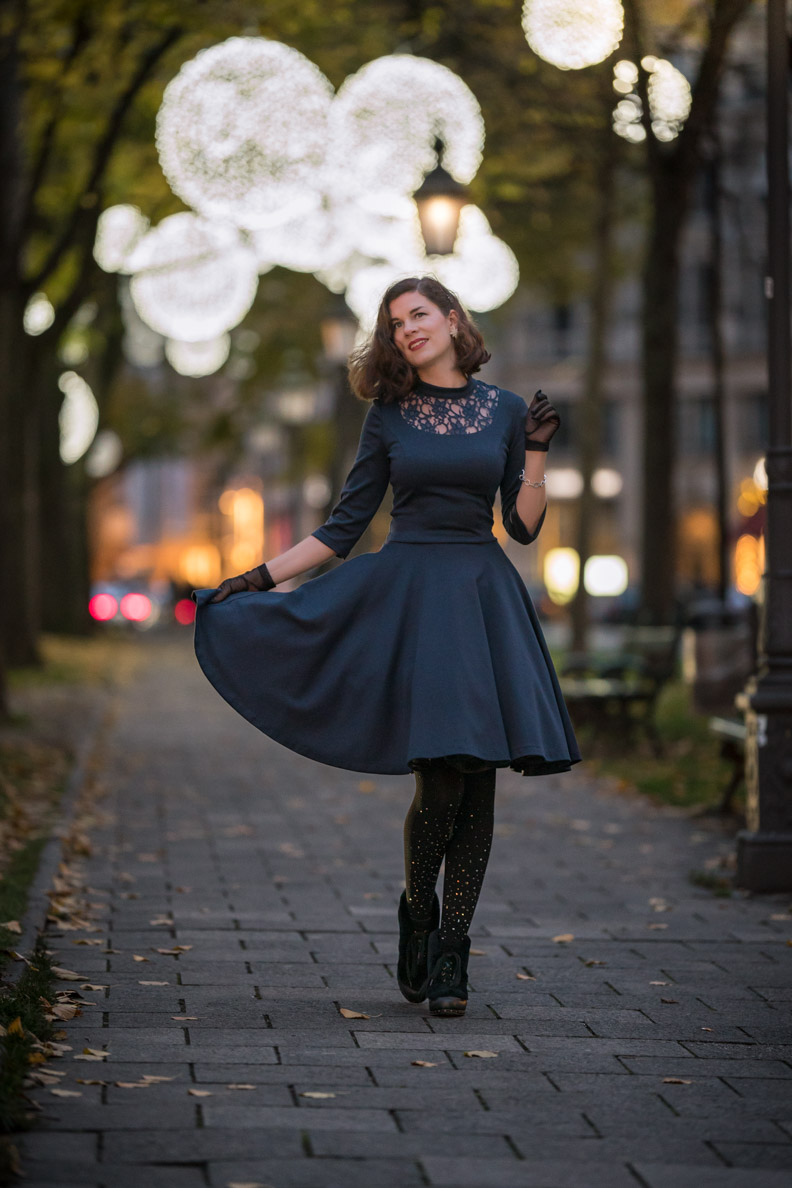 When the sun is shining through the windows, it is easy to get fooled. So we might think it is warm enough to wear thin nylons, but as soon as we stay outside a little longer, we start freezing. This is why I always carry an emergency pair of warm tights with me, so I can put them on in case it simply gets too cold and uncomfortable outside.
In the end I have to say: Even the most beautiful nylons are not worth freezing for! Warm thermal tights look good with retro garments as well, and with a few tips, they can even look quite stylish, just have a look at this blogpost for some tips. 😉
---
This might be also interesting for you: