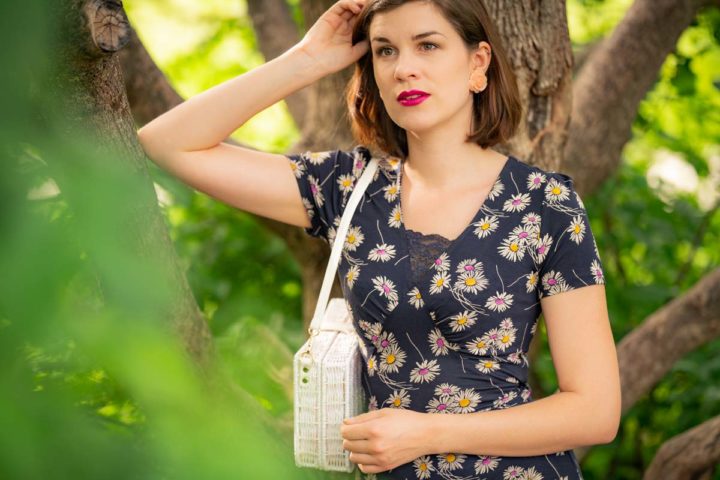 Temperatures are super high these days and I try to spend most of the time outside. Comfortable dresses that feel great on the skin but still look chic are my must-have for those kind of days. As you maybe already know from this blogpost, in everyday life, I like to wear jersey dresses. A brand that always offers such beautiful and comfy dresses is Vive Maria. This time, I went for the lovely Daisy Dress.
Pretty and comfy: The Daisy Dress by Vive Maria
The dark blue dress is made of a soft viscose fabric. I really like the classy cut with all the pretty details, and the hemline which ends just at my knees. There also is a lovely lace detail at the neckline, and of course the colourful daisy print is a real highlight. My accessories pick up the colours of the flower pattern.
---
Colourful retro Accessories
A white basket bag with lilac flamingos on it matches the Daisy Dress perfectly. By the way: Basket bags are my must-haves for summer. Check out this and this blogpost to read why.
---
More chic Bags for Summer:

---
Underneath the dress, I'm wearing the Speakeasy Set by Secrets in Lace – Europe. Furthermore, I'm wearing the Premier Euro Heel Stockings in "Lilac" by Secrets in Lace, which I already showed you here. (By the way: In this blogpost, I'm telling you how to wear seamed stockings in spring and summer.) Rose earrings by Glitter Paradise pick up the floral theme of the outfit, while pretty shoes by Joe Browns Couture finish this summery retro outfit.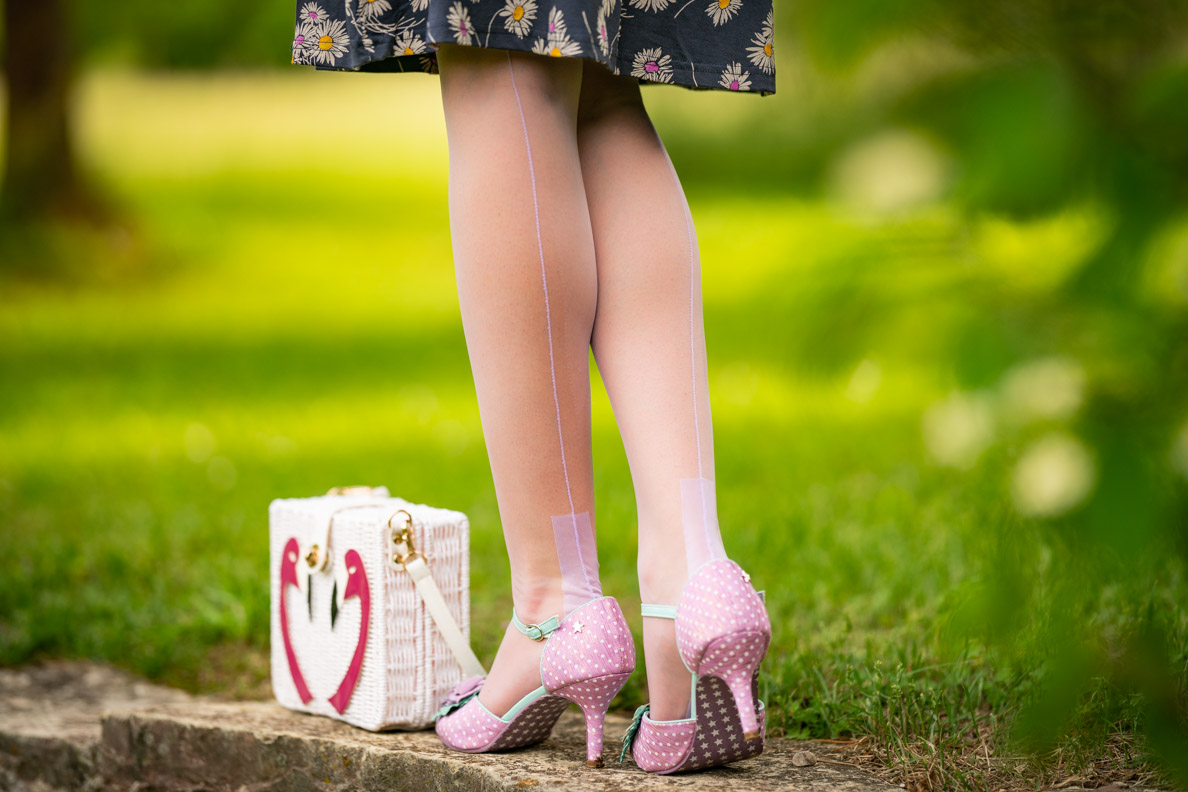 ---
More shoes for Summer by Joe Browns:

---
Outfit Details:
Daisy Dress: c/o Vive Maria
Premier Euro Heel Stockings: c/o Secrets in Lace – Europe
Speakeasy Fashion Garterbelt: c/o Secrets in Lace – Europe
Handbag: Collectif Clothing via Fräulein Backfisch (similar here)
Earrings: Glitter Paradise
Shoes: Joe Browns Couture
By the way: Use the code retrocat-10 to get 10 % off your whole order at NAPO Shop or the Vive Maria online-shop! Valid until 30th April 2018.
---
A colourful retro Makeup for Summer
My makeup, this time, is a bit more colourful. As always, I start with a foundation and use the Guerlain Météorites afterwards. Then, I apply the Urban Decay Primer Potion and put on a yellow eyeshadow. I enhance my crease with a dark purple eyeshadow and use lots of mascara. Finally, I use pink blush and apply the NYX Matte Lipstick in "Aria", which matches the lilac daisies on the dress perfectly.
---
Makeup Details:

---