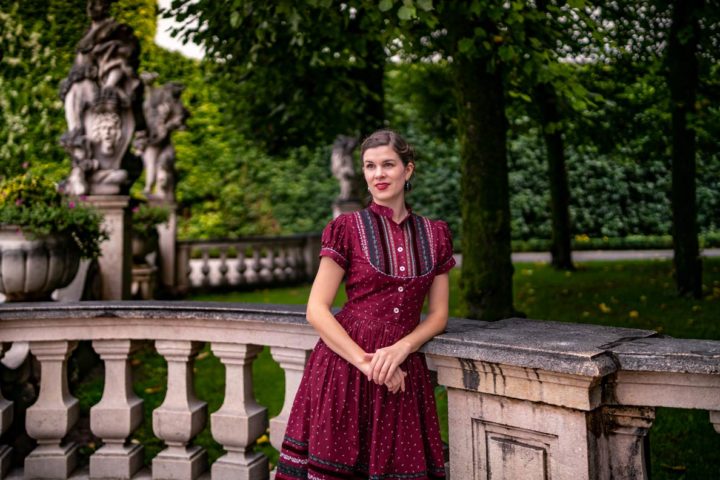 My packing list for a weekend trip to Salzburg/Austria
*This blogpost contains affiliate links (marked with *) and pr samples (marked with c/o)
A weekendtrip into the Austrian alps is always a good idea, but in autumn, it is especially beautiful. When the first leaves are getting colourful, the days are getting shorter and the nights longer, the air chilly, and the animals eat a lot to be prepared for the cold season, the alps really are magical. In this blogpost, I'm going to show you which outfits to pack for such a weekend trip to look stylish, but still be comfortable.
What to pack for a Weekend Trip to Salzburg/Austria
We went to Salzburg and the surrouding area, and although it can still be quite warm there at the end of September/beginning of October, rain showers and chilly temperatures are also not uncommon. So make sure to check the weather forecast and I personally recommend the layering look. I am also just a little bit kitschy (you could also say: very kitschy), so I packed the following:
My Outfits for our Weekend Trip: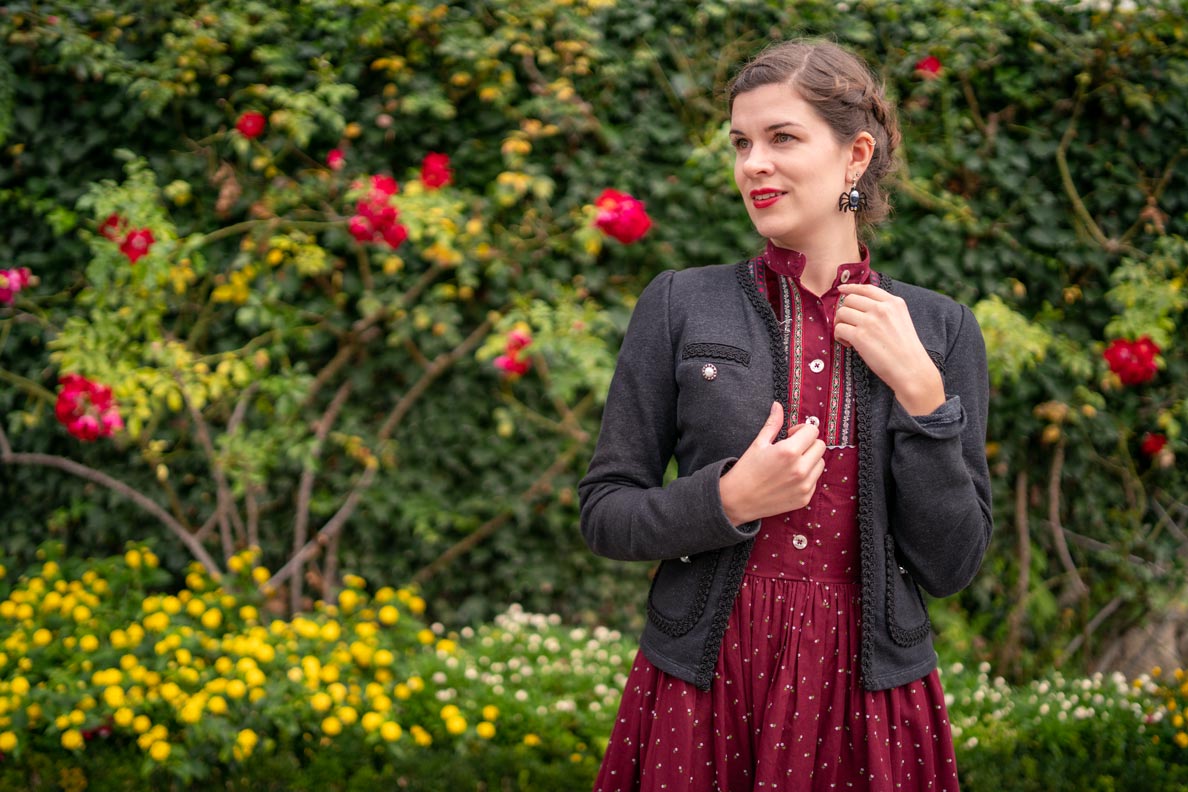 A rain coat or weatherproof jacket is a pretty good idea; I packed the one I bought for my Scotland road trip, luckily, though, I only needed it in the early morning. Afterwards, the weather got better and temperatures higher.
Knitted cardigans, inspired by the traditional Bavarian style, of course are a perfect choice for a trip to the Alps. PS: You will still find some beautiful "Trachten" jackets (janker) and cardigans nowadays; however, the high-quality ones usually are pretty expensive. So if you are in Bavaria, I definitely recommend checking out vintage and second hand shops. They often have some great ones for pretty good prices. I show you my favourite vintage shops in Munich in this blogpost, by the way.
I also packed a dark red and super pretty Dirndl inspired dress called "Gretl" by Lena Hoschek Tradition, which goes so well with my cardies.
Flared skirts also were in my suitcase. I usually always choose flared or swing skirts for travelling, as those are easier to team with flat shoes and they also offer more freedom of movement. 😉
Opaque tights,
as well as comfy flat shoes finish my Salzburg outfits. I went for a pair of black derbys for our day in Salzburg, and some black Timberlands for hiking.
*Affiliate links

---
My Jewellery for our Weekend Trip:
I believe every look requires at least a few accessories. But I also know you don't need all your accessories for a short weekend trip, so I packed just a few lovely pieces that go very well with my outfits, plus: they really didn't need a lot of space in my suitcase. And that's what I packed:
First of all, I packed some funny spider earrings by LaliBlue*, as those are a great contrast to my super romantic outfits. LaliBlue, by the way, is a Spanish shop that sells some pretty cool handmade jewellery.
Small silver earrings by Prettique*, which look kind of royal and therefore remind me, in combination with my braided hairstyle, a little bit of Empress Sisi. 😉 *By the way: If you use the code ""PRETTY-TD" you will get 10 Euros off your order from the "Prettique Royal collection".
Last but not least, I went for a deer brooch, which is just super kitschy and perfect for a trip to Austria.
*Affiliate links

---
Style Diary: A Weekend Trip to Salzburg
I am this kind of girl who wears tartan in Scotland and Dirndl in Bavaria as well as Austria. 😉 In the following, I'm going to show you, how I have teamed my different garments and jewellery.
Outfit No. 1: A Lena Hoschek Tradition Dress for Salzburg
The first stop of your weekend trip was in beautiful Salzburg. For this occasion, I chose the romantic "Gretl" dress by Lena Hoschek Tradition.
I fell in love with the Gretl Dress by Lena Hoschek quite a few years ago. As it is quite expensive, though, it took a while until I finally bought it. Although I originally wanted the one in light pink, I immediately changed my mind when I saw the one in dark red. The colour is just so beautiful and a wonderful contrast to the super romantic style of the dress. The ribbons at the collar and hemline look super pretty, and the puffy sleeves as well as the shimmery buttons finish the lovely style of the Gretl dress perfectly. "Gretl" already is one of my favourite dresses, by now, and I'm sure I'm going to wear it for many years. PS: I also already wore it for our trip to the open air museum Glentleiten.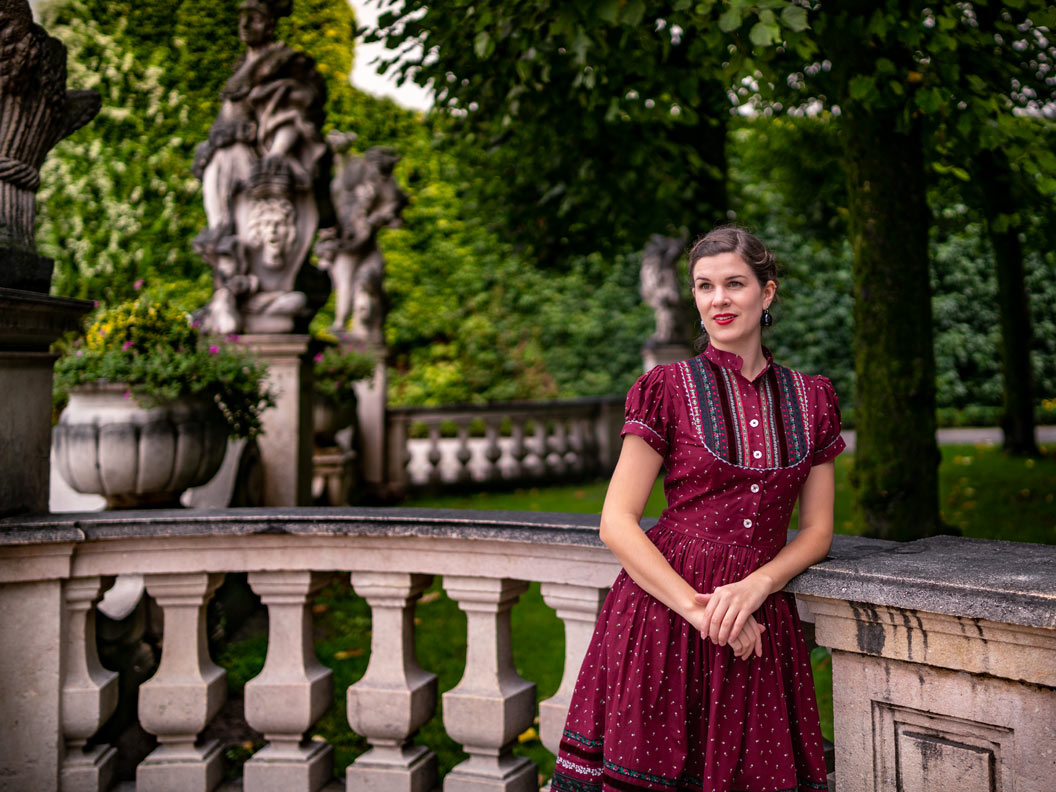 By the way: There are quite a few stores that have some Lena Hoschek Tradition garments in stock, in Salzburg. So if you want to try things on before buying them, why not combining this with a trip to Salzburg? 😉
I teamed the dress with a black jacket, black derbys as well as the spider earrings by LaliBlue, which look so cool together with the dark red dress, don't you think so?
Outfit Details:
"Gretl" Dress: Lena Hoschek Tradition
Jacket: Fornarina, similar here*
Spider earrings: c/o LaliBlue*
Tights: similar here*
Handbag: Furla*
Shoes: Beyond Skin
*Affiliate links

---
Outfit No. 2: A romantic, vintage inspired Hiking Outfit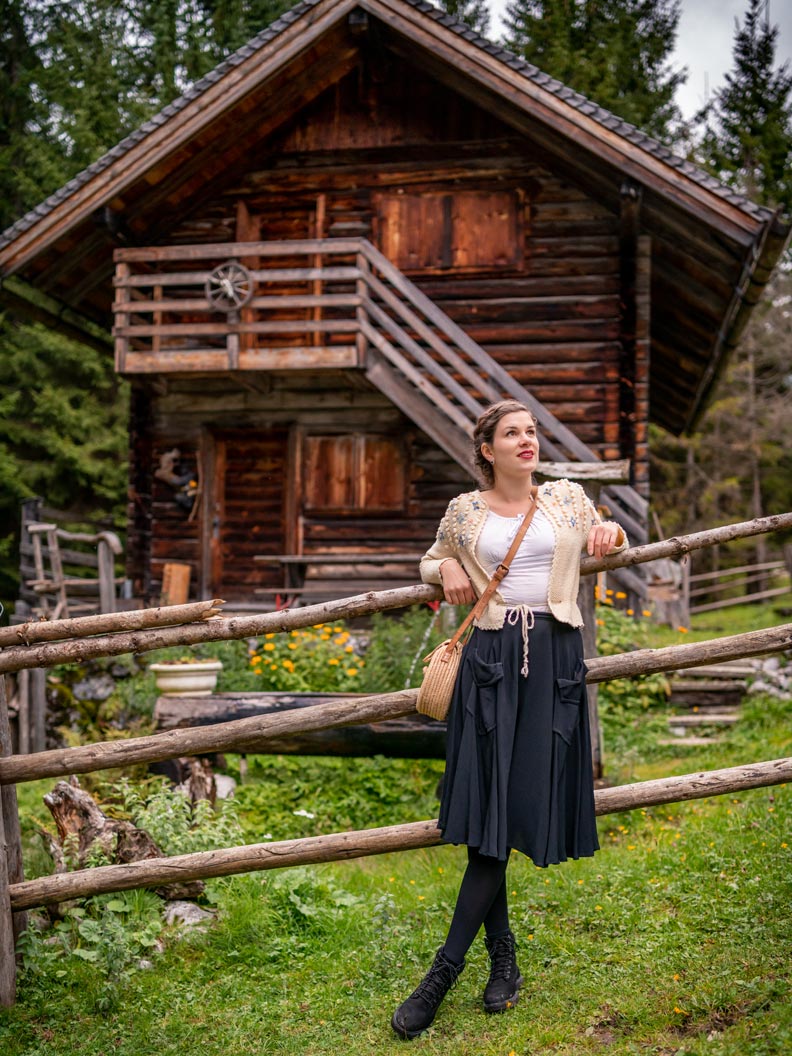 In the afternoon, we went from Salzburg to Filzmoos and started with a hike to the Oberhofalm; a lovely old alp, which I already introduced in this blogpost. Therefore, my afternoon and evening outfit definitely had to be comfortable and practical. I still wanted to dress in my style, though. So I went for a black swing skirt by The Seamstress of Bloomsbury in combination with a white top by Vivien of Holloway. On top, I'm wearing a beige knitted vintage cardigan, as well as a straw bag. Opaque tights and Timberlands are the perfect additions to this romantic hiking outfit. To add a little bit of glamour, I chose sparkly earrings by Prettique.
By the way: I don't own functional clothing, which often is made of synthetic fibres. In my opinion, this outfit shows pretty well that you don't necessarily need neon-coloured plastic garments to go hiking…
Outfit Details:
Blouse: c/o Vivien of Holloway
Cardigan: Vintage, similar here* and here*
Skirt: c/o The Seamstress of Bloomsbury*
Tights: similar here*
Shoes: Timberland*
Straw bag: no name, similar here*
Earrings: c/o Prettique*
*Affiliate links

---
Outfit No. 3: An Autmnal Skirt for the Sigmund Thun Gorge and Zell am See
New day, new outfit: Sundays are perfect for a little trip to nature. We went to the fascinating Sigmund Thun gorge in Kaprun and then to Zell am See, before we drove homewards.
My outfit on this day was inspired by the animals of the Austrian forests. The base of my look is the super lovely Hermeline skirt by Hell Bunny, which I already wore in my very first year of blogging. This time, I teamed the skirt with a black top, the black jacket from day one, a funny deer brooch, as well as my Timberlands, as it can be a little bit slippery in the gorge.
Outfit Details:
Top: c/o Vivien of Holloway
Skirt: Hell Bunny*
Jacket: Fornarina, simlar here*
Tights: similar here*
Shoes: Timberland*
Handbag: Furla*
Brooch: c/o Lemper, similar here*
Earrings: c/o Prettique*
*Affiliate links

---