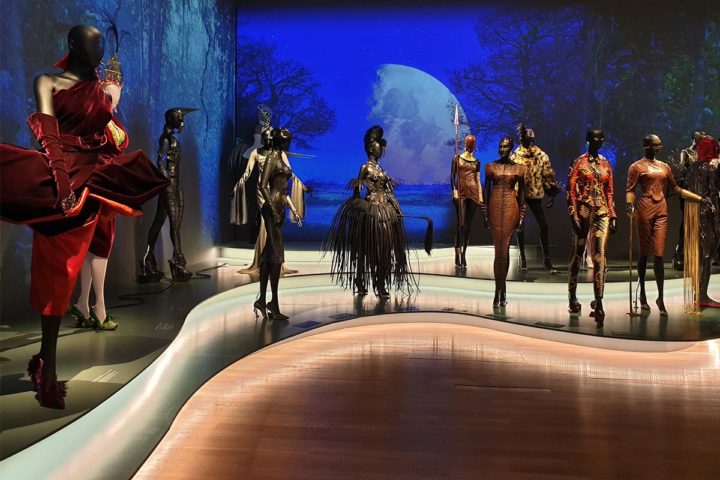 Thierry Mugler: Couturissime

25th May 2020 until 28th February 2021 at the Kunsthalle München
Breathtaking gowns, innovative materials spectacularly staged – this how the Thierry Mugler: Couturissme exhibition at the Kunsthalle München could be described in a few words. However, these words are by far not enough to describe what is waiting inside of you. The exhibition can be visited in Munich until the 28th of February 2021, and now, I want to have a look inside the Kunsthalle with you.
Thierry Mugler: Couturissime Exhibition
The Thierry Mugler: Couturissime exhibition at the Kunsthalle München presents the various aspects of Mugler's art as a sequence of eight opera acts. Eight opera acts? Yes! This exhibition is not a classic chronological retrospective, but rather a multimedia staging that shows the multifaceted work of the couturier, producer, photographer, and perfumer.
Manfred Thierry Mugler has Austrian parents, and is born in Strasbourg, France. At the age of 14, Mugler joined the Ballet of the Opéra national du Rhin. The magical world of the stage with the costumes, music, and makeup will influence his work. Afterwards, he studied costume design and stared making his own clothes. After moving to Paris, Mugler discovered his passion for fashion design and founded his own fashion brand Thierry Mugler in the 1970s. In the following years, Mugler created some of the most spectacular fashion designs of the late 20th century. Mugler retired from the fashion industry and now lives under his birth name Manfred Thierry Mugler in Berlin.
The Exhibits
The exhibition shows more than 150 of Mugler's designs – from Haute Couture to Prêt-à-porter, stage costumes, accessories, as well as videos, photos, design drawings, and archive materials. Furthermore, you can see about 100 works from popular fashion photographers like Helmut Newton and David LaChapelle, who often photographed Mugler's designs.
»My only measure is excess« – Thierry Mugler
Very figure-accentuating, maximalistic outfit that show off a woman's curves are Mugler's signature look. Inspired by Hollywood icons like Ava Gardner and Liz Taylor, Mugler created strong, feminine outfits, often with corsets and accentuated shoulders. He also played with fetish materials like leather and latex, showed off the décolleté (top and bottom, as you can see in the picture ;-)), and used lots of rhinestones, feathers, and sequins. Mugler rather transformed women into sex goddesses, glamorous amazons, femme fatales, and superheros than putting them into baggy unisex garments. A somehow quite refreshing and pleasant sight in times were sweatpants, or neon-coloured functional jackets often dominate the street scene.
And now, let's have a look at the wonderful work of Thierry Mugler. What I want to mention before: Although I already share some photos, they only show a small part of what you can see at the exhibition.
---
Act I – Futuristic & Fembot Couture
Right at the beginning of the exhibition, we can see some futuristic and robotic looks. Chassis corsets, and creative outfits made of tyres direct the attention to the relationship between man and machine. The outfits show strength and remind of armours in parts. What a perfect start of the exhibition!
---
Akt II – Stars & Sparkles. Staging Fashion
»My only true vocation is the stage.« – Thierry Mugler
The next room is dedicated to Mugler's spectacular staging fashion. In the conviction that fashion must be shown in a musical and theatrical setting, Mugler justified the principle of the fashion show as a spectacle. In 1984, he opened a stunning show at the Paris Zenith for 6000 people. He transformed his catwalks into stages for for musical comedies, scenes from comics, Hollywood movies, and glamorous cabaret shows. He also introduced the trend of having stars model at fashion shows. Mugler invited singers and Hollywood actresses like Tippi Hedren and Sharon Stone to walk for him, and stage legends such as Madonna, Lady Gaga, and Beyoncé wore his outfits.
The sparkly staging outfits in this room are a dream come true for every lover of sequins, feathers, and rhinestone. They show Mugler's attention to detail and are definitely one of my highlights of the exhibition.
---
Act III – Too Funky
Mugler also worked as a video director. His premier was the music video for the famous song "Too Funky" by British pop star George Michael. The cast of the music video is extraordinary: Linda Evangelista, Eva Herzigová, Nadja Auermann, personalities from the New York fashion scene as well as actors and performance artists appeared in Mugler outfits. By the way: There are two versions of the video, one by George Michael, shown in this exhibition, and the other by Mugler. The designer reveals the contrast between the glamour out on the runway and the chaos behind the scenes in the video.
---
Act IV – Belle de Jour | Belle de Nuit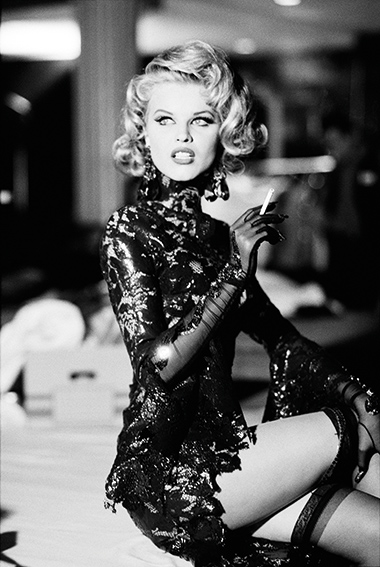 While the early 1970s actually were the time of flower power and hippies, Mugler invented his "Glamazon" – a modern, stylish, urban, and unconventional woman. Figure-hugging cuts meet architectural silhouettes and innovative materials – a power look for strong women.
This room in black and white is named after the movie classic Belle de jour (Beauty of the Day) with Catherine Deneuve, and is definitely another highlight of the exhibition – especially for retro lovers!
---
Act V – MacBeth
Mugler designed over 70 costumes and accessories for a new production of William Shakespeare's famous Macbeth played in 1985 at the opening night of the Avignon Festival. He had been given the largest budget for this purpose since the company's founding in 1680.
At the exhibition, one can see the transformation of Lady Macbeth in a beautiful digital installation. There are also some sketches of different costumes that can be admired – definitely a very fascinating room and installation.
---
Act VI – Beyond Fashion: Mugler Behind the Lens
Mugler also worked as a sucessful photographer. The story behind his photographer career is quite interesting and amusing. The trigger for Mugler's interest in photography came about in 1976, when he asked Helmut Newton to do an advertising campaign for him. However, Mugler interfered so much during the shoots that Newton told him he should do it himself – which the designer did. While Mugler continued his collaboration with Newton for over 20 years, he also developed his own unique visual language for campaigns.
A exhibition room shows some of Mugler's spectacular photos. They perfectly show his play with proportions and perspectives. His photographic dramatisations often set his models in monumental settings like Gothic cathedrals, the Opera in Paris, the Crysler Building, or natural areas like icebergs and dunes, where they appeared to be miniature figures. A wonderful room to find new inspiration and get amazed!
---
Act VII – Helmut Newton & Mugler
In the 1960s, fashion photography mainly replaced fashion illustrations, and the world experienced a magazine boom. Editors-in-chief became more important and were able to really push young fashion talents. Francine Crescent, editor-in-chief of the French edition of Vogue from 1968 to 1987, for example, significantly advanced Mugler's career and also supported two masters who turned the rules of contemporary fashion photography upside down: Helmut Newton and Guy Bourdin.
Newtons photos of Mugler so called "Glamazons" dominated the photo series of magazines in the early 1970s. Newton photographed spowerful seductresses. His images of women in Mugler creations leave traditional narratives far behind them and display a mixture of bold sex appeal and luxurious elegance. In the exhibition room, though, you will not only find some amazing photographs, but also the wonderful outfits shown in the photos.
---
Act VIII – Metamorphoses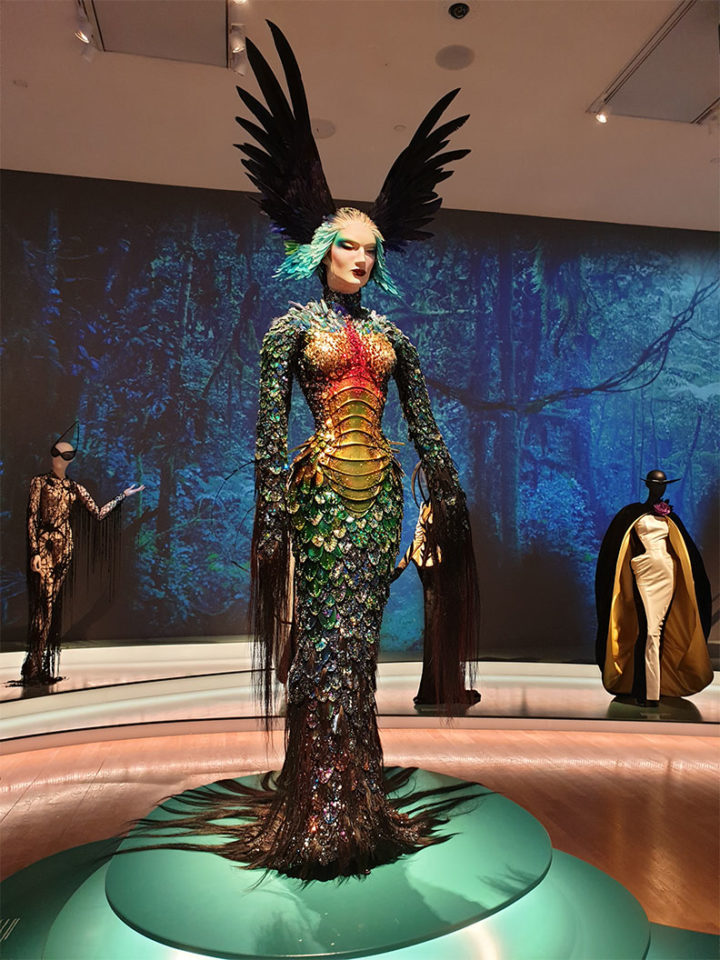 The best comes for last: Although the whole exhibition really is spectacular, the last act Metamorphoses is particularly special. Creations inspired by marine life and reptiles, insects, birds and butterflies made me feel awe and wonder. What is even more admirable is the fact, that Mugler refused to work with luxurious exotic leather or rare feathers, he rather focused on synthetic materials.
This room also shows a very special highlight and one of the most expensive creations in the fashion world: The "Chimera" – a mythical creature with articulated armor and scales decorated with an uncountable amount of crystals, rhinestones, feathers, and horsehair – a masterpiece created in collaboration with the genius corset maker Mr Pearl and artist JeanJacques Urcun that required thousands of hours of atelier work.
---
Masks & Distance Rules: What you need to know before visiting the Kunsthalle München
The Thierry Mugler: Couturissime exhibition was supposed start in April. Due to the Coronavirus pandemic, though, the start was delayed. But since the 25th of May, it is possible to visit the exhibition until the 28th of February 2021. One just have to respect some hygiene regulations. What to keep in mind:
During your visit, you have to wear a mask or at least cover your mouth and nose.
There is a different entrance and exit. You also always have to keep the proper distance of at least 1.5 metres to others.
Tickets can be bought at the counter or online. If you buy a ticket online, you have to choose a time-slot to reduce the waiting time.
The Kunsthalle Munich is open every day from 10 am to 8 pm.
There is only a certain number of visitors at the same time allowed. Therefore it makes sense to visit the exhibition on weekdays.
The regular entrace fee is 16 Euros, you will find more information on discounts here.
Have a look at the official website of the Kunsthalle München before visiting, to make sure you have all relevant information.
---
Thierry Mugler: Couturissime – my Opinion about the Exhibition
Good fashion exhibition are rare in Munich, so I'm always more than happy if one takes place. Especially if it is such a wonderful one such as the Thierry Mugler: Couturissime exhibition. The multimedia staging in combination with the spectacular creations by Mugler is absolutely fascinating and most likely might impress even people who are not into fashion at all.
At the exhibition, you can have a look at the most amazing couture gowns from a close range and read some interesting background information. There is a room that shows videos from Muglers spectacular fashion shows, and I really like the idea of dividing the exhibition into opera acts instead of a chronological order.
All the rooms are wonderfully arranged, and the staged outfits are simply breathtaking. I can't even say which part of the exhibition impressed me most, as everything was so beautiful. And even though I'm usually more into classic retro and vintage fashion, the Mugler looks really fascinate me – especially as many outfits are inspired by the classy silhouette of the late 40s and early 50s.
If you have the opportunity to visit this exhibtion, I highly recommend to do so! I even think about visiting the Kunsthalle München again. And it is definitely possible to enjoy the exhibition while wearing a mask. Beside Mugler's eccentric creations, a mask doesn't even look out of place.
---
About the Exhibition & the Kunsthalle München
The exhibition is initiated, produced and circulated by the Montreal Museum of Fine Arts (MMFA), in collaboration with the Maison Mugler which restored the designer's heritage couture. The exhibition is curated by Thierry-Maxime Loriot under the direction of Nathalie Bondil, Director General and Chief Curator of the Montreal Museum of Fine Arts. Kunsthalle München is located in the Theatinerstraße 8, in the heart of Munich between Marienplatz and Odeonsplatz. It is one of Germany's most prestigious exhibition houses.