For special occasions and every day: Handbags & fascinators by Nadja Christner
Advert | in collaboration with Nadja Christner
Too big, too small, too golden, too silver… Which (vintage) lady doesn't know this situation? One has an amazing dress, but can't find a matching handbag and/or fascinator. I even often find it hard to find matching accessories for my everyday outfits. Instead of resign, there is still the option to get something custom-made! And this is exactly what the wonderful Nadja Christner does in her atelier in Offenbach/Germany: She makes sustainable and unique handbags as well as fascinators for very fair prices. I'm now going to show you some of her creations and tell you, what makes them so special.
Sustainable & unique: Nadja Christner Handbags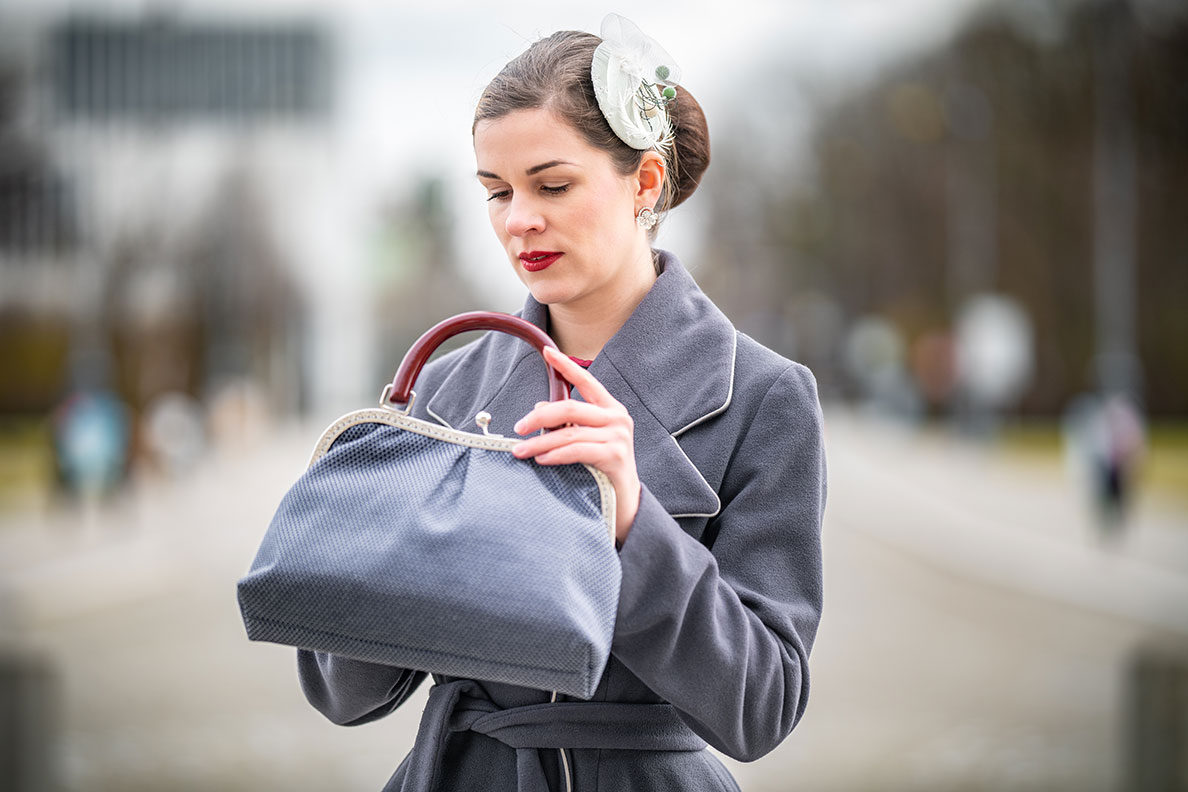 Nadja Christner is specialised in unique handbags with decorative metal clips as a handle – something that reminds her (and me) of bygone eras. She creates wonderful handbags by hand and mainly uses remains of exquisite furnishing fabrics, which normally wouldn't be used anymore. She creats every handbag only once and they are quite robust – those furnishing fabrics are really durable, while looking super elegant.
So Nadja Christner makes wonderful, sustainable, and robust handbags that are unique and very special! Her bags are available in a lot of different shapes and variations. Nadja can also create a bag according to your personal wishes.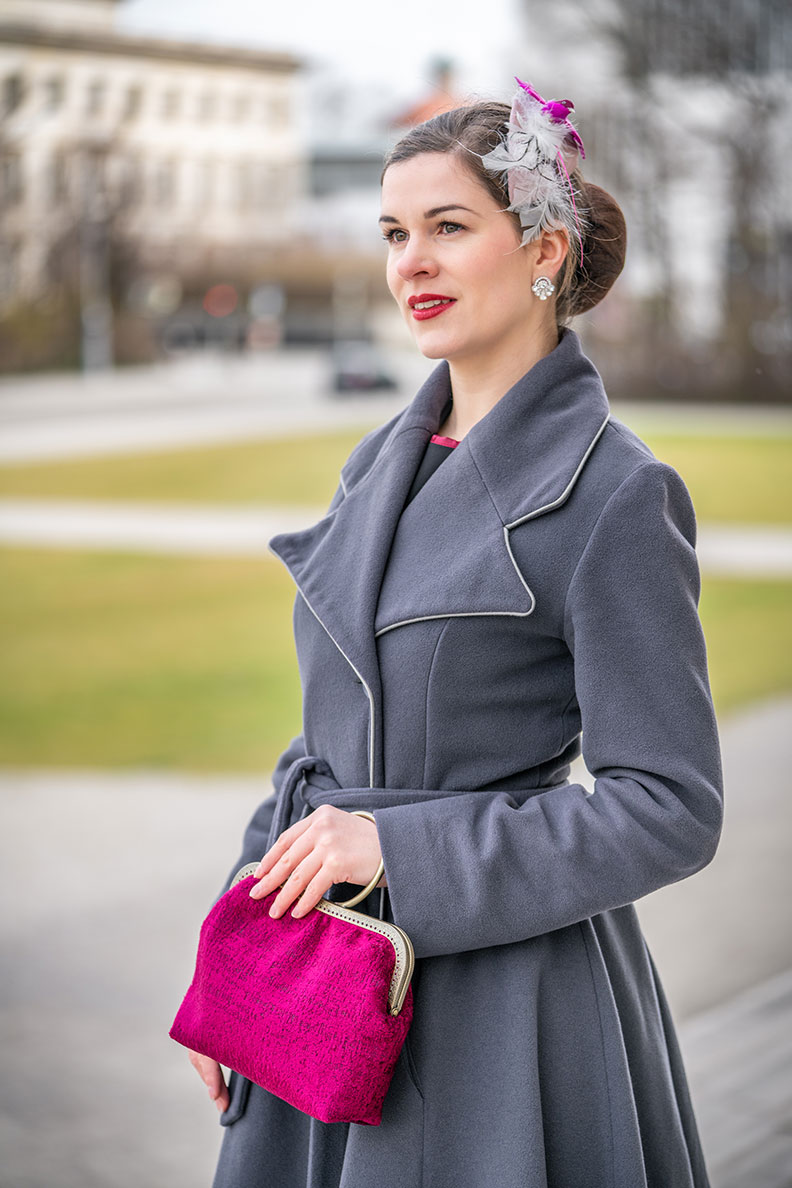 Elegant Handbags for every Occasion
Nadja Christner offers different kinds of handbags – no matter if you need a glamorous one for the evening, or a a chic one for everyday life. Many handbags also have an additional shoulder chain, which is really practical. If you choose a decorated handbag, the decoration usually is a brooch, so you can choose every time you wear it if you want your handbag more subtle for everyday life, or want something a bit more glamorous. And of course, you can also wear the brooch on your jacket or dress!
The handbags all have so many lovely details. Even the inside looks amazing! The little inside pocket is perfect for your keys, or a lipstick, for example.
---
Unique Handbags
The handles at the handbags made my Nadja Christner are very unique, too. What about a super cool ring with skulls, for example? The pretty handles in combination with the gorgeous fabrics make sure your handbag really is unique.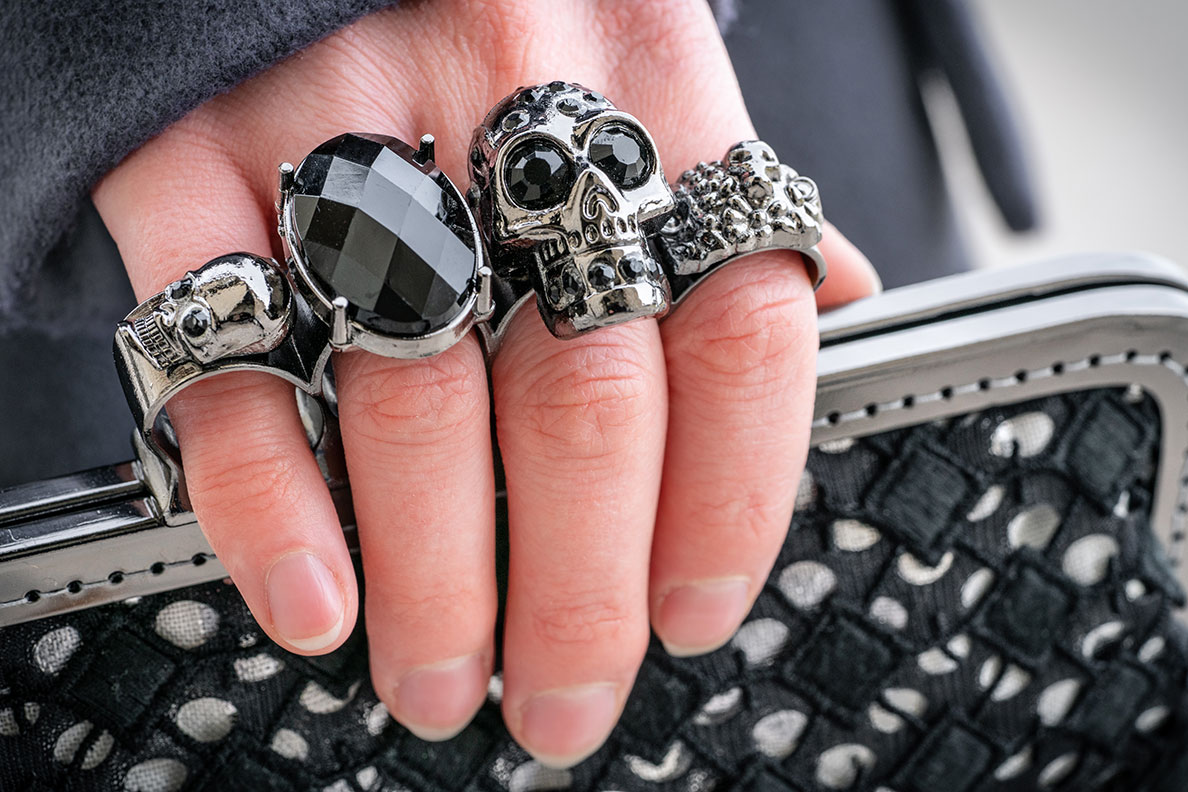 ---
The Tie Handbags by Nadja Christner
Beside chic handbags, Nadja Christner also makes small bags/wallets out of old ties. These little bags are simply perfect to carry money with you, store the makeup you need for touch-ups, or for your jewellery while travelling, for example. You can even use them as a very small evening handbag (assumed you can carry your smartphone somewhere else ;-)).
---
Charmingly beautiful: Nadja Christner Fascinators
Apart from handbags, Nadja Christner also creates some unique and very beautiful fascinators. They are decorated with feathers, pearls, bows, or even miniatures, and attached to your hair with a clip or headband. These wonderful fascinators are perfect for the upcoming wedding season, elegant garden parties, formal occasions, or other special events. The smaller ones can also be perfectly worn with an everday outfit.
By the way: It is also possible to order custom-made designs! I, for example, sent Nadja some pictures of my black evening dress with red lining, and she created this wonderful, colour-matching fascinator that really is the cherry on the cake of my look.
The dark red flowers on the fascinator are made of an old tie. So the the elegant accessory that was once worn by a man to finish his outfit, now got a new life and adorns my head.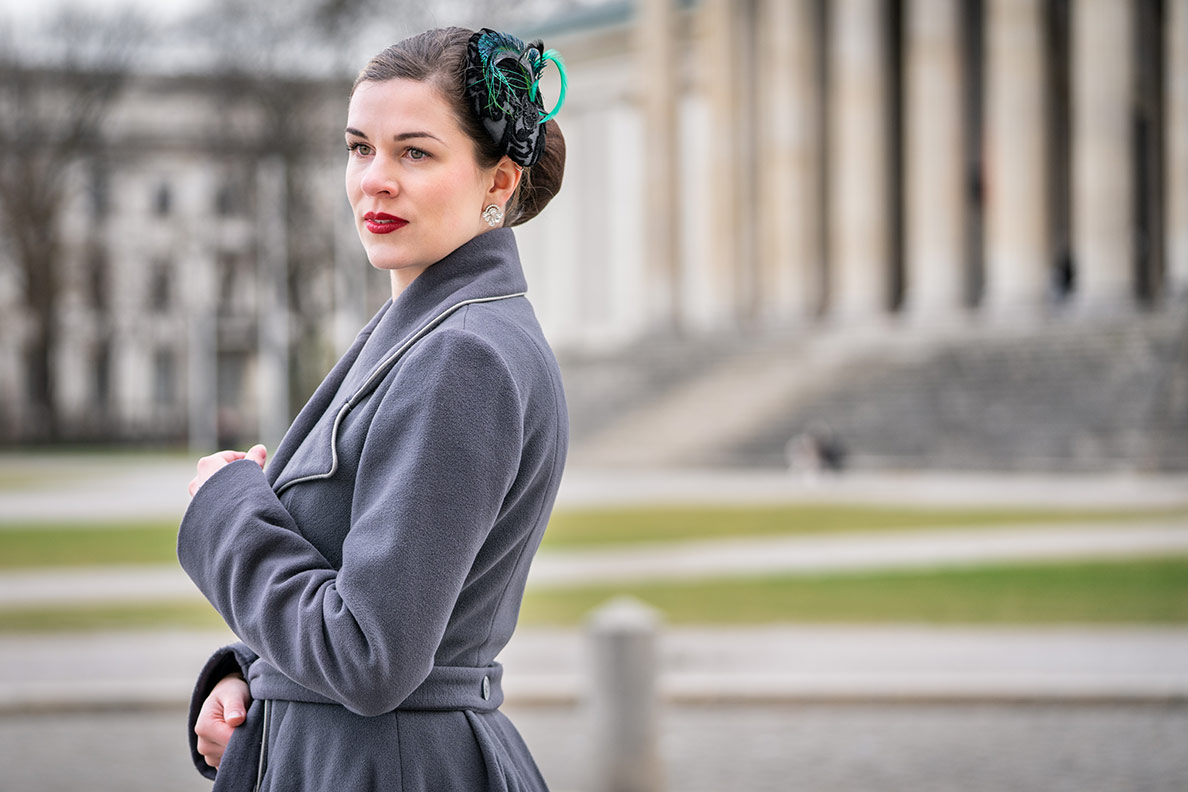 ---
How to contact Nadja Christner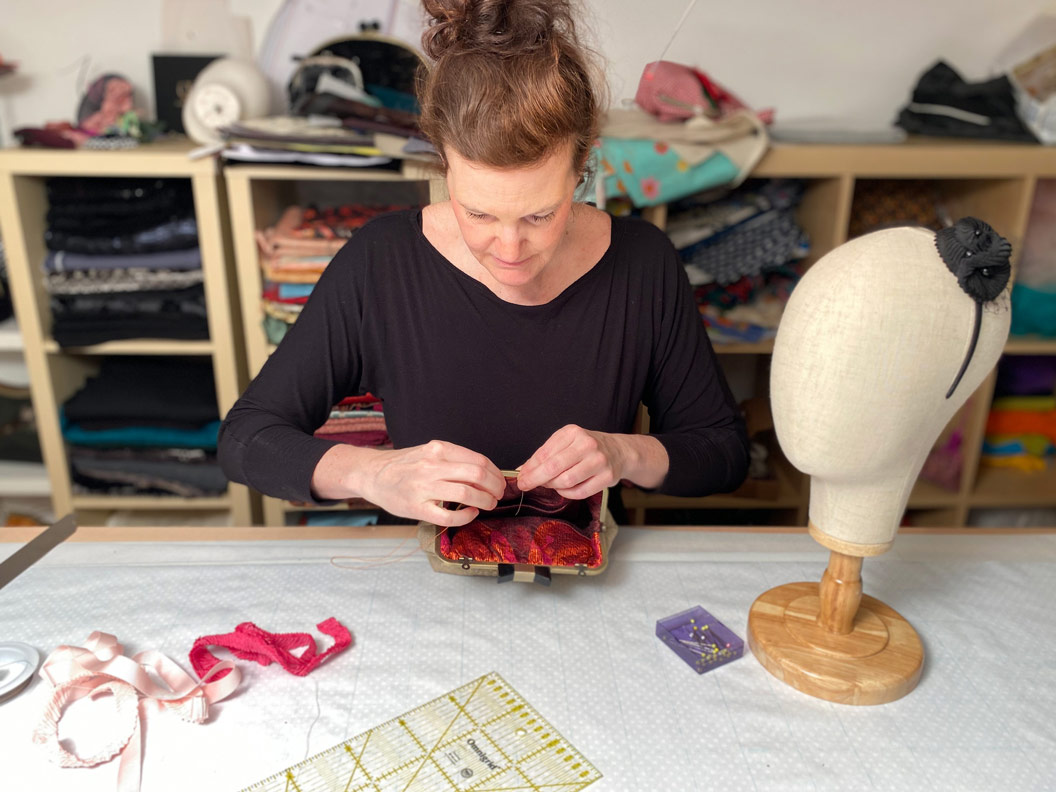 If you are searching for a unique handbag and/or fascinator for a special occasions like a wedding, christening, evening occassion, or for everyday life, just get in contact with Nadja and tell her your wishes. She will talk about fabrics, designs, as well as details with you, and will create something very special up to your wishes and for a very fair price.
Contact:
Schubertstr. 36
63069 Offenbach am Main/Germany
If you want to visit the atelier, you need an appointment
Phone: +49 69 2553-6068
Mail: mail@nadja-christner.de
Website: www.nadja-christner.de
You will also find new designs by Nadja Christner and a glimpse behind the scenes on her Facebook and Instagram account.
[ap_divider color="#CCCCCC" style="solid" thickness="1px" width="100%" mar_top="20px" mar_bot="20px"]