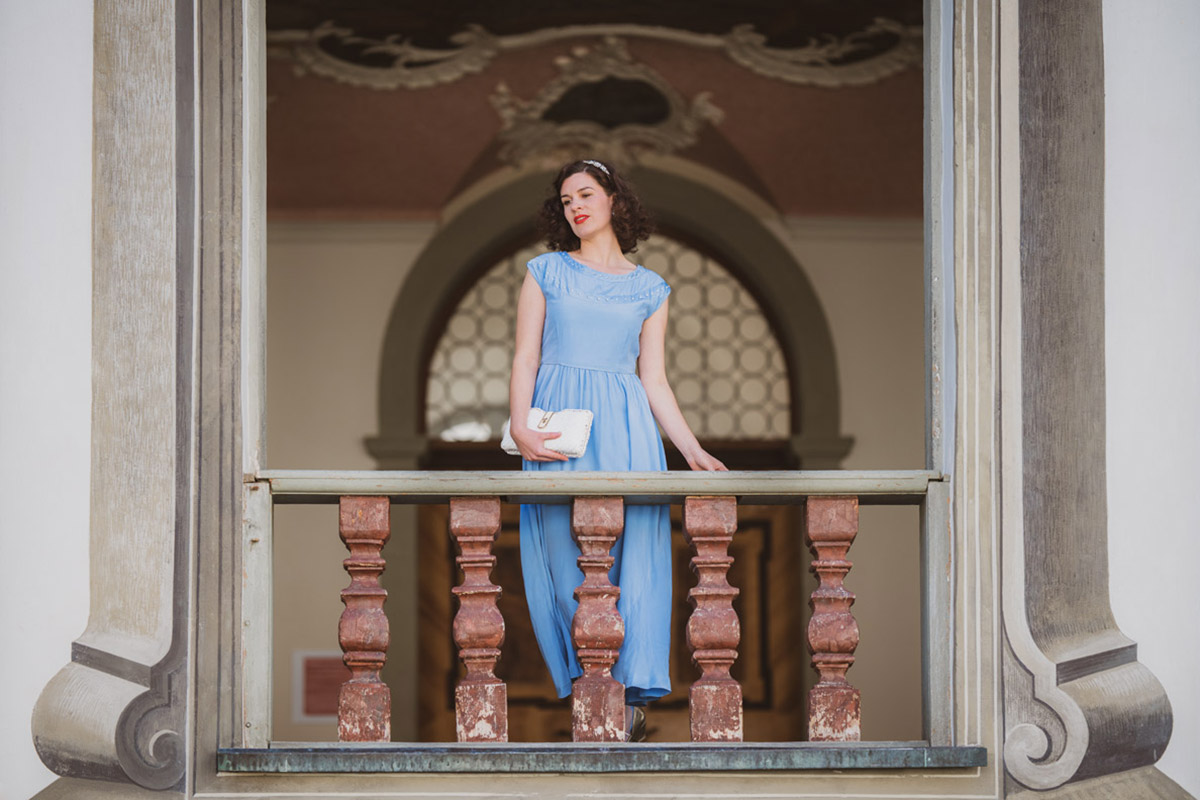 This blog contains affiliate links (marked with *). If you shop products via those links, I may get a small provision which helps me to maintain my blog. Of course the price doesn't change.
Style Guide: Wedding Guest Outfits
As soon as you reach a certain age, wedding invitations flutter into the house on a quite regular base. These very special occasions are perfect do really get dressed up and style yourself. However, there is one big question: What on earth should we wear when our best friend gets married? All the rules aren't really helping, either. For example: is it okay to wear red on a wedding? So in this guide, I show you many different ideas for wedding guests.
PS: Please keep in mind that dressing rules regarding weddings might differ from country to country. I am from Germany. However, I tried to show you some lovely outfits that work generally well on weddings.
Wedding Guest Outfits: The Rules & No-Gos
If you get invited to weddings, you should keep some rules and no-gos in mind.
Which Colours you shouldn't wear as a Wedding Guest
Of course, only the bride wears white. Please avoid wearing very light colours in general, like beige or cream for example. The only exception: You got the go from the bride or the dresscode is "white for everyone".
Especially in Germany, you shouldn't wear red on weddings, but this may differ from country to country.
A little black dress is always a good idea, right? Well, maybe not on weddings. I would rather go for a more colourful and brighter option.
Don't wear anything too sexy and fancy like leopard print, for example.
Very important: Read the Invitation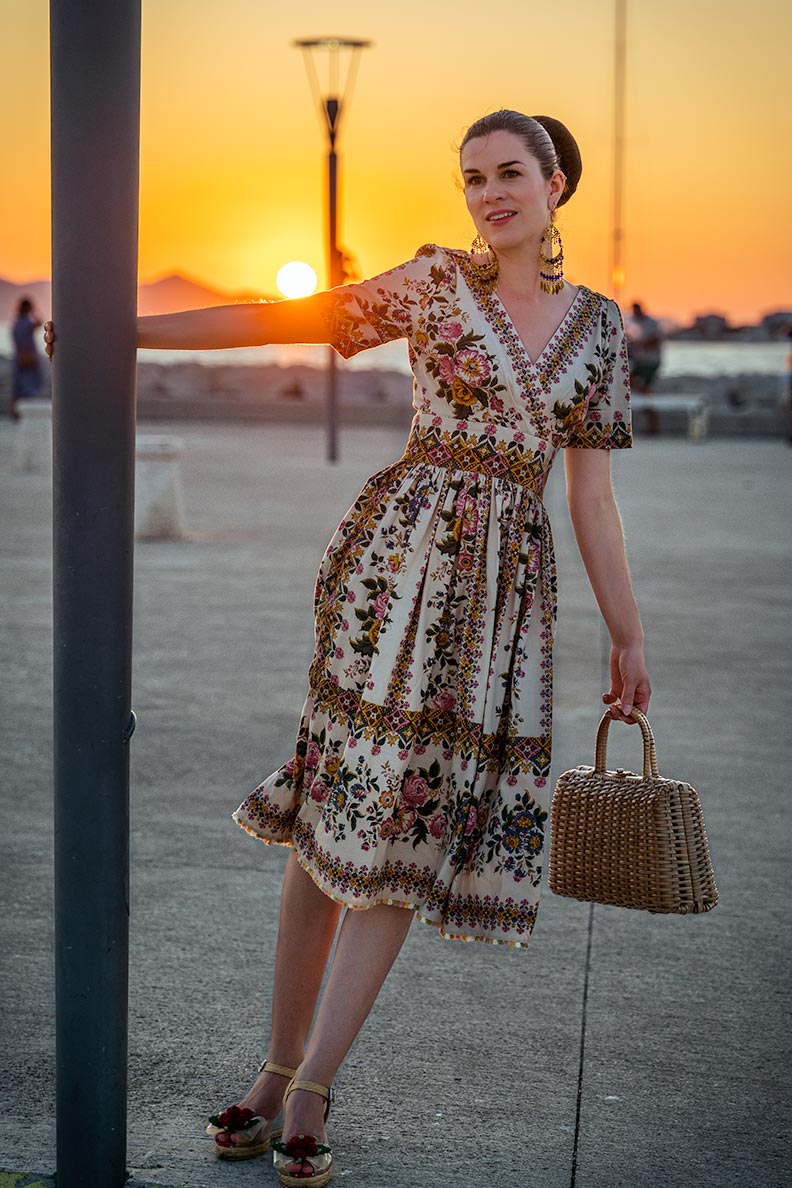 Different weddings require different outfits. What might work on a garden wedding, isn't the best choice for a wedding at a church. Make sure to read the invitation and look if there is any dresscode or motto. If so, stay true to the motto/dresscode!
Keep the Location in Mind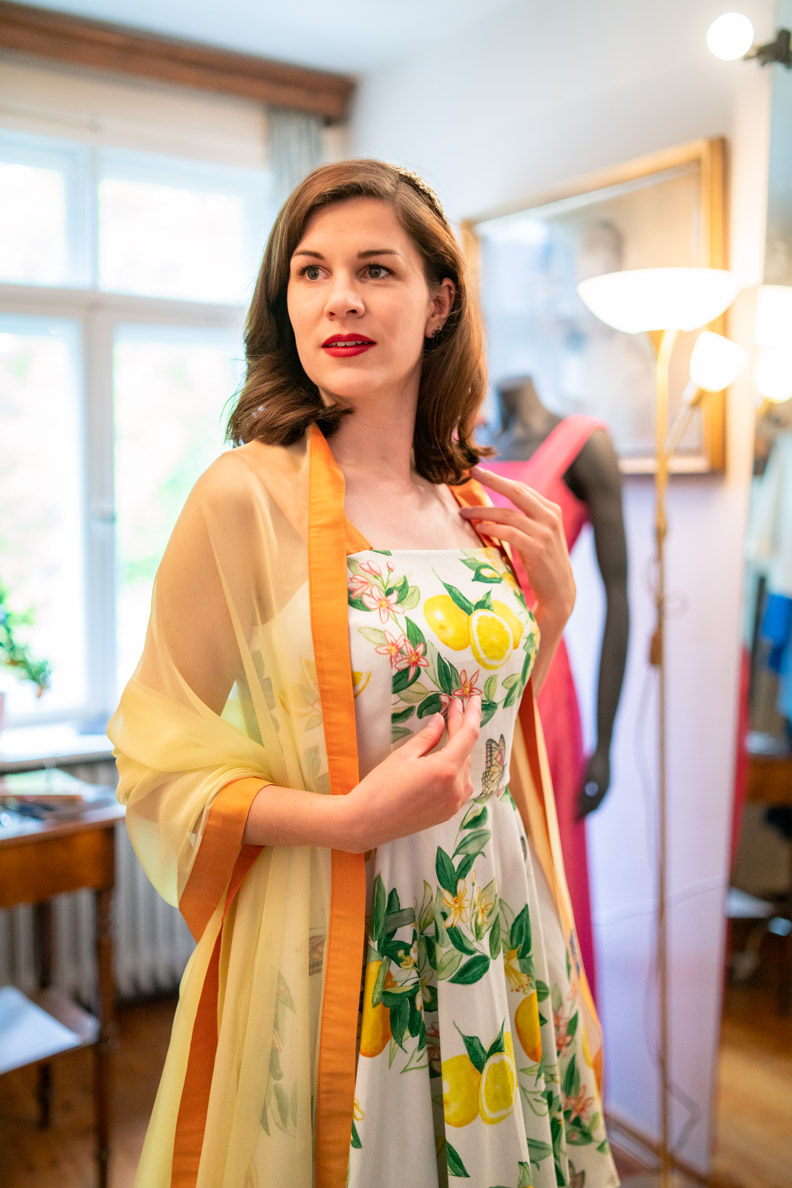 Get informed about the location. Churches or cathedrals in Europe are often quite cold, so make sure to wear a jacket or long scarf around your shoulders when the wedding takes place there. Garden parties require comfy, but still elegant shoes and are definitely a bit more casual than wedding parties that take place at a castle, for example.
When in Doubt: Overdress!
If you are a bit unsure how formal or elegant the wedding is, rather go for the more glamorous outfit option. Overdressing is definitely better than underdressing at weddings!
---
What to wear as a Wedding Guest
After all these no-gos and rules, let's finally talk about what to wear to the wedding. And let me tell you: There are still a lot of options!
These Colour are perfect for Wedding Guests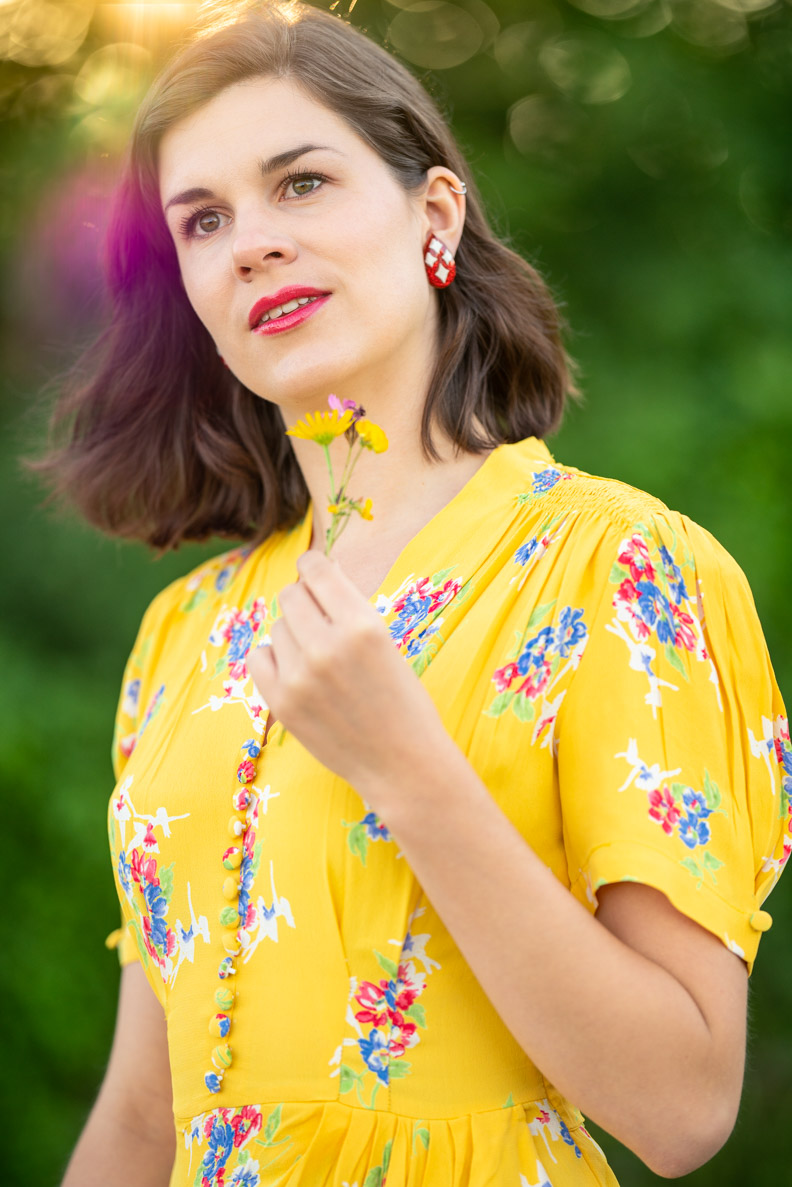 Subtle colours are always a better choice than very bright colours. What I can recommend:
A soft pink (not to light)
Every shade of Blue
Lilac
Yellow
Green
Gold only for very glamorous evening weddings!
Especially in spring, pastel-colours are always a good choice!
*Affiliate links

---
Skirt, Dress or Trousers?
Fitted dresses, flared dresses, or maybe some trousers? You have the choice!
All in all, a lovely dress in midi or knee-length is always a good choice for weddings.
A lovely combination of skirt and blouse or top looks good as well. Just make sure you don't look too formal or business-like.
Flared trousers made of an elegant fabric in combination with a lovely top look good as well.
If you prefer a more fashionable outfit, I recommend elegant jumpsuits! Have a look at TopVintage*, for example. They offer quite a few wonderful ones.
*Affiliate links

---
Inspiration for your Wedding Guest Outfit for Spring, Summer, Autumn & Winter
Different seasons require different outfits, so here are some ideas.
Wedding Guest Outfits for Spring
Flowers, light fabrics, and pastel-colours – in spring, you have some wonderful options for weddings! However, especially on cold spring days it can also be a bit tricky to find an elegant outfit in which you won't freeze.
For colder Months: A chic Coat as an alternative to a Dress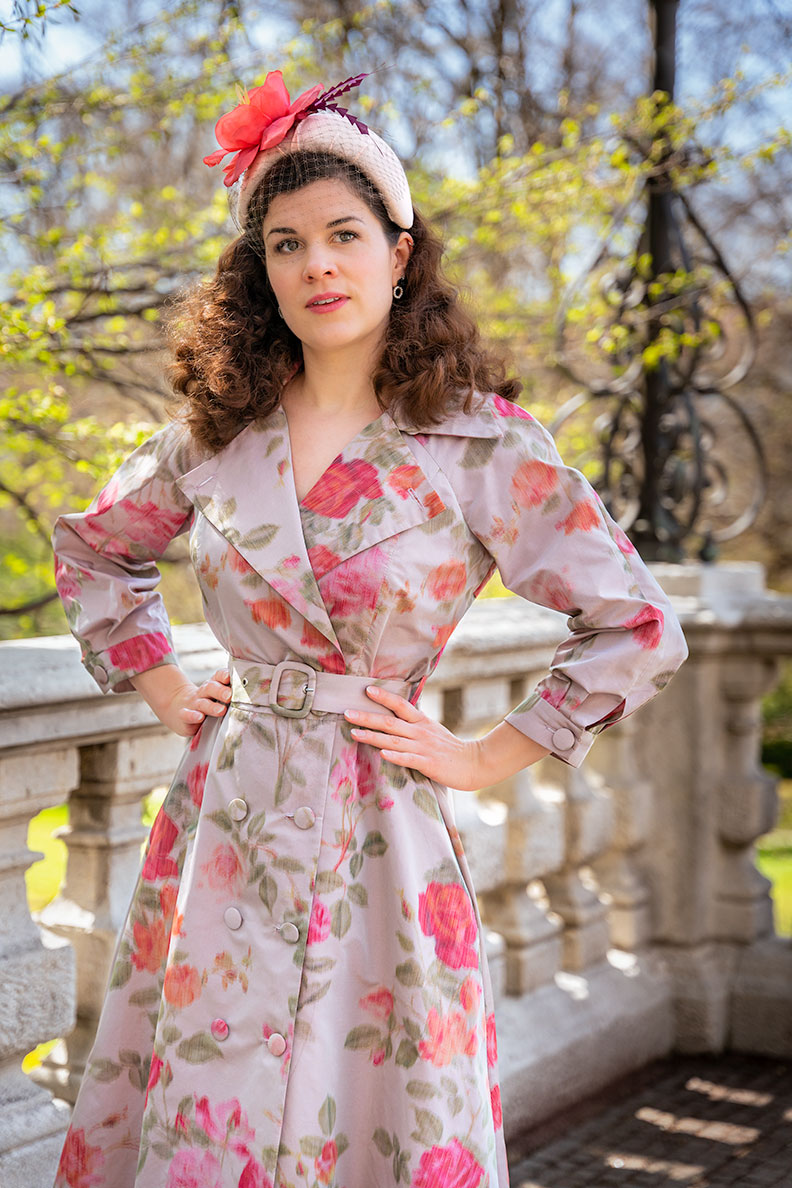 On colder spring days, a light, elegant coat might be a great alternative to a dress! And if you like to wear a light dress, make sure to not forget your trench coat to wear on top.
*Affiliate links

---
Flower Dresses: The All-rounder for Wedding Guests
Flower dresses are an all-rounder for wedding guests! They look amazing, cheerful and elegant. You will find very lovely flower dresses at TopVintage* or The Seamstress of Bloomsbury (via Etsy)*, for example.
*Affiliate links

---
Wedding Guest Outfits for Summer
Summer, sun and weddings! During the warmest season, the most challenging thing when dressing for weddings is to not sweat too much. So go for light fabrics and not too fitted cuts.
Dresses for Wedding Guests: Gingham for Countryside Weddings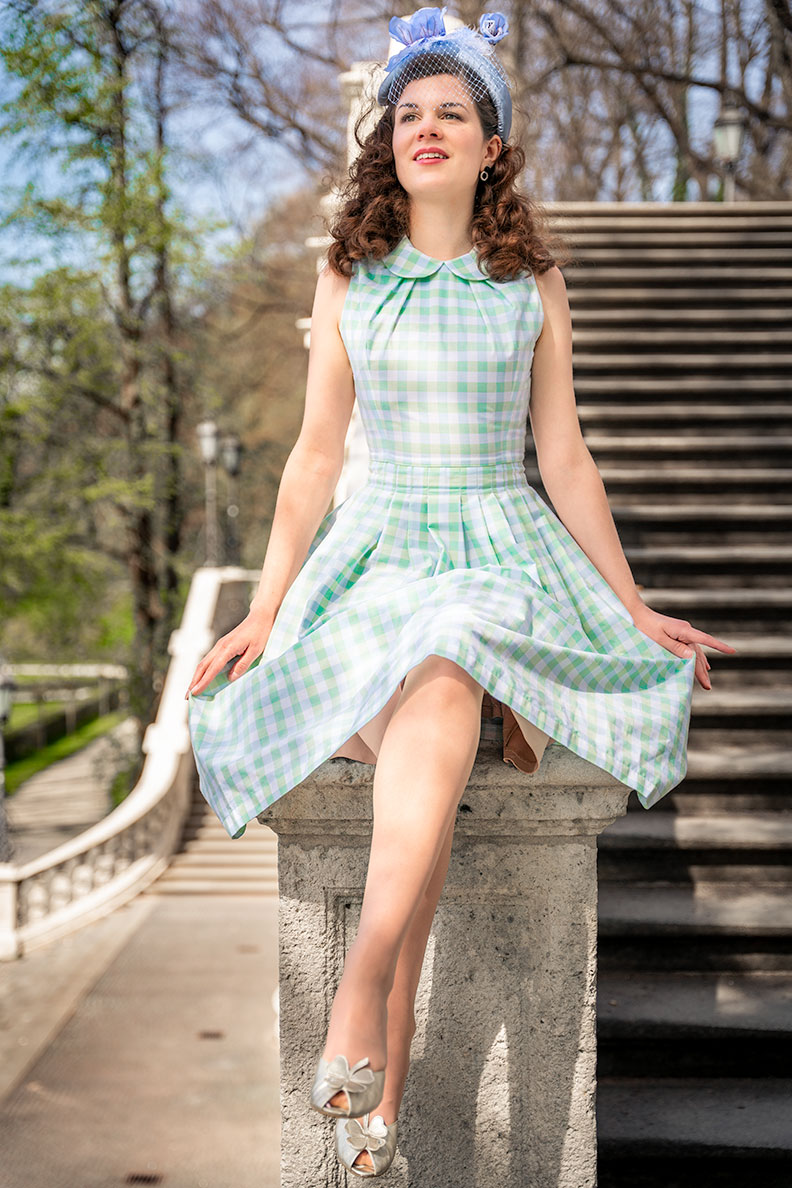 Gingham goes perfectly well for more casual weddings in the countryside. Make sure to choose a classy cut and some elegant accessories to still look elegant. TopVintage*, for example, offers some very lovely gingham clothes.
*Affiliate links

---
Lemons & Co. for a summery Wedding Guest Outfit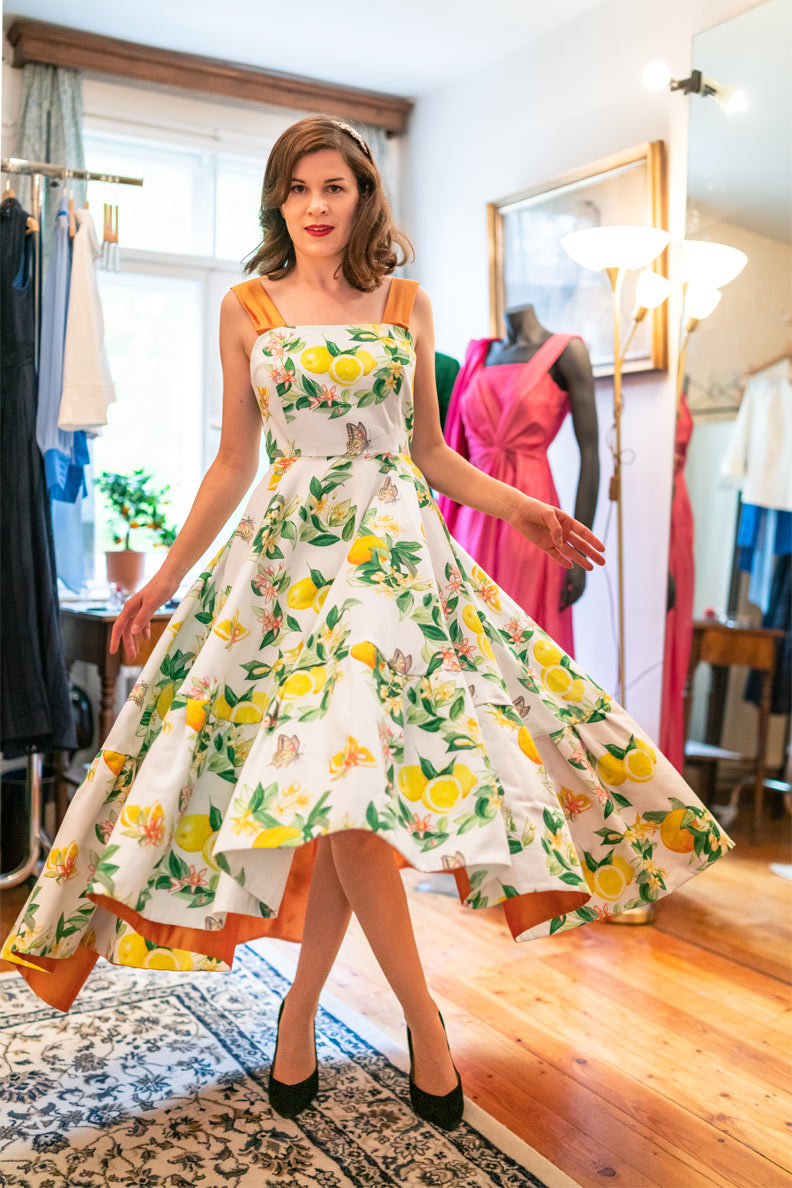 Lemons and other colourful prints are wonderful for summer weddings! Make sure to choose a cut that fits the dresscode of the wedding. PS: Those patterns are also perfect for a summer wedding in Italy. 😉
*Affiliate links

---
Perfect for Summer Weddings: Coral-Colours
Coral-colours look amazing with a sun-kissed tan and are a wonderful choice for wedding guests. Just make sure the shade is not too bright.
*Affiliate links

---
Maxi Dresses for Summer Weddings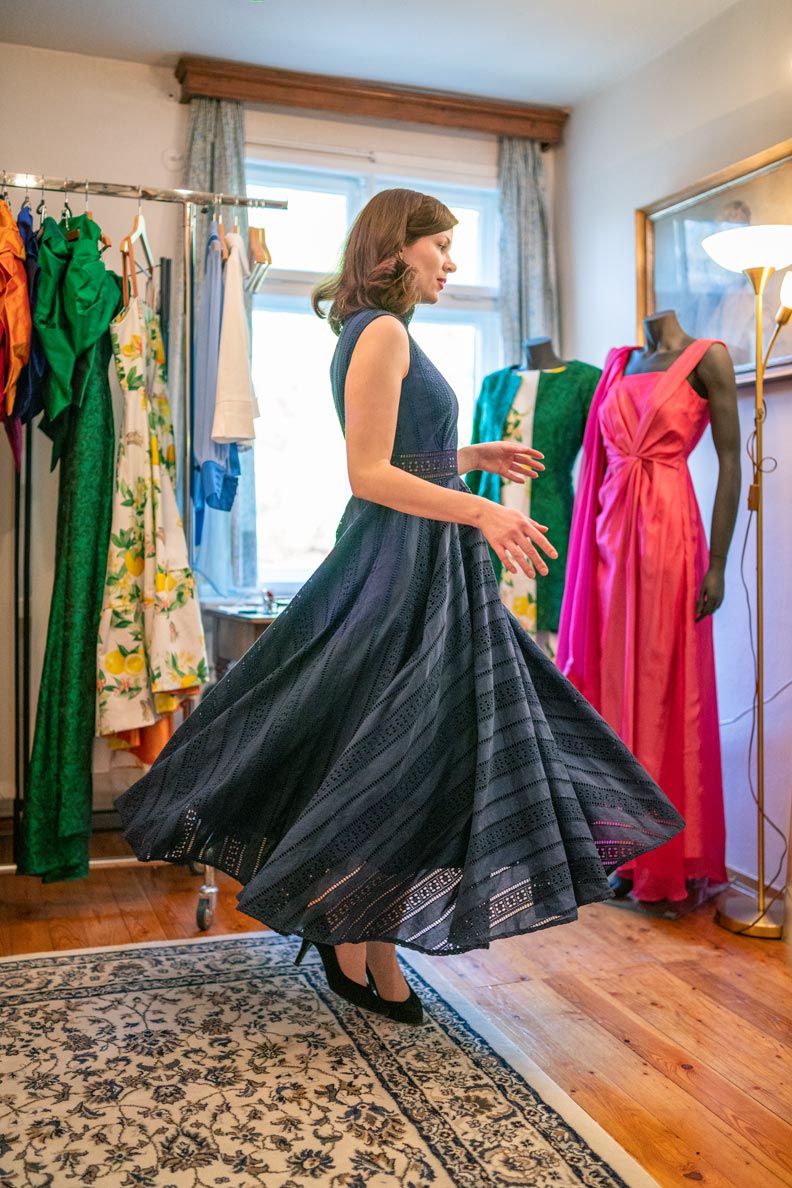 Maxi dresses are always a good choice for wedding guests – not only in summer. But during the warmest of all seasons, these floating dresses feel especially good on the skin. For a more casual garden wedding, I recommend some cool 70s prints (via TopVintage*, vor example). On more formal weddings, rather wear more subtle prints or go for a unicoloured option.
*Affiliate links

---
Wedding Guest Outfits for Autumn
In autumn, it can still be very nice and sunny weather. However, it also can be very rainy and cold. If the weather is bad, it can get a bit tricky to find something suitable for weddings, but I have some recommendations for you.
Perfect for Autumn: Long Sleeves and a Fascinator
Make sure to choose a dress with longer sleeves for those cold days. If your dress is not super elegant, you can always wear a fascinator with it and you will immediately look very wedding-appropriate. 😉
*Affiliate links

---
Tweed & warm Fabrics: Perfect for Autumn Weddings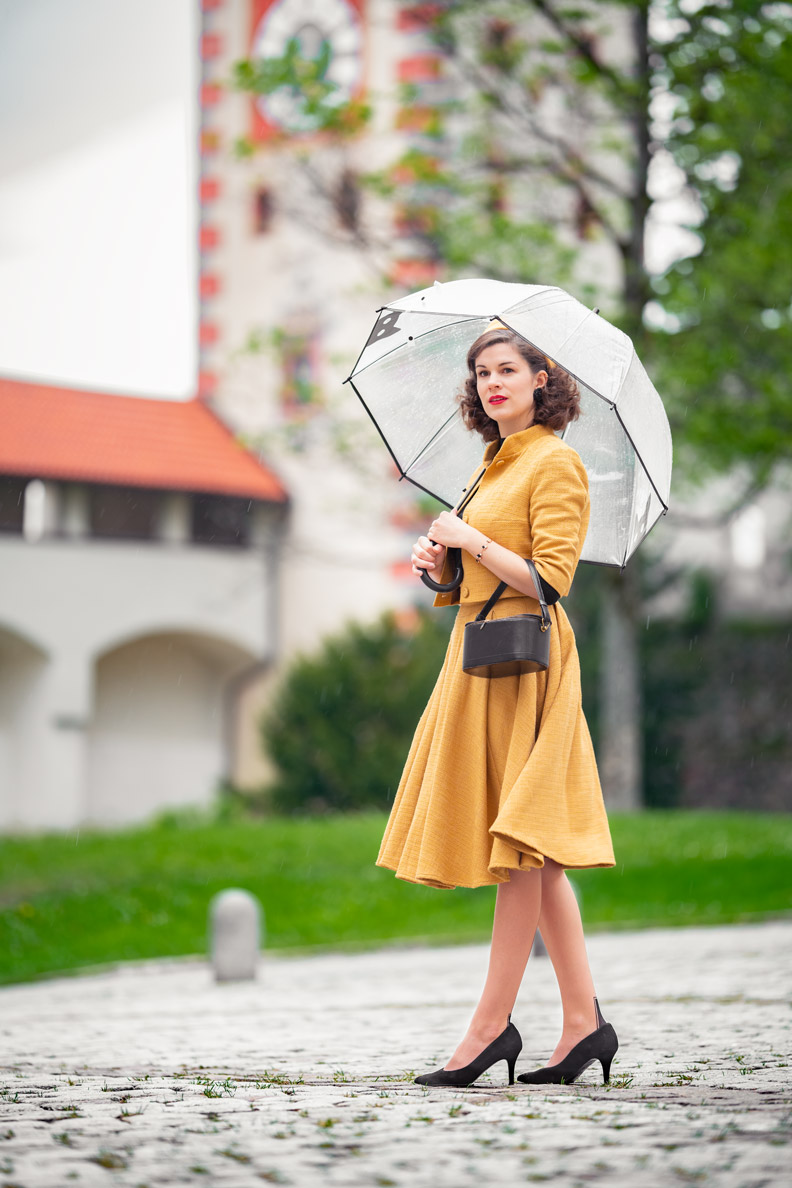 Warm fabrics and suits consisting of a skirt and matching jacket are a wonderful choice for weddings on cold days. Autumn colours like mustard or a rusty orange are a good choice as well.
*Affiliate links

---
What to wear to Winter Weddings
Winter weddings can be super romantic and very beautiful! However, they might be the most challenging from a styling-perspective. There are still some wonderful options, though.
Wedding Guest Outfit for Winter: A chic Suit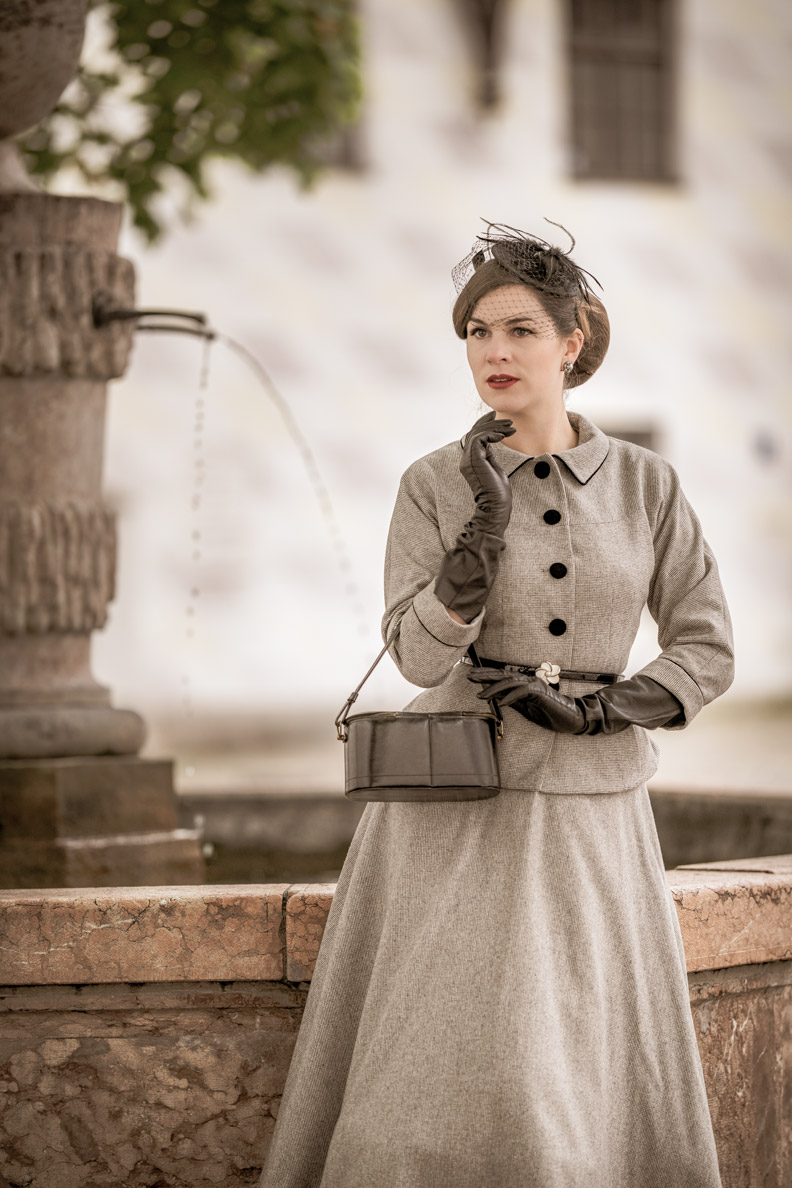 Just as in autumn, a suit is a wonderful idea for winter weddings as well. Make sure to wear some glamorous accessories with your suit to not look too formal.
*Affiliate links

---
Elegant Knitwear for Winter Weddings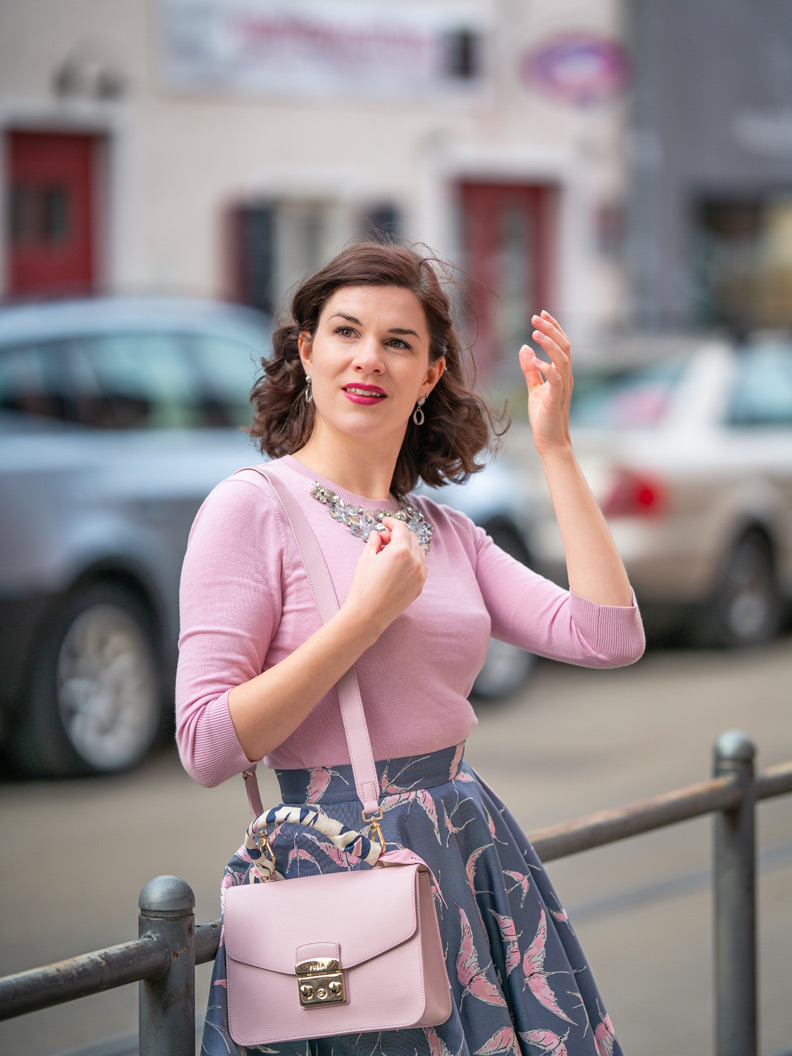 Knitwear can look very elegant! And knitwear, of course, is perfect for winter. What about a combination of a sparkly skirt and a knitted sweater? This looks cool and still elegant!
*Affiliate links

---
For Winter Weddings: Glamorous Velvet Dresses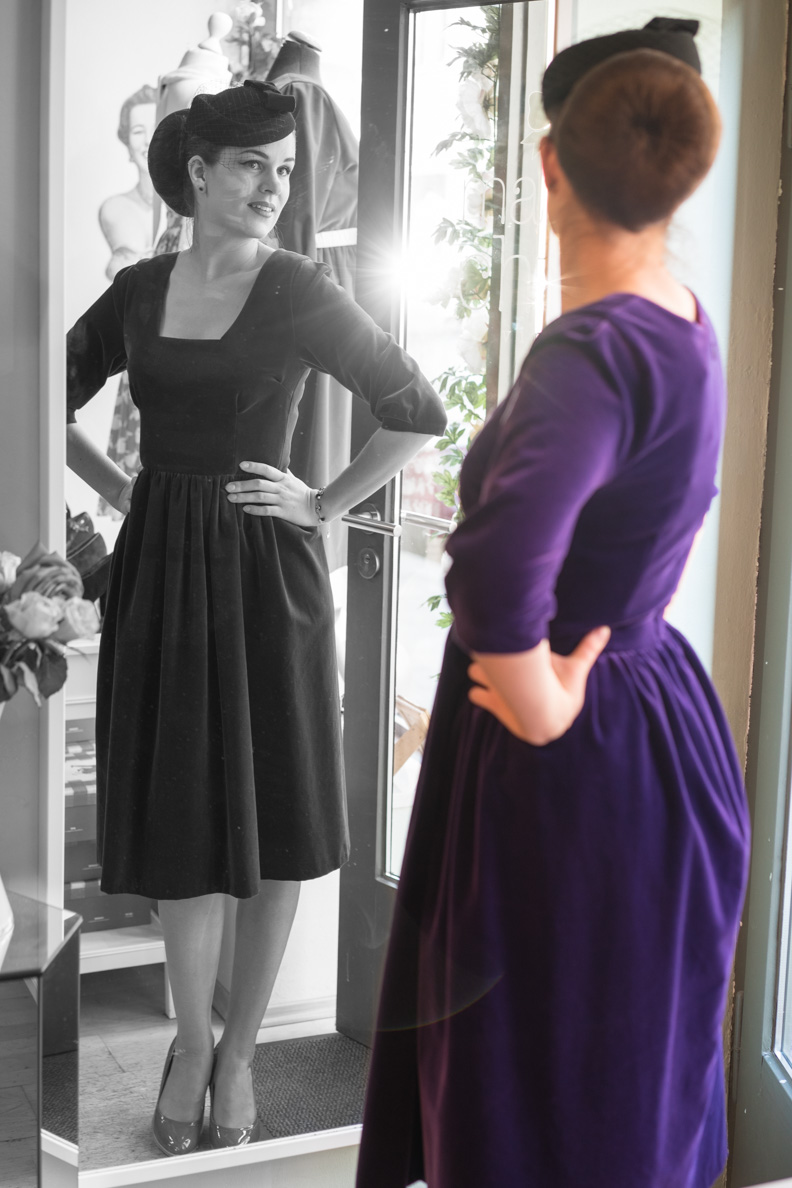 If the previous options weren't elegant enough for you, I have the ultimate idea for winter weddings: Velvet dresses! They are super glamorous and luxurious but still will keep you warm.
*Affiliate links

---
Wedding Guest Outfits for Civil, Church and traditional Weddings
Season and weather are not the only things to keep in mind when choosing your wedding guest outfit. The kind of wedding is important as well.
Formal & elegant: Wedding Guest Outfits for Church Weddings
As I mentioned before, in cathedrals and churches, it can get quite chilly, even in summer. Furthermore, the Christian dress code usually requires covering your shoulders. So make sure to keep a jacket or long, elegant scarf with you.
*Affiliate links

---
Glamorous Outfits for Weddings at a Castle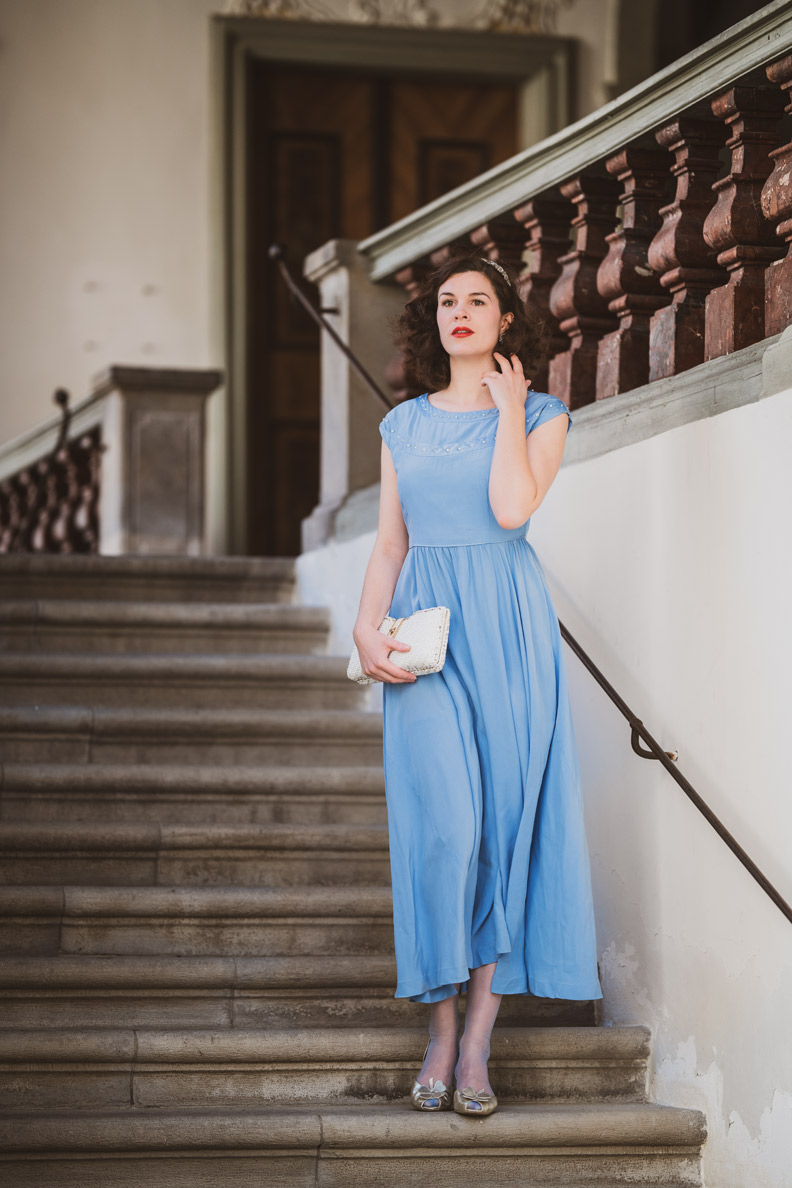 The wedding is taking place at a castle or a very glamorous ballroom? Congratulations! You can really dress up in this case! I recommend long evening gowns in lovely colours – you can even go for some sparkles. By the way: Lovely details or cuts like wide sleeves, for example, will make your outfit more interesting and fashionable.
*Affiliate links

---
Relaxed & chic: The Garden Wedding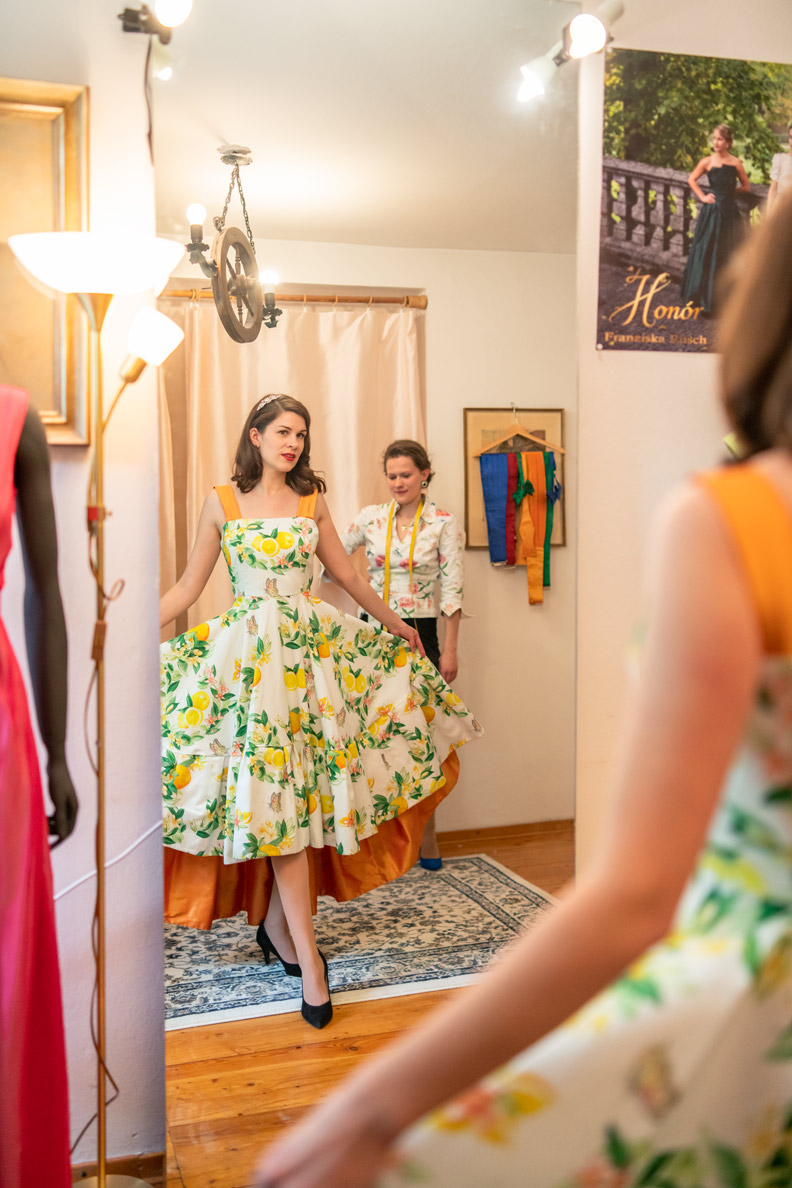 Garden weddings are usually a bit more casual. Maxi dresses and summery prints are a good choice in this case!
*Affiliate links

---
Outfit Ideas for traditional Weddings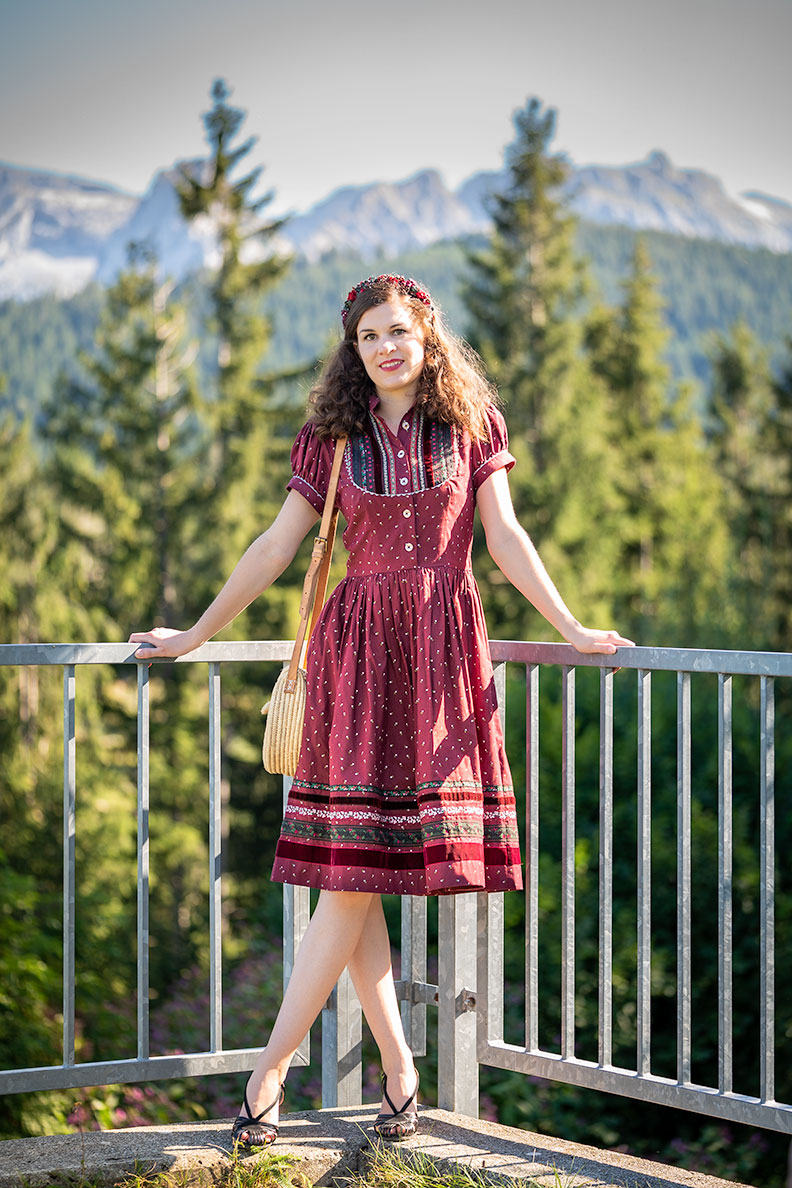 Especially in Bavaria and Austria, the dresscode on a wedding can be "Tracht", this means traditional garments are required. You can either wear a Dirndl or a Dirndl inspired dress. The "Gretl" dress by Lena Hoschek is a lovely choice, for example!
*Affiliate links
---
Subtle Elegance for Civil Weddings
Civil weddings are usually not as formal from a dressing perspective as weddings at a church, for example. So midi dresses in a lovely colour or with a subtle print are a wonderful choice.
*Affiliate links

---
How to add that certain Something to your Wedding Guest Outfit
You can wear the same dress on different weddings and still always look different. The secret: Accessories!
For a royal Look: Wear a Fascinator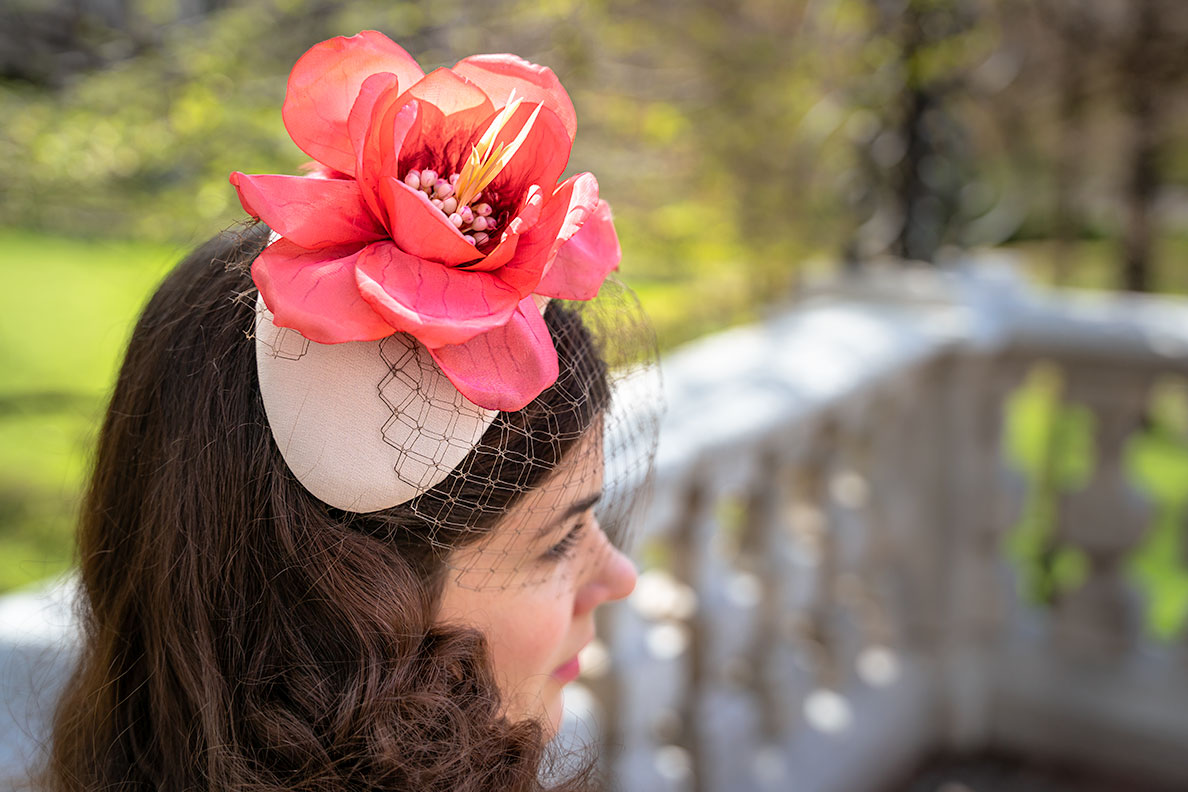 A fascinator is a classic on weddings! However, I recommend to only wear a subtle one – except you are attending a royal weddings, in this case: Wear something fancy! 😉 In this blogpost, I show you different small and very lovely shops for fascinators and hats. The fascinator in the picture is by Hutmadame, by the way.
*Affiliate links

---
Lovely Hair Accessories for Wedding Guests
If a fascinator is a little bit too much for you, go for more subtle hair accessories like hair flowers or a head band, for example. This still adds that certain something to your outfit but is not too fancy.
*Affiliate links

---
Chic Shoes to finish the Look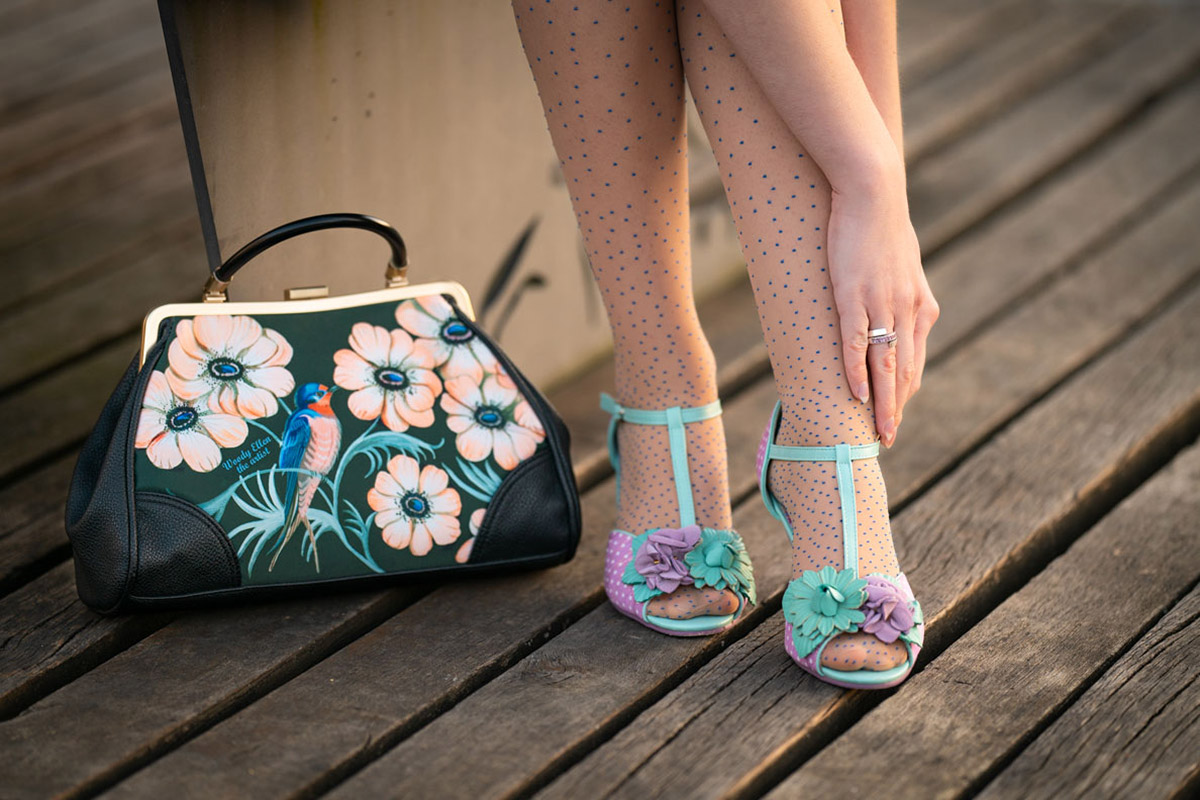 Classy pumps or sandals are the best choice for wedding guests. On garden weddings, wedges might a good choice.
*Affiliate links

---
The matching Handbag for Wedding Guests
Elegant outfits require elegant handbags. A clutch is always a good choice. However, they can also be a bit boring as most likely almost every woman is going to wear one. So what about a stylish straw clutch? This kind of handbag is the perfect choice for summer weddings!
*Affiliate links

---