This blog contains affiliate links (marked with *). If you shop products via those links, I may get a small provision which helps me to maintain my blog. Of course the price doesn't change.
Easy hairstyles: 3 helpful hairstyling tools
I am not very talented when it comes to hairstyles. Furthermore, I usually don't really have time in the morning for a proper hairstyle. However, I still like my hair to look perfect and classy. This is why I invested in a few hairstyling tools that really make my life easier and the mornings more relaxed.
Helpful Hairstyling Tools: A Hair Donut
You want your hair to look spectacular, but don't have more time than five minutes? In this case, a huge bun is your hairstyle to go. With the help of a so-called hair donut, this will succeed in less than five minutes.
And this is how it works: Start with a ponytail that is placed either low or high – depending on your preferences – on the back of your head. Afterwards, put a so called hair donut over your ponytail and place your hair around it. Pin everything and put on a hairnet around the donut to fix the hairstyle. Now, you only need some lovely hair flowers or a stylish hairband and your wow-look is finished.
By the way: hair donuts are availble in a lot of different sizes and colours. The bigger the bun, the more exciting the hairstyle. Also, make sure to use a donut close to your haircolour. You will find differnt hair donuts on Amazon*, for example.
*Affiliate links

---
Sleep-in Rollers for amazing Curls over Night
Waking up in the morning and you hair is perfectly curled? What sounds like a dream can come true with the help of so-called sleep-in rollers.Sleep-in rollers are very soft hair curlers that you put in your damp hair. Go to bed an let your hair dry in the rollers while sleeping. The next morning, you will have wonderful curls, read more here. I use the Rockin' Rollers von TopVintage*.
By the way: In my huge hair curler guide, I tell you more about the different kind of curlers and rollers.
*Affiliate links

---
A Fake-Ponytail for when you have no time at all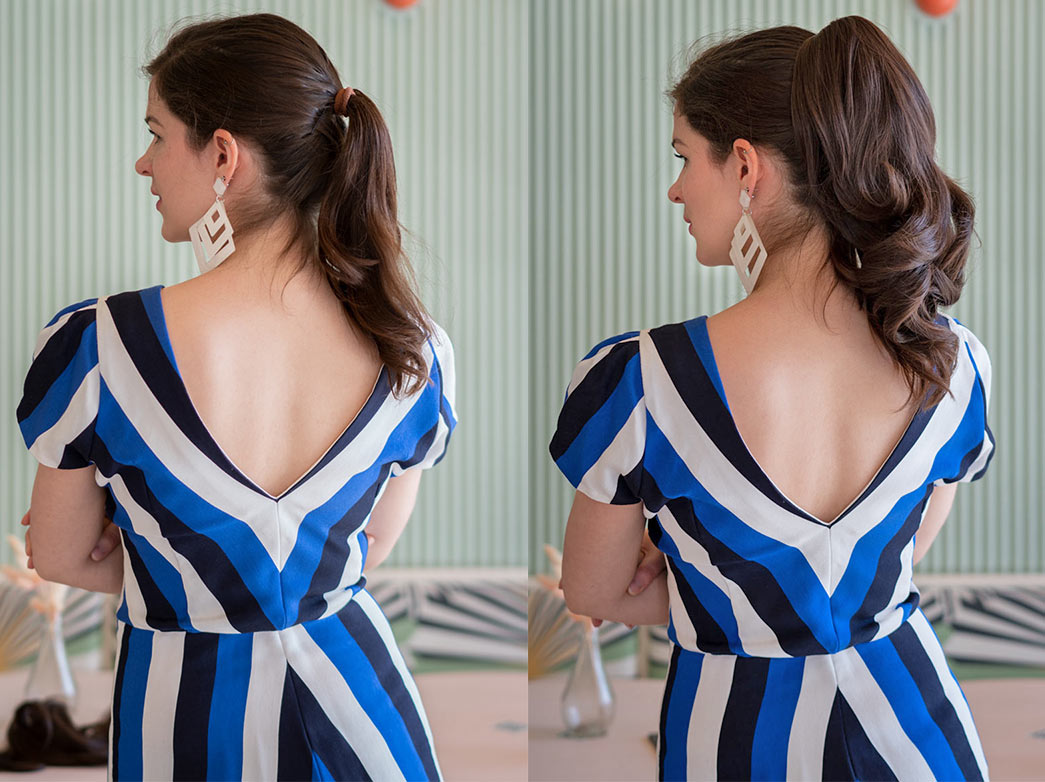 I am usually always in a rush in the morning. But on some days, I have no time at all. Whenever I still want my hair to look amazing, I go for a fake-ponytail (via Amazon*). It is so easy to attach to your hair! The only requirement is that your hair somehow fits into a ponytail. So it even works with a (not too short) bob! Read more about this amazing hairstyling tool here.
*Affiliate links

---