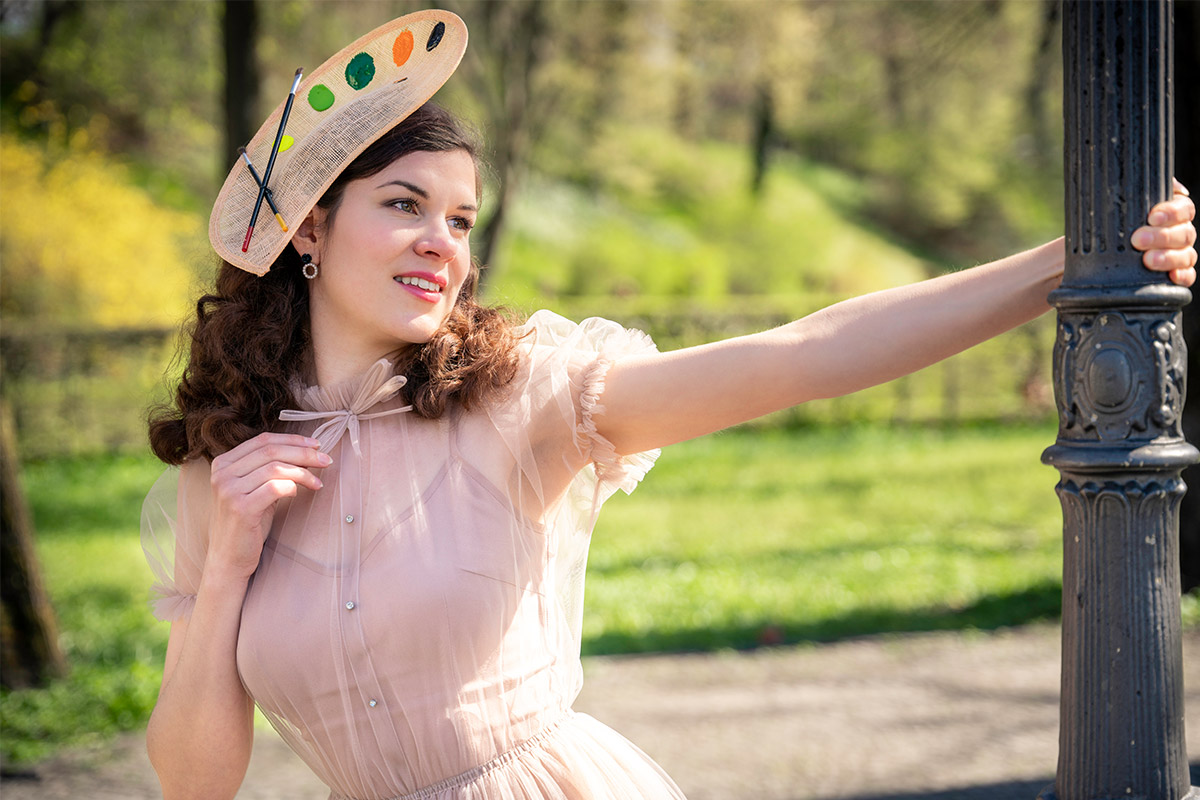 Advert | paid collaboration
Wonderful Hats by Hutmadame
Sunshine, springlike temperatures and a blooming nature – is there anything more to wish for? I , at any rate, am very happy and postive, currently. I am looking forward to garden and birthay parties as well as weddings under the open sky that will hopefully will be possible again very soon. As I almost unlearned how to dress up for special events, I decided to start learning it again by now. So it is the perfect occasion to increase the anticipation of summer even more by wearing wonderful outfits and even more wonderful hats. In the following, I want to introduce the small lable Hutmadame from Munich to you. I also have some great outfit recommendations for different festive events like weddings and garden parties for you.
Hutmadame: A lovely Brand for beautiful Hats from Munich
Hutmadame is a lovely small brand with an own online shop. The focus is on handmade, elegant and very feminine, vintage inspired hats as well as fascinators. What's very special about them: Every piece is unique and only available once. So you will definitely not meet someone wearing the same hat as you on a party. 😉 If you have special wishes, it is also possible to order a customised hat.
The hats have lovely and very different decorations: From feathers to veils and flowers. When talking about the flowers, I also have to mention that every flower on the hats is handmade by the owner of the brand. She cuts the petals by hand and sews the flowers together. The hats are finished by some very special true vintage decorations like broochs or buttons from the 1940s or 50s.
What I also really like about the designs: They are quite small and light, and stay at their place, even when you are dancing or moving a lot. The hats fit perfectly on my head and are also very comfortable. A wonderful advantage for everyone who likes to dance. 😉
So all in all, the hats by Hutmadame are perfect for festive occasions like weddings, garden parties and for ever lady that wants some glamour to everyday life. In the following, I am going to tell you how to style the different hats.
Where to find Hutmadame:
Website: https://www.hutmadame.de/
Instagram: @hutmadame
Contact: Annika Denninger, annika@hutmadame.de
---
Perfect for the Maid of Honor: A floral Coat and matching Fascinator
Floral outfits are perfect for wedding guests. They look bright and beautiful, but are definitely not too much and are therefore always my personal first choice for this kind of occasions. The light coat by Ginger Jackie has a really beautiful flower pattern and is a great option, especially as it can also be worn as a dress – so perfect for colder days or open air weddings.
To make the look even more festive, I recommend a fascinator that goes well with your outfit. I went for a hat with a huge flower and a subtle veil by Hutmadame. The fascinator defintiely makes the outfit more festive and goes so well with the coat.
Outfit Details:
Coat: Ginger Jackie
Hat: Hutmadame
---
For Weddings and other festive Occasions: A 50s style Skirt and Water Lily Fascinator
Another great outfit for weddings or other festive events is the combination of the Monet skirt by Ginger Jackie and a colour-matching blouse. To be honest: My blouse actually is a tulle skirt, but the colour looks so good in combination with the skirt and it also adds some volume.
To match the floral skirt, I am also wearing a water lily fascinator on my head. This adds something a bit cheeky to the look and definitely is an eye-catcher.
Outfit Details:
Skirt: Ginger Jackie
Tulle dress: Ginger Jackie
Hat: Hutmadame
Shoes: Frollein von Sofa, similar here*
---
Outfit for Wedding Guests: Bright Colours and wonderful Flowers
This green and blue 50s inspired retro dress is my first choice for summer weddings and other, more formal occasions. It looks summery and light, but has a really gorgeous cut and a high neckline – so it is also perfect for church weddings. As the dress is also quite subtle, I like to team it with a colour-matching fascinator to add some glamour. The flower on the hat looks so summery and due to the veil, the headdress gets even more elegant.
Outfit Details:
Dress: Wiener Kreation, similar here* and here*
Hat: Hutmadame
Shoes: Frollein von Sofa, similar here*
---
Perfect for Bridesmaids and Romanticists: A blue Fascinator and a Tulle Dress
Especially on bridesmaids or the maid of honor, elegant and light dresses in colours like a light pink or pale blue look very good. To make the look even more stylish, I teamed my pale pink tulle dress with a light blue fascintor that has some golden details.
Outfit Details:
Tulle dress: Ginger Jackie
Hat: Hutmadame
Shoes: Frollein von Sofa, similar here*
---
An extraordinary creative Fascinator by Hutmade for different Occasions
A pale pink tulle dress is definitely more versatile as you might think! It goes well on weddings, garden parties, birthday parties and many other festive occasions. To make the dress look a bit less formal and more extraordinary, I went for a gorgeous fascinator. The hat by Hutmadame is inspired by an artist palette and even has two decorative paintbrushes. I definitely see myself walking through Montmatre in Paris wearing this fascinator. 😉
Outfit Details:
Tulle dress: Ginger Jackie
Hat: Hutmadame
Shoes: Frollein von Sofa, similar here*
---
A small Fascinator for festive Occasions from Christmas Parties to Weddings
The shiny gold dress by Marilyn Feltz is very festive and therefore perfect for weddings and other more formal events. It even looks great on Christmas parties! The small purple fascinator with feathers and some golden details definitely is the cherry on the cake of this look.
Outfit Details:
Dress: Marilyn Feltz
Hat: Hutmadame
Shoes: Frollein von Sofa, similar here*
---
In collaboration with Hutmadame.
This blogpost contains affiliate links (marked with *). If you shop products via those links, I may get a small provision which helps me to maintain my blog. Of course the price doesn't change for you.