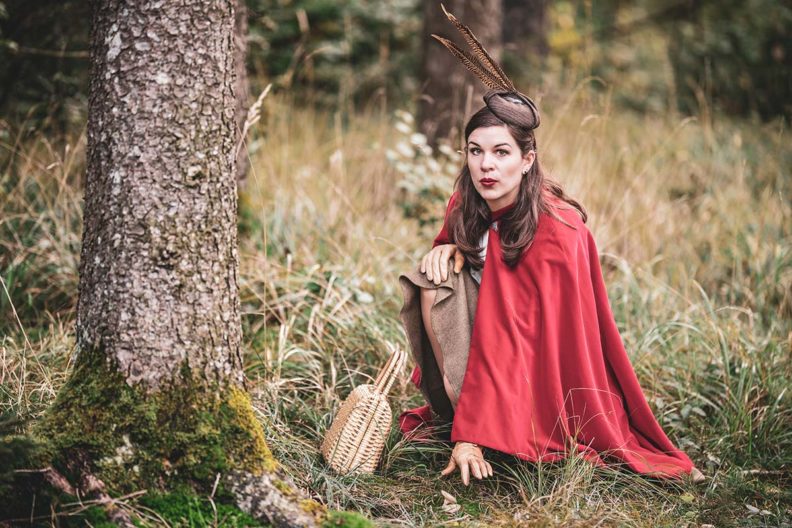 A retro outfit inspired by Red Riding Hood
November might be gloomy and foggy. Nevertheless, I somehow really like this month. I enjoy breathing the cold autumn air and feeling the chilly temperatures on my skin. Therefore, it is no wonder that my favourite activity in November is to walk through the woods. The trees shrouded in mist, the mossy underground as well as the rustling autumn leaves make this month somehow very mystic. Practically, I currently have a lot of time to indulge in my favourite activity and walk through the nature for hours. And since we currently don't have any occasions where we can wear some fancy outfits, I decided to parade my fanciest looks during my walks through the woods. So instead of evening gowns, I now wear warm wool fabrics, vintage gloves, red capes and crazy hats.
I at least made an impression on all the squirrels in the woods. The human beings, on the other side, looked a bit astonished at me. 😉 But I don't care what other might think of me. It is always so much fun for me to dress up and wear something fancy. This makes me feel good and raise my spirit – especially what I need during these crazy times. So in the following, I am going to tell you how to achieve a stylish Red Riding Hood inspired outfit for a walk through the woods.
This blogpost contains affiliate links (marked with *)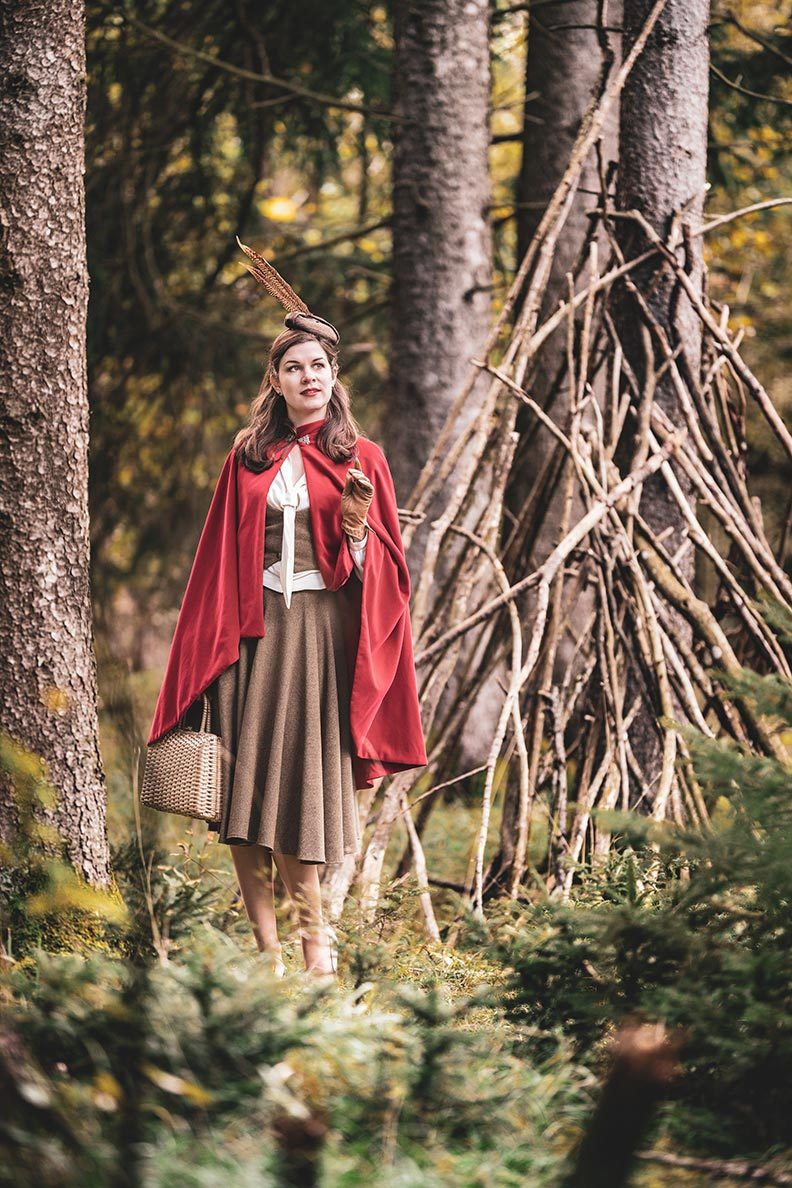 ---
Magical Red Riding Hood inspired Capes
I really enjoy wearing capes in autumn, as they keep me warm, but are definitely more stylish than a classy jacket. If you like an extraordinary look, I recommend a red cape inspired by Red Riding Hood. Mine is the wonderful Drama Cape by Grünten Mode, but unfortunately no longer available. However, I linked some pretty alternatives for you.
PS: If a cape is too showy for you, you can simply skip it and get a wonderful, classy retro outfit that works perfectly for everyday life.
*Affiliate links

---
Warm retro Clothes for a Walk through the Woods
In autumn, I prefer natural colours like brown, beige, dark green, pumpkin colours and so on. Furthermore, I absolutely adore check patterns and warm fabrics. You will find wonderful autumnal retro dresses at TopVintage*, for example.
I am wearing a warm skirt and a matching waistcoat by Wiener Kreation, a label that unfortunately doesn't exist anymore. The blouse, on the other side, is by The Seamstress of Bloomsbury* and still available.
*Affiliate links

---
Red Riding Hood Outfit: Lovely Hats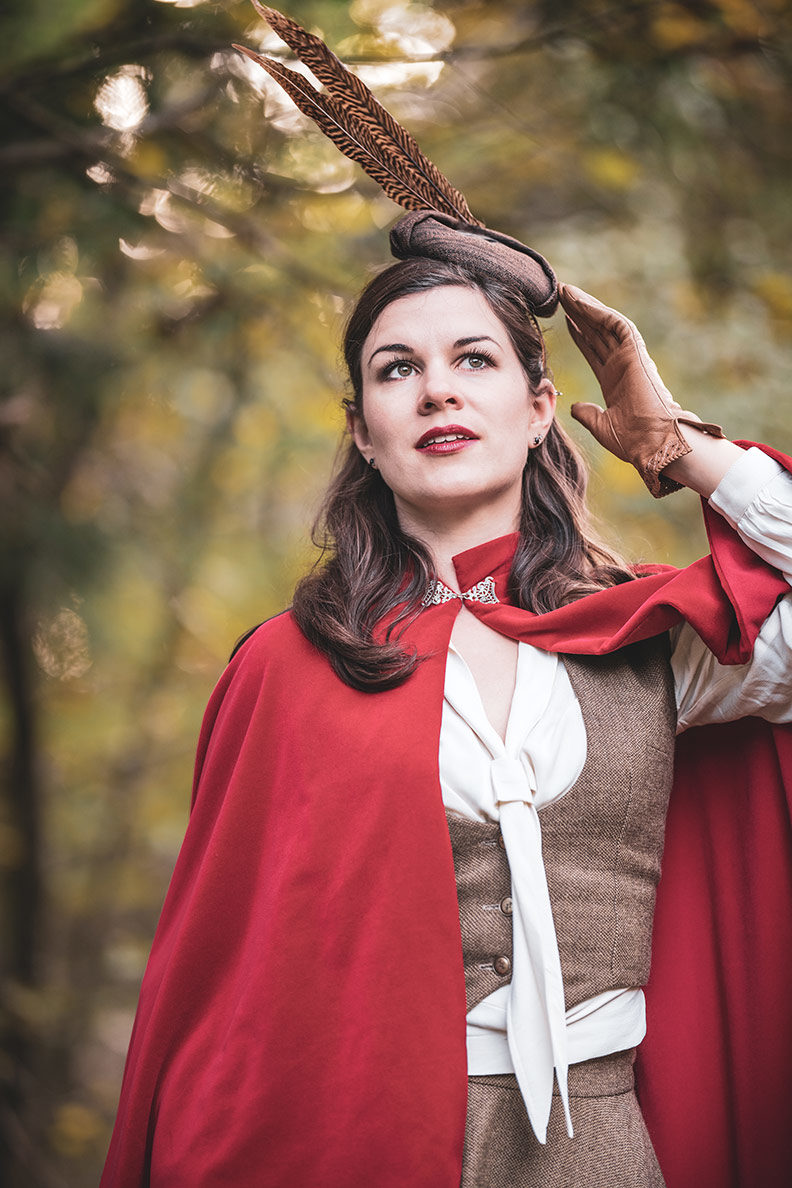 A fancy fascinator really is the cherry on the cake of an extravagant outfit, and also finishes my Red Riding Hood inspired outfit, as for me, a red hood or had would have been a bit too predictable. 😉
I am wearing a wonderful hat by a small label called Faunauge. But as the fascinator is currently sold out, I linked some alternatives for you.
*Affiliate links

---
Warm Gloves for cold Autumn Days
As soon as the temperatures drop in autumn, our fingers can get really cold. So pretty gloves are a must during this season – at least for me. I personally love to buy true vintage gloves, by the way, as those often are unique and more affordable.
*Affiliate links

---
Pretty Shoes for a wonderful Walk through the Woods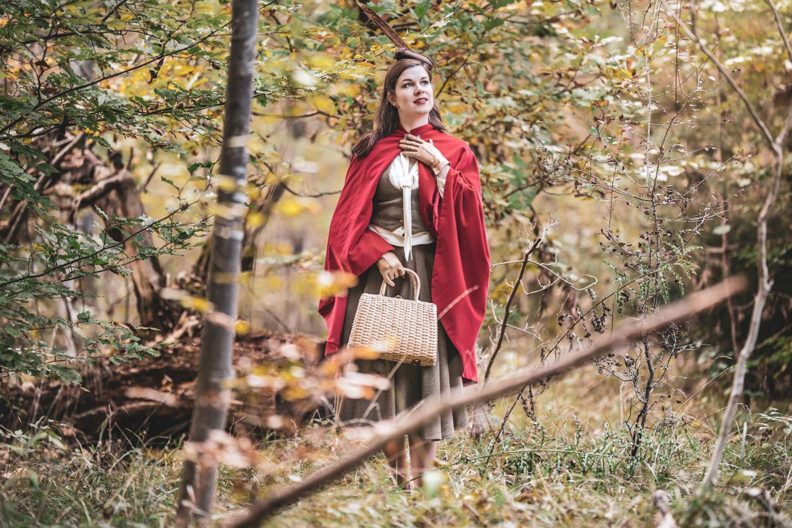 Pretty shoes finish this autumn outfit. For a walk through the woods, I usually would recommend flat, comfy shoes. However, I went for beige heels, as I liked them more with my outfit. 😉
If you prefer something more comfortable, I recommend lovely lace-up shoes.
*Affiliate links

---
Red Riding Hood Outfit: Matching Basket Bags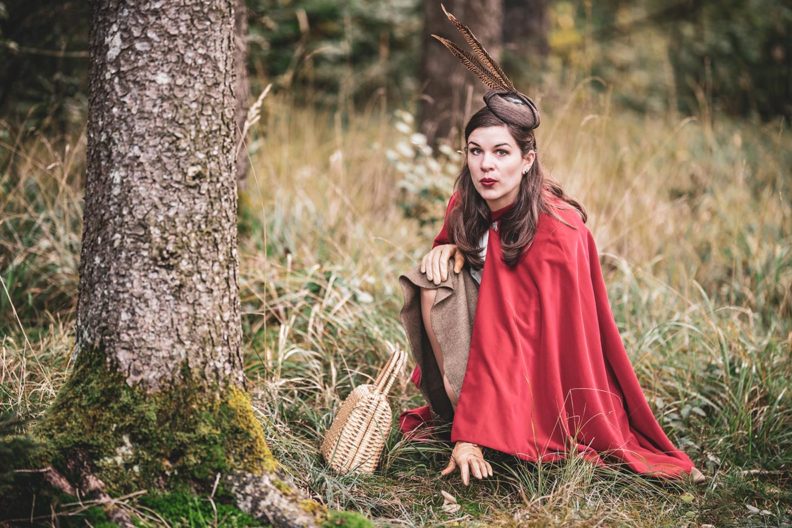 Of course, Red Riding Hood needs a basket. But instead of carrying a huge basket with me through the woods, I chose a lovely basket bag.
*Affiliate links

---
And now, we only have to be aware of the wicked wolf and enjoy our relaxed autumn walk through the woods. Afterwards, I always warm up with a huge cup of tea, some sweets and a cosy blanket. Simply wonderful, such an autumn day, isn't it?