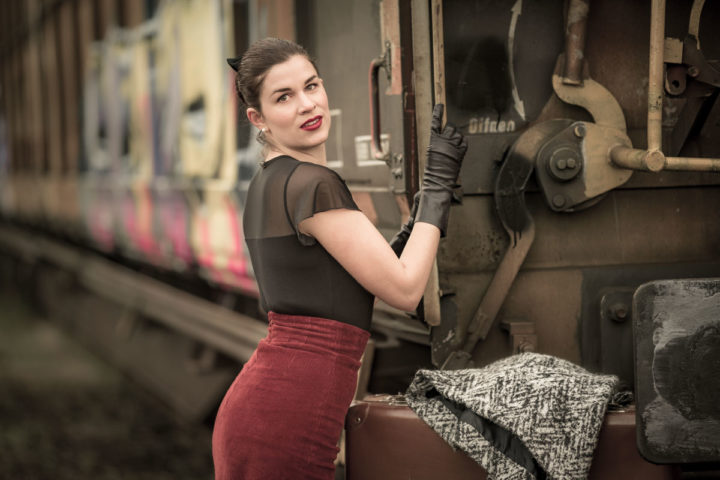 There are things I've always been addicted to and very likely always will be addicted to. Perfectly fitted pencil skirts and capes are just some examples. Another classic that immediatly became a favourite of mine is the Lovely Chic Shirt by Pussy Deluxe.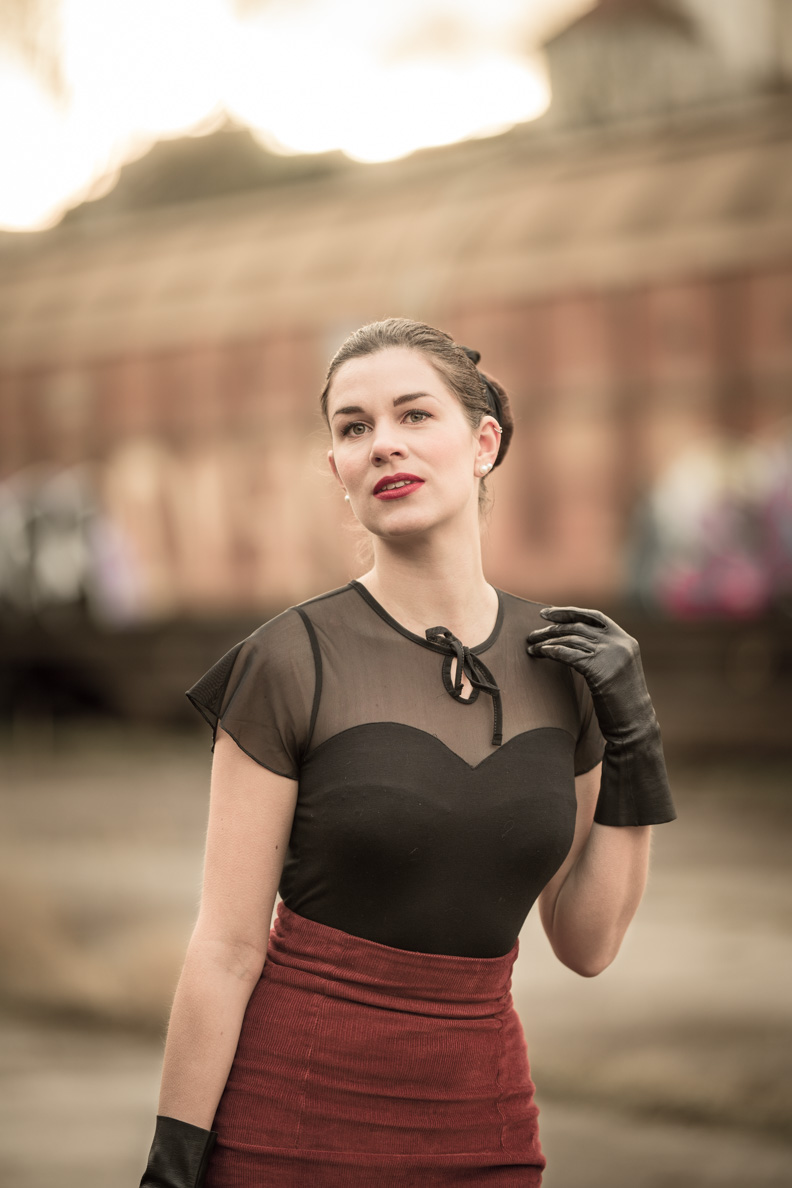 Classy and seductive: The Lovely Chic Shirt by Pussy Deluxe
The black top is quite simple, yet very seductive. I particularly love the heart-shaped neckline with it's sheer details. The Lovely Chic Shirt goes very well with almost everything, but I especially like to team it with a red pencil skirt by Von 50′.
To keep me warm, I decided to wear an elegant black and white wool cape on top. By the way: Find more glamorous retro coats, jackets, and capes in this blogpost.
Such a classy retro outfits calls for fancy accessories. I went for amazing tights by Wolford which you maybe already know from this blogpost, black true vintage gloves, and patent-leather pumps.
Isn't this a perfect look for travelling? Of course one need a suitcase for this. Mine belonged to my grandpa and is my favourite companion for travels, now. I enjoy travelling by train most, by the way. I simply love to watch the landscape roll by.
PS: Martin bought himself a great Christmas present: A new camera! The Sony Alpha 7R II
 to be precise. Of course we immediatly had to try the new camera and are delighted! Do you like the photos as well?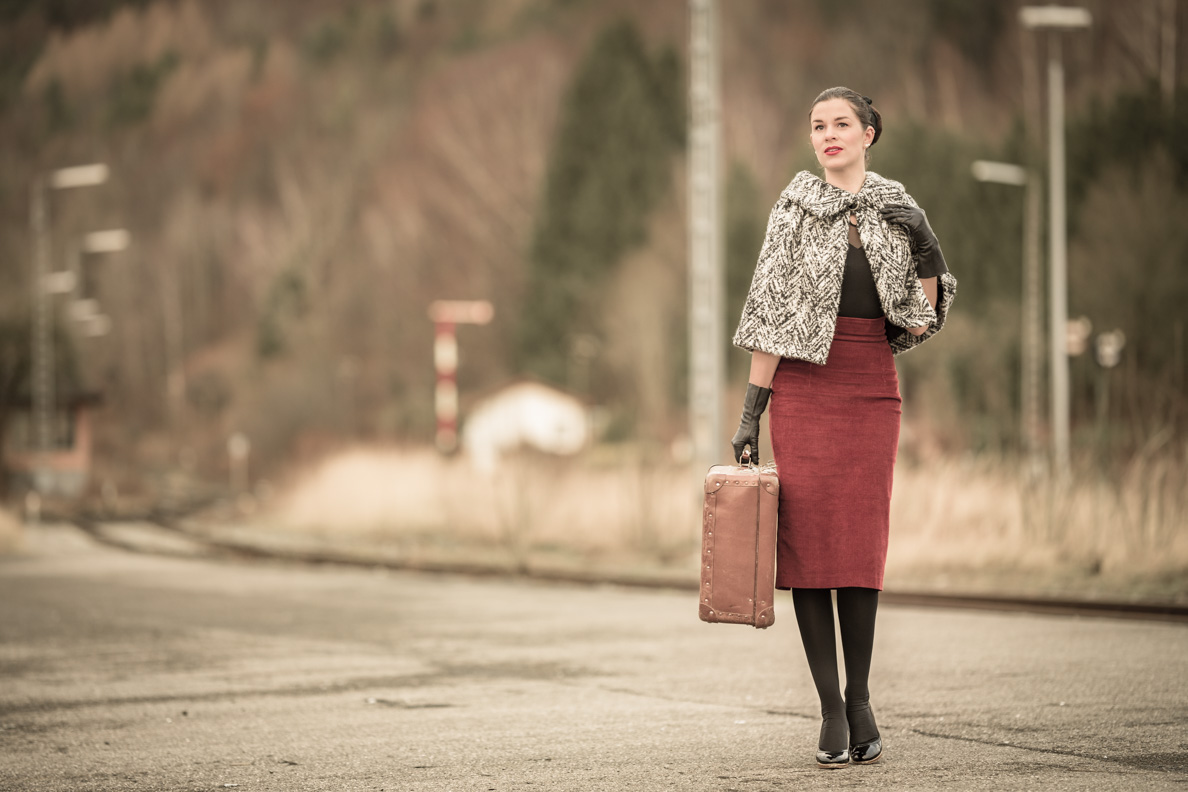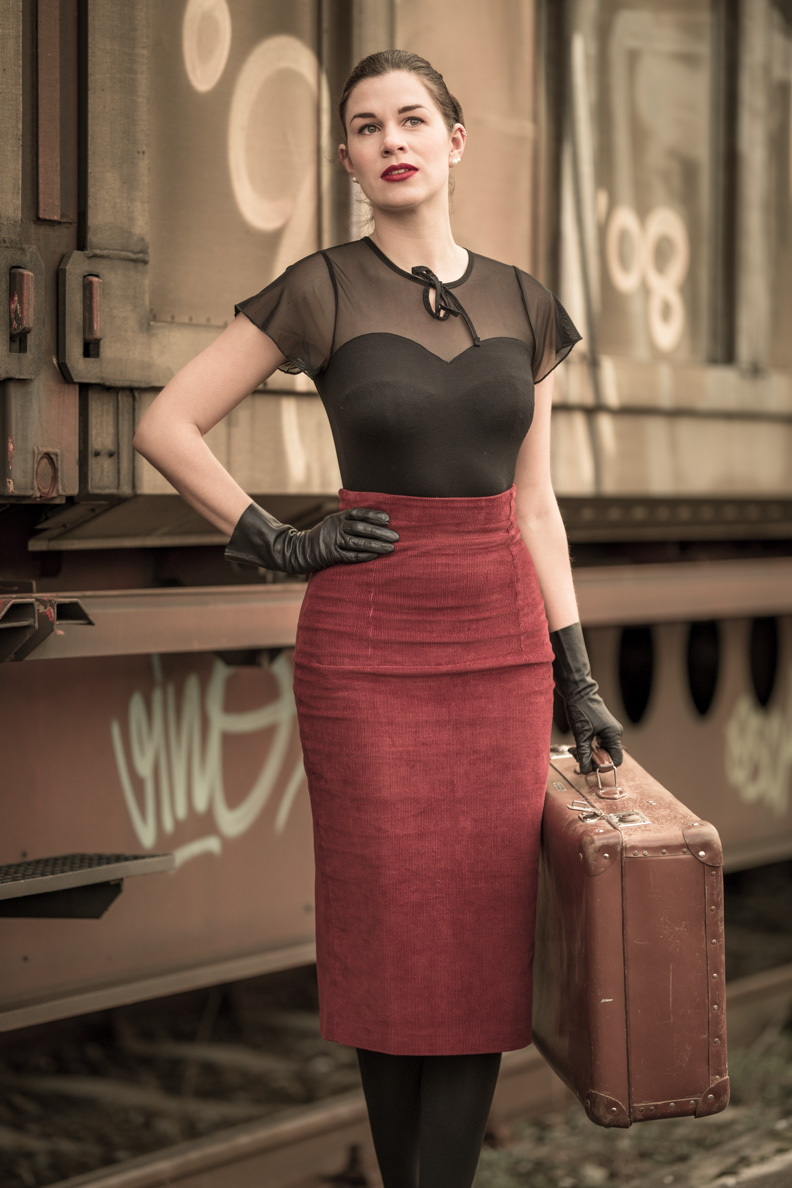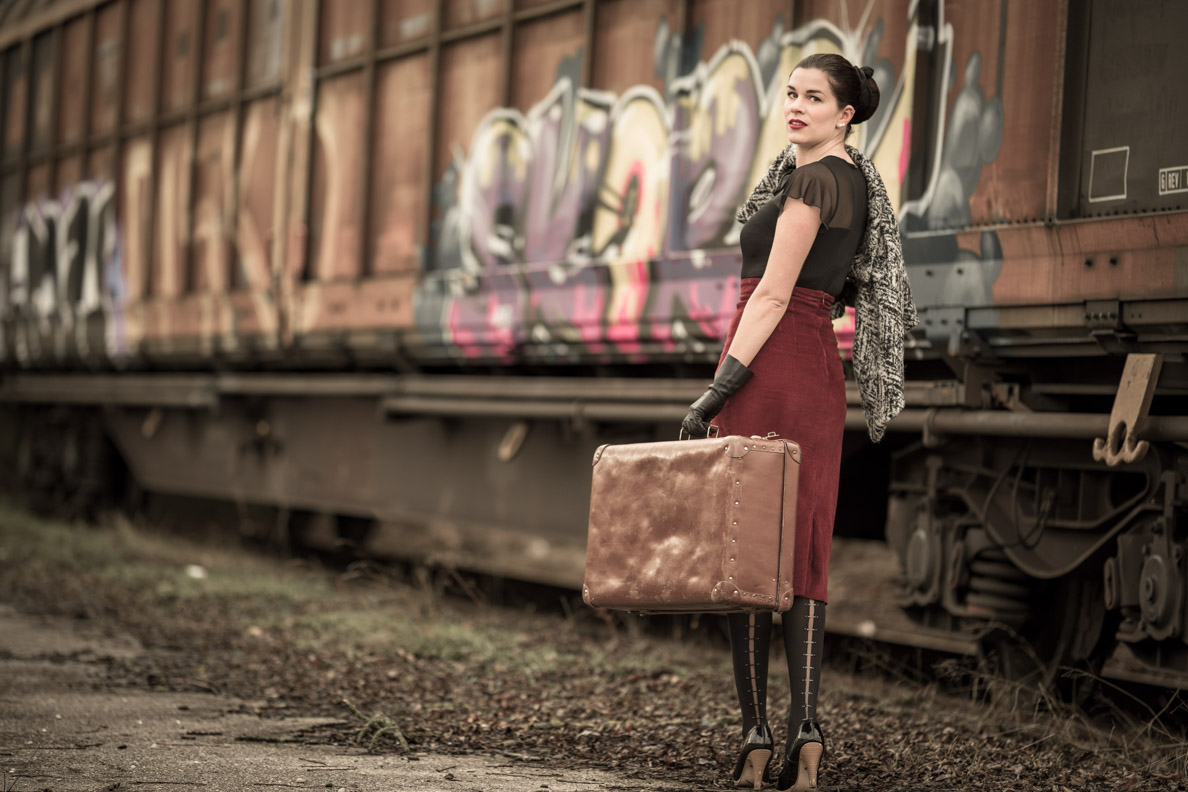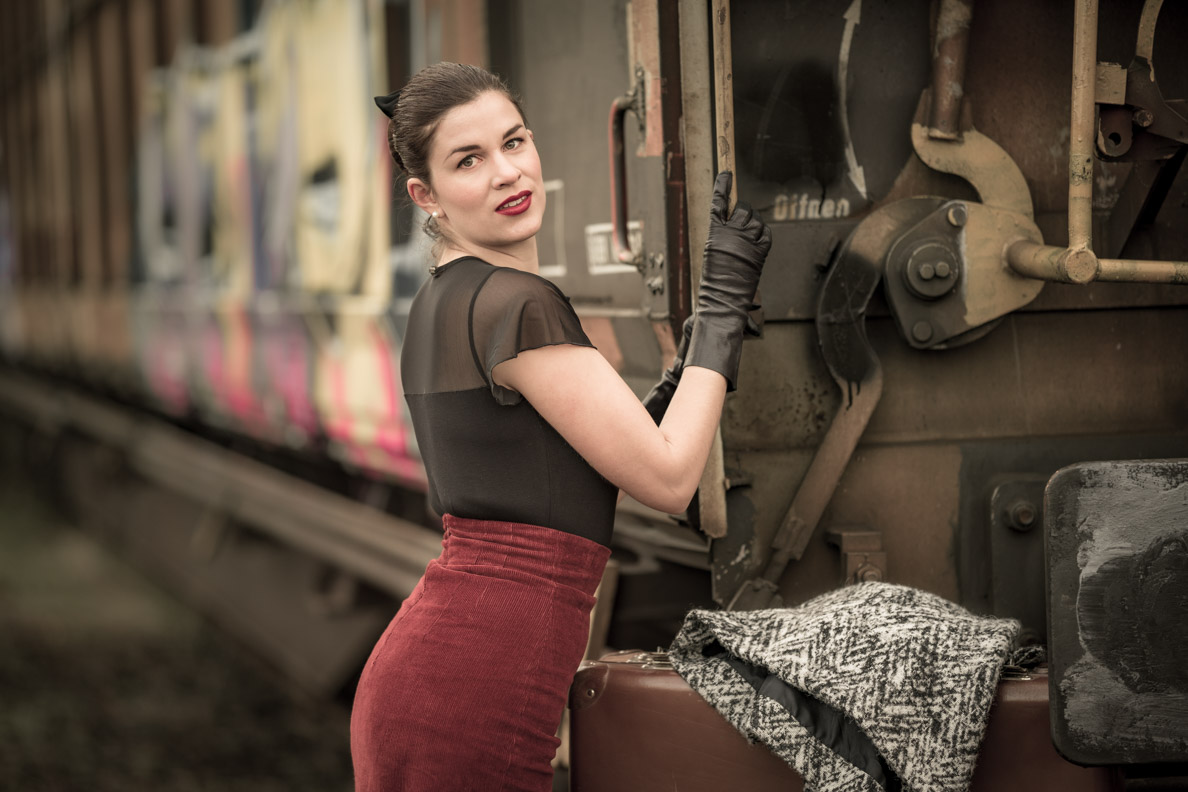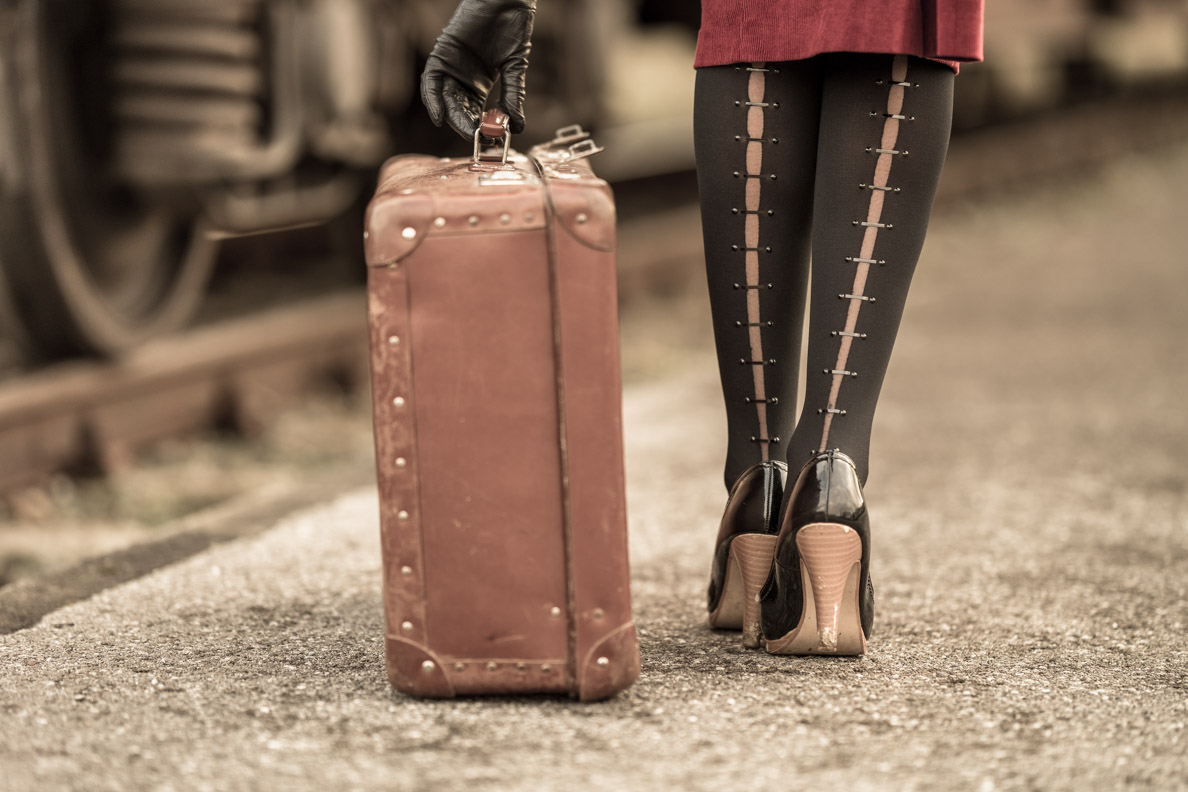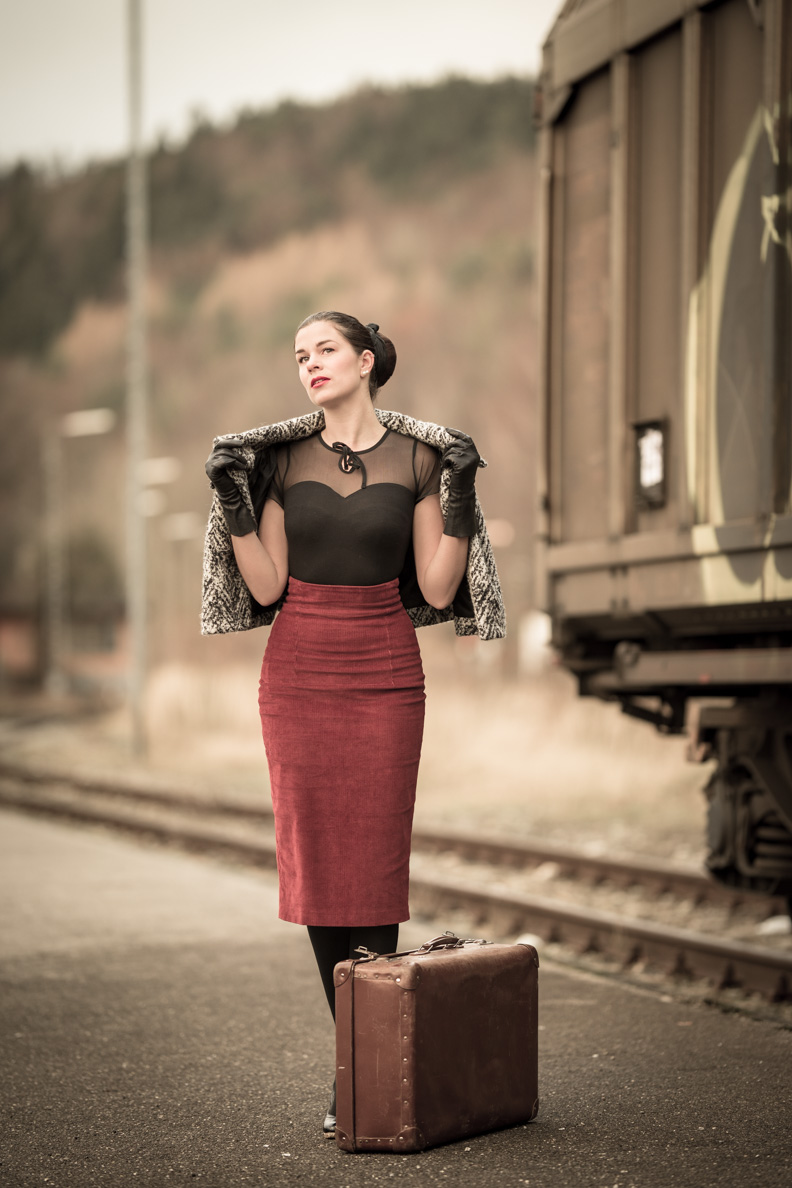 ---
Google Analytics told me, I have a lot of readers from the US, so I thought it would make sense to link the outfit details to shops in the US as well. Just have look at the end of the blogpost. 😉
By the way: Use the code retrocat10 to get 10 % off your whole order at NAPO Shop or the Vive Maria online-shop! Valid until 30th April 2018.
Shop the stylish Travel Outfit (Europe):
Lovely Chic Shirt: c/o Pussy Deluxe
Bra: Sophisticated Strapless Bra c/o Secrets in Lace (Review here)
Pencil Skirt: Von 50′, old but similar here
Cape: Von 50′ (unfortunately no longer available)
Tights: Wolford, similar here
Pumps: Buffalo, very similar here
Gloves: Vintage, similar here
Pearl earrings: very similar here
Suitcase: Vintage
Shop the Outfit (US):