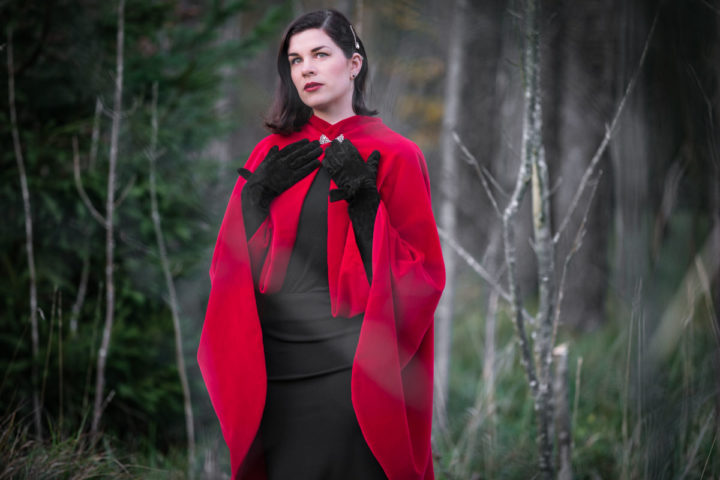 Almost naked trees, and an icy wind – I have this feeling that winter is almost here and the first snow is not far off. But instead of snuggling myself into huge scarves, I prefer glamorous capes when I have to leave the house. A really extraordinary one is the Drama Cape by Grünten Mode. As you maybe already know from this blogpost, I had the pleasure to visit lovely Sara in her atelier to have a look at her latest collection. One of the pieces I took home was exactly the previously mentioned cape.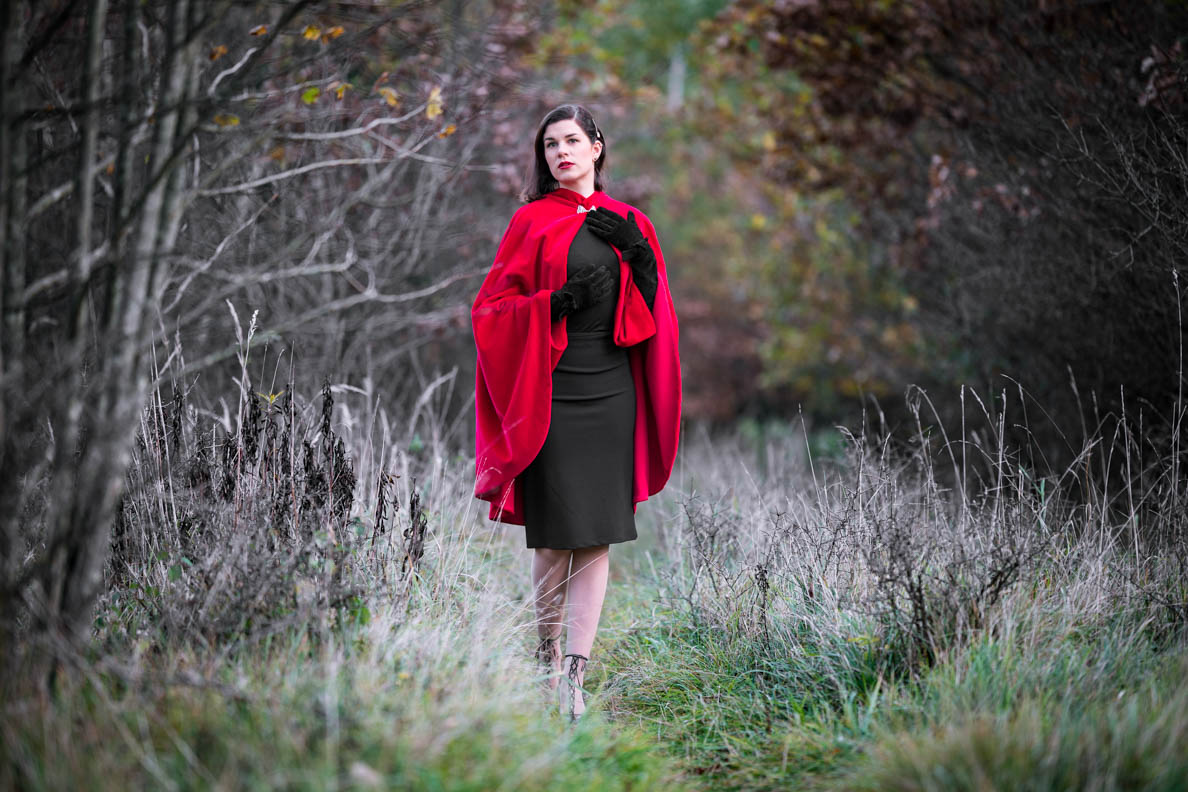 Pure Glamour: The Drama Cape by Grünten Mode
The Drama Cape lives up to its name: Wearing this, all eyes will be on you, that's for sure. It's made of a high-quality vibrant red velvet fabric and definitely stands out from the uniform grey everyone seems to wear in November. The cape is a bit shorter in the front than in the back and falls amazingly. A glamorous hook and eye closure holds the cape together.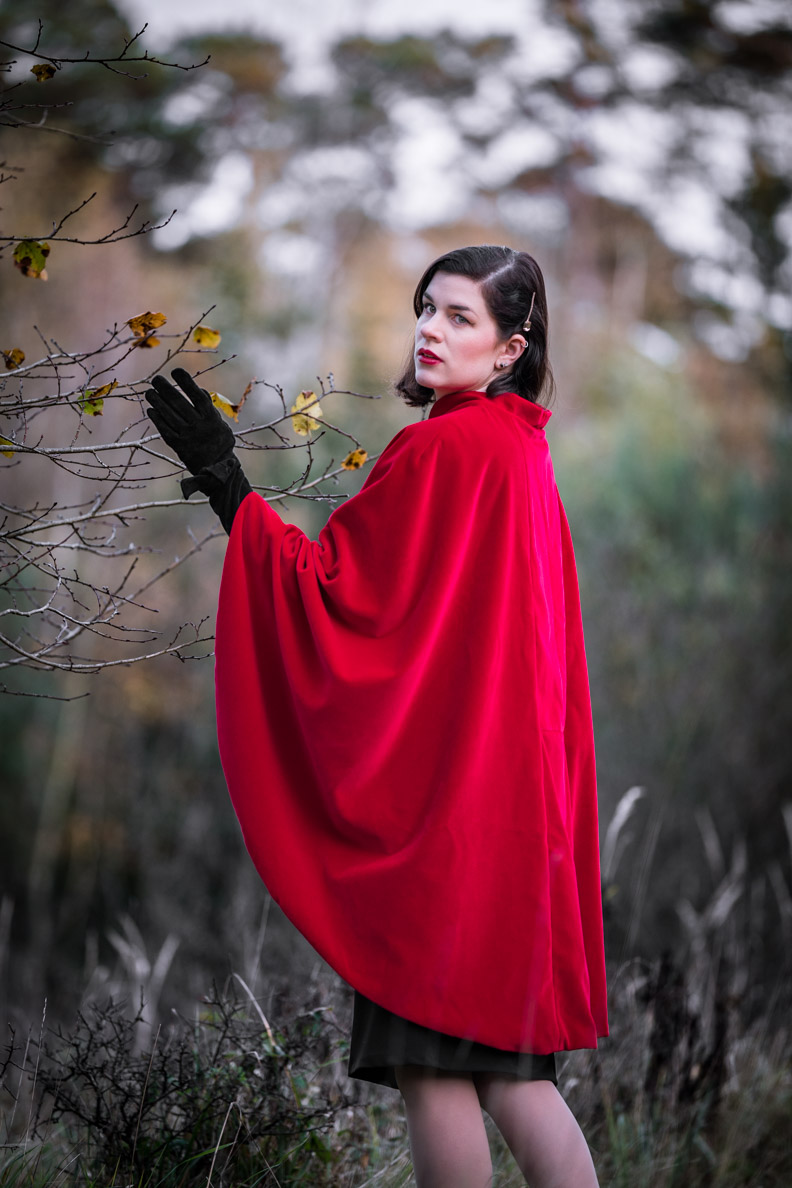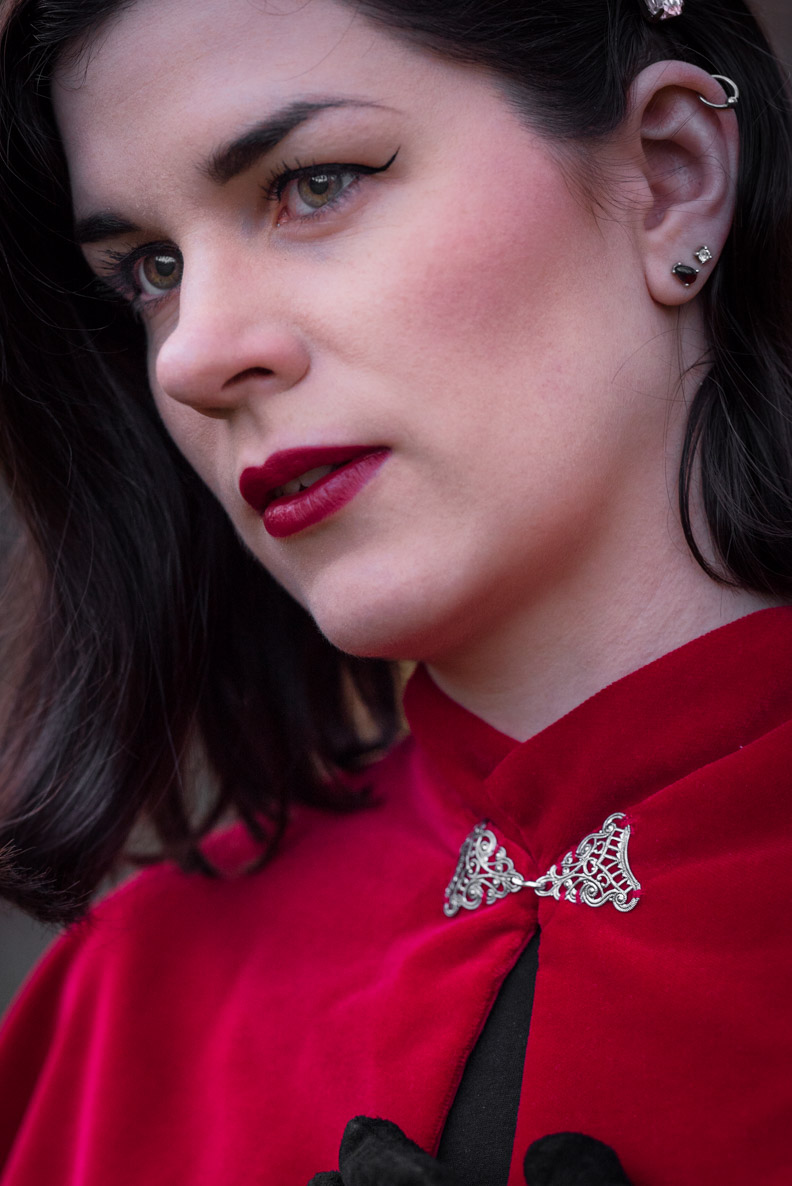 Wearing such an outstanding piece, I keep the rest of the outfit quite simple. To emphasize the red even more, I teamed the cape with an all black everything look. A classy pencil skirt, a black top, and long black gloves – that's it. The only fancy accessories of this outfit are the pretty lace-up tights by Wolford.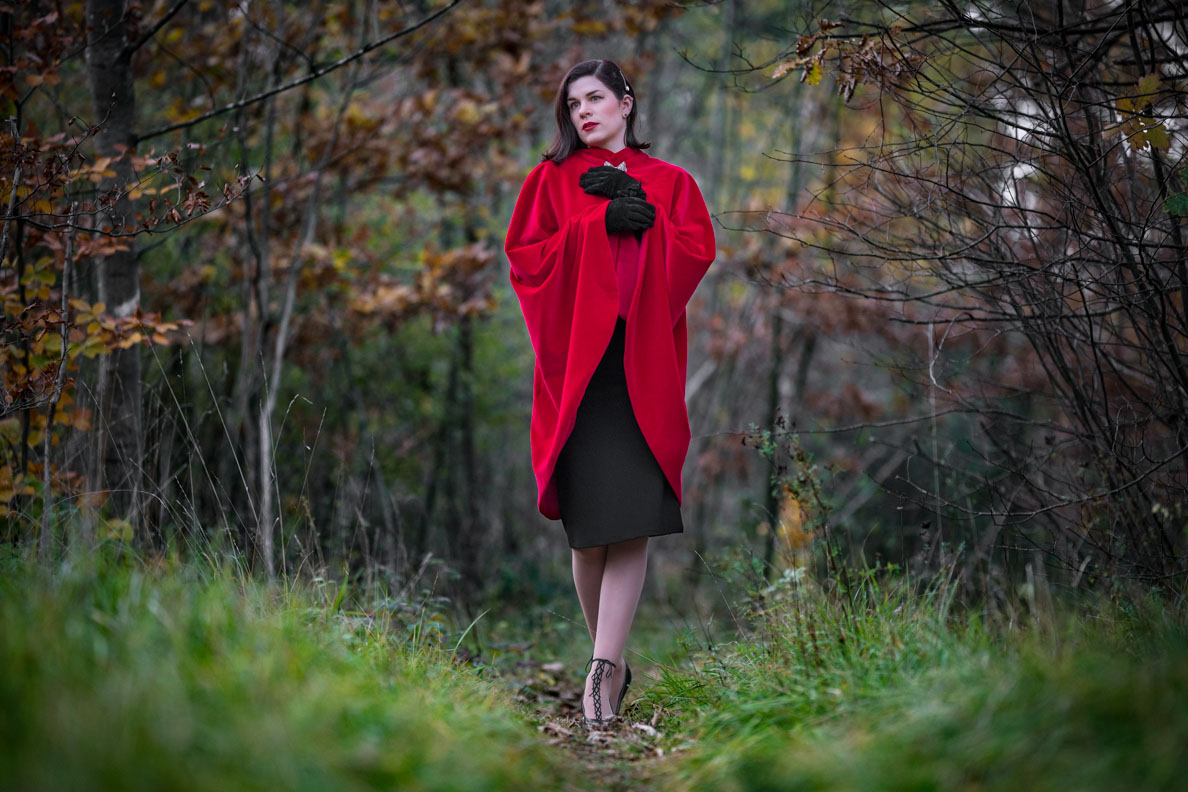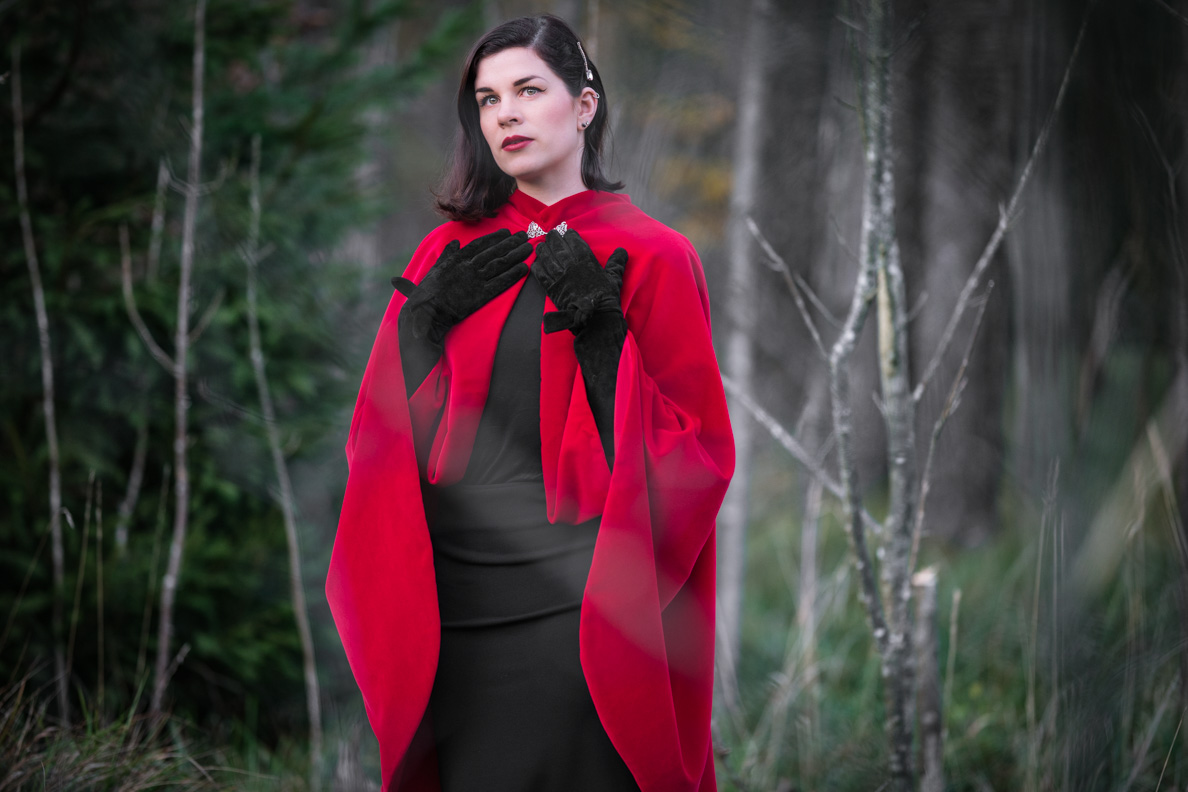 ---
A glamorous Vintage Makeup
Such vibrant red clothes look gorgeous, indeed. However, they also emphasize red spots. Therefore, it's important to use a covering foundation and concealer if you tend to redness just like I do.
My eye makeup mainly consits of nude eyeshadow, eyeliner, and lots of mascara. On my cheeks and lips I wear a classy red, of course.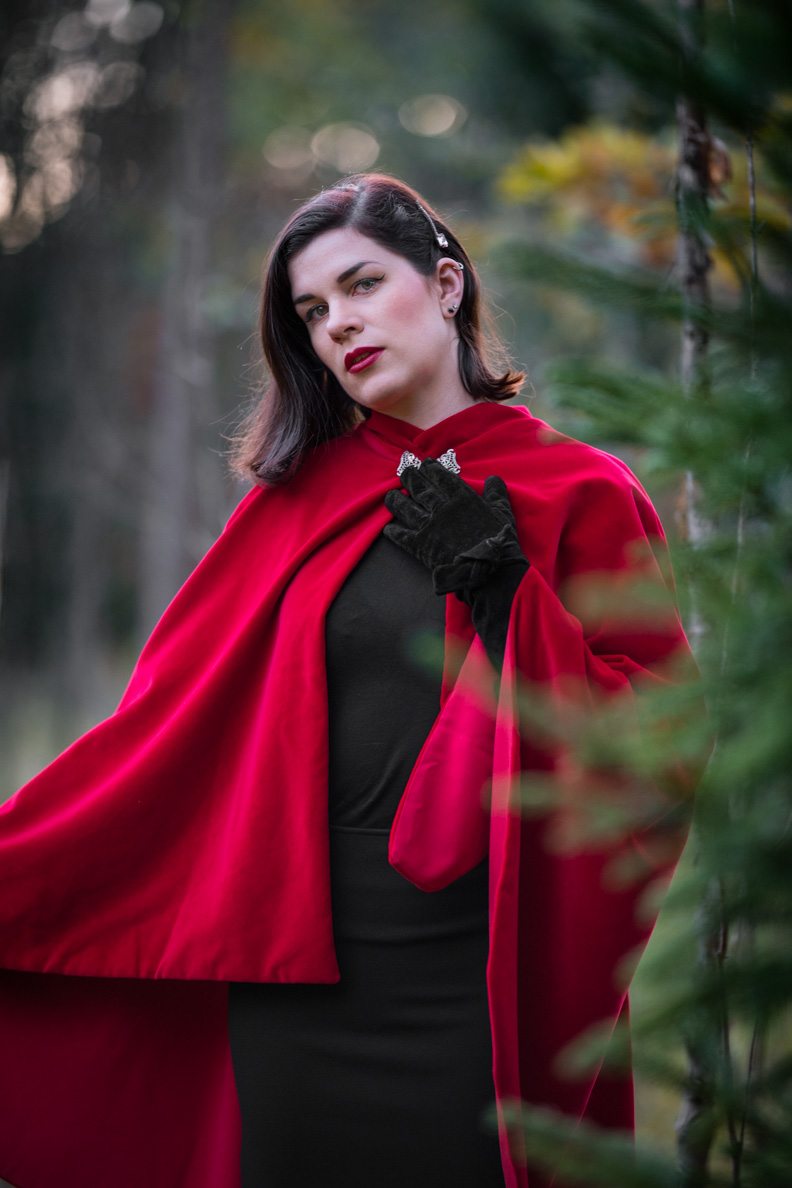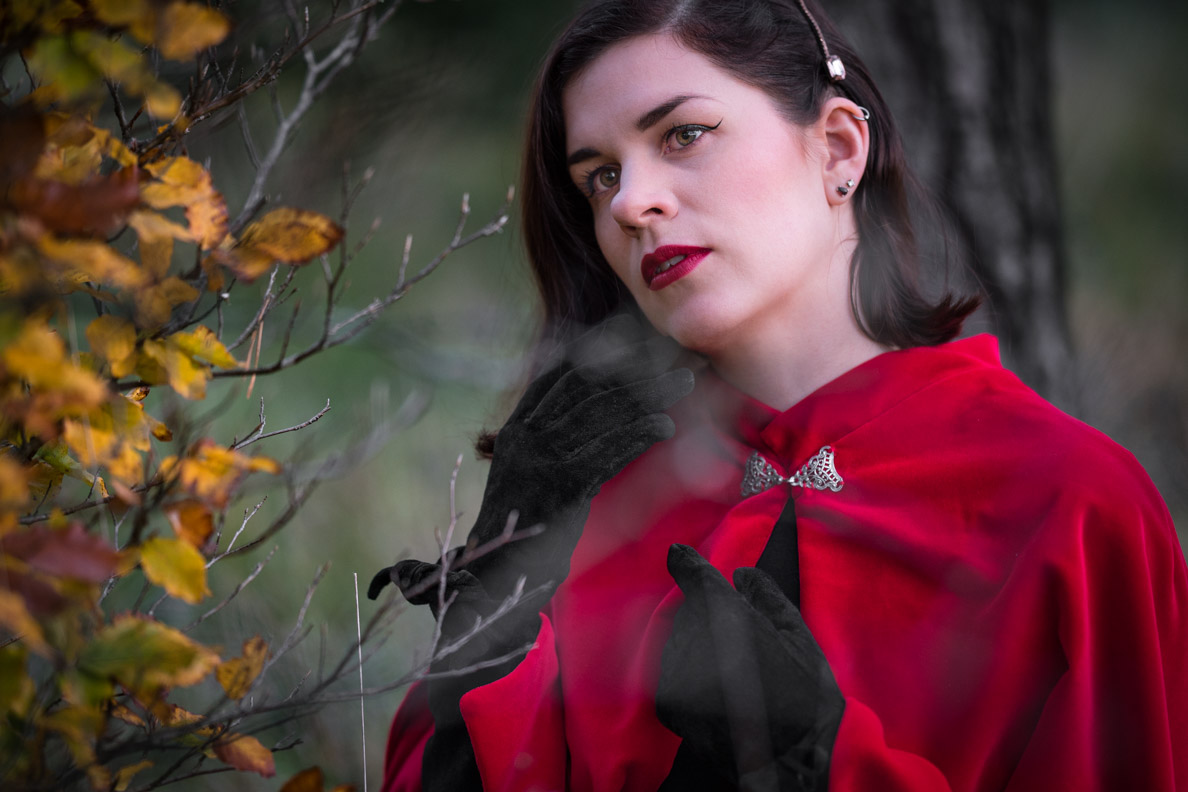 ---
Outfit Details:
Drama Cape: Grünten Mode
Top: Ted Baker, similar here
Pencil skirt: similar here
Gloves: similar here
Tights: Legwear in der Wolford Online-Boutique
Pumps: Buffalo, very similar here
---
Makeup Details:
Foundation: Chanel Perfection Lumière Velvet Foundation
Concealer: NYX Color Correcting Concealer
Eyeshadow: Dior Eye Reviver Palette
Eyeliner: NYX Matte Liquid Liner
Mascara: Kat Von D Immortal Lash 24 Hour Mascara
Blush: Chanel Rouge Joues Contraste in "Rouge Profond" (No. 320)