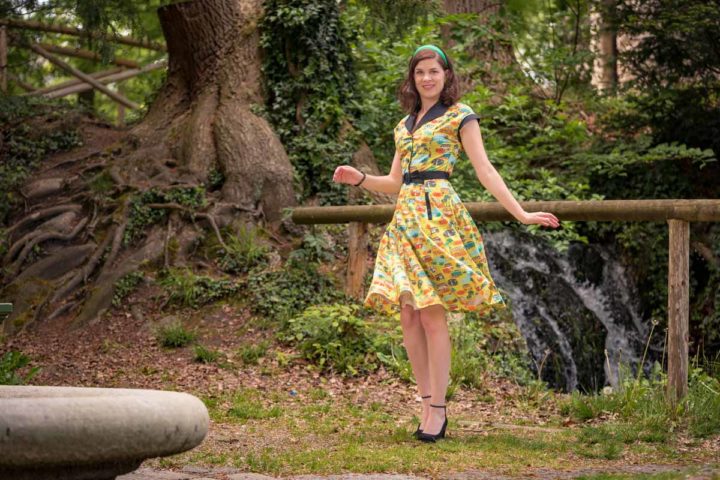 Sometimes, I think I should finally grow up and dress like an adult. Just to find another retro dress with a super fun print which I immediately have to buy. By now, however, I'm of the opinion that I shouldn't waste my time growing up and just wear whatever I want. Furthermore, life is so much more fun in a colourful swing dress! In this blog post I show you the lovely Starlight Swing Dress by Dancing Days by Banned.
Campers and black Details: The Starlight Swing Dress by Dancing Days by Banned
When I was a child, we always went on holiday by a camper. Not a new, modern one, but an old mercedes bus built in 1979. This camper still exists, and in this blog post I already introduced the Mercedes 407 D to you. Recently, I found the Starlight Swing Dress by Dancing Days by Banned and immediately knew: this is my new travel companion.
I mean, how cool is this print? Old Volkswagen vans, which are called "Bulli" here in Germany, caravans and palms make this dress a real eyecatcher. The black details at the collar, sleeves and waist are great while the swing skirt looks best with a petticoat underneath. Colour matching accessories finish this fun summery retro look.
I don't know about you, but I'm the mood for camping, now. Of course with an olditmer Volkswagen van. 😉
By the way: I just saw that there is a handbag with the same print available!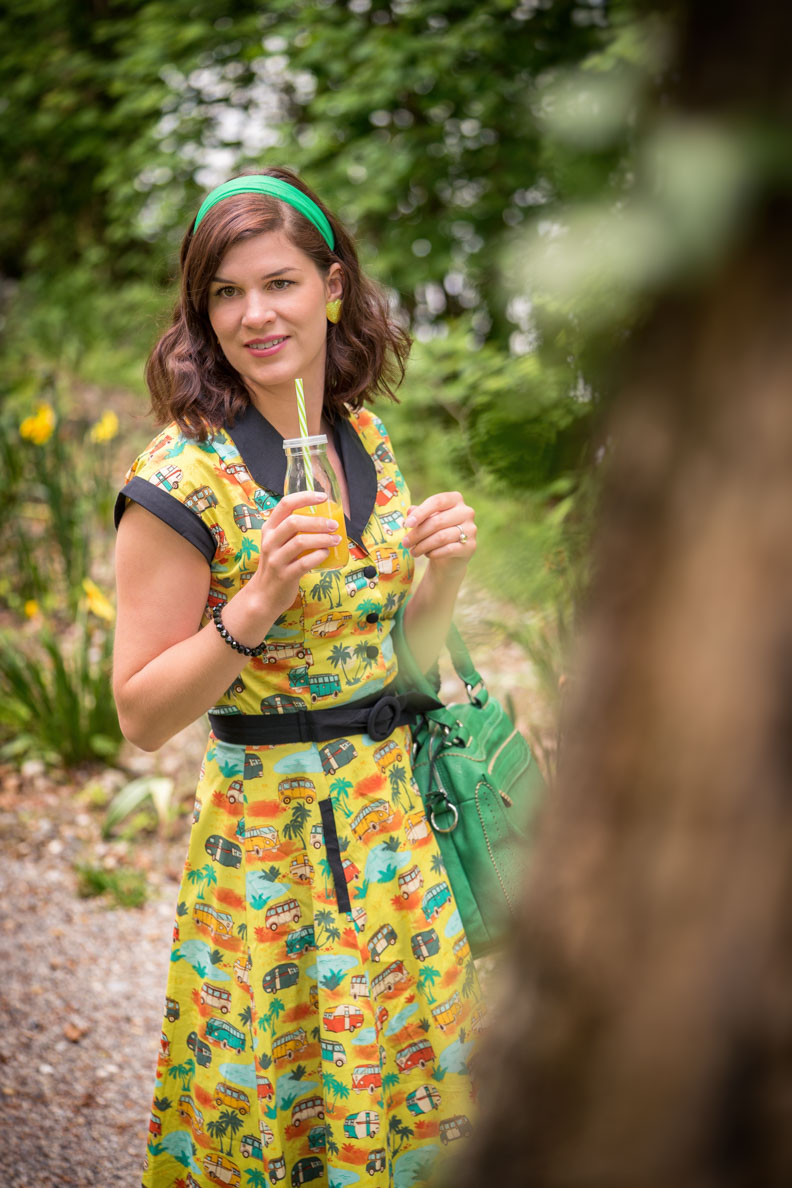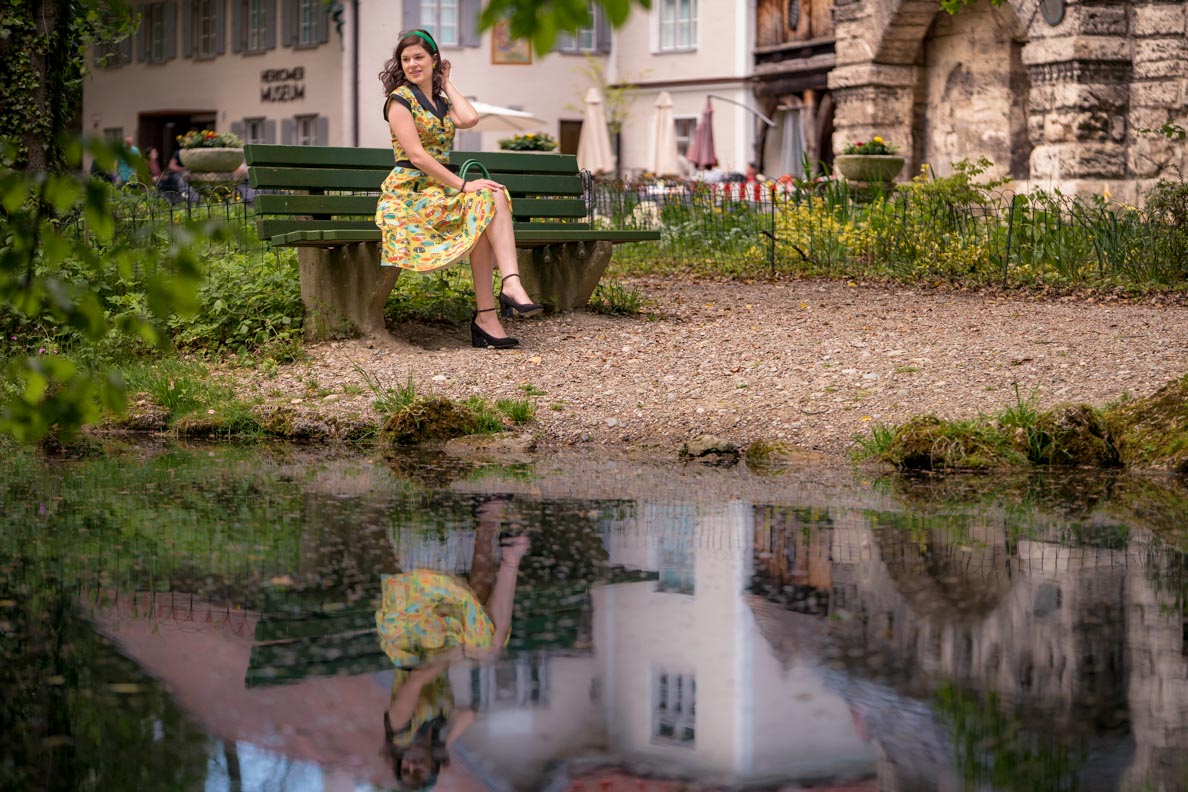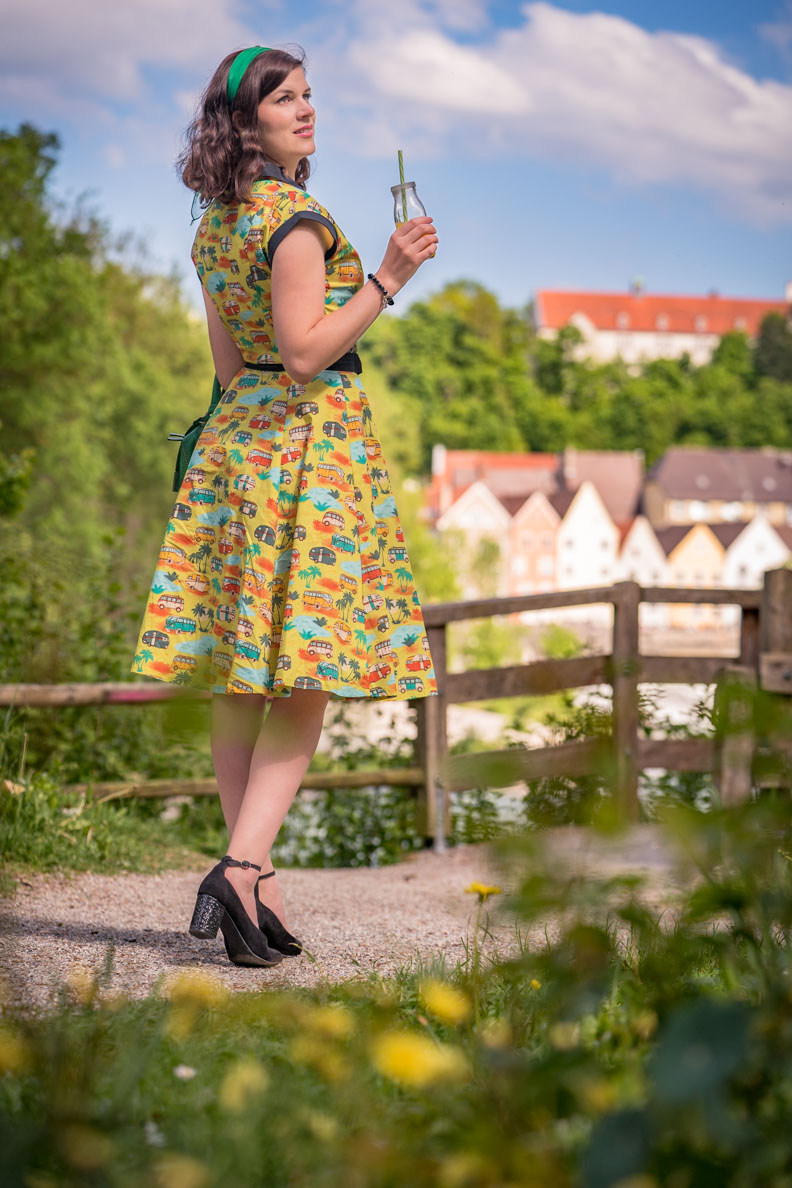 ---
A colourful Summer Makeup
To match this colourful dress, I wanted a makeup which picks up the colours of my outfit. Yellow eyeshadow is something I've never worn before, but when I saw this video by Lisa Eldridge, I wanted to give it a try. Since my skin in pretty pale, I decided to use a lighter shade of yellow. Blush and lipstick a pretty natural, as I don't want to like a canary bird. 😉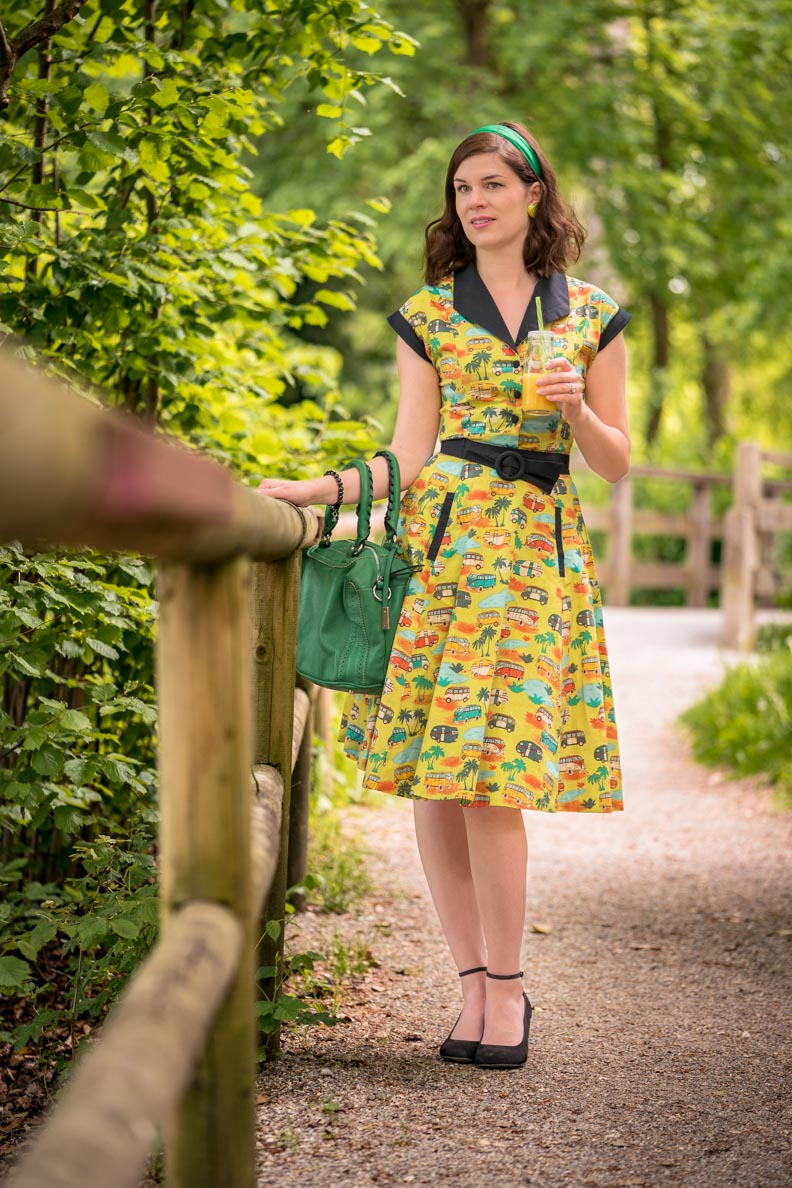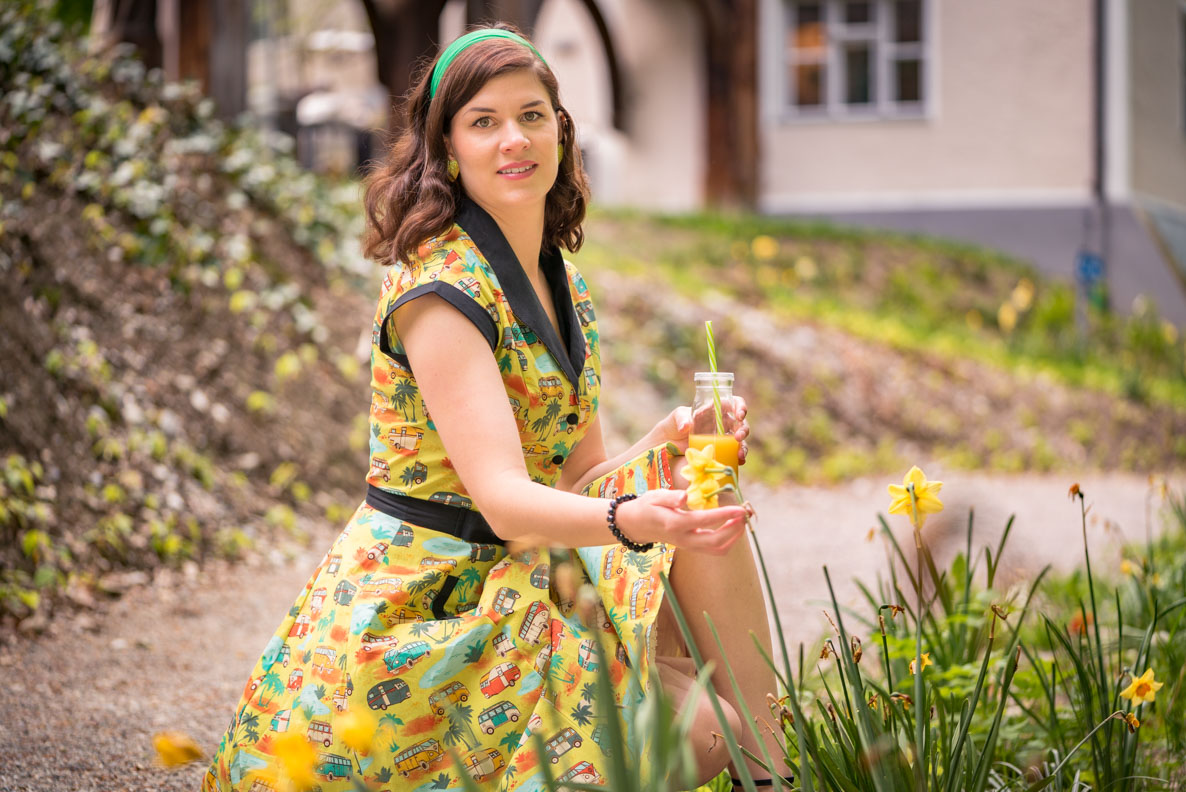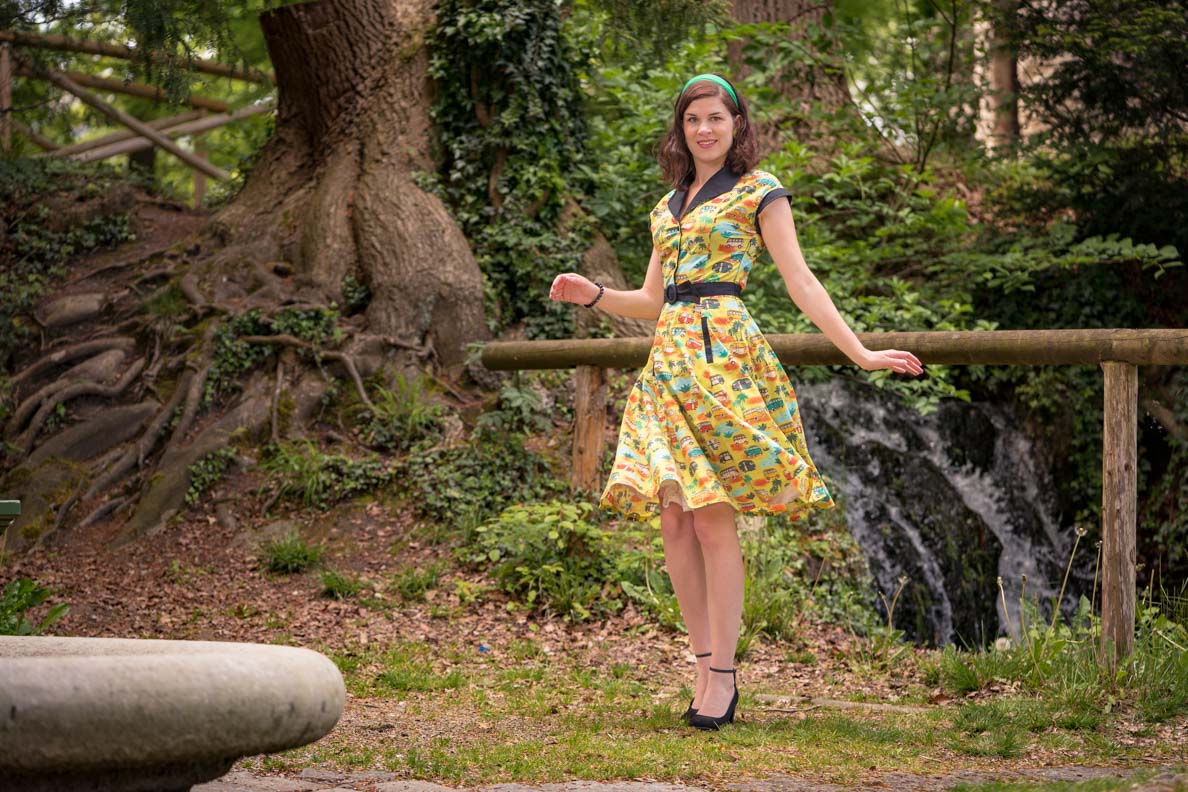 ---
Outfit Details:
Starlight Swing Dress: Dancing Days by Banned
Petticoat: Vintage, similar here
Earrings: Glitter Paradise
Ring: Energetix
Head band: available here
Handbag: similar here
Shoes: similar here
Bottle: available here