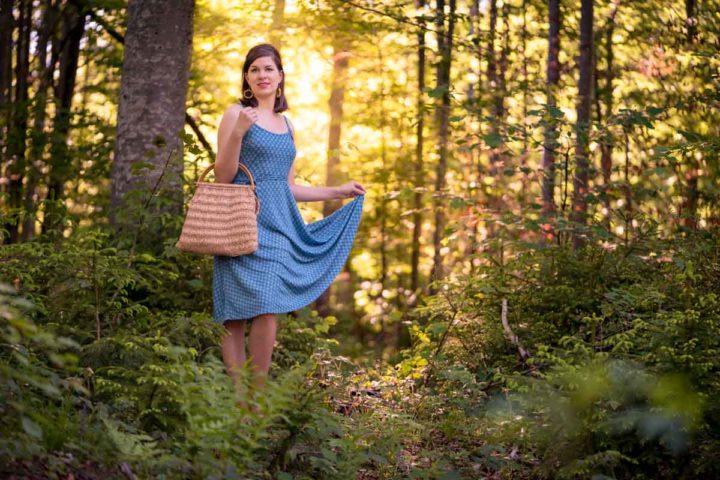 Advertorial | paid collaboration
Have you ever wondered, where your clothes are from and under which circumstances they are produced? Especially the big players of the garment industry usually aren't good role models when it comes to labour conditions. All the better that there are some smaller brands which not only produce beautiful high-quality fashion but also pay attention to fair working conditions. One of those labels is King Louie from Amsterdam. In this blog post I want to introduce the brand to you and show you some wonderful pieces from their latest summer collection.
King Louie: The Story behind the Brand
In 1981 Ann Berlips and Georg Cramer founded their business. At the beginning, they focused on selling true vintage fashion; first at the Noordermarkt in Amsterdam and since 1983 in their Exota shop in the Jordaan area. After a short time they launced their first own garment: a black turtleneck.
As their own desings were so successful, the founders decided to found their own label called "King Louie". The name is inspired by a vintage bowling shirt brand. In the 90s, the Exota shop moved to Hartenstraat where they are still today. You will find King Louie all over Europe in various online and offline shops.
---
King Louie: Sustainable fair Fashion
When I think of King Louie, I think of colourful designs and lovely patterns. That's something you see at first sight, what you don't see, but what's even more fascinating is that the label focuses on a fair supply chain. Since 2015 King Louie has been a member of the Fair Wear Foundation. This is an independed, non-profit organisation that aims to improve the working conditions within the garment industry. Furthermore, King Louie works together with a supplier from Turkey which fights for women's rights.
Sustainability and an eco-friendly production are more things King Louie stands for. Until now, 10 percent of their clothes are GOTS certified. They try to work with organic fibres and recycled polyester.
"We aim to meet the international labour-, climate- and environmental standards." – King Louie
Now, I want to show you some wonderful garments from the latest summer collection 2017. Sustainable and fair fashion doesn't have to look "eco", this is something King Louie shows in an impressive way. You will find their full range on www.kinglouie.de if you are from Germany, Austria or Switzerland, or on www.kinglouie.eu if you are from anywhere else.
By the way: King Louie even offers fair fashion for kids! The collection is called "Petit Louie" and you will find it here.
---
A Day at the Lake with the Nora Dress Waltz by King Louie
For a relaxed day at the lake, I don't need a lot of stuff: A swimsuit, a comfortable dress and a shopper for my smartphone, keys, etc. – that's it. The Nora Dress Waltz is the perfect companion for this occasion. The soft jaquard fabric feels amazing on the skin and the dress looks super stylish. I teamed the garment with a pink flamingo brooch, bamboo earrings, pink flats (similar here), and a true vintage shopper from a second hand shop.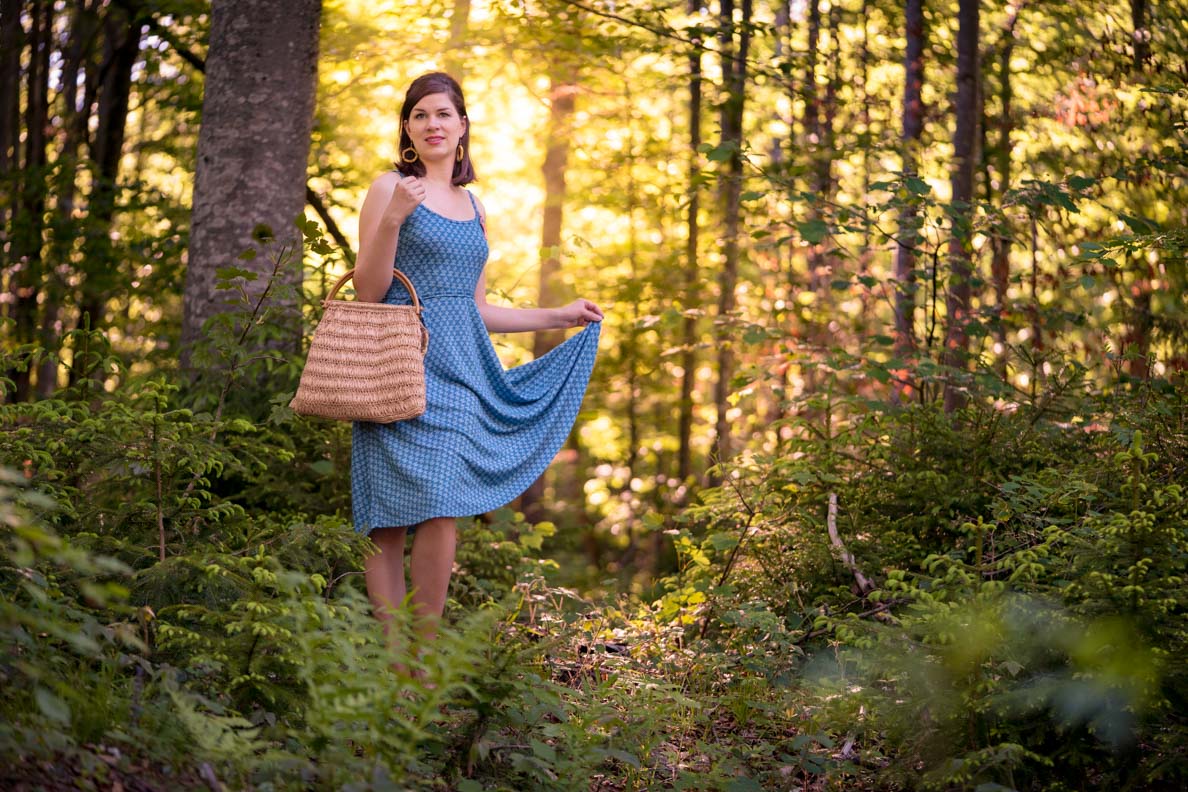 ---
A maritime Combination for Summer
Maritime outfits are my favourites for summer. King Louie offers a lot of nautical pieces which immediately let you think of summer, sun, beaches and boats. I chose the blue Border Skirt Riviera with a really lovely print. The skirt looks great with a white tee as well, but I wanted something in blue. The Viola Top Shiny Rayon in "Blue Sea" goes perfect with the border skirt and I especially like the shiny fabric which feels amazing on the skin. To match the colourful print of the skirt, I chose vintage heart earrings and maritime wedges. A vintage handbag finishes the stylish summer-outfit.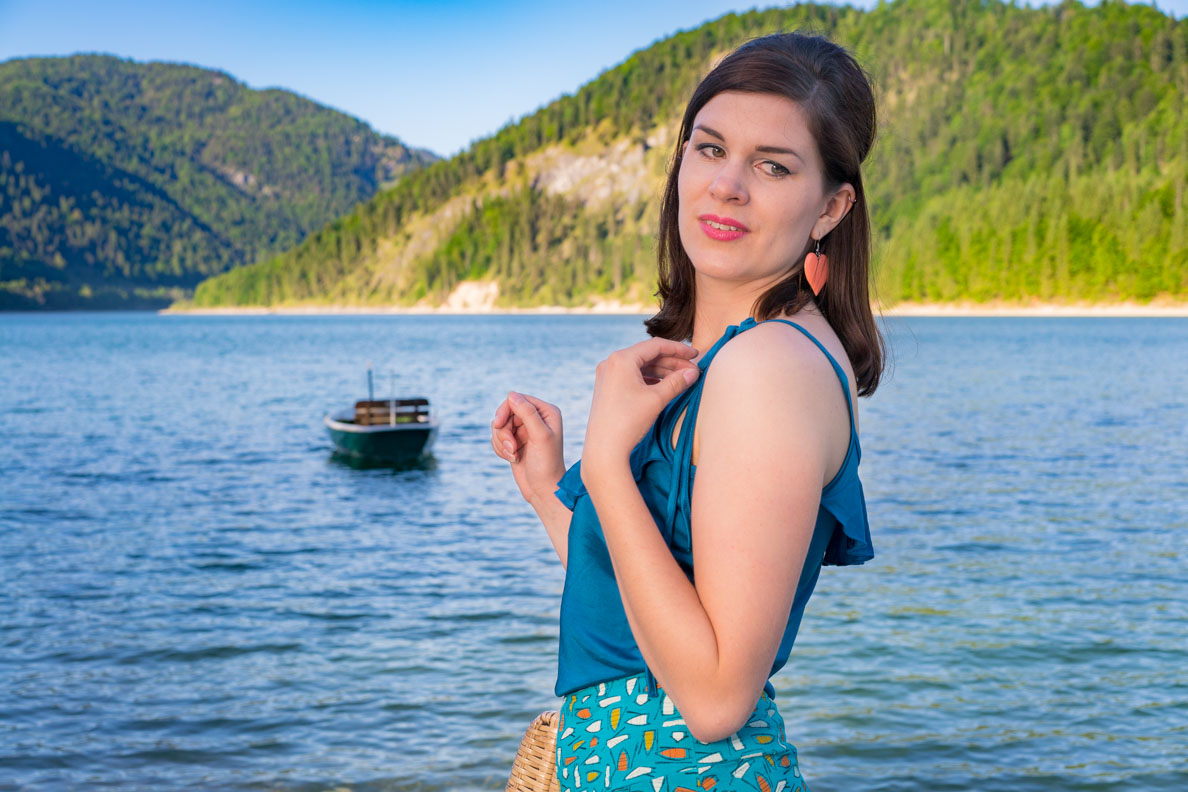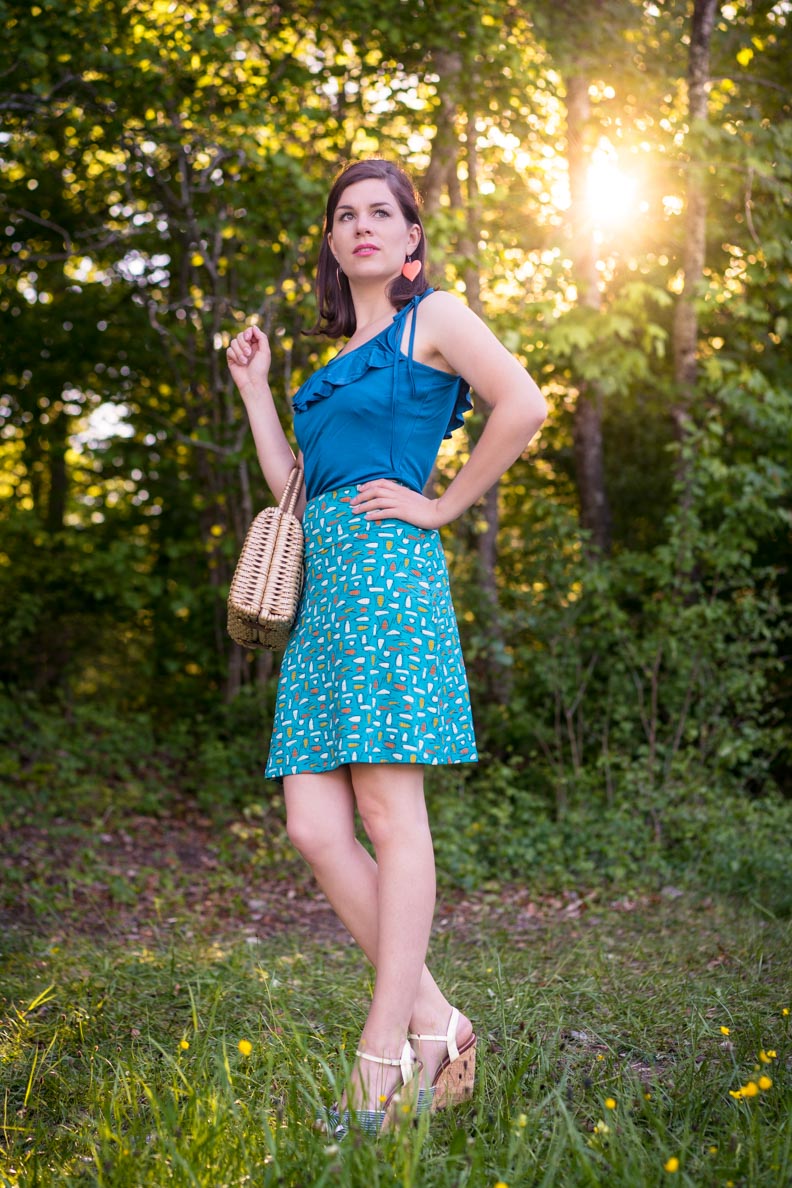 ---
A green, green Dress
Green is a wonderful colour and definitely worn too rarely, in my opinion. The Ginger Dress Frisky in "Peacock" is a real eye-catcher. It reminds me of the late 60s and early 70s. To remain in these decades, I wear a vintage inspired hairband. Pink rose earrings and high heels (similar here) in the same colour add that certain something to the look. Beige gloves (similar here) and a true vintage bag (similar here) finish the late 60s inspired outfit.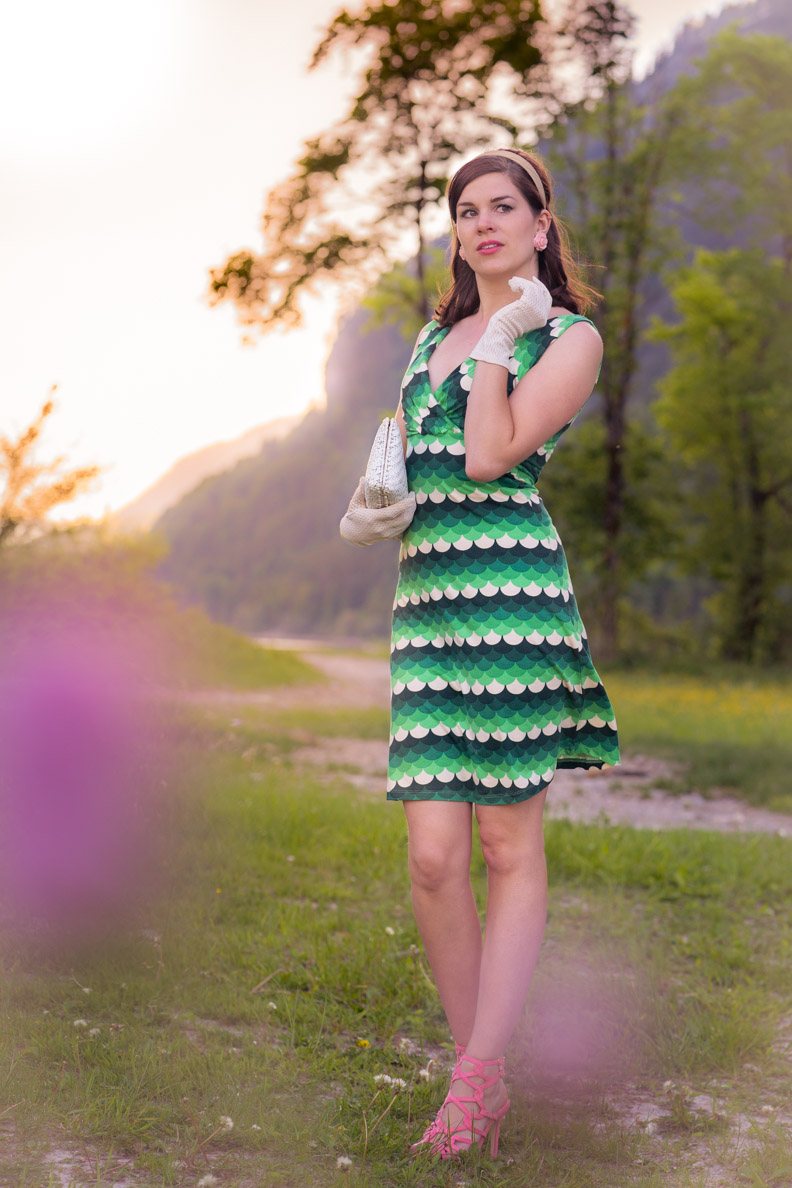 ---
Timeless Classics: 7/8 Trousers and a retro Top
When I saw the Lena Pants for the very fist time, I immediately knew I need to have them. They look great with almost everything, but I decided to team the trousers with the classy black Cardi Front Ajour Franny. I like this look so much that I decided to show it in an extra blog post, which you will find here. 😉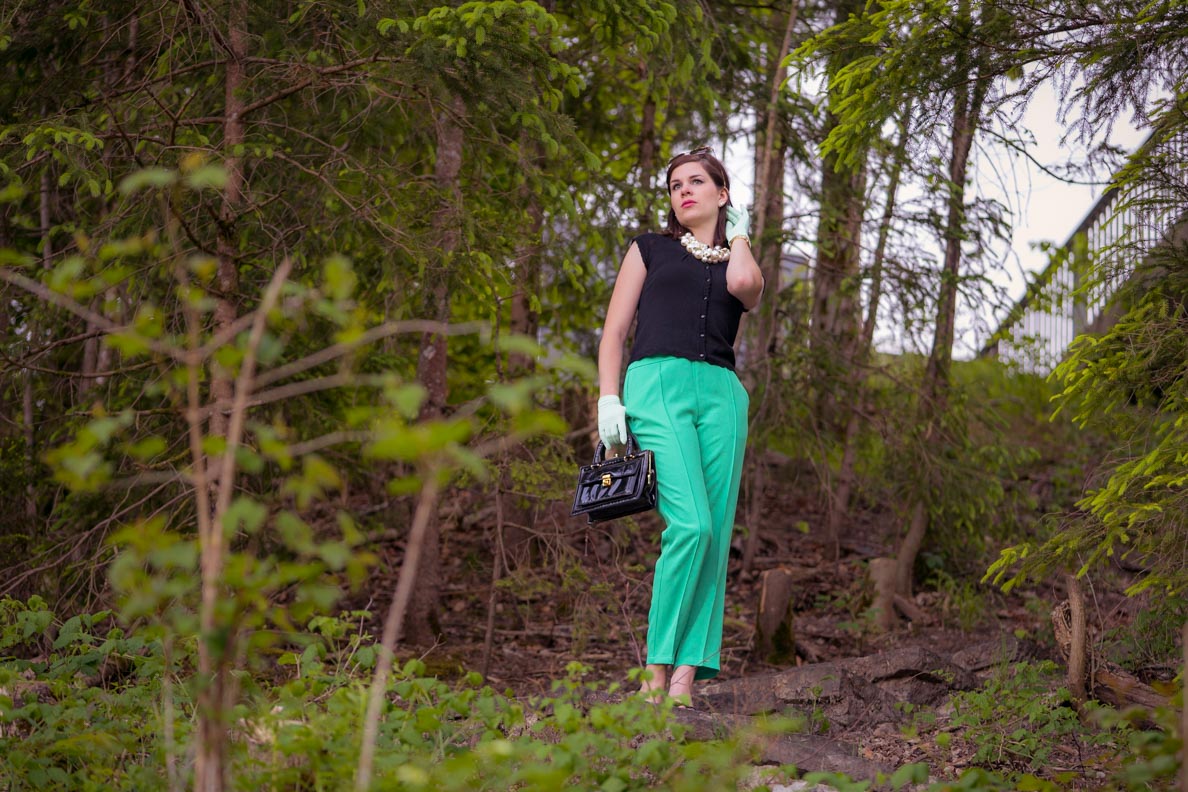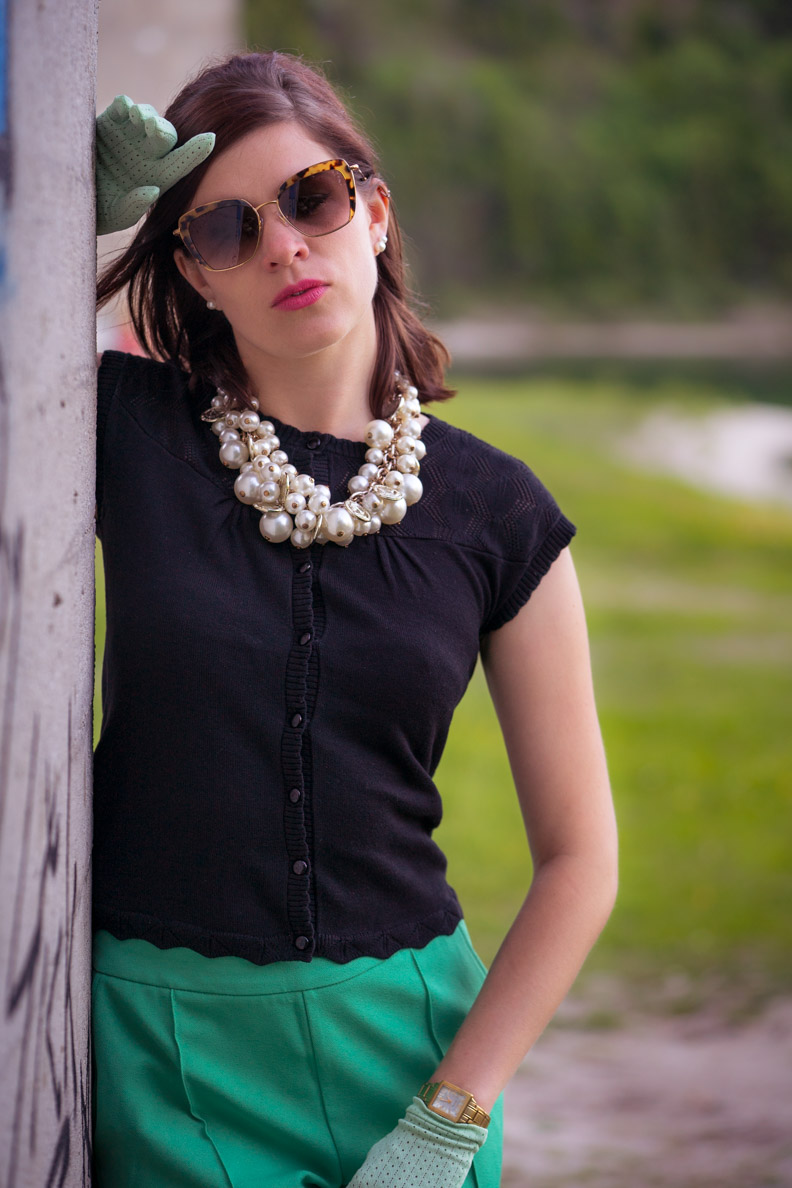 Now I'm curious: Which one is your favourite look? Leave me a comment below, if you like. 😉
---
*This post is sponsored by King Louie.