A perfect autumn day
This blogpost contains affiliate links (marked with *) and pr samples (marked with c/o)
As much as I love these warm summer days, summer also always is the busiest time of the year for me. Only when the first leaves get colourful and fall off the trees, everyday life gets more relaxed. Then, I finally have time to sort all my thoughts, read a book, and go out for lang walks. And while a lot of people already are in Christmas mood, I still enjoy my favourite time of the year. In this blogpost, I'm going to tell you how such a perfect, relxed autumn day looks for me.
Tea & Makeup: A perfect Start into a perfect Autumn Day
To be honest, I'm rather a nocturnal owl than the early bird, and really like to sleep long in the morning. And even when the first sunrays hit my face, I like to do something I call "sleep meditation". The problem: If you sleep meditate, time really flys and it is lunch time faster than you could look. This is why I try do get out of bed between 9 and 10 on a perfect autumn day. Afterwards, I make myself a cup of delicious rose tea (I really love the ones by Lov Organic and Kusmi). On a perfect autumn day, I have enough time for this, on busy work days, I usually only drink a cup of coffee…
Then, it is time for skincare. In the morning, I wash my face with a soft cleansing fluid and use some drops of rosewater, afterwards. Now, it is time to apply a little bit a cooling eye gel as well as some drops of skin oil. I normally use by beloved rose oil, by the way. And while my skincare products have some time to settle down, I do my hair. As I like to use sleep-in rollers*, I don't have to do anything else than brushing out my hair in the morning.
[ap_divider color="#CCCCCC" style="dotted" thickness="1px" width="100%" mar_top="20px" mar_bot="20px"]
My Skincare routine in Autumn
*Affiliate links
[ap_divider color="#CCCCCC" style="dotted" thickness="1px" width="100%" mar_top="20px" mar_bot="20px"]
The hairstyle is finished, so it is time for makeup. If I stay at home the whole day, I also skip this point, sometimes. But on a perfect autumn day, I definitely go out, so I apply a little bit of CC Cream as well as Météorites by Guerlain. Some eyeshadow, mascara, blush and lipstick – that's it. Super fast but very effective. 😉
[ap_divider color="#CCCCCC" style="dotted" thickness="1px" width="100%" mar_top="20px" mar_bot="20px"]
My super easy Autumn Makeup
*Affiliate links
---
My Outfit for a perfect Autumn Day
And now, I'm getting dressed. I like dark colours as much as I like bright shades. In autumn, I usually dress myself in warm, bright colours and even try unusual colour combinations as well as colour blocking.
This time, I went for a navy blue dress with lovely white details by The Seamstress of Bloomsbury. To add an interesting contrast, I teamed the dress with a yellow pillbox hat as well as colour matching stockings by Secrets in Lace. On cold days, I wear a coat on top, of course. But sometimes, autumn is gifting us some warm sunrays and mild temperatures.
As I'm now dressed and styled and therefore ready for my perfect autumn day.
---
Outfit Details for a perfect Autumn Day
Dress: c/o The Seamstress of Bloomsbury*
Pillbox hat: c/o Miranda's Choice
Earrings: Glitter Paradise*
Stockings: c/o Secrets in Lace
Shoes: similar here*
---
Breakfast
Dressed and styled, it is time for breakfast. While I usually only eat some fruits and maybe a little bit musli when I'm at home, I go for something more special on a perfect autumn day. Usually, we go out then and have a long, delicious breakfast with long talks and lots of fun.
---
Autumn Walk in Nature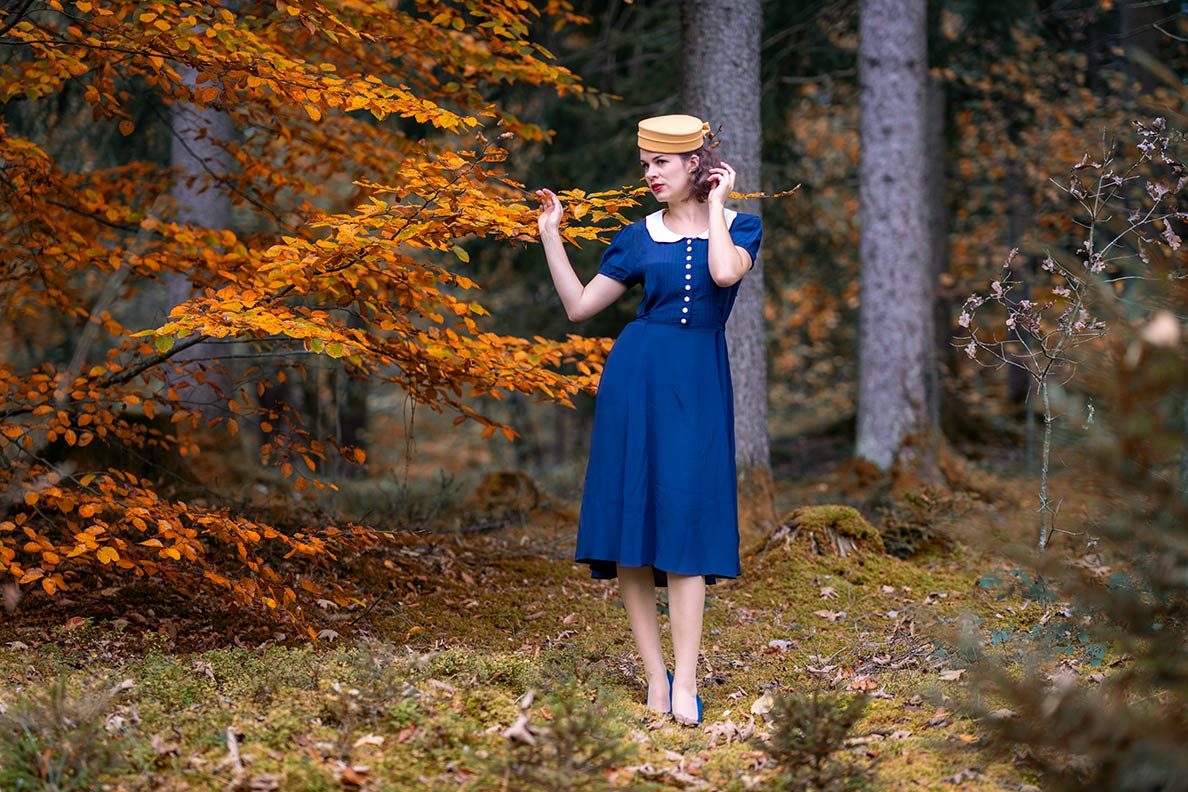 With a full stomach, we then go outside for a relaxed autumn walk through the woods. Forests always have such a calming effect on me and I absolutely love to walk through the rustling autumn foliage. And while I'm in nature, I already mentally prepare myself for winter and dream of Christmas markets, gluhwein, and gingerbread.
---
Hot Chocolate & DIY projects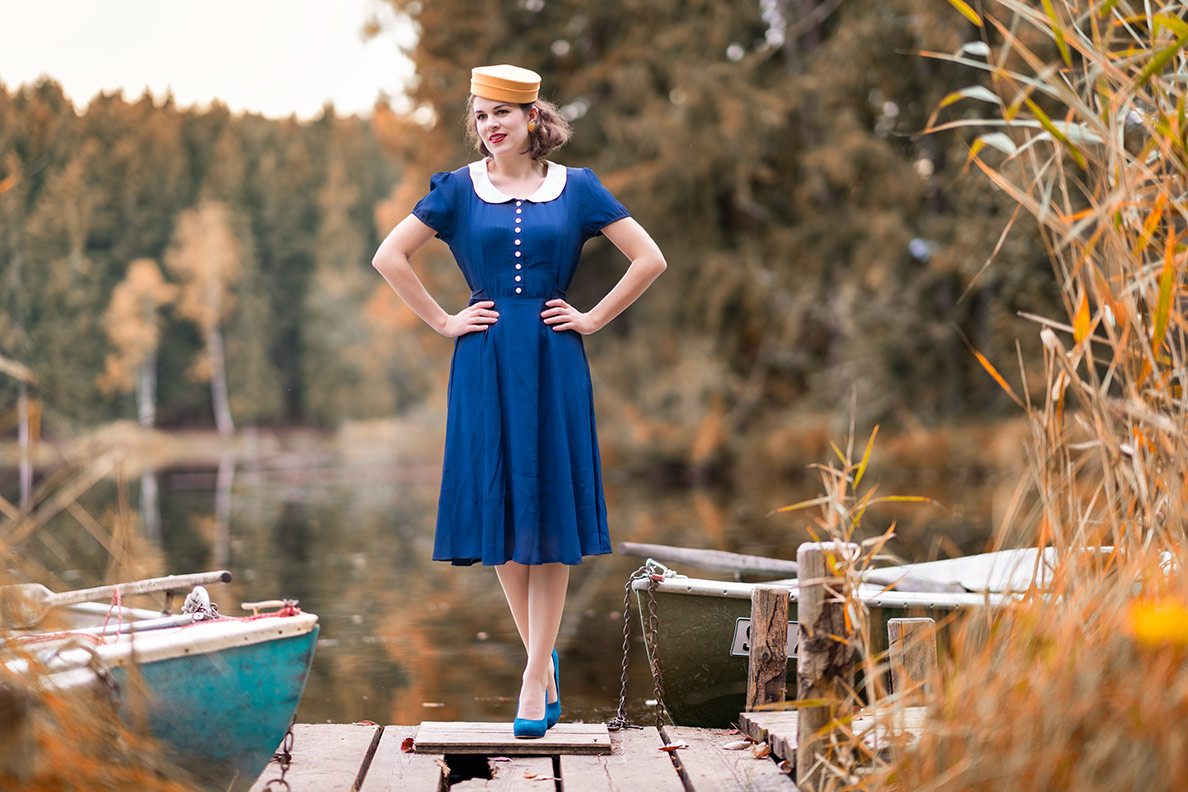 Back home, I make myself some hot chocolate or a can of tea. It can be quite chilly outside during this time of the year, so this is perfect to warm up. I put on some cosy, warm socks, play my autumn playlist, eat some shortbread (I absolutely love shortbread, by the way), and concentrate myself on some DIY projects.
I definitely want to do more by myself in the future. Creating things is so relaxing, and makes me very happy. Also, this is usually a cheaper way than buying everything, plus you usually value homemade pieces more. If you are interested in DIY projects that are great and also little bit spooky, I highly recommend the YouTube chanel of Christine McConnel!
PS: Are you interested in my DIY projects? Should I share them here on my blog or do you prefer other posts? Feel free to tell me in the comments!
[ap_divider color="#CCCCCC" style="dotted" thickness="1px" width="100%" mar_top="20px" mar_bot="20px"]
*Affiliate links
---
Dinner, Tea & Movies
After so much crafting, I definitely need some food. In autumn, I absolutely love pumpkin soup, pumpkin pasta – hach, actually everything with pumpkin!
With a huge cup of tea, in the evening I usually choose herbal teas like Lovely Night by Lov Organic*, I cuddle up on my sofa and watch a movie or series, after dinner.
---
Books & fresh Laundry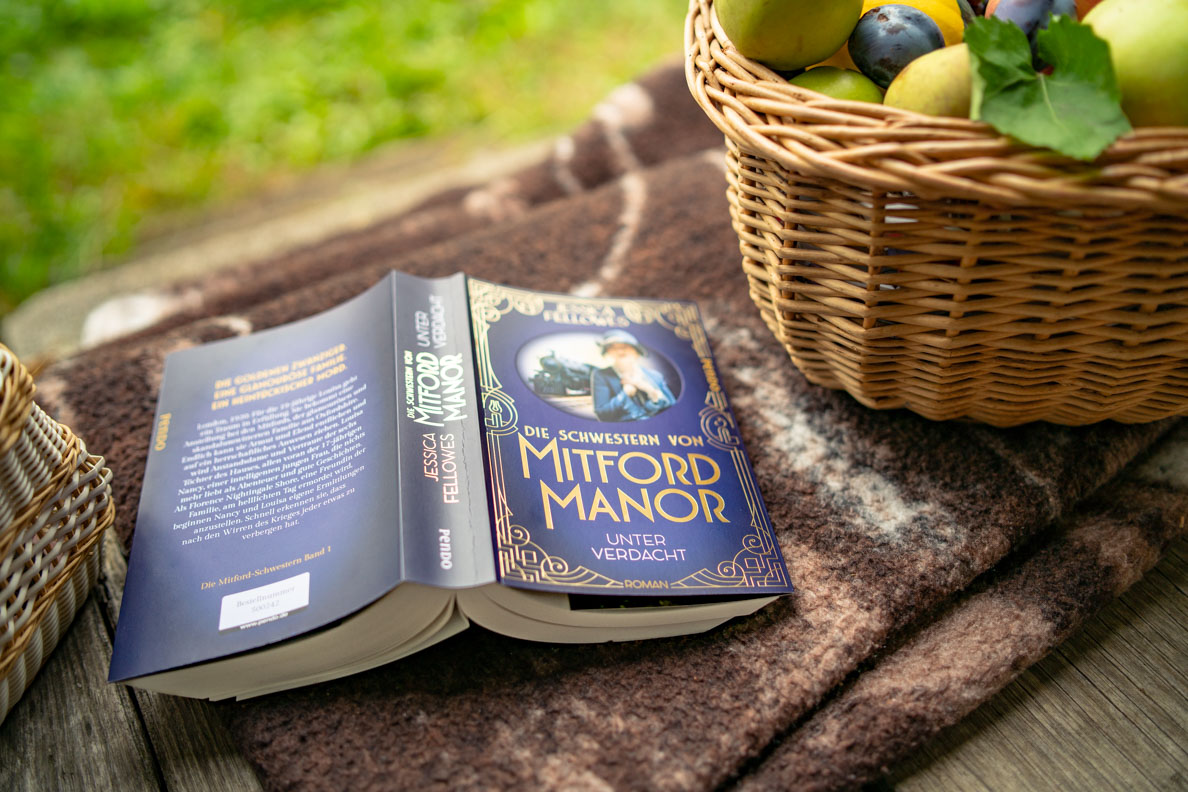 Before going to bed, I like to read a few pages. PS: Do have some good book recommendations for me, by the way? 😉
And what I definitely won't miss on a perfect autumn day is cosy, freshly washed laundry. Is there a better smell than fresh laundry? I don't think so…
---
How does your perfect autumn day look like?