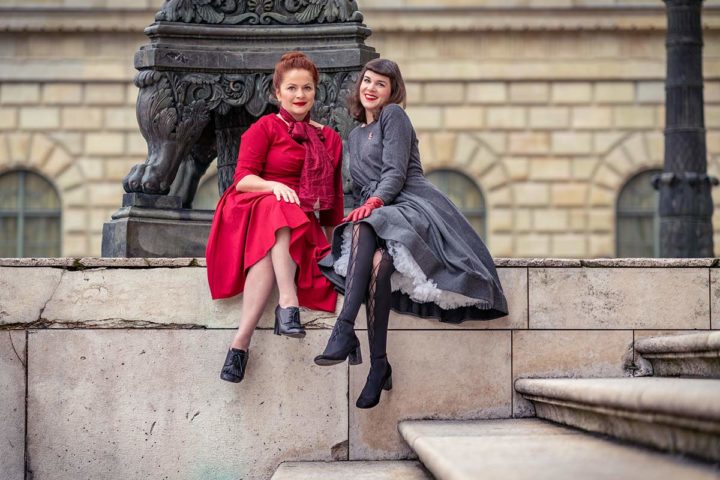 Goodbye winterblues
This blogpost contains affiliate links (marked with *)
Winter hasn't even really started yet, however, I'm already tired of the cold season. The short, grey days, the pretty hard wind, and cold temperatures (it hasn't been that cold yet, as I'm living in an old building, it was cold enough to cool down the whole flat, though) really bother me. Furthermore, winters can be quite long in southern Germany. And if you are not able to escape to the south during winter, we have to make some efforts to stay happy in the cold season. So in the following, I'm going to share my best advice on how to stylishly survive winter.
PS: This time, I was able to take some photos with the lovely ElvaVintage. Make sure to have a look at her Instagram account, especially if you like stockings and lingerie as much as I do!
Style yourself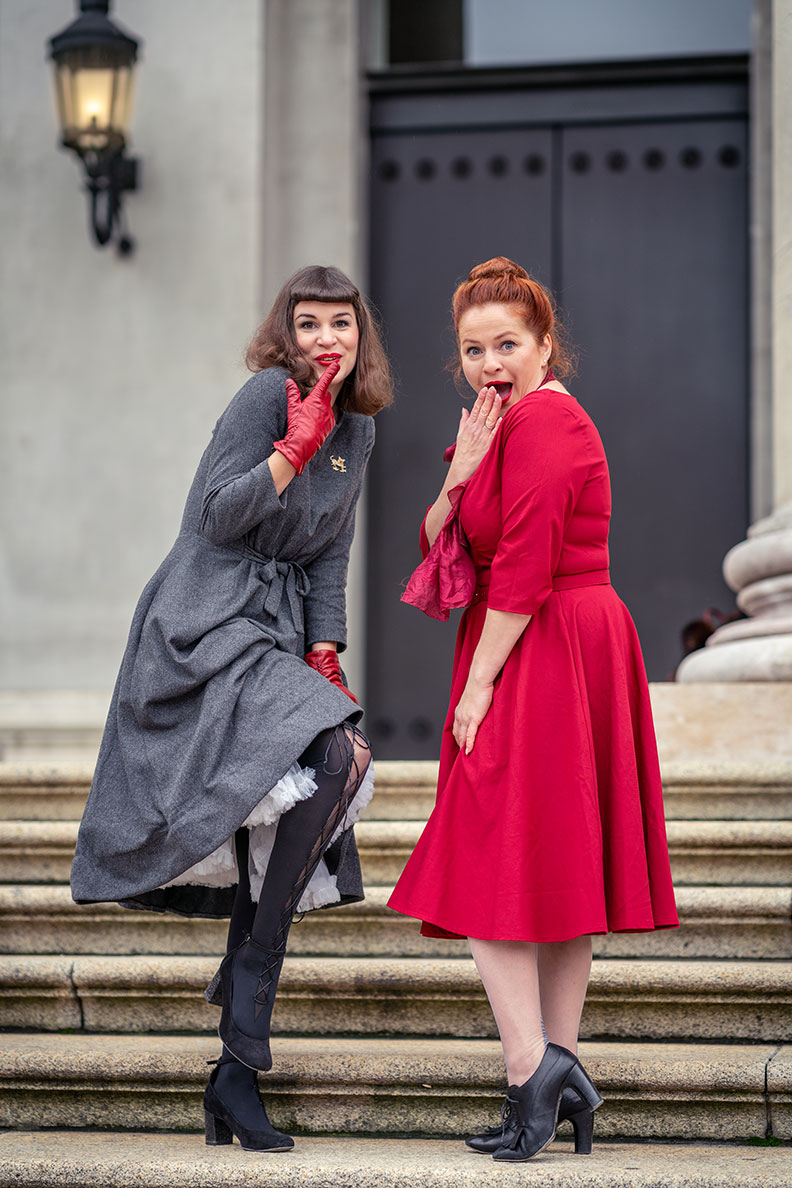 In winter, it can be really tricky to look good. Cold temperatures make it hard to dress yourself pretty and the winter weather is able to destroy your hairstyle in no time. However, I immediately feel better when I style myself. So I do my hair (usually I skip curling them in winter, though), apply some bright lipstick, and a lovely perfume like Miss Dior Blooming Bouquet. When it comes to my outfit, I go for warm wool dresses, tights (have a look at the next point), pretty gloves, and a warm coat on top.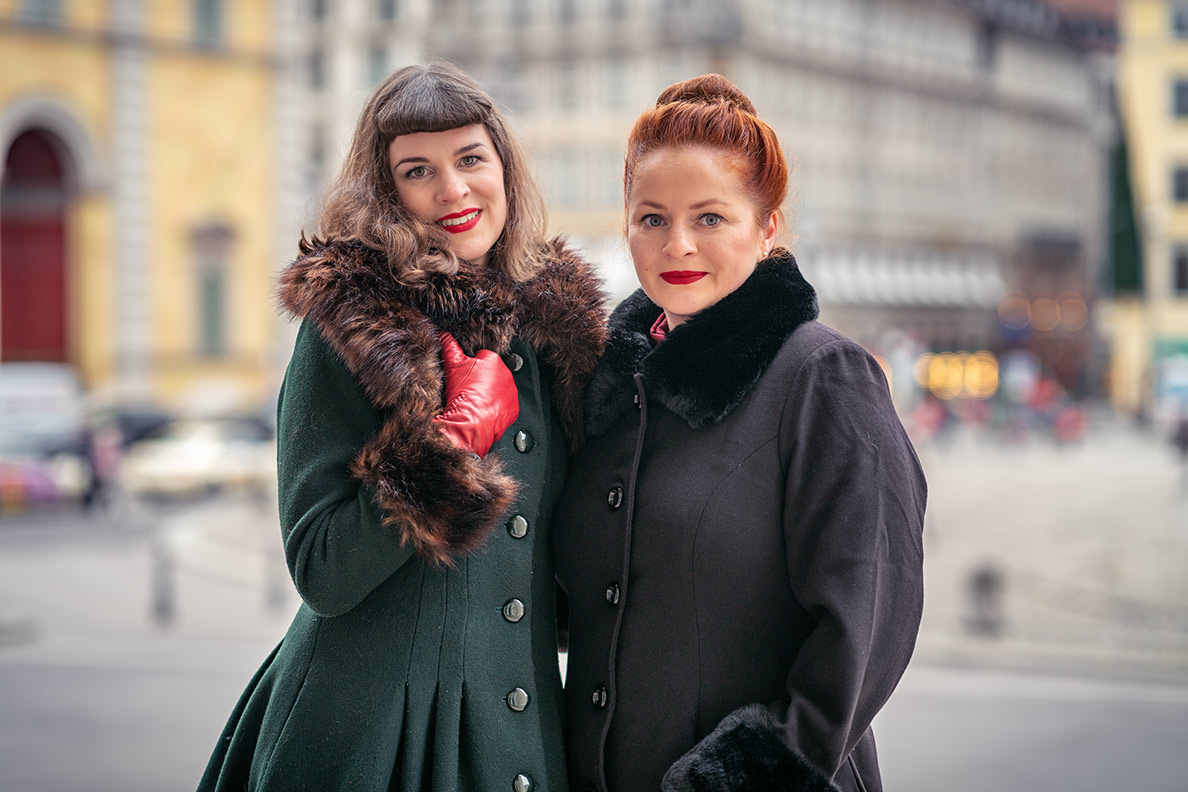 RetroCat's Outfit Details:
Grey dress: Ginger Jackie
Coat: Collectif Clothing, available in a different colour here*
Tights: Calzedonia, similar here*
Gloves: Roeckl*
Shoes: similar here*
Handbag: Furla*
---

ElvaVintage's Outfit Details:
Red dress: Vintage Diva, similar here*
Coat: Hell Bunny, available in red*
Stockings: Secrets in Lace
Shoes: similar here*
Handtaschebag: similar here*
---
Wear fancy Stockings and Tights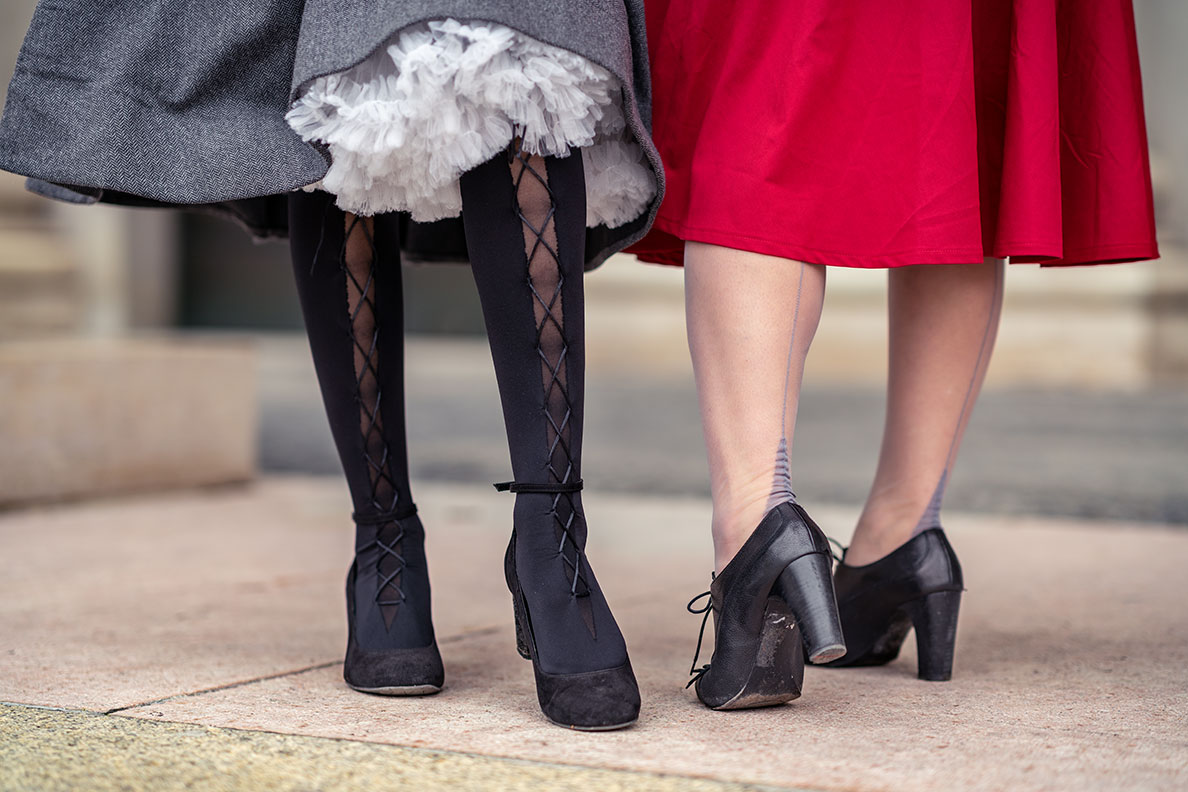 The only thing I really like about the cold season is the fact that I'm able to wear all my fancy tights and stockings, again. ElvaVintage is wearing grey nylons by Secrets in Lace, in the picture. I'm wearing gorgeous tights by Calzedonia.
As soon as it gets too cold for sheer nylons, I go for the following combination: Thermal tights by Calzedonia with sparkly fishnets on top. Layering tights this way is such a good way to stay warm but still look stylish.
[ap_divider color="#CCCCCC" style="dotted" thickness="1px" width="100%" mar_top="20px" mar_bot="20px"]
*Affiliate links

---
A Stroll through the City

I guess, one of the biggest problems in winter is that we usually tend to go outside too seldom. When it is cold, windy, and wet, the last thing I want to do is leaving the house. However, a little bit of fresh air really helps to awaken my spirits. So a city stroll is a perfect activity to forget the winter blues – especially during Christmas season, when there are so many beautiful lights everywhere! For even more fun, take a friend with you! And as soon as it gets too cold, you can simply visit a café.
PS: We don't want to ruin ourselves while trying to stay happy during winter. So it is actually best to NOT take the credit card with you while strolling through the city. Just take some cash for the café with you and if you see something in the shop window you really want, you can always come back.
---
A Walk in the Snow
Even though it does snow in December here in Germany sometimes, the heavy snow usually not comes until January. So after many city strolls in December, the time after Christmas actually is the hardest for me. Especially as I don't really like winter sports, although I learned how the ski and even snowboard. However, I wasn't that talented and usually my ski or snowborad tours ended in the emergency room with a broken arm or damaged ligaments. Everytime I'm forced to do winter sport nowadays, I sit on a sled at the maximum. I really like a walk through the snow, though. Sometimes, I also take my aunt's dog with me for even more fun! In this blogpost, I tell you how to dress for this occasion, by the way.
---
Mulled Wine & lots of Tea
I don't want to betray you to drink alcohol, however, I think mulled wine really makes the cold season better. Especially, if you take a friend or your love with you and have some mulled wine outside. At home, on the other side, I drink a lot of tea in winter. 😉
[ap_divider color="#CCCCCC" style="dotted" thickness="1px" width="100%" mar_top="20px" mar_bot="20px"]
*Affiliate links

---
Get some Candles & Lights
One of the bigget problems in winter is the fact that it gets dark so early. So it really helps me to have some pretty lights in my flat. I especially like candle light, but also add some chain of lights. And I'm big fan of Philips Hue lights! Especially the colourful ones, so I can light my whole flat in a lovely, springlike, pink shade. 😉
[ap_divider color="#CCCCCC" style="dotted" thickness="1px" width="100%" mar_top="20px" mar_bot="20px"]
*Affiliate links
---
Get some fresh Flowers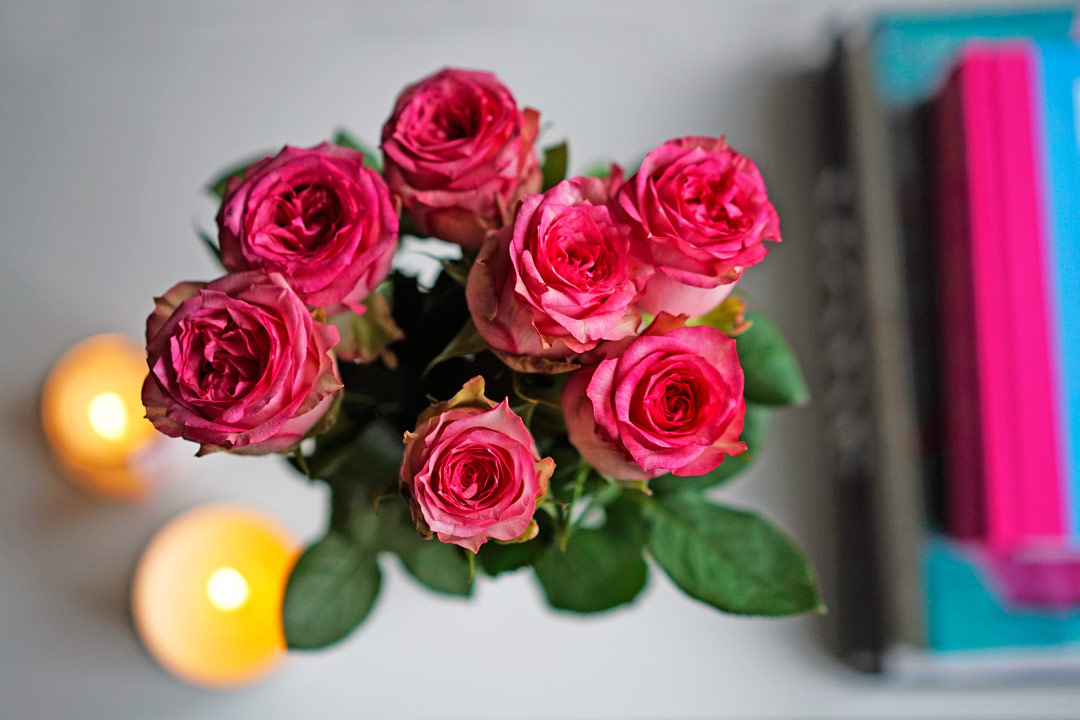 Fresh flowers are another great way to make the flat more beautiful and they also make me really happy! Whenever I visit Viktualienmarkt (the biggest market in Munich), I take a few pink roses with me.
[ap_divider color="#CCCCCC" style="dotted" thickness="1px" width="100%" mar_top="20px" mar_bot="20px"]
*Affiliate links
---
How to stay happy in Winter: Reading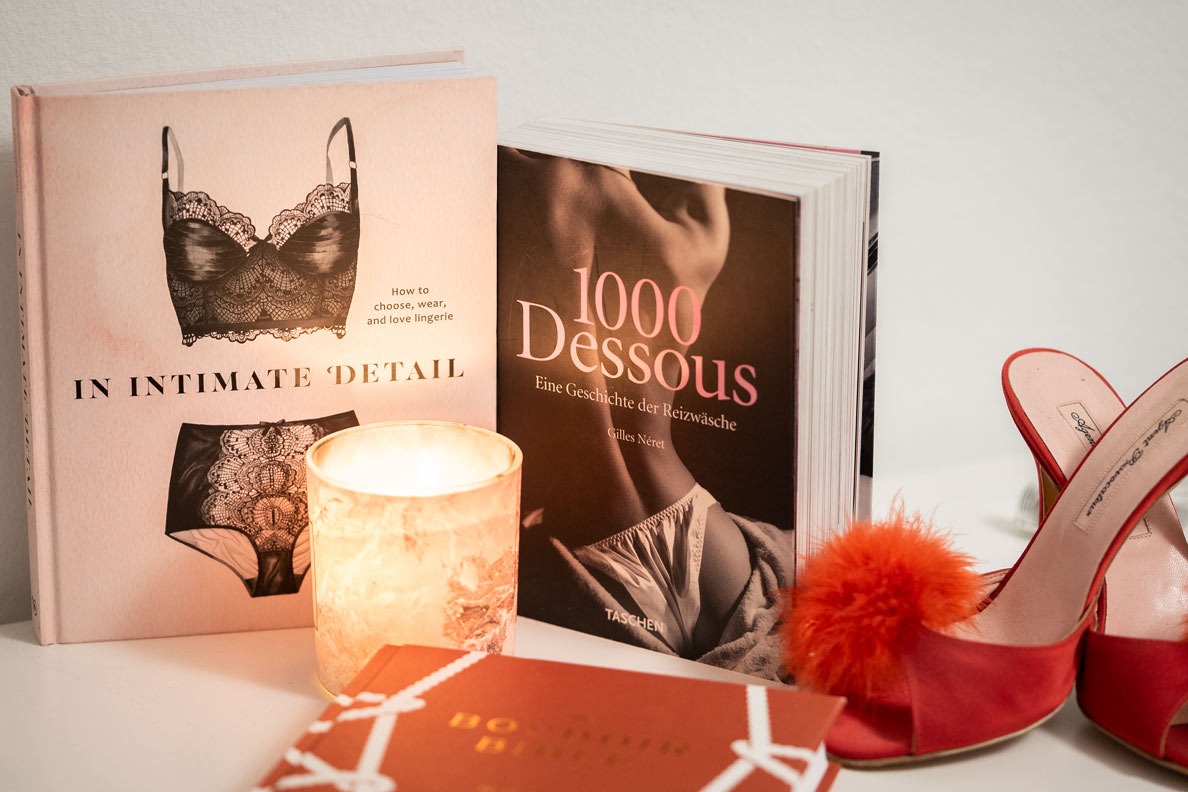 Sometimes, all the roses and lights don't really help and I feel kind of tired athough I didn't really do anything. Whenever this happens, I light some candles and cuddle up with a huge blanket, a cup of tea, and a good book. I already introduced a lot of books to you in my reading category.
And if you want to read something hot during cold season, I have some tips for you as well:
---
Movie Night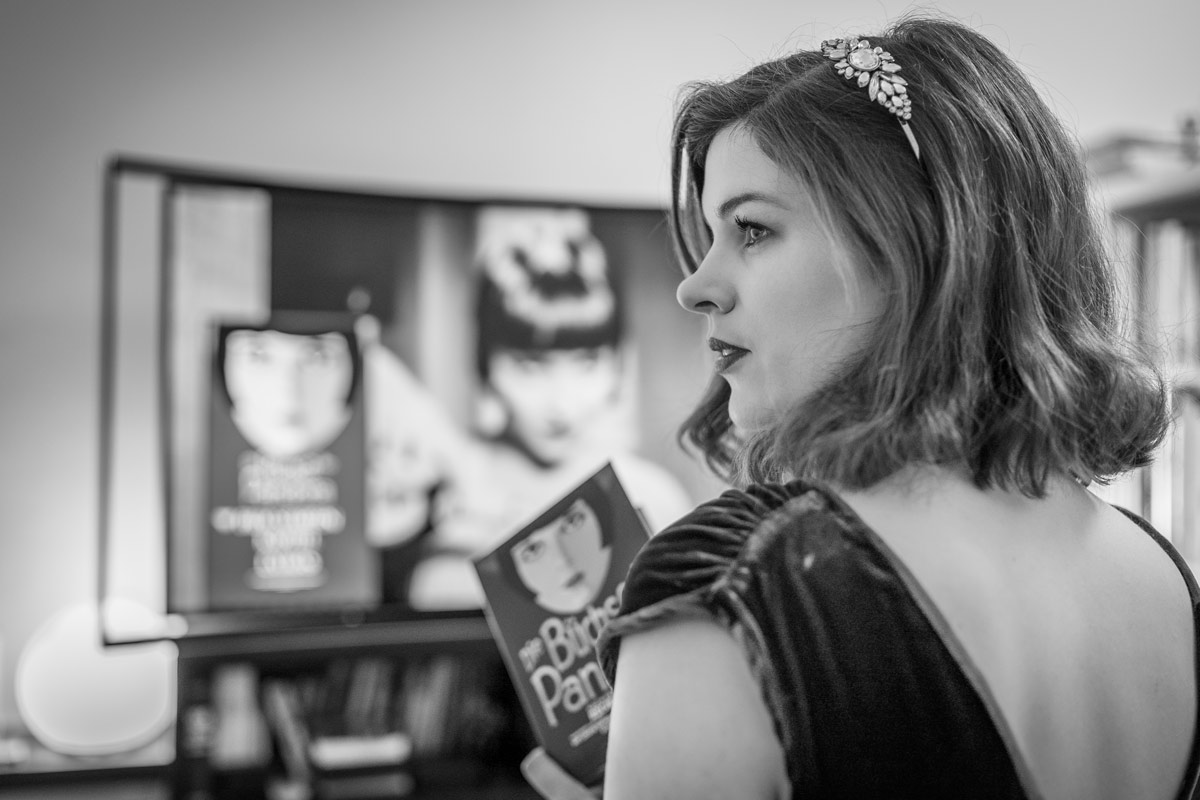 An alternative to reading a book in the evening, is to organise a movie night with your love, your best friends, or just with yourself. I introduce the best vintage series to you here, and talk about modern vintage movies here – bye bye long and boring winter nights!
---
What are your best tips on how to stay happy in winter?