The gloomier the weather, the more colourful my clothes. If it's rainy and wet outside, I want at least my outfit to be cheerful. A wonderful companion for those dusky days is the retro dress "Enya" by BlackButterly. The classy cut with a fitted top and flared circle skirt flatters almost every body type.
I especially like the flower print and lovely details. The collar is very pretty and seductive at the same time since one can wear it off-shoulder. As the dress is made of a quite thick cotton fabric, you can wear "Enya" perfectly inside, even in autumn and winter. If you go outside, though, I highly recommend a cardigan and coat. Except you want to freeze as I did during the photo shoot. 😉
Colourful accessoires, however, go very well together with the dress all year long: light pink stockings by Secrets in Lace, which I already wore here, as well as lilac pumps really brightens the look up.
A very special piece of jewellery this time is my pretty bracelet from Ateapic. It's made of an old tea cup – so simply perfect for a vintage and tea lover like me. This was the idea of the same Italian lady, who designed the lovely magazine accessories, which I introduced in this blog post. Find her Facebook page here. Light pink earrings by Glitter Paradise finish the look as they not only matches the stockings, but also the little flowers on the bracelet.
On my lips I'm wearing a lipstick with the wonderful name "Plum-Brella" by Guerlain.
---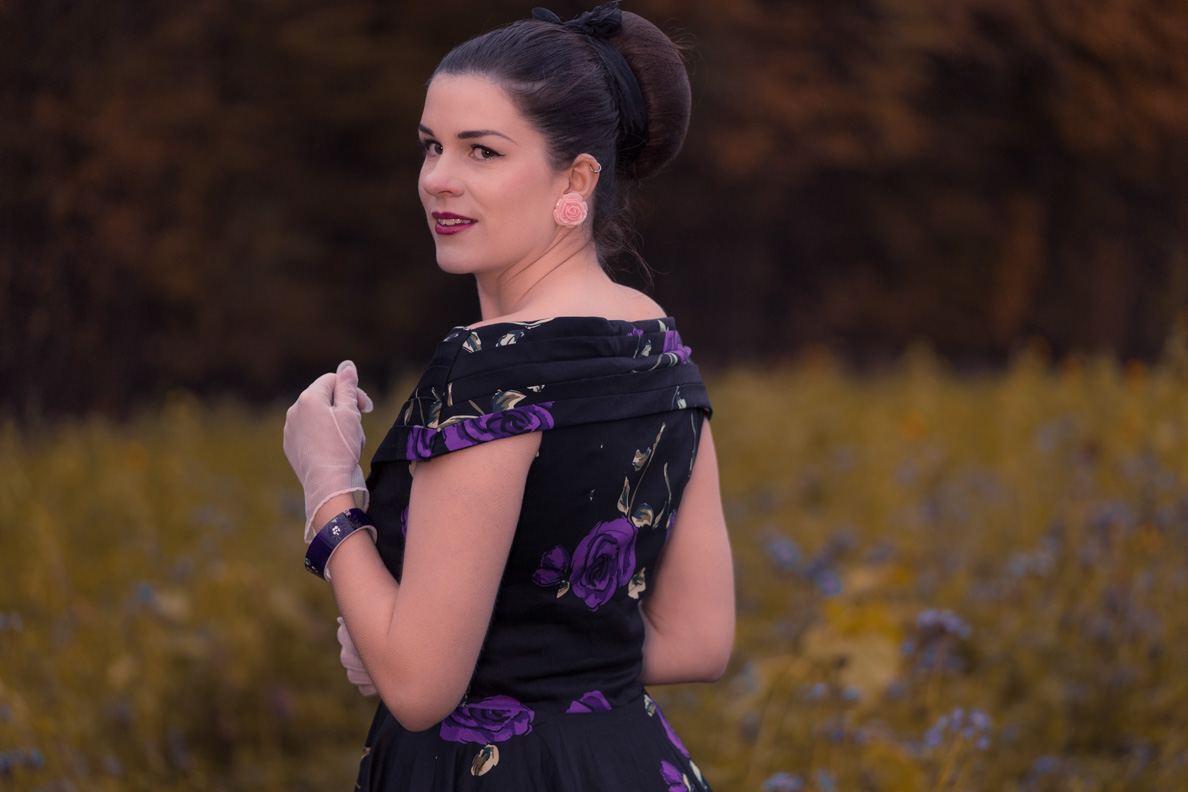 ---
Retro-Outfit Details:
Dress "Enya"*: BlackButterfly
Petticoat: Vintage (similar here)
Stockings*: Secrets in Lace Europe
Bracelet*: Ateapic
Earrings: Glitter Paradise
Shoes: Jane Klain (similar here)
Gloves: Vintage
*PR-Sample