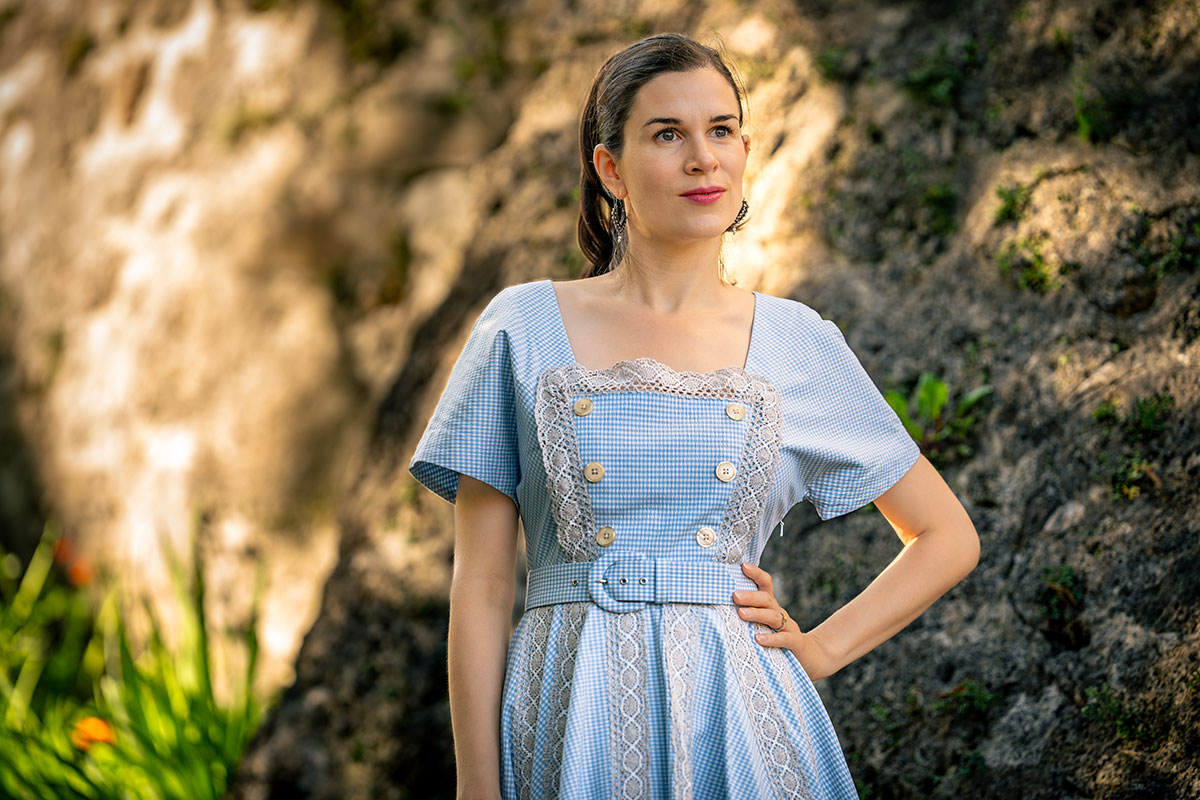 This blog contains affiliate links (marked with *). If you shop products via those links, I may get a small provision which helps me to maintain my blog. Of course the price doesn't change.
The Joys of Late Summer
Late summer has arrived. The days are usually still sunny and warm, but the nights are already pleasantly cool. And in the morning the low fog sets in. My plants are bearing ripe fruit and I can hardly keep up with the canning. Oh, how I love this time of year! The perfect combination of sunny days in nature and cozy evenings at home. During this short but wonderful time of year, I like classic 50s looks the most. Delicate colors, vichy patterns, sweeping circle skirts, petticoats and magical details create the ultimate cottagecore feeling and make late summer in the country even more beautiful. A dress that combines all of the features described above comes from Lena Hoschek's Cottagecore collection.
Outfit Details: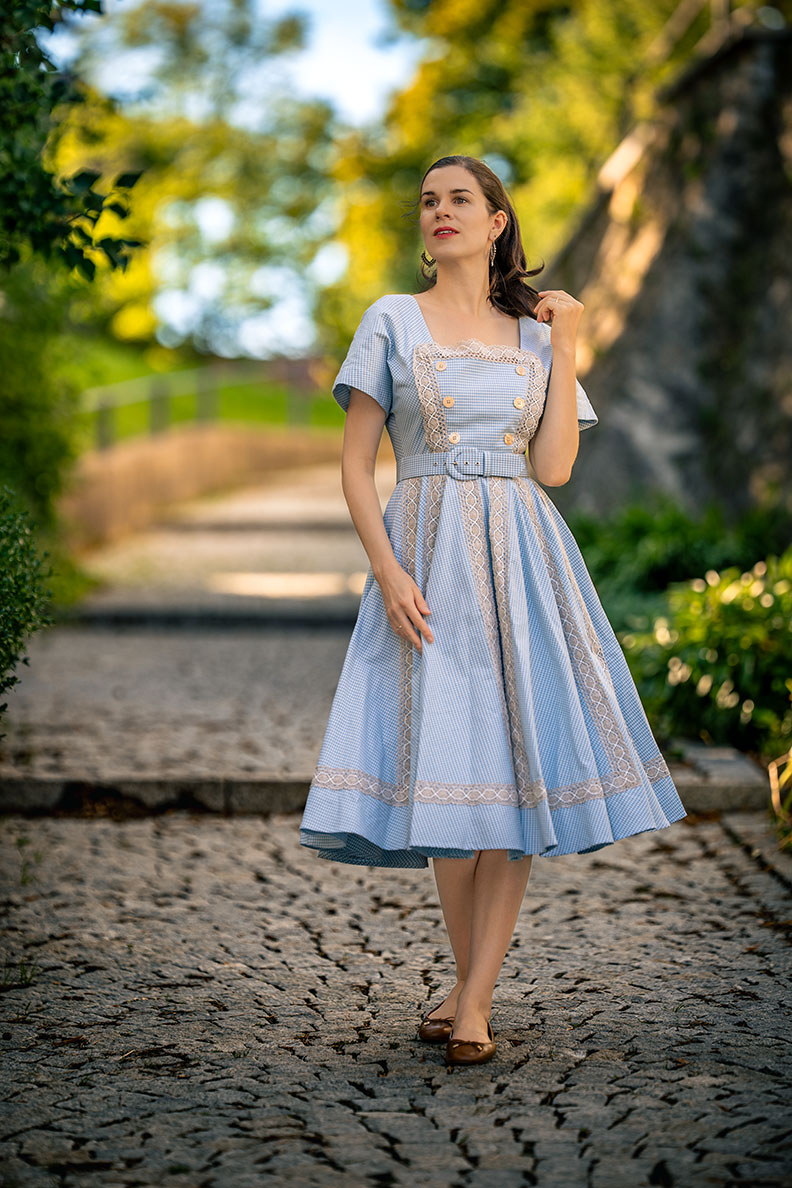 Dress: Lena Hoschek, sold out, similar e.g. via Amazon*
Petticoat: Vintage, similar e.g. via TopVintage*
Ballet flats: Ralph Lauren, e.g. via Peek & Cloppenburg*
Earrings: no name
Fake ponytail: via Amazon*
*Affiliate links

---
A Cottagecore Outfit for late Summer
Unfortunately, my light blue dress seems to be already sold out. You can also easily create a 50s cottagecore look with other clothes. Feel free to rely on the classic vichy pattern or romantic floral prints, perhaps with some playful lace, a petticoat (e.g. via TopVintage*) and comfortable ballet flats. It doesn't need much more.
Romantic Cottagecore Garments for Late Summer
*Affiliate links

---
My romantic Makeup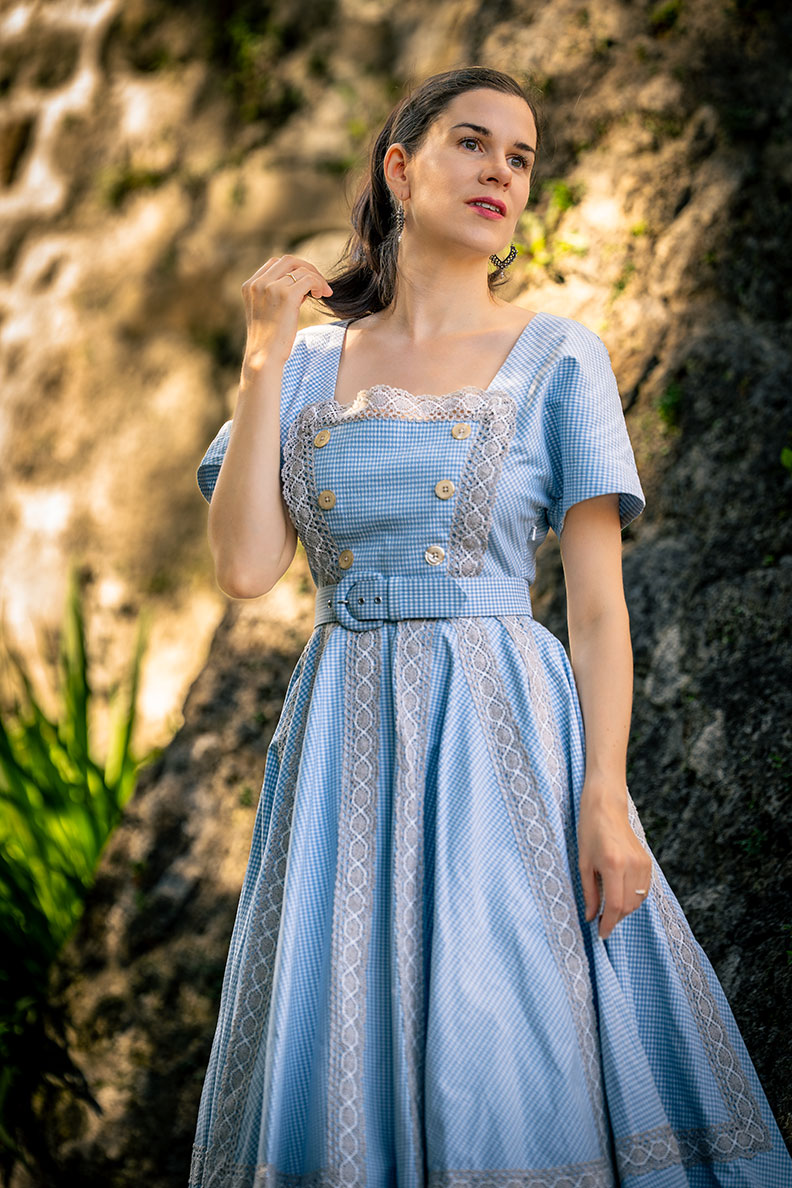 When it comes to make-up, I like it natural in the summer. I just wear some CC Cream from Chanel, mascara, some brow powder, a touch of blush and red lipstick – that's it. I styled my hair in a ponytail and pimped it up a bit with an artificial hairpiece (via Amazon*).
*Affiliate links
---
Late Summer in the Garden and House
Isn't late summer the perfect time to enjoy the garden to the fullest again? I love picnicking under the apple tree, relaxing on the terrace and taking a look at my vegetable plants every now and then. Afterwards I enjoy homemade potato bread in the house and end the day comfortably on the couch.
*Affiliate links

---
What is cottagecore? Read more here.