This blog contains affiliate links (marked with *). If you shop products via those links, I may get a small provision which helps me to maintain my blog. Of course the price doesn't change. Items marked with c/o were given to me as free test samples.
Summer meets fall: A glamorous outfit for transitional season
September heralds autumn and – at least for me – always represents a new beginning. Previously it was back to school, later a new semester started and today my wardrobe is just about to change. The airy summer dresses are slowly but surely being pushed further to the back of the closet. Nylons, cardigans and sometimes umbrellas are now being used again. Since you can now simply wear more overall without breaking a sweat, but not yet having to pack up like a Michelin man, late summer or early autumn is the perfect time of year for glamorous looks.
Outfit Details:
Pleated skirt: Steffen Schraut, similar via MyTheresa*
Cardigan: Wheels and Dollbaby, similar via TopVintage*
Nylons: c/o Secrets in Lace
Umbrella: via TopVintage*
Handbag: Coccinelle, e.g. via Amazon*
Nursing bra: Hunkemöller*
Pumps: Peter Kaiser, e.g. via Amazon*
*Affiliate Links

A pleated midi Skirt for early Fall
I'm really into midi-length pleated skirts at the moment. When styled correctly, these look super stylish and anything but old-fashioned. Plus, they flutter so wonderfully in the autumn wind and hug your legs perfectly, as my reel on Instagram proves. As long as it's pleasantly warm, I wear the skirts with bare legs. But when it starts to get cooler, I combine them with glamorous nylons.
Shop wonderful pleated Skirts:
*Affiliate Links

---
By the way: In this blogpost, I tell you where to still find true nylons.
---
Perfect for Fall: Beautiful Cardigans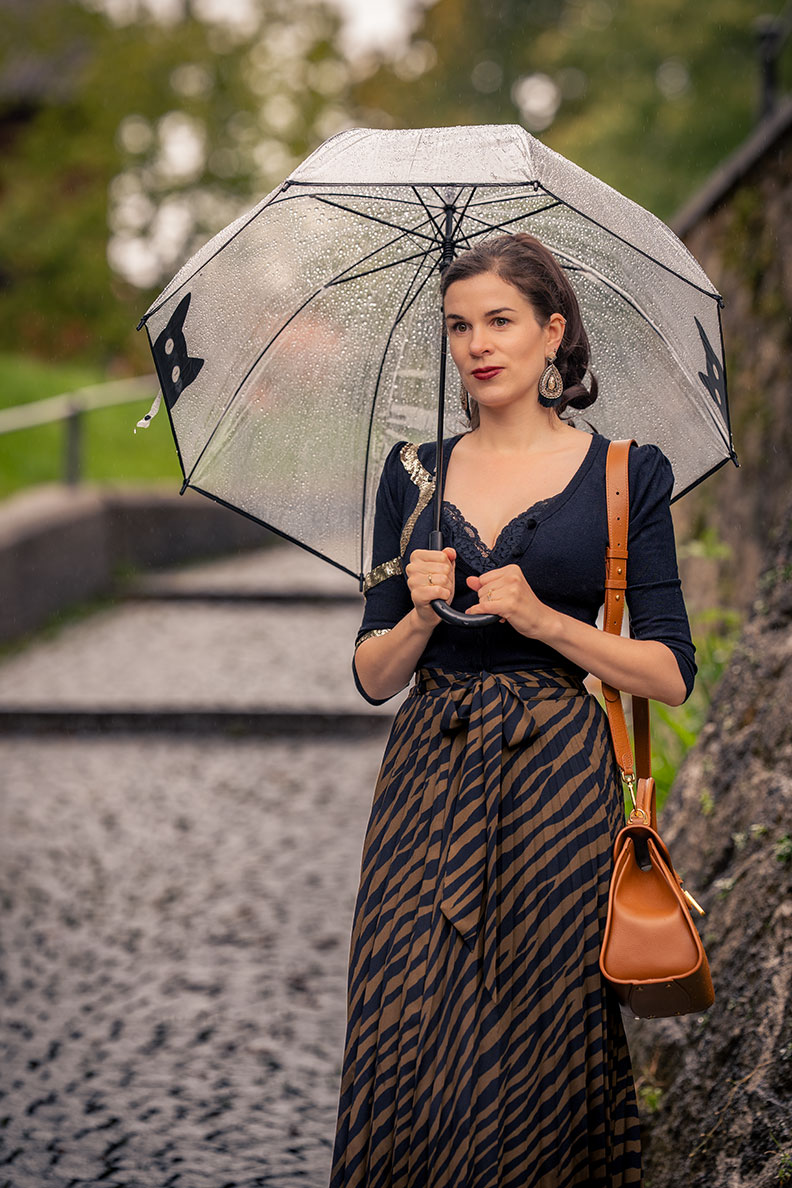 Cardigans go wonderfully with pleated skirts and can even look really glamorous thanks to sparkling embroidery. It becomes particularly seductive when a pretty lace bra (mine is from Hunkemöller*) peeks out.
Where to shop glamorous Cardigans for Fall:
*Affiliate Links

---
The perfect Accessories for Fall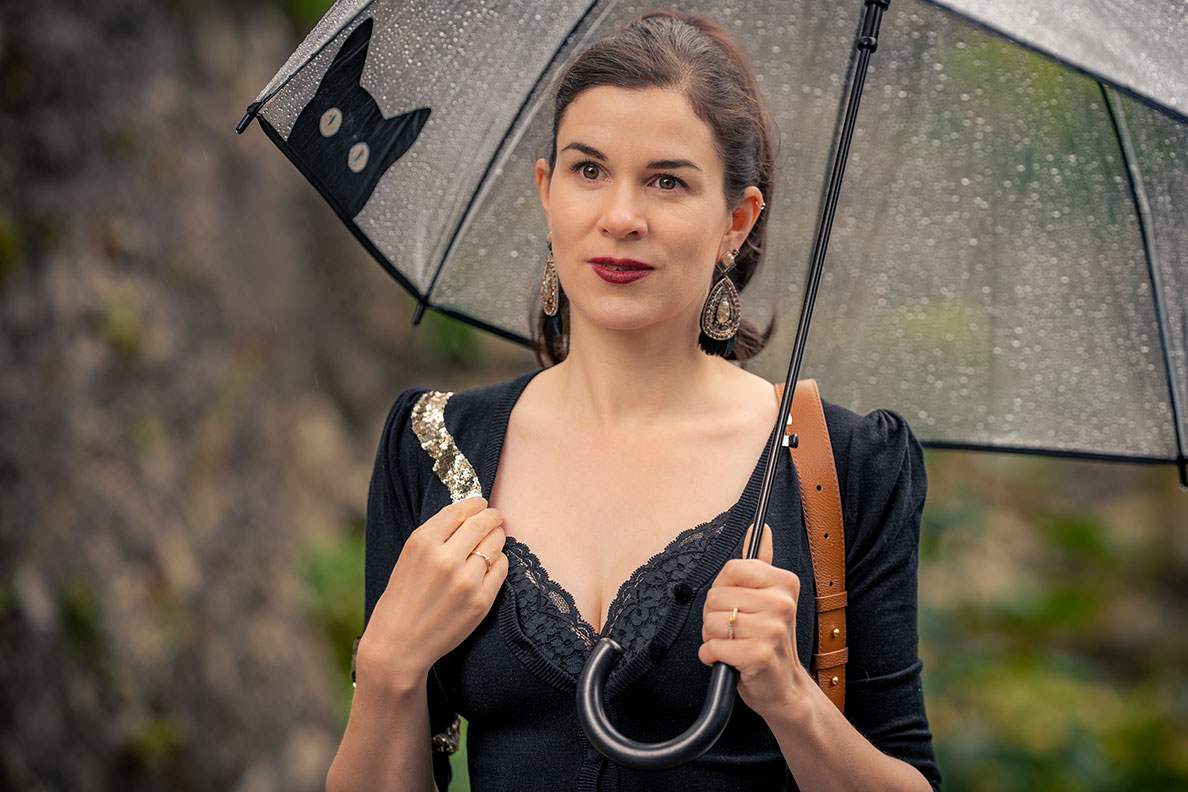 In addition to the previously mentioned nylons, an umbrella should of course not be missing in autumn. Because let's be honest: especially in our latitudes, the golden season is often just one thing: wet. Sparkling earrings provide the necessary dose of glamor and a fake ponytail (e.g. via Amazon*) stays in perfect shape even in high humidity.
*Affiliate Links

---
---