This blog contains affiliate links (marked with *). If you shop products via those links, I may get a small provision which helps me to maintain my blog. Of course the price doesn't change.
The coolest trousers for summer
Eventhough I absolutely adore my summer dresses, there are still occasions when trousers are simply more practical. Bike tours or very windy days are just some examples. The only problem: When it is very hot, it can get uncomfortable in trousers quickly. So in this blogpost, I show you the most beautiful trousers for summer that will keep you cool.
Long Trousers for Summer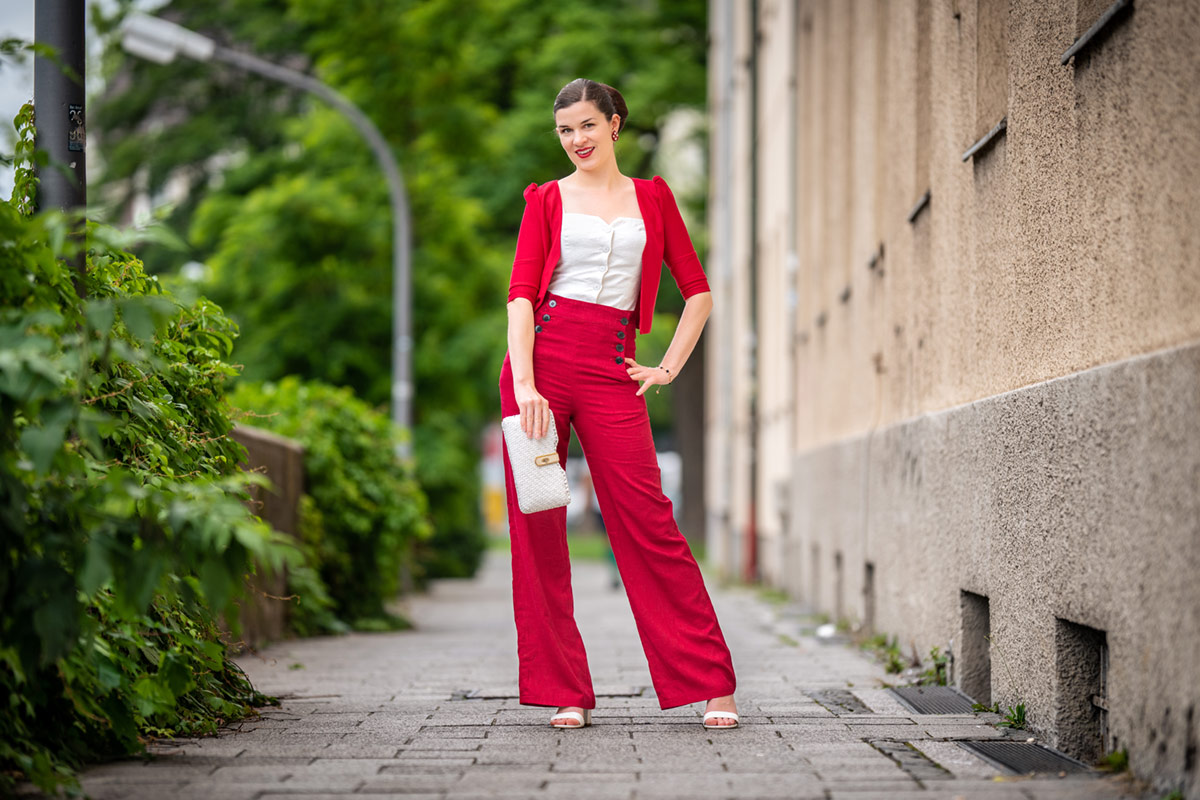 Yap, even on very hot summer days you can wear long trousers. Just make sure to choose a light fabric like linen or silk. Flared trousers or so-called Palazzo Pants go very well on a lot of different occasions. No matter if for the office, a walk through the city, a vist at a café, or a drink at a beach club – in these trousers, you are always perfectly dressed. You will find wonderful flared retro trousers at TopVintage* or the Seamstress of Bloomsbury via Etsy*, for example.
*Affiliate links

---
What to wear with flared Trousers in Summer
To stay cool on hot days, I recommend to team your flared trousers with tops made of light fabrics that are not too tights. A delicate blouse is perfect for the office, while a fancy tops looks amazing on evening occasions. And for the beach club, we simply team our trousers with a swimsuit.
*Affiliate links

---
Cool Capri Trousers for warm Days
Cool capri trousers not only look great on a vacation in Capri (haha, I know, I know ;-)), but also on every other summer vacation, as well as on a day at the city, or a bike tour, for example. On warm days, I like to choose some wider trousers, while on a bit colder days. I also wear very tight ones. At TopVintage* you will find some lovely capri pants in different colours.
*Affiliate links

---
How to style Capri Trousers
Capri trousers always remind me of of Audrey Hepburn's style. So I enjoy wearing an Audrey inspired outfit. Ballet flats and a striped top are always a great idea to team with black capri trousers. And just in case you prefer a more fancy look, I recommend colourful trousers, sheer tops and cool accessories.
*Affiliate links

---
Cheeky Shorts for hot Summer Days
To be honest: Shorts are usually not the best choice for the office. However, they do go well on many other occasions! No matter if you want to wear them on a trip to the lake, a bike tour, or a day in the city or at the beach – they always look fun! I personally adore retro shorts with a high waist and flared legs. Find similar ones at TopVintage*, for example.
*Affiliate links

---
How to style Shorts
I like to wear short trousers with blouses or summery tops. For a day at the beach, a swimsuit in combination with shorts also is a great idea!
*Affiliate links

---