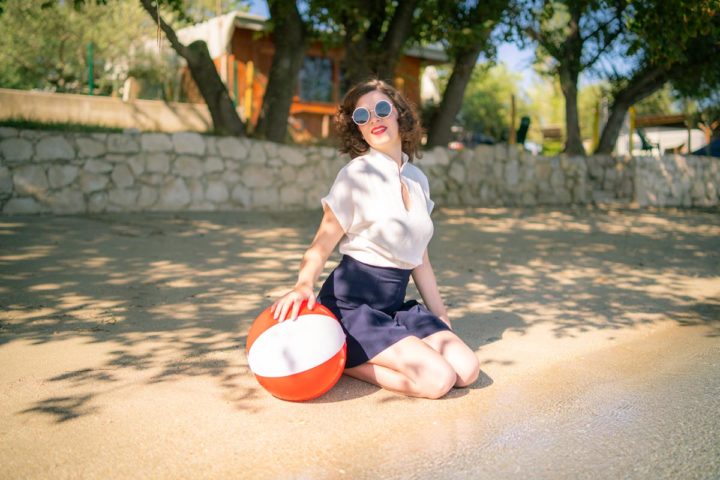 Feminine and high-quality retro style fashion at Mondo Kaos Boutique
Advert | paid collaboration
Summer, sun, beach, and the sea – for most of us, the warm season also means vacation time. And even those who don't leave for summer vacation, might like to spend the warm days at the beach or water. We enjoy the warm evenings outside; and isn't everything just a bit more beautiful and relaxed in summer? The only things left are some beautiful outfits for hot days. While I already told what to keep in mind when choosing an summer outfit for warm days, now, I want to show you two different, but equally beautiful styles that are simply perfect for the warm season. Futhermore, I'm going to introduce a wonderful retro style shop to you that offers a great variety of different clothes and looks.
Mondo Kaos: A wonderful Retro Boutique
Mondo Kaos is a retro boutique in Copenhagen that also has a gorgeous online shop. Founded in 2006 by Ditte Charite Lindemose and a partner, this shop has now Denmark's best selection of high-end retro style clothes.
By now, Ditte Lindemose is the sole owner of the company, and although she resides in California, she still runs the main part of the business, while the boutique is managed daily by Stine with the help of Kristine and Mathilde.
Beside a boutique in Copenhagen, Mondo Kaos also has an online shop and ships to many European countries as well as the USA. Depending on the amount of the order, the delivery may even be free of charge. For a full list of countries and the related shipping fees, please click here.
True to the motto "We can do it!", the Mondo Kaos ladies devolped the online shop to one of the best in Europe, in my opinion.
Mondo Kaos: Fashion & Brands
Mondo Kaos always focuses on high-quality, feminine retro fashion, inspired by the 1930s to 1960s. Every garment and accessory is hand-picked to make sure it fits the style and expectations of Mondo Kaos.
---
All photos from the shop: © Mondo Kaos
Mondo Kaos offers styles from a wide range of different well-known and smaller retro labels from all over the world. They always have a good selection of different tops, skirts, and dresses from The House of Foxy, for example. Furthermore, they work closely together with this brand and also offer exclusive House of Foxy styles that you can't find anywhere else.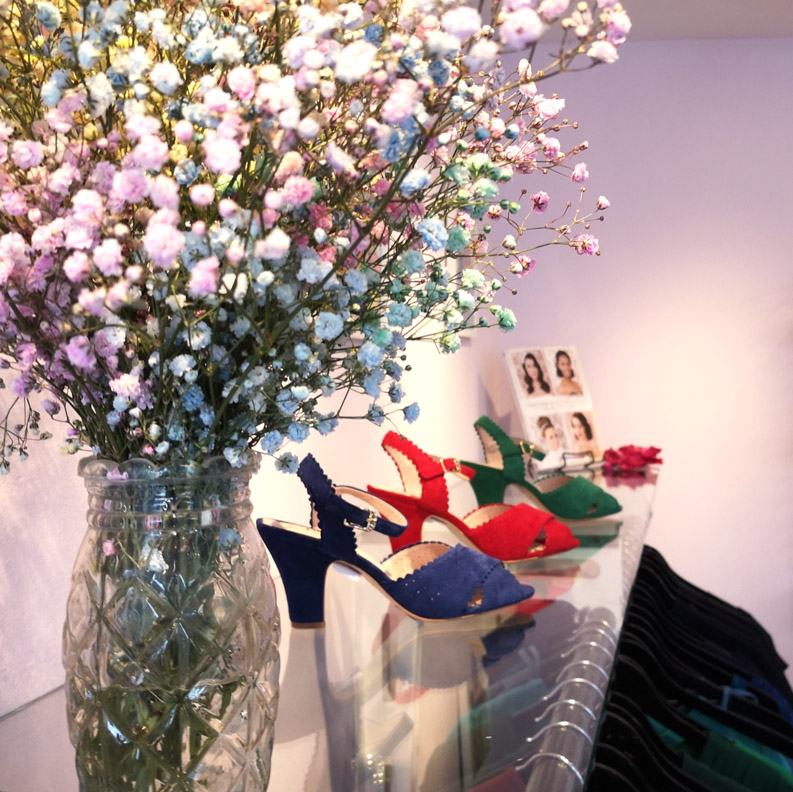 Mondo Kaos, by the way, also offers exclusive styles from the well-known and popular brand Miss L-Fire. I'm going to introduce the latest exclusive design later on in the blogpost.
---
More Brands & Styles
Needless to say, these two are not the only brands in the range of Mondo Kaos. They also supply super cute t-shirts by Atomic Swag, which can be easily teamed with a skirt or capri pants, for example.
Furthermore, you will find wonderful retro style dresses by brands like Stop Staring!, The Pretty Dress Company, as well as The Seamstress of Bloomsbury at Mondo Kaos.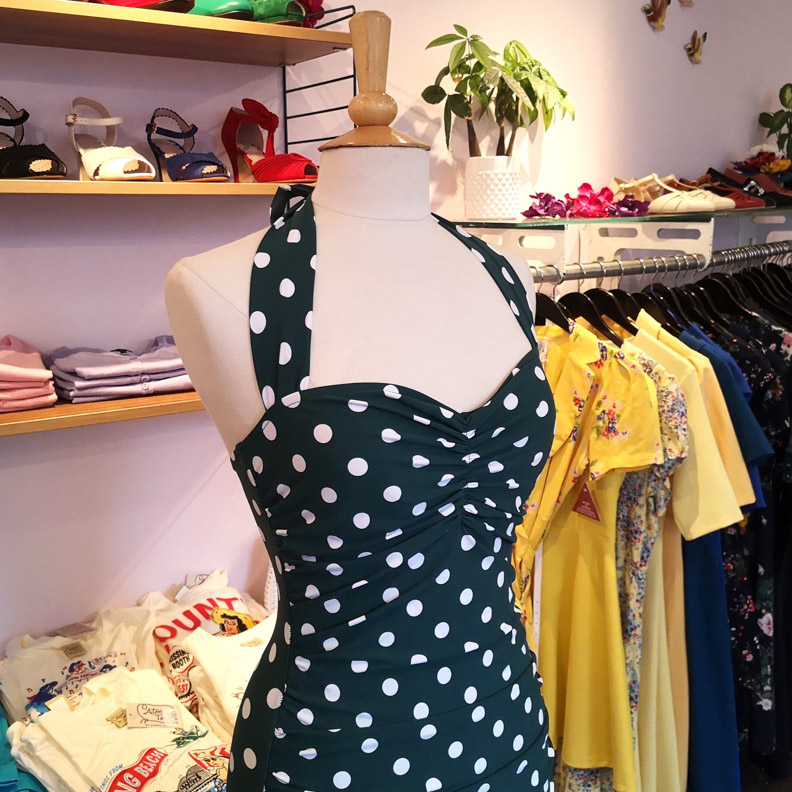 They also have some gorgeous retro swimwear by Esther Williams in stock.
Some other examples for their range of brands are:
Emmy Design
Lola Ramona
Marmalade
What Katie Did
In addition, Mondo Kaos also offers styles from smaller and sustainable labels like Grünten Mode or Palava. The huge range of various styles and brands makes sure that there is something for almost everyone and every occasion. They have a great variety of different trousers, knitwear, outerwear, shoes, swimwear, dresses, and so much more.
The outfits available at Mondo Kaos are very varied and diverse. In the following, I want to introduce two completely different looks to you. Both of them are simply perfect for summer and are also great vacation styles. Let's start with outfit number one: a super cute and cheeky style for a relaxed summer (vacation) day.
---
Perfect for the Beach and City: Shorts, Blouse & retro Accessories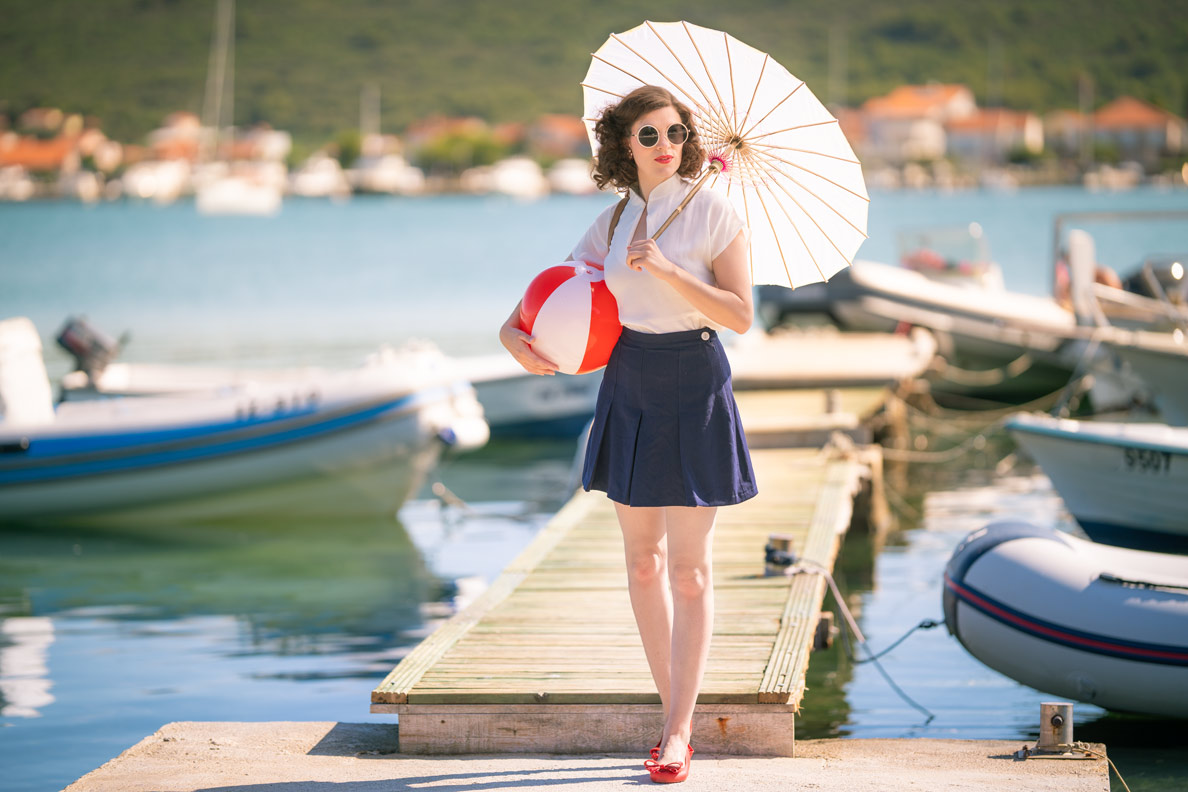 Even Marilyn Monroe, Rita Hayworth, and Audrey Hepburn loved to wear shorts on warm summer days. Inspired by their elegant and fresh style, I created a fun and cheeky summer retro outfit.
The navy blue 40s inspired shorts are actually one of my favourite pieces for summer. They have plenty of scope around the thights and therefore resemble a mini skirt. They are shorts, though, with all their advantages: No matter if it is windy, if you have to bend down, want to simply sit down at the beach, or just fool around, you never have to worry something you rather want to hide peeks out.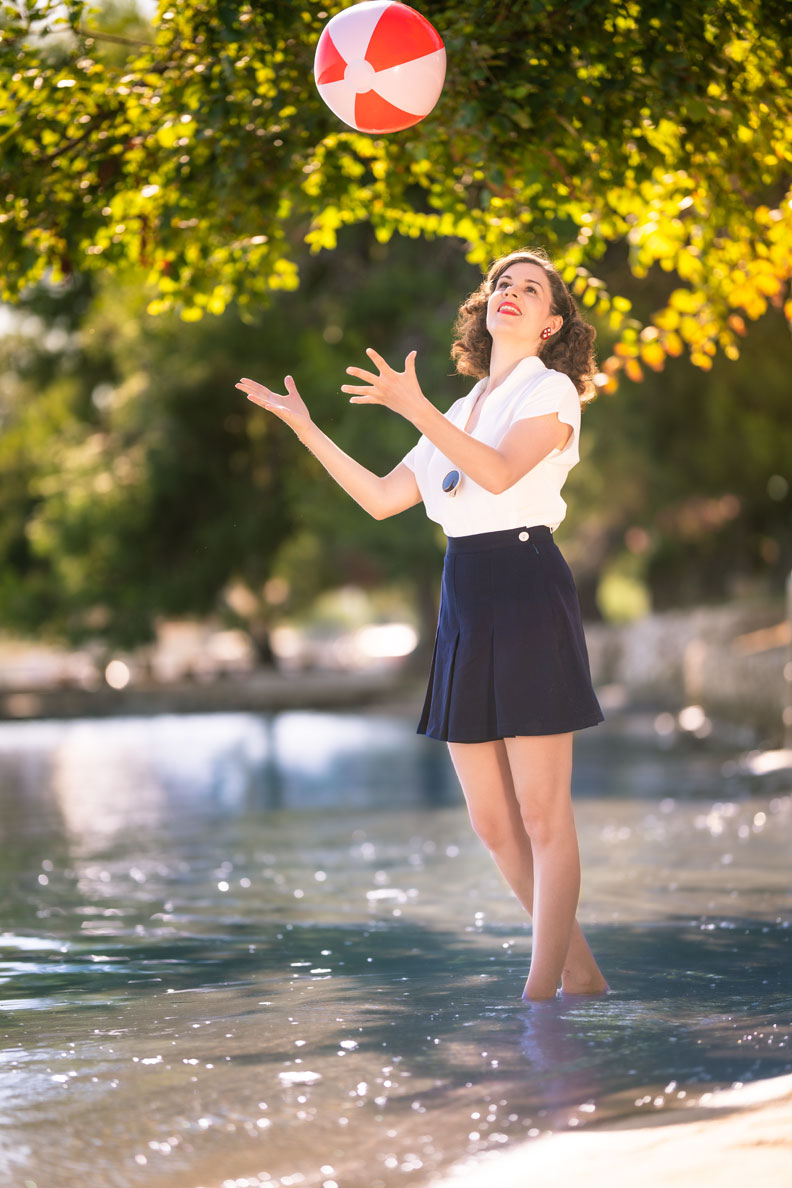 I teamed these cheeky shorts with a quite plain blouse in cream, with a little keyhole cutout as a lovely detail. If you are going to spend the day at the beach, you can also simply team the shorts with a lovely swimsuit or bikini – just add a few matching accessories, like sunglasses for example, and your super cool retro beach look is finished.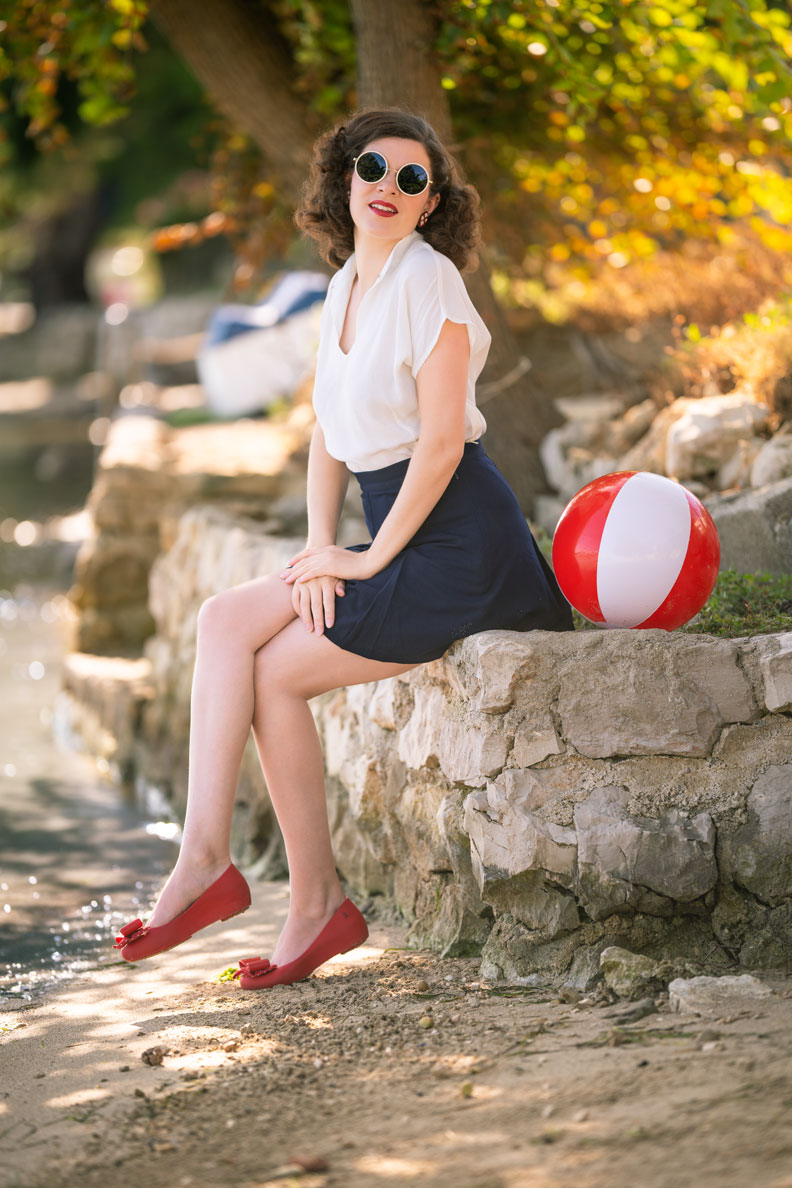 In combination with pretty shoes, no matter if flat or high-heeled, as well as a handbag, this outfit is also great for a summer day in the city or a coffee date with friends.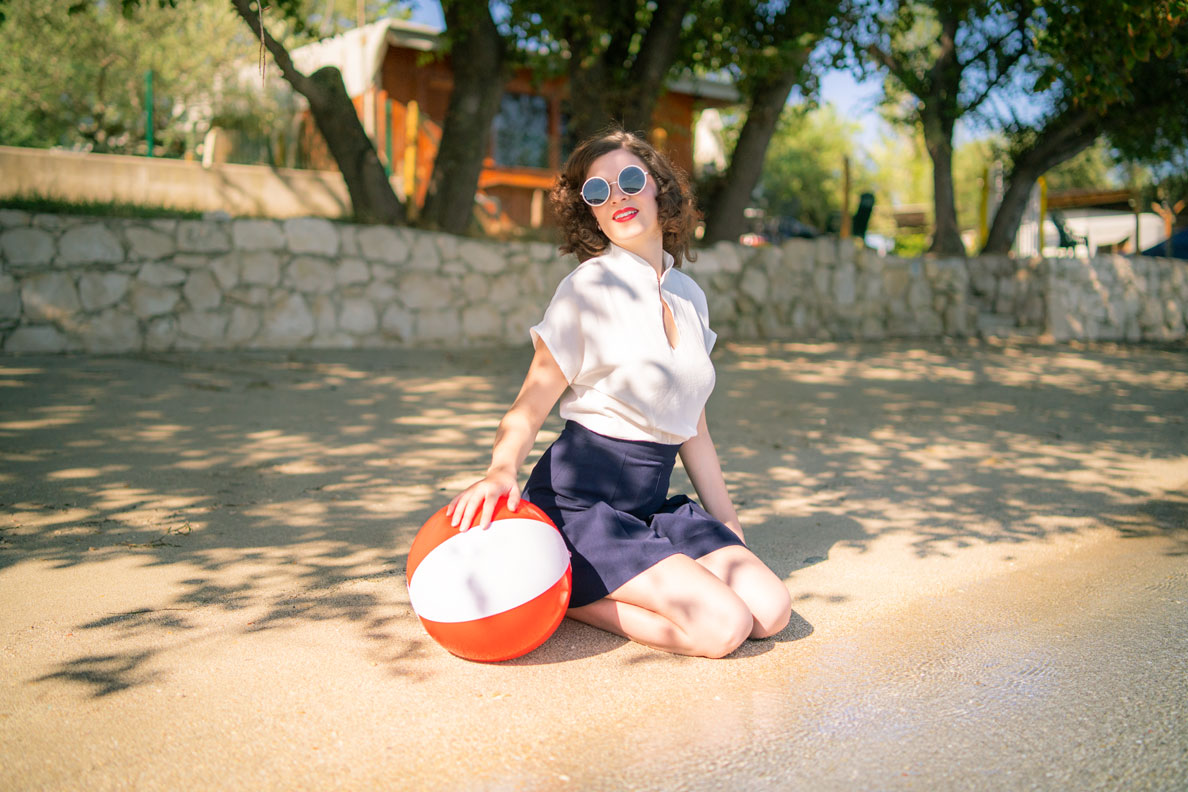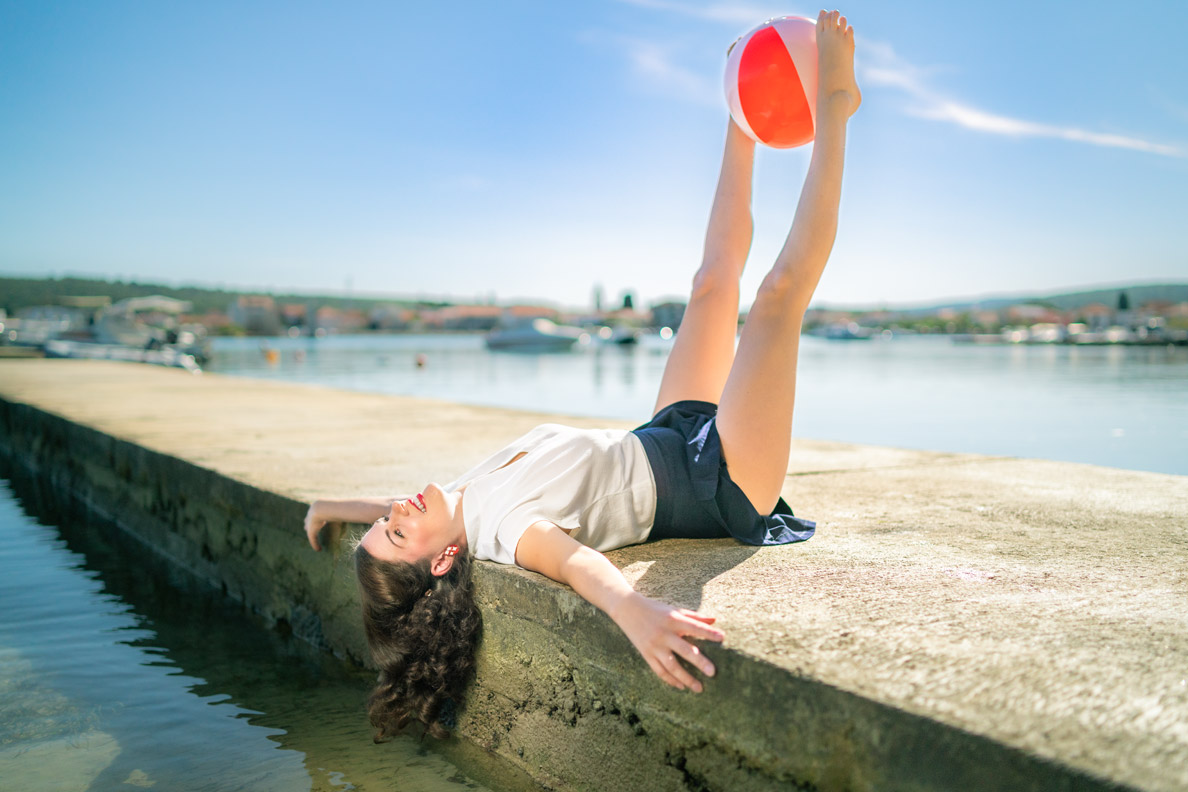 Retro Outfit for the Beach and City – the Details:
Shorts: The House of Foxy via Mondo Kaos
Blouse: The House of Foxy via Mondo Kaos
Ballet flats: old, similar here
Sunglasses, parasol, and handbag: no name
---
Chic by Day and Night with a yellow Summer Dress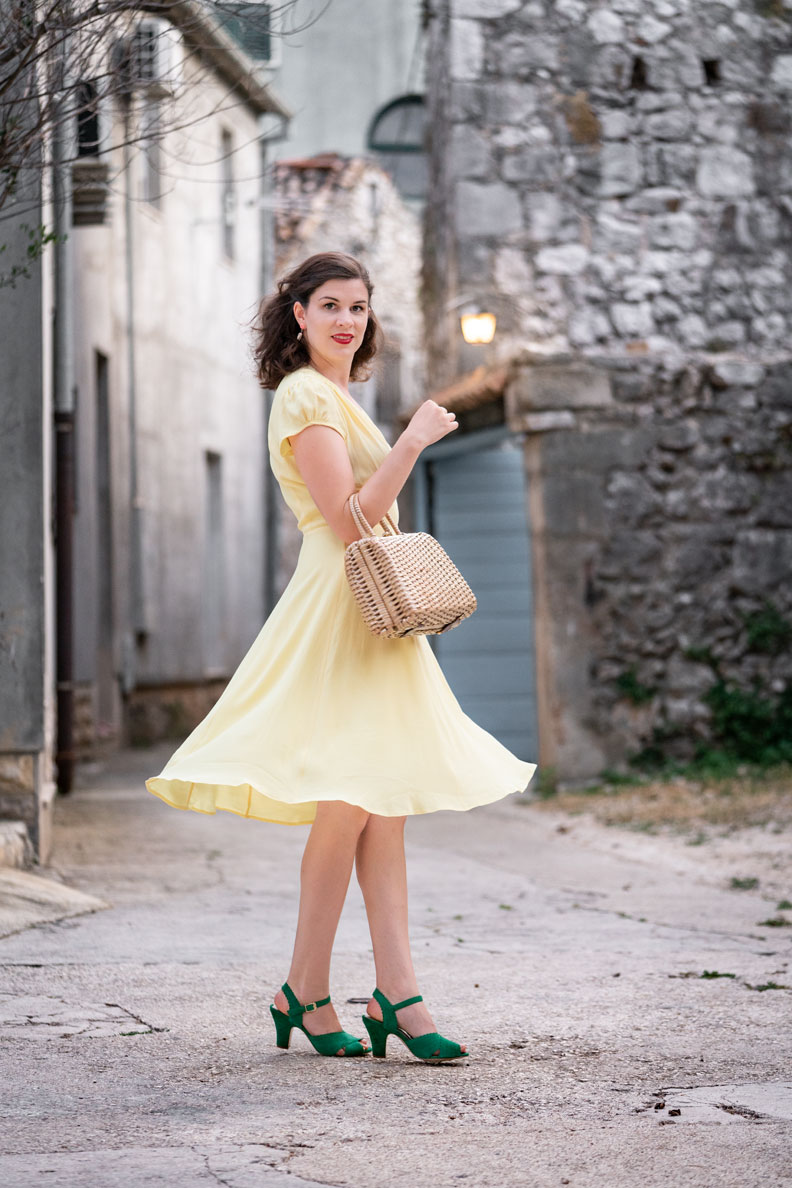 Light fabrics and flowing cuts are simply perfect for warm summer days, so the light yellow Ava dress with lovely 1930s inspired details is a perfect choice. The soft natural viscose fabric feels absolutely great on the skin, even on very hot days and as the skirt is lined, it neither "sticks" to the legs nor is anyone able to see your underwear shining through.
To add an interesting colour-contrast to the dress, I teamd "Ava" with the green Beatriz sandals by Miss L-Fire, an exklusive Mondo Kaos design. They are simply perfect to stroll around the city, as they are super comfortable due to a kind of "lining" on the inside of the sole which is very soft and has a support in the arch.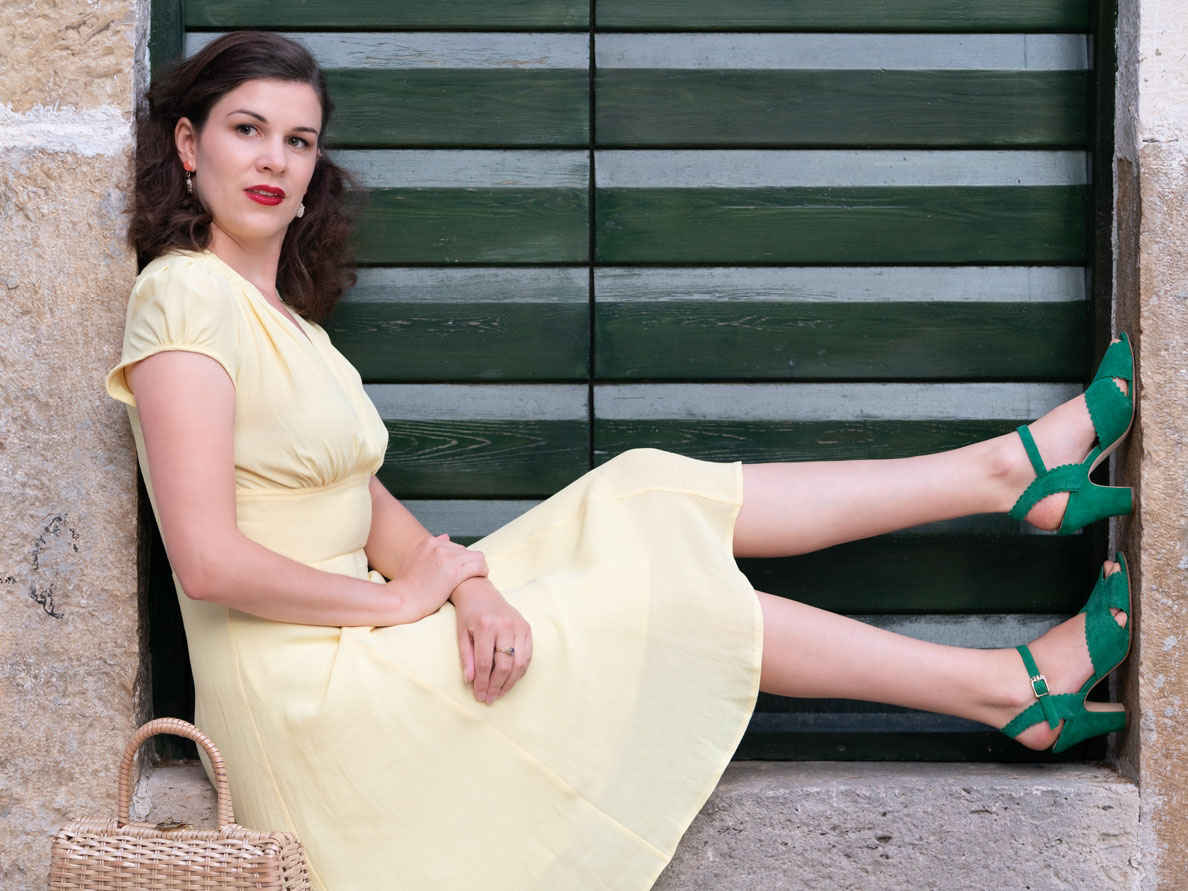 This vintage inspired summer outfit doesn't need many more accessories. I just went for a vintage basket bag as well as shell earrings – that's it.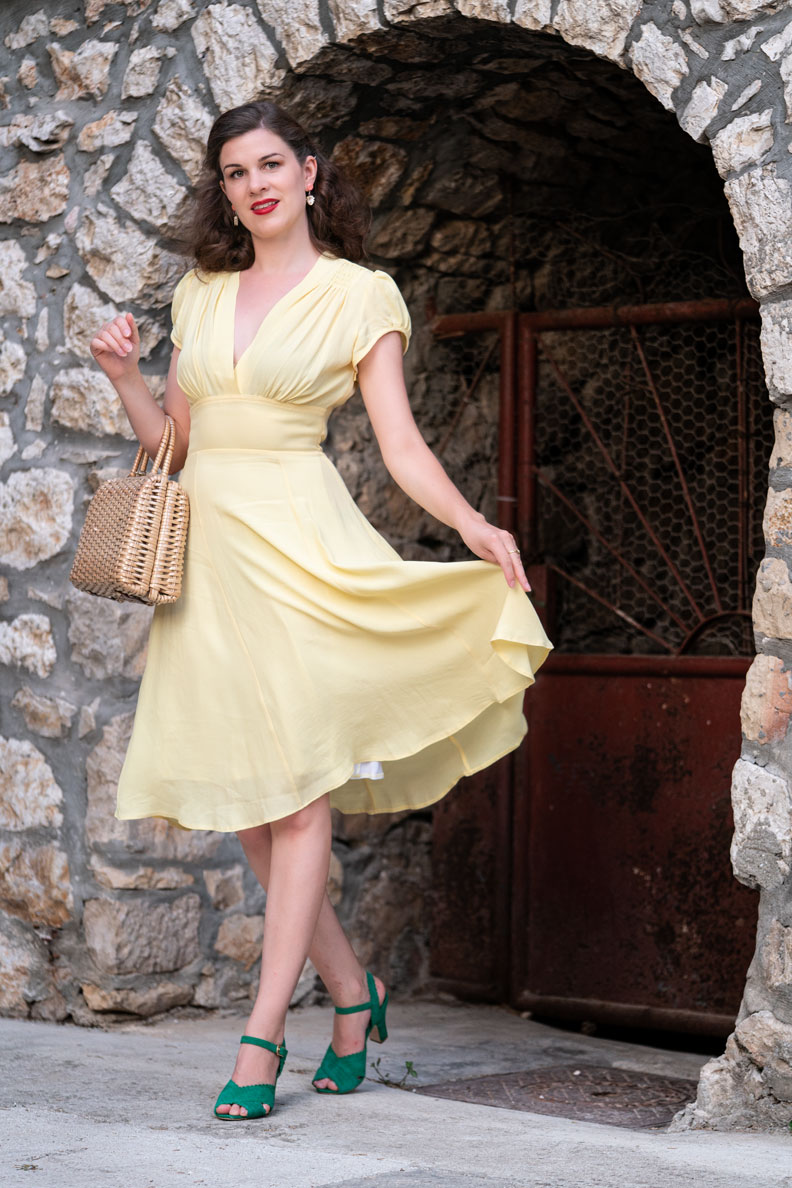 Summer Outfit for Day and Night – the Details:
Dress "Ava": The House of Foxy via Mondo Kaos
Sandals: Miss L-Fire via Mondo Kaos (Mondo Kaos exclusive!)
Basket Bag: Vintage
---
The Mondo Kaos Boutique in Copenhagen/Denmark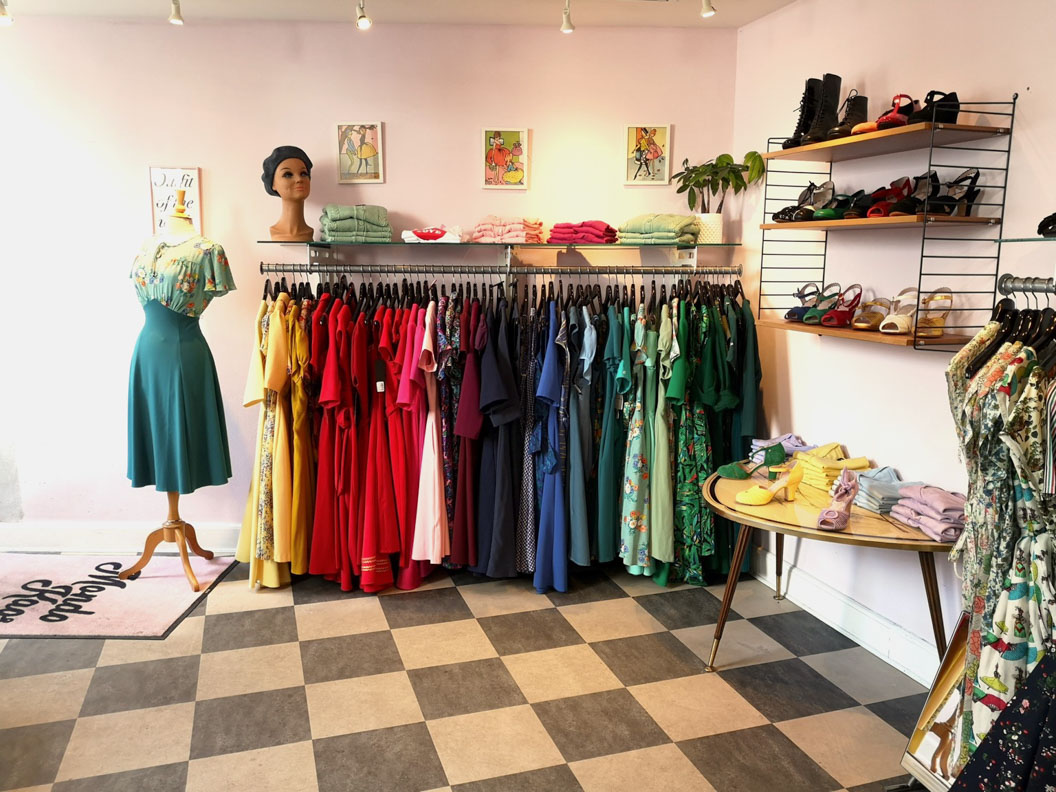 If you are in Copenhagen, you can personally check the great customer service, competent help, and guidance of the Mondo Kaos team. And of course, you are also able to try everything on before adding something to the shopping basket. The team is always ready to help you finding your perfect outfit for a special occasion or everyday life that fits your character and makes you feel great.
The Mondo Kaos Boutique in Copenhagen – Address & Opening Hours:
You want to visit the Boutique in Copenhagen? Here are all the important information you need:
---
Mondo Kaos
Birkegade 1
2200 København N.
Denmark
Opening hours:
Monday-Friday at 10:00-18:00.
Saturday at 10:00-16:00.
---
And if you don't make it to Copenhagen in the near future, just click here to enter the online shop.
You will also find Mondo Kaos at the following social media platforms:
---
*In collaboration with Mondo Kaos