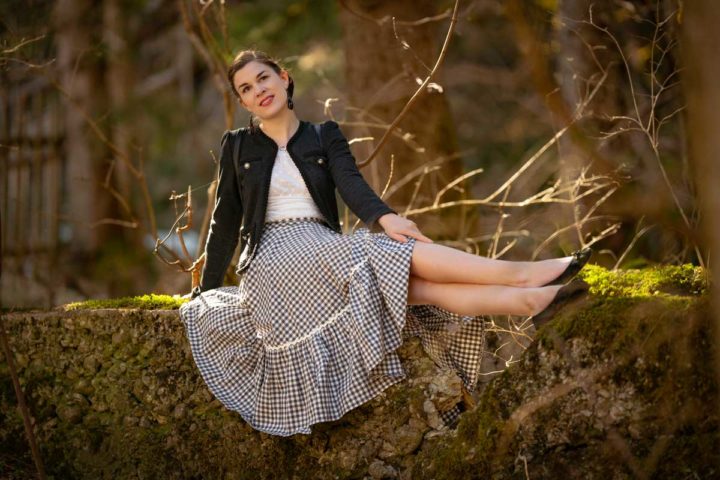 Although I really like the big city life most of the time, I love to spend the weekends in my original habitat: The countryside in the very south of Bavaria. Over there, I enjoy the silence, the nature, and wearing relaxed, comfy outfits. When in the countryside, I go out for a walk in the woods or mountains, where everything feels so easy and calm. In those higher elevations, though, winter usually lasts longer. While in Munich everything was already in full bloom, in the mountains, we still had some snow. However, it was so warm that I was able to wear one of my favourite garments: The vichy circle skirt by Lena Hoschek.
A Day in Nature with the Circle Skirt by Lena Hoschek
The Lena Hoschek skirt is a true circle skirt and made of a lot of fabric with lovely details. The vichy pattern reminds me of picnics in nature and almost screams summer. I teamed the skirt with a beautiful lace blouse by Fornarina and a dark grey jacket, which looks a bit like a traditional Bavarian Janker. Instead of a handbag, I was wearing a backpack, which is more practical for a day in the mountains.
This outfit doesn't require a lot of accessories. I was only wearing black ballet flats as well as wooden earrings which I bought in Prague a while ago.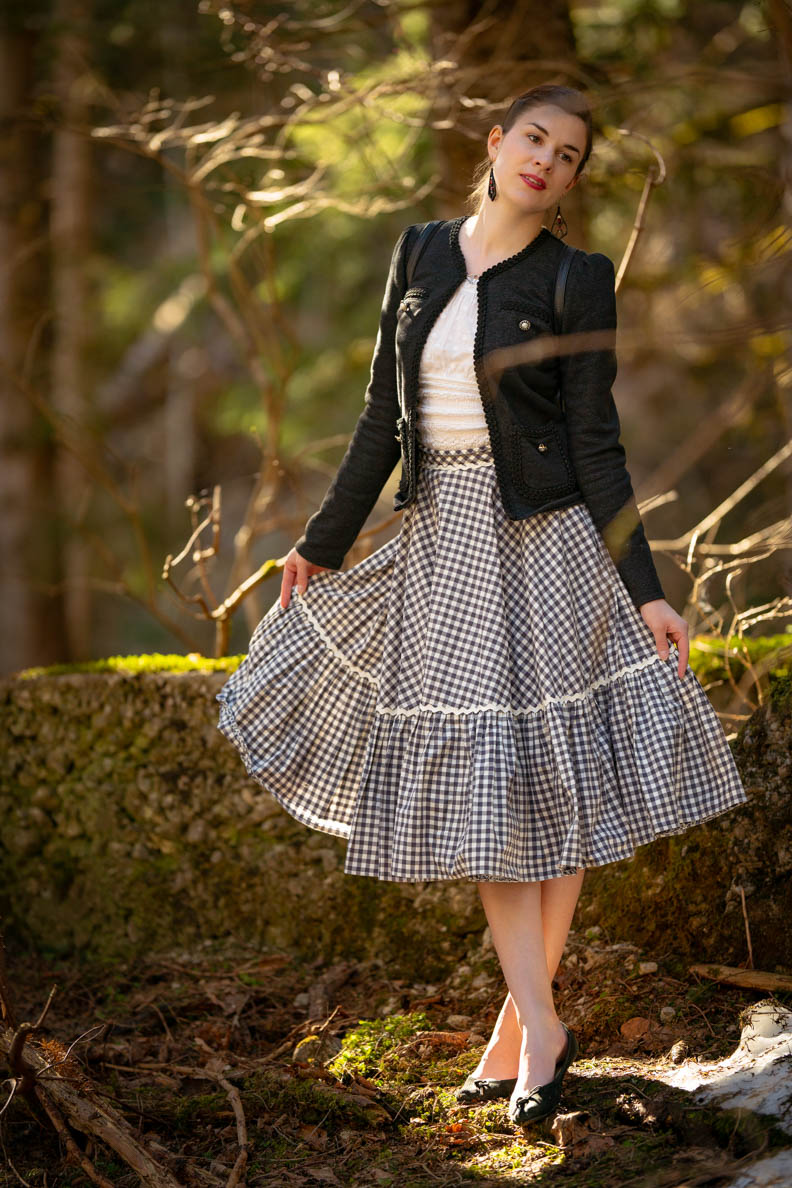 A subtle Makeup & easy Hairstyle for a Day in the Woods
In the mountains, or rather in nature in general, one doesn't need a lot of makeup. Sun protection, on the other side, is very important, especially in higher elevations. And since I like to use at least a little bit of foundation every day, I chose the Chanel CC Cream with SPF 50. On my cheeks, I applied a litte bit of blush. A subtle eyeshadow, like from the Dior Eye Reviver Palette, is perfect to accentuate the eyes in a natural way. Afterwards, I used a bit of mascara. On my lips, I first used the Dior Addict Lip Sugar Scrub, and afterwards applied a little bit of red lipstick with the help of my fingers.
---
Makeup-Details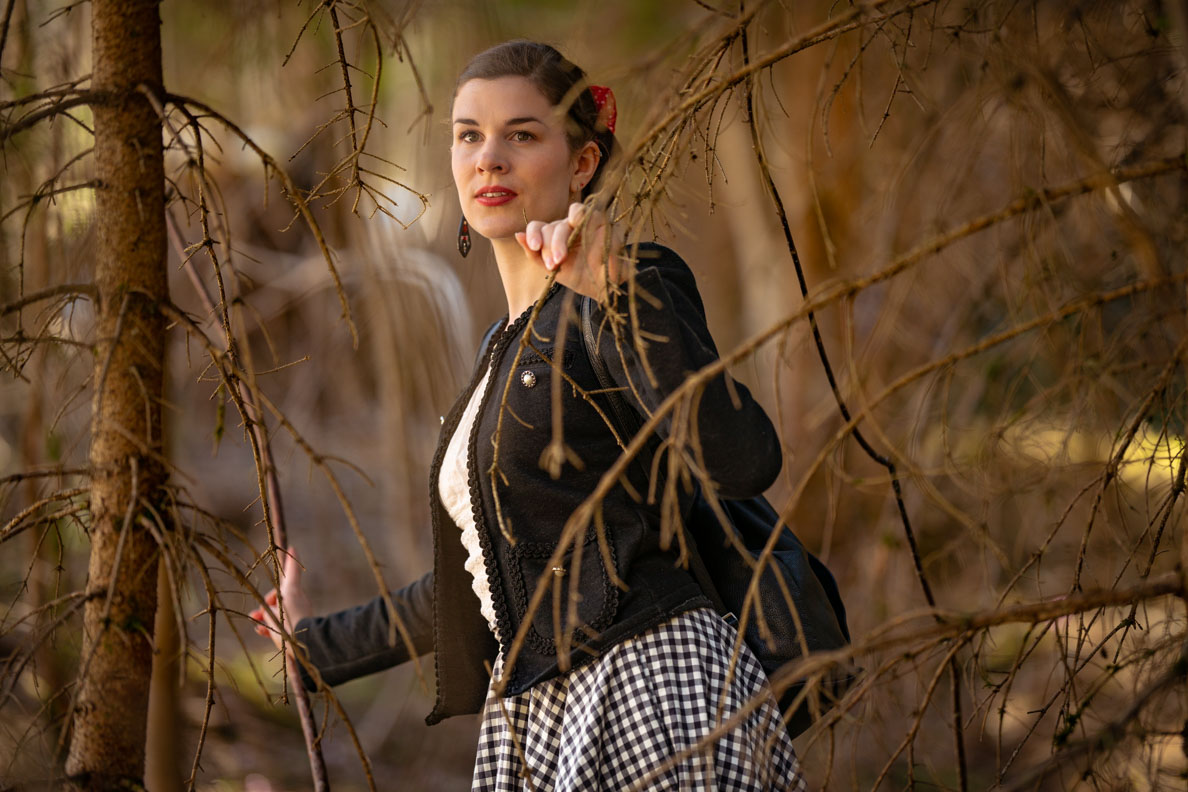 My hairstyle in those photos is very easy as well. I braid four to five hair strands and put them toghether with the rest of my hair into a ponytail. For more volume, I put a hair donut on top and pin my hair around it. A hairnet keeps everything in place. In the end, I use a hairband to add that certain something to that easy but pretty retro hairstyle.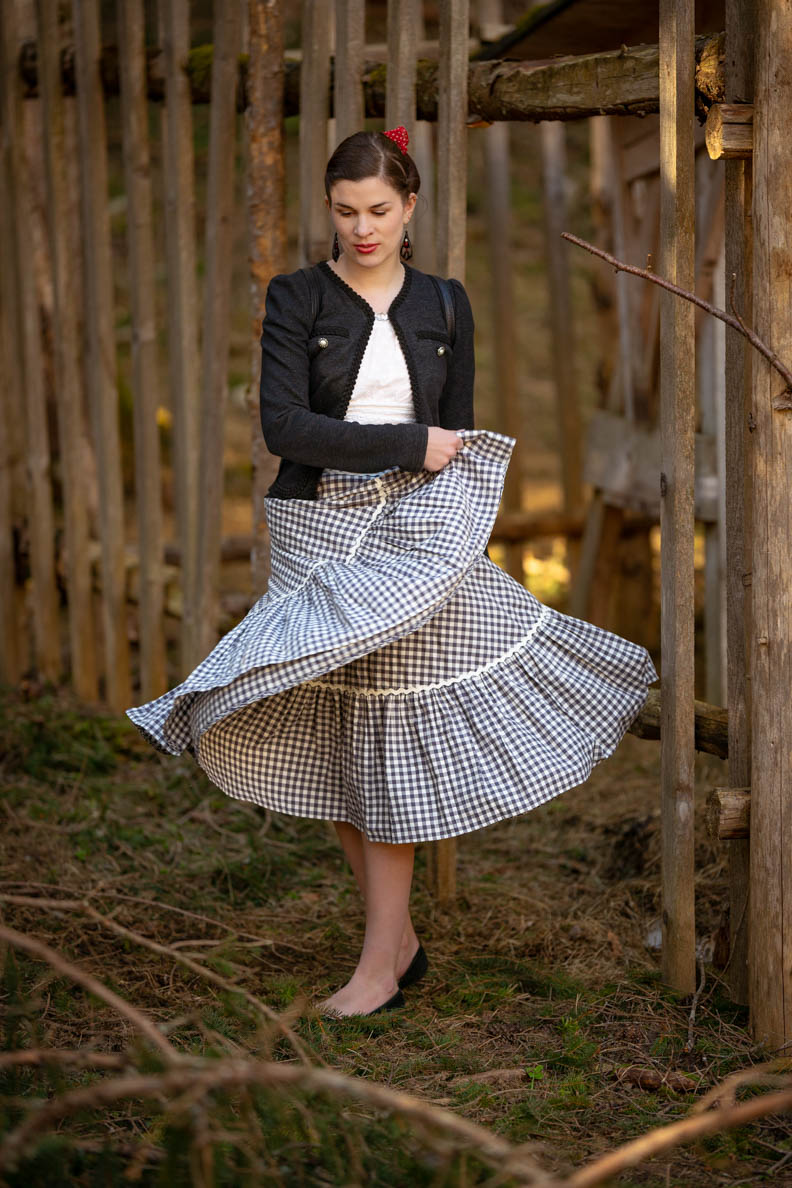 ---
A walk in the Woods – the Outfit Details:
Skirt: Lena Hoschek, old but similar here
Top: Fornarina, similar here and here
Jacket: Fornarina, similar here
Ballet flats: Buffalo London, similar here
Backpack: very similar here
Earrings: no name, similar here