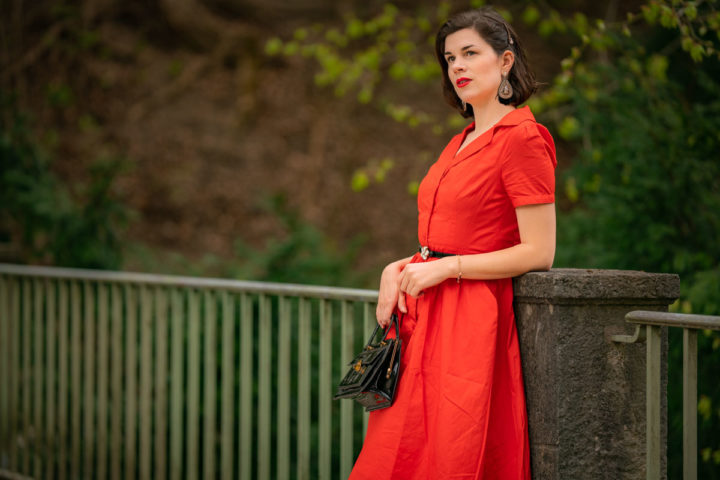 I've found my new favourite colour fo summer! A fiery orangy red. Not long ago, I wouldn't have dared to wear this colour. I'm a winter type. Dark hair, pale skin, green/brown eyes. Common fashion rules claim that winter types shouldn't wear bright colours like orange and I stuck to this rule. But then, I saw "Pepper" by Joanie Clothing and thought why not trying this shade? What should I say, I have never regretted my decision. This wonderful, fiery colour puts me in a good mood and reminds me of hot summer days.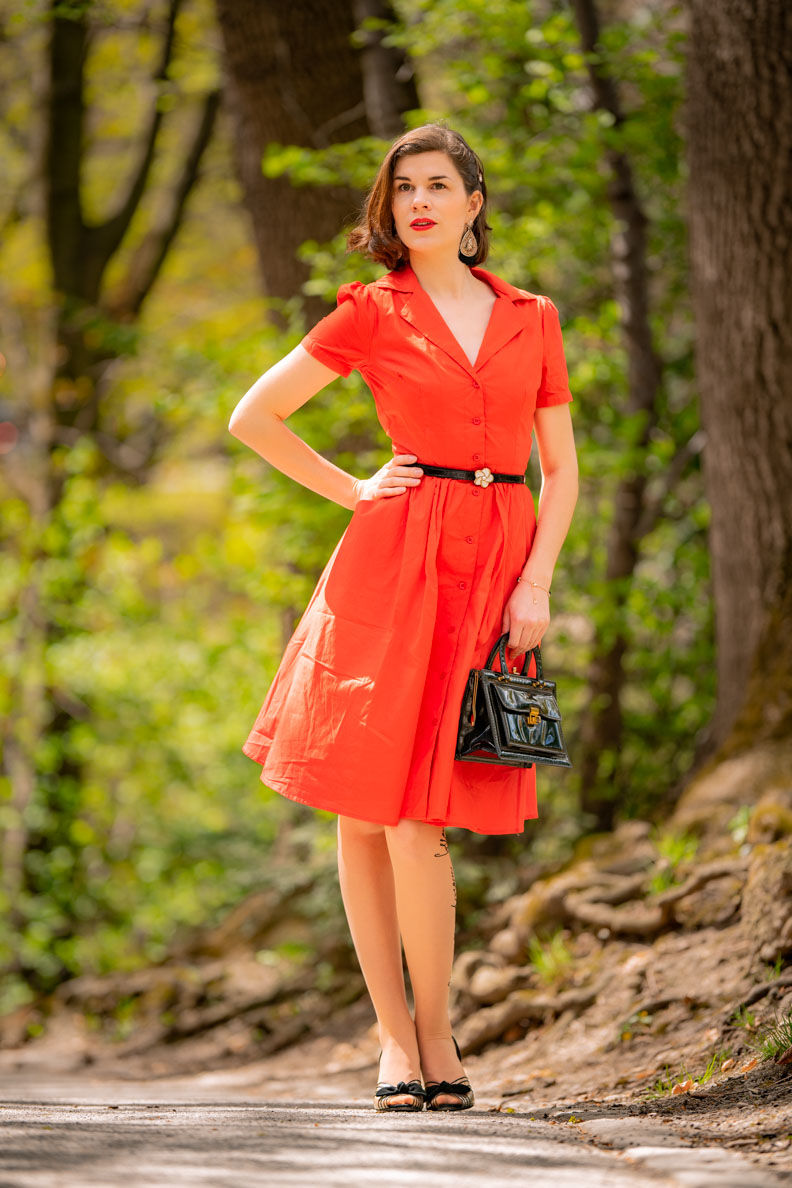 An Eyecatcher for Summer: "Pepper" by Joanie Clothing
"Pepper" is made of 100 percent cotton and feels great on the skin, even on very warm days. The retro dress has an added cotton-lining, which prevents the dress from "sticking" on your legs. Furthermore, the skirt keeps its shape even without a petticoat. "Pepper" is a button-through dress and has so many lovely details. I really like the pockets and the collar. But what I love most about the retro dress is the gorgeous orange-hued red. I think winter types can definitely wear orange! This colour is so perfect for summer, that I want even more orange garments now. 😉
My accessories are all black. Sparkly ethno earrings as well as fancy tights with the letters "live your dream follow your passion" add a modern touch to the retro outfit. My black pumps are by Miss L-Fire and are super comfy. A thin belt enhances my waist while a patent-leather handbag from the 60s finishes this summery vintage inspired look.
---
Shop the Accessories:

---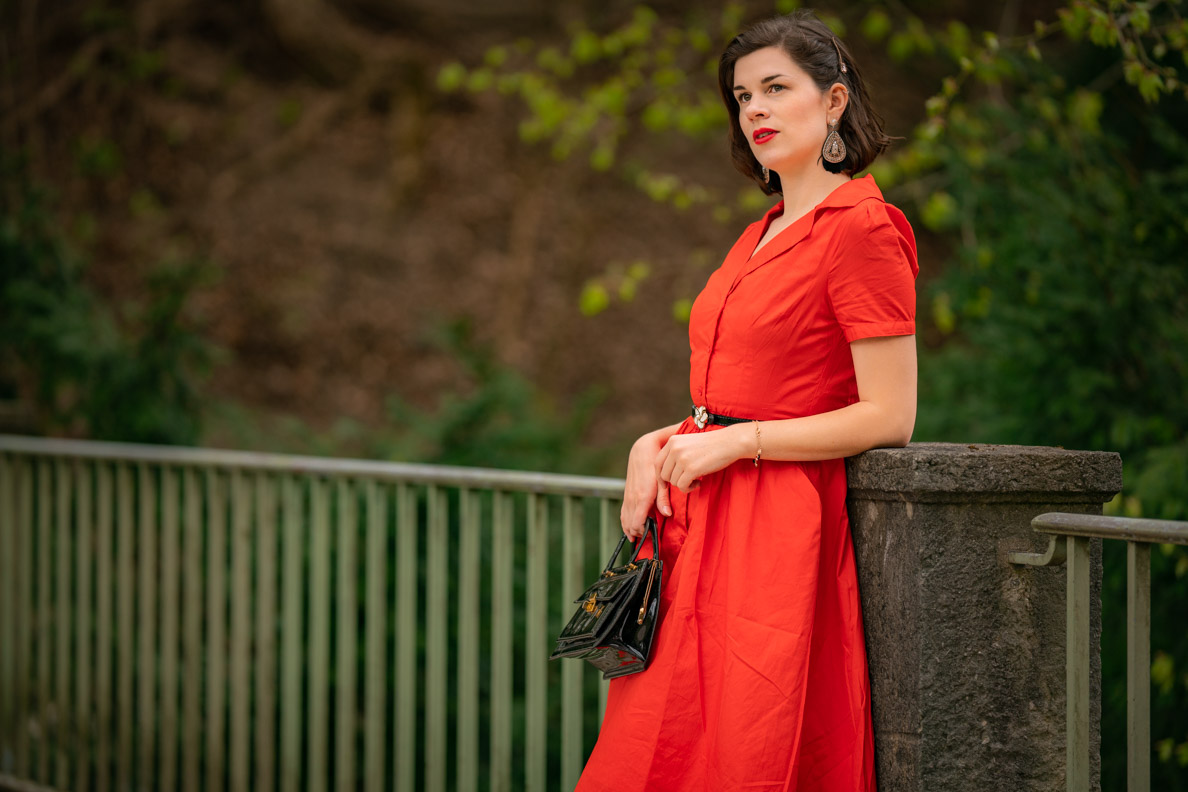 ---
A fiery retro Makeup
To match my outfit, my makeup is fiery as well. As always, I started with a foundation like the CC Cream or the Lumiere Velvet Foundation by Chanel. On my eye lids, I applied a subtle eyeshadow from the Dior Eye Reviver Palette and used lots of mascara. Blush and lipstick add colour to the makeup. After using a bronzer on my cheeks, forehead, nose, and chin, I apply "Exhibit A" by NARS on my cheekbones. On my lips, I'm wearing a true classic: "Fire & Ice" by Revlon.
---
Makeup Details:

---
As you can see, I cut my hair into a bob again. The styling is so much easier now. I used a curling iron to get some very subtle waves. Afterwards, I pinned my hear behind my ear on one side – that's it. This hairstyle doesn't need longer than ten minutes. 😉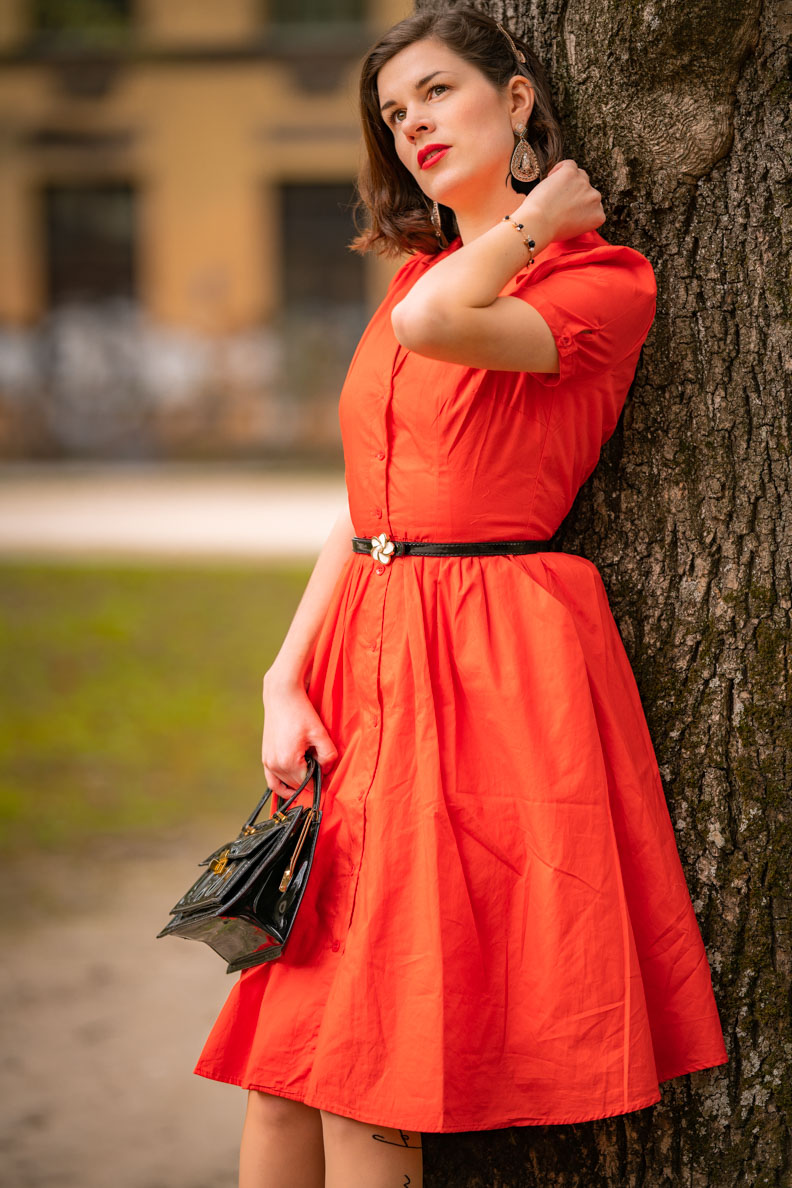 ---
A fiery vintage inspired Summer Outfit – the Details:
Shirt Dress "Pepper": c/o Joanie Clothing
Tights: Wolford
Shoes: Miss L-Fire, similar here
Belt: Very similar here
Earrings: Stella & Dot
Handbag: Vintage, similar here