The Lena Hoschek store in Kitzbühel
I've been a huge Lena Hoschek fan for quite a while now, as you maybe already saw on my blog. The retro inspired designs and flattering cuts are just exactly what I love. However, the garments from the Austrian brand are no bargains, so every purchase should be well considered. My problem is: online, everything looks amazing and it often is quite hard for me to imagine how the things will look on me. And ordering a lot of different dresses and sending them back afterwards is just not for me. So trying things on before buying them would be a dream!
This is why I went on a day trip from Munich to Kitzbühel (Austria) to visit the newest Lena Hoschek store. You need about one and a half hours for the trip by car (depending on the traffic, of course), and then, you are in retro fashion heaven! In the following, I am going to tell you a bit more about my experiences.
The Lena Hoschek Flagship Store in Kitzbühel
The Lena Hoschek store is located in the heart of Kitzbühel, a little bit hidden in a traditional house called "Altes Gericht". But if you find the shop, you immediately will be enchanted (at least I was). The nostalgic interior looks absolutely lovely and goes very well with Lena Hoscheks feminine creations, the shop has two floors and about 170 m² full of Prêt-à-porter fashion and traditional garments. The lovely store leader welcomed us and was very patient while my friend and I tried on almost everything from the store.
Lena Hoschek: The Garments
Lena Hoschek is known for her very feminine and figure-hugging clothes that really enhance a woman's curves. And what I like most is that there are different types of cuts and garments for different body shapes. While we were visiting, they had the current spring/summer 2021 Antoinette's Garden collection in store. The romantic flower patterns, lovely cuts and gorgeous details really make these dresses a dream came true. Furthermore, some matching accessories as well as some limited edition pieces are available over there.
Some pieces of the traditional Trachten collection are available in Kitzbühel as well. From traditional dresses to Dirndls, janker, blouses and knitwear, they have a huge variety of different Austrian/Bavarian traditional clothes.
Furthermore, you will find some selected Lena Hoschek evening gowns and wedding dresses in the Kitzbühel store.
---
The Shopping Experience
The store has several changing rooms, so usually, you don't have to wait, even when more customers are in the store. Furthermore, the shop looks very pretty and everything is neatly arranged. And if you are lucky enough, you might even get your hands on some sale pieces from older collections.
Just in case your size is not on the clothes hanger, just ask someone from the shop. They often have some more sizes in stock. If a dress doesn't fit perfectly although the size is the right one, it is easy to let make some adjustments. In our case, it even was included in the price, so we didn't have to pay an additional fees.
Last but not least, the staff was absolutely lovely and helpful. We were in the store for quite a long time and tried on a lot. However, everyone was always very kind and we never had the feeling we are obliged to buy something.
Lena Hoschek Store in Kitzbühel:
Lena Hoschek Store in Kitzbühel: My Thoughts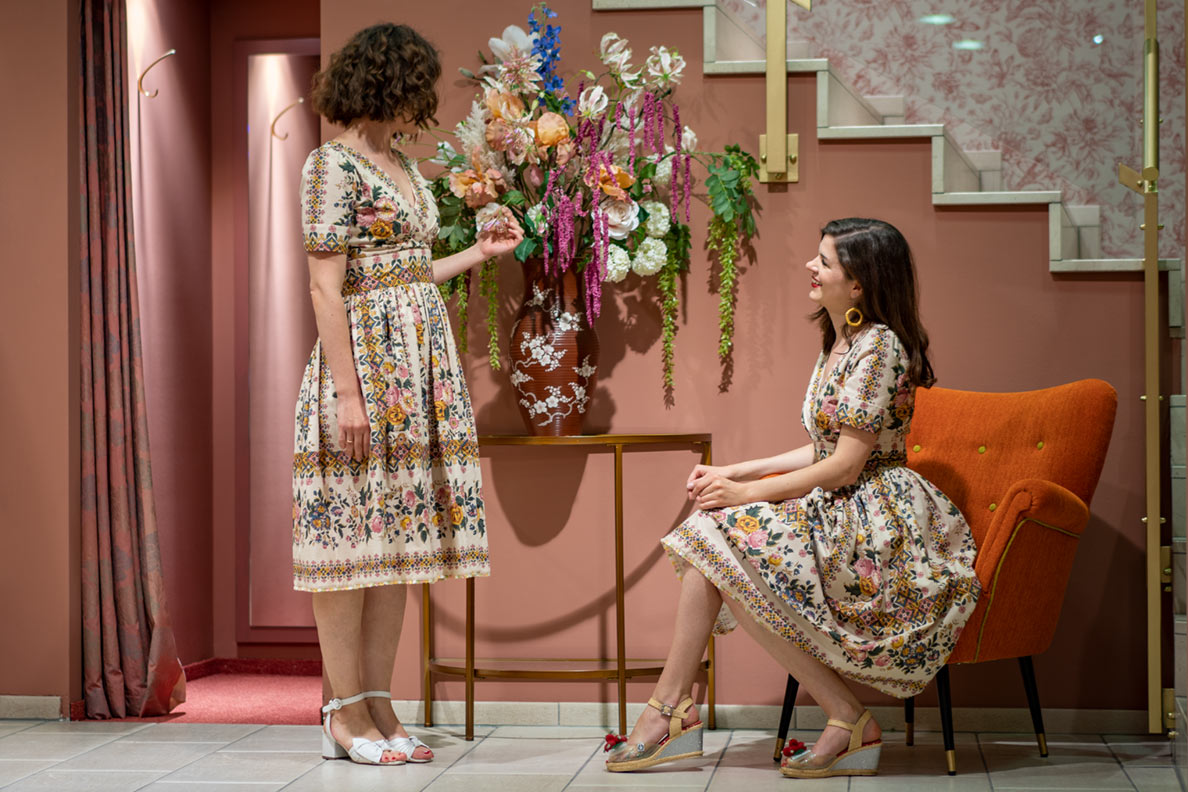 I was very impressed by the store and the lovely store leader and definitely will come back to Kitzbühel. The advice was helpful, honest and very kind, but never pushy. The selection was great and I really liked that they had some pieces from the traditional collection as well. Furthermore, the store looks so lovely and nostalgic that you immediately feel welcomed.
In the end, our trip to Kitzbühel was worthwhile! I had some favourites on my list I wanted to try on. But in the end, I went for a dress I would have never chosen online. The proof that it is very important to try things on, especially if you want to invest some more money in a garment.
I absolutely can recommend a trip to the Lena Hoschek store in Kitzbühel. And if you are there, you can also walk through the lovely town with its pretty buildings. By the way: You will also find Lena Hoschek stores in Graz as well as Vienna. 🙂
---