Advertorial | paid collaboration
While during the early until mid 1940s, most of the jung men had to fight in the field, it was the womens' task to look after the people who stayed at home – children, the elderly, and the injured. So it's no wonder that during the 40s a lot of women were working. This is something that's also reflected in the fashion of this decade. Cuts were quite simple and reduced. Due to rationing, even collar as well as belt sizes were determined. Nevertheless, the women in the 40s dressed quite elegant and chic. And this is exactly the style you see in the movie "Their Finest". Costume designer Charlotte Walter created some gorgeous and very authentic vintage looks. In this blog post I want to talk a bit more about the 1940s fashion and show you, how to easily create similar looks.
Comfortable, understated and chic: Outifts inspired by the Movie "Their Finest"
Catrin Cole (Gemma Arterton) works as a screenwriter in the movie "Their Finest". As she not only sits behind her desk, but also has to visit movie sets, it's important that her outfits look chic but are also comfortable. Most of the time, she wears a simple pencil skirt in combination with a blouse and cardigan or sweater. Her prefered colours are muted ones or soft shades of blue. These kind of outfits always look great and can even be worn today. In the following, I'm going to show you three different outfits inspired by the movie looks from "Their Finest".
---
A blue Pencil Skirt and a 40s inspired Blouse
A blue pencil skirt is what Gemma Arterton alias Catrin Cole wears most of the time in "Their Finest". This is no surprise: During World War II, women usually didn't own a lot of clothes so classics that can be worn for a lot of different occasion were a must. My skirt is by Gracy Q and unfortunately no longer available, but you will find a very similar one here.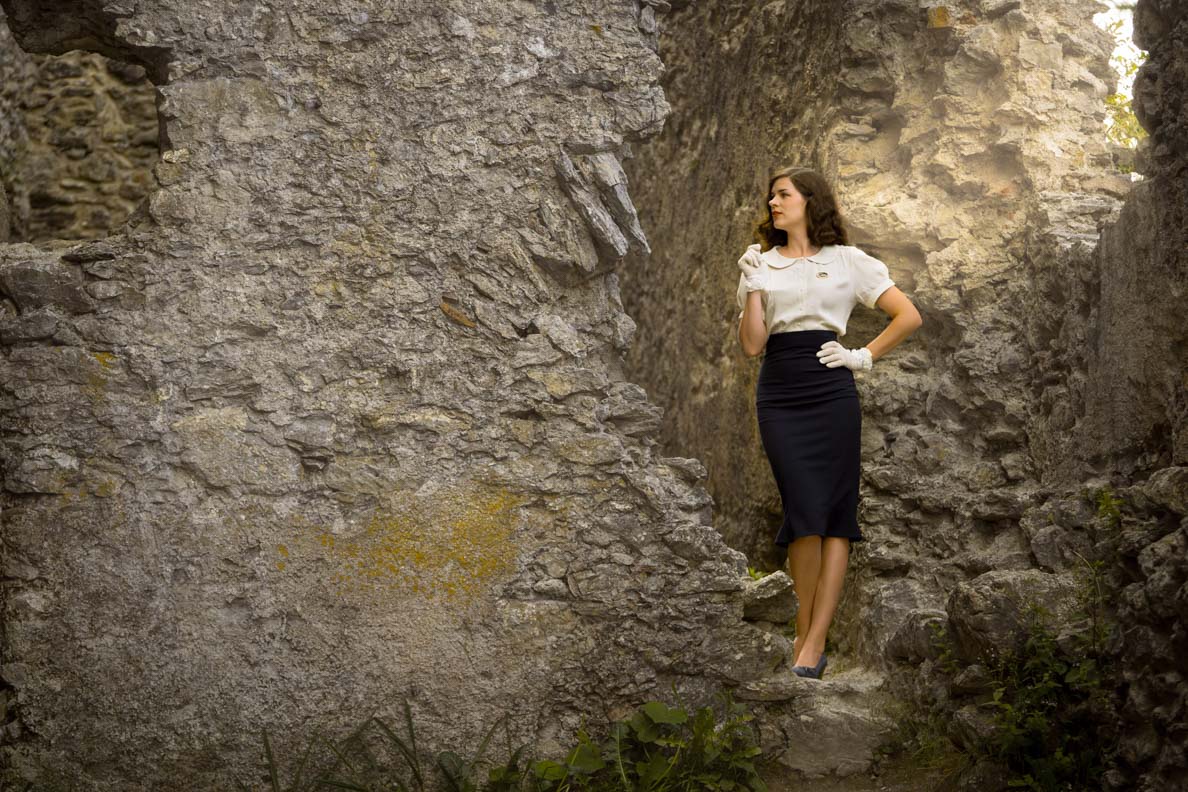 A classy blouse always looks good. I chose the "Jive Blouse" by The Seamstress Of Bloomsbury in "Cream"*. The wonderful cut with it's Peter Pan collar and the little puff sleeves looks like straight out of the 40s. A vintage brooch adds that certain something to the look and makes it even more authentic.
Since leather was rare in the 40s, shoes were quite expensive. Designers had to find alternatives and launched wedges with bast heels, which are still popular. Women usually didn't wore super high heels, instead classy high-quality pumps were favoured. I wear a pair of blue pumps, you will find a similar one here.
Gloves by Vecona Vintage finish this 40s inspired look.
When Catrin has to go outside, she almost always wears a classy trench coat. But as it's so hot outside at the moment, I decided to skip the coat. However, you will find some wonderful pieces at Ted Baker for example.
---
Warm and stylish: A 40s inspired retro Cardigan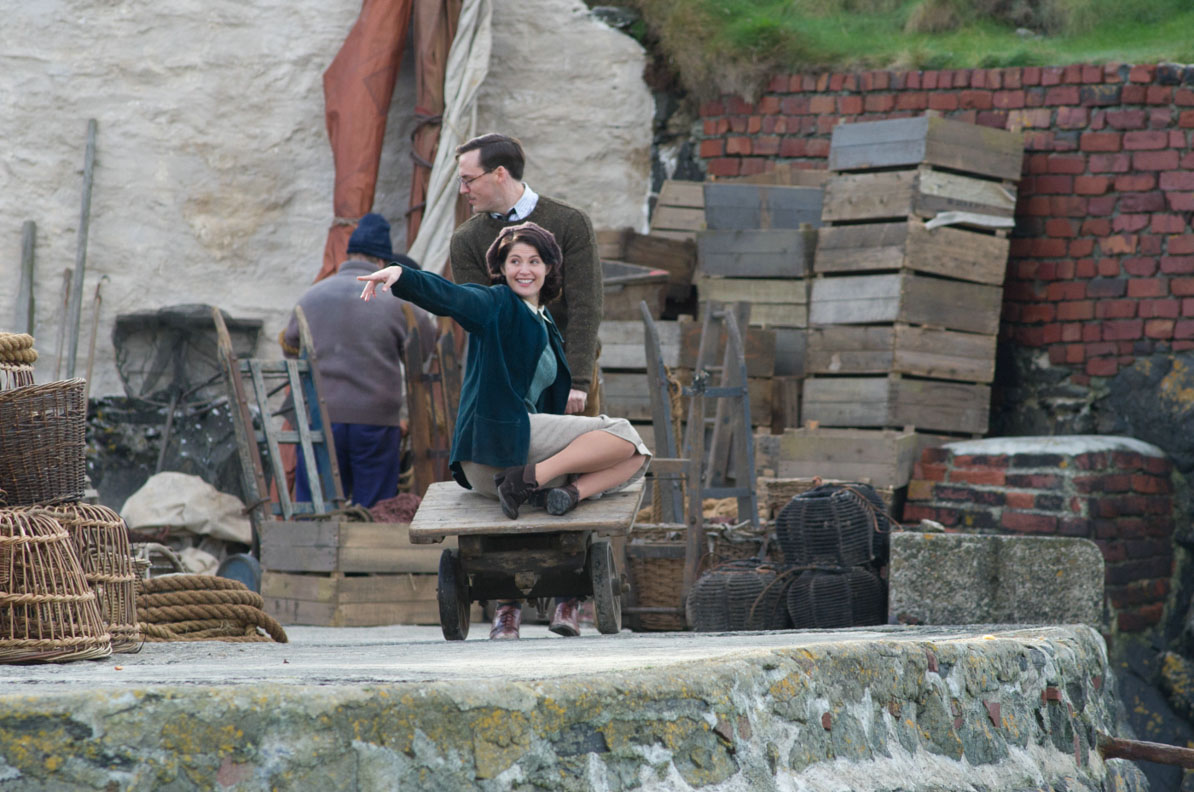 In the movie "Their Finest" it's winter, so it's no wonder that the protagonist wears a lot of knitwear. Though, a pretty cardigan is super practical – even in summer – and goes very well with the outfit I introduced to you above. I wear the lovely Jenny Cardigan in "Teal" by Vivien of Holloway*.
I always like the combination of different shades of blue – another reason why I love this cardigan-meets-pencil-skirt-look so much. Of course, a chic handbag is a must. Mine is a true vintage piece, but you will find some similar ones on Etsy for example.
By the way: If you team this 40s inspired outfit with classy stockings, a beret, scarf and coat, you can even wear it during fall and winter.
---
Muted Colours, classy Cuts
This is maybe my favourite outfit from this set! Just like Catrin Cole, I wear a beige pencil skirt which isn't too tight. I found the skirt in my mother's closet, by the way. If your mother doesn't own a skirt like this, you can shop a similar one here. I teamed the skirt with the "Jive Blouse" by The Seamstress Of Bloomsbury* once more. As you can see, this piece is super versatile!
Despite – or maybe because – stockings were rare during World War II due to rationing, they were well-liked. Women who didn't got their hands on stockings sometimes even painted a seam on their legs. In contrast to today, stockings weren't a single-use product, hence it was important to treat them very well. Just like women did back then, I wear my stockings over and over again, so quality is something that really matters for me. This time, I chose the "Dita Glamour French Heel" by Secrets in Lace, which I already introduced here. Secrets in Lace still produces on original machines from the 40s and therefore offers the most authentic seamed stockings.
To match my outfit, I wear nude-coloured pumps (similar here). A black vintage handbag and gloves (similar here) finish my 40s inspired look.
---
1940s Mens' Fashion
In "Their Finest" most of the men wear a classy three-piece suit with accessoires like a hat and tie. Just like women, men normally didn't have a lot of clothes either. Therefore, it was important to own a suit that can be worn for many different occasions. Prefered colours were dark blue, grey, brown, and black. It isn't easy to find high-quality 40s reproductions for men, but Vecona Vintage offers a quite huge range of vintage inspired mens' wear.
---
In the end, it has to be said that this blog post only shows a small part of the 1940s fashion. There were a lot of people back then who weren't able to spend one single penny on clothes. This is why a lot of garments were altered, fixed, and worn out. Nevertheless, fashion was a distraction from the hard reality. French women, for example, dressed themselves very elegant, even during the German occupation, and showed everyone that they aren't willed to surrender. By the way: Most of the time they wore outfits in blue, white, and red – quite patriotic, right?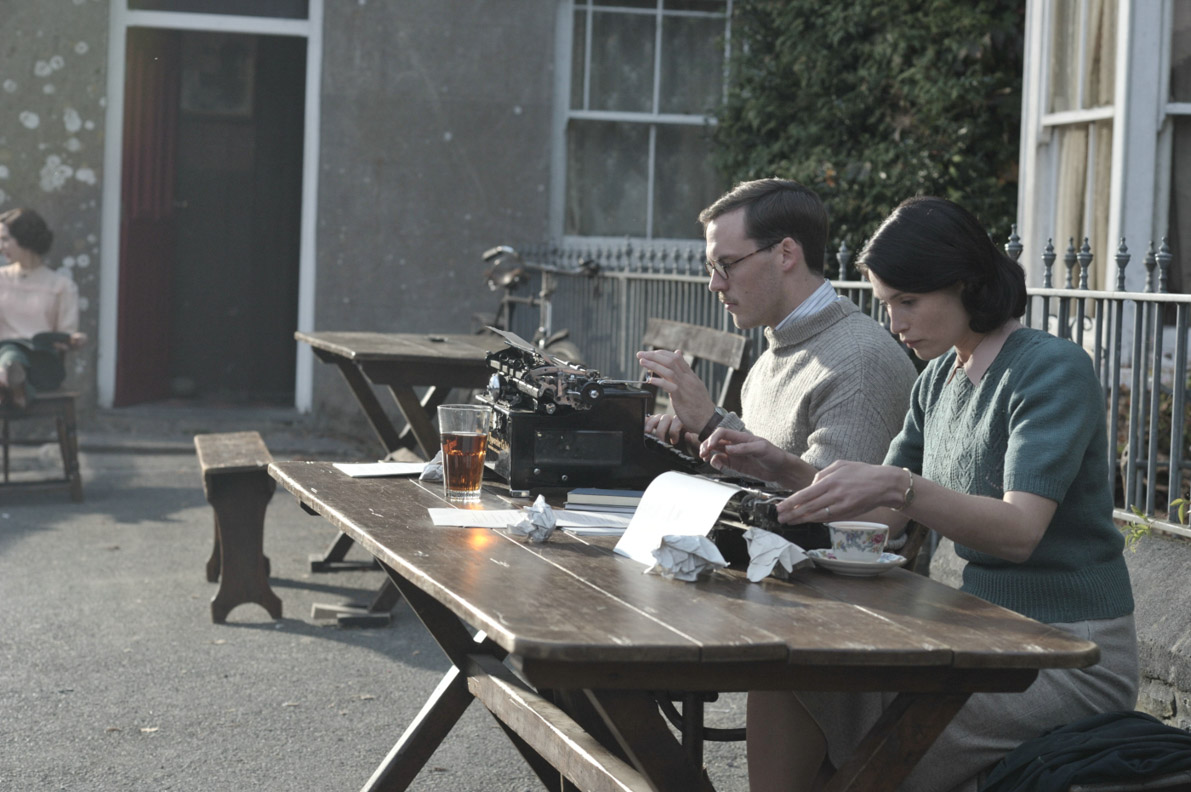 In this blog post, I show you another 40s outfit inspired by "Their Finest".
---
*PR Sample
(In collaboration with Concorde Filmverleih GmbH)