Hairflowers for late summer
Late summer and early autumn are by far my favourite seasons. It is no longer that hot, temperatures are usually pleasant, the days are still long enough, and even the sun is out quite often. So it is finally time to dress up a bit more spectacular, but we still don't have to freeze. One of my favourite accessories for this wonderful time of the year are charming hairflowers in all different shapes and colours. So in this blogpost, I'm going to show you my favourite pieces.
This blogpost contains affiliate links (marked with *)
Flower Crowns for Dirndls, Folklore Looks, and romantic Outfits
Flower crowns or headbands are such an easy way to wear hairflowers. You simply have to put them on top of your hairstyle – no matter if you are wearing your hair down or in an updo. Flower crowns go very well with dirndls, traditional bavarian clothing, folklore outfits, or other romantic looks. My flower crown, by the way, is by Schönes Fräulein*.
*Affiliate links


---
Flower Garlands for the Hair
Flower garlands for the hair* are perfect for updos. I personally love to wear them with a huge bun or a so called Gibson Rolls. Both hairstyles are super easy and quick, by the way. For the first one, you only need a hair donut. And the latter one doesn't need much, either:
As my hair is quite short, I love to use a little gadget that makes it look more voluminous: A hairband with a little roll*. So the only thing I have to do now is rolling my hair around this hairband-roll and pin it with some hairpins. And now, you only have to add the hairflowers – that's it. A perfect hairstyle for 1940s inspired outfits and romantic looks.
*Affiliate links

---
Hairflowers for Late Summer: Lovely Roses
Roses are by far my favourite flowers, as you maybe already know from this blogpost. This is why I also love to wear them in my hair – especially as a little accessory for my signature hair bun. But such roses are also a great way to upgrade a simple (straw) hat. My hair rose, by the way, is by Sophisticated Lady Hairflowers* and goes so well with a lot of different retro looks.
*Affiliate links


---
A Fruit Basket for the Hair
Late summer is harvest time, so I love to wear a fruit basket – even in my hair. I don't wear a real fruit basket in my hair, of course, but rather some lovely designs with small fake fruits that go really well with romantic outfits for autumn and are always an eye-catcher. 😉
*Affiliate links

---
Fruit Headbands for Late Summer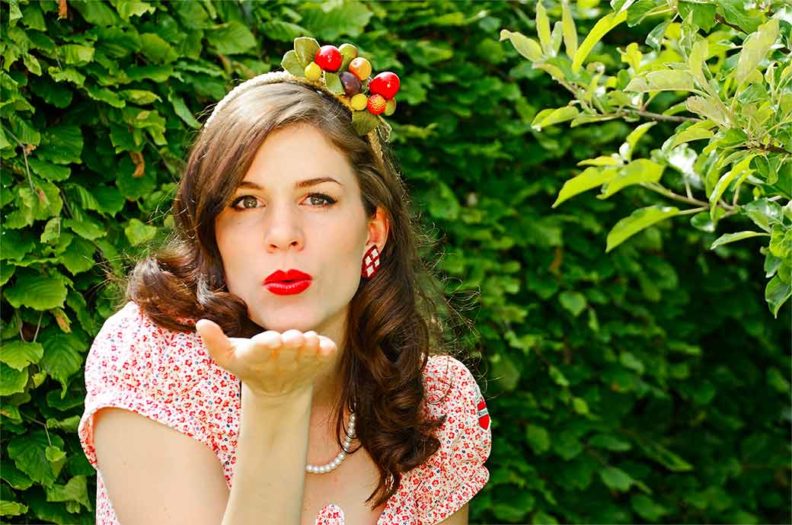 Headbands are not only available with flowers, but also with fake fruits. My headband, by the way, it true vintage, but there are also some new designs available. Fruit headbands go very well with colourful retro outfits, but are also able to make subtle, elegant looks a bit more special and less stern.
*Affiliate links

---