How to wear Dirndl and the Bavarian Tracht in everyday life
No Oktoberfest this year – 2020 is not only hard for us, but also for the Bavarian Dirndl and Tracht. But this doesn't mean we can't wear the traditional Bavarian clothing. We simply can integrate some traditional pieces in our everyday wardrobe. In the following, I'm going to show you how you can wear Dirndl and Co. without looking like you missed that Oktoberfest doesn't take place this year.
How to wear Dirndl & Co. in everyday Life
In Bavaria, one can wear a Dirndl on several different occasions like family celebrations, weddings, christenings, or something similar. However, you most likely won't see Bavarians wearing Dirndl or Lederhosen in everyday life (despite they are working at the Biergarten, for example). So the picture of the Bavarian population always wearing traditional clothing is definitely not more than a myth. This doesn't matter though, we will now have a look on how we can wear traditional Bavarian clothing in everyday life. Traditional Bavarian garments often look very romantic and nostalgic, and therefore go very well with a vintage (inspired) look.
This blogpost contains affiliate links (marked with *)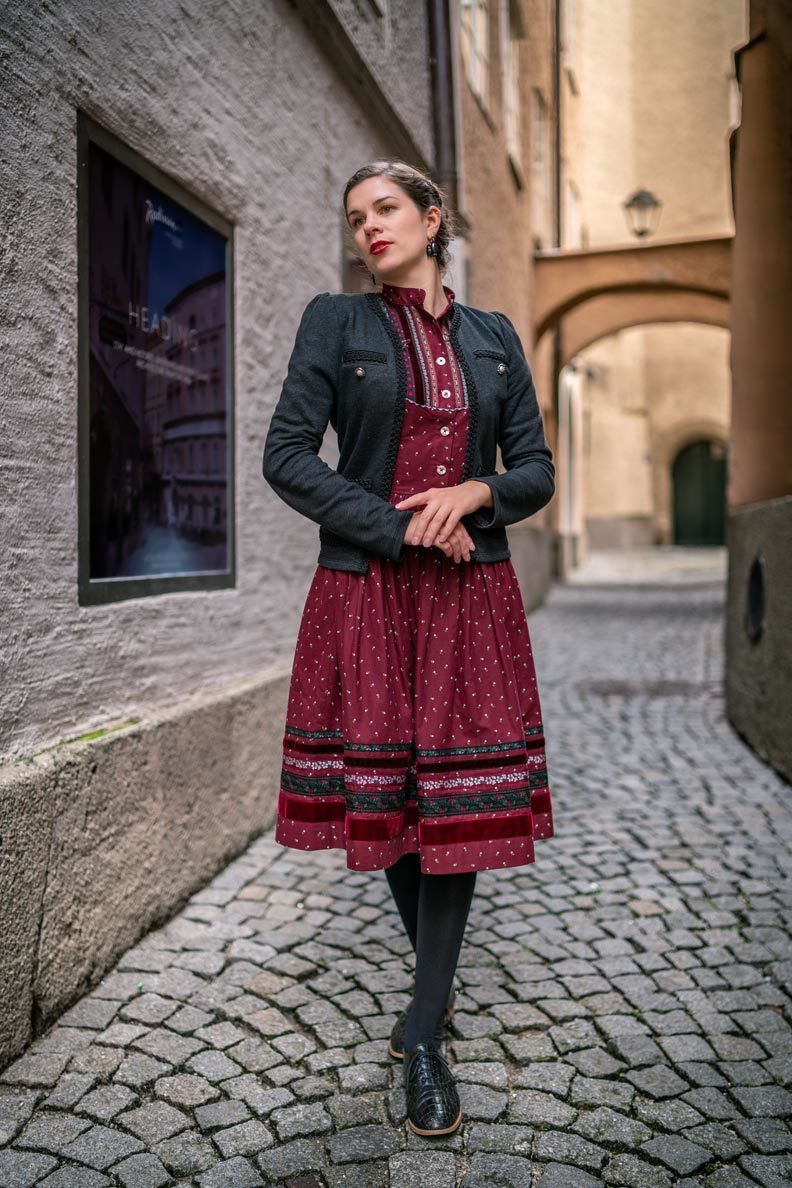 What you need to know before buying traditional Bavarian Clothing
Let's start with some things you should keep in mind when you think of buying a Dirndl or traditional Bavarian clothing:
If you invest in a timeless, high-quality Dirndl without a lot of frills, it is definitely more likely that you will still wear this dress in a few years. I, for example, own a vintage Dirndl made by my mum when she was in my age, and it still looks good! So instead of buying a cheap polyester Dirndl, rather invest in something with good quality that you really like.
Of course the same things are true for traditional skirts, jackets, and other dresses as well! Make sure the quality is good and the piece looks timeless!
Dirndl and traditional Bavarian garments can be found in many second hand and vintage shops! Beside Munich's vintage shops, I also like to search on platforms like Etsy* for pretty traditional pieces.
---
PS: Before wearing Dirndl and Co. by yourself, you might want to read my blogpost about the story of the Dirndl and Bavarian Tracht!
---
Be brave and wear a Dirndl
If you choose a quite subtle, classy Dirndl, why not wear it on the next family celebration? Or during your visit in Bavaria, of course.
*Affiliate links
I personally prefer Dirndls with a not so deep neckline and made of cotton. You will find classy Dirndl in special Trachten shops in Germany, vintage shops in Munich, or at Lena Hoschek, for example.
Wear your Dirndl with
*Affiliate links
---
Wear a Dirndl inspired Dress instead of a real Dirndl
Dirndl inspired or traditional dresses are a wonderful alternative to classy Dirndls. Such dresses still have this Alpine milkmaid style, but are definitely more suitable for everyday life. You can wear them in city, as well as in the countryside, and with good shoes even for shorter hikes. You will find some especially lovely traditional dresses at Lena Hoschek Tradition, for example. My dress called"Gretl" is by Lena Hoschek as well.
*Affiliate links
Such traditional dresses can be worn with a summery straw hat and basket bag, as well as with warm tights and cardigans in autumn. They are as versatile as other dresses, in my opinion.
Wear your traditional Dress with:
*Affiliate links

---
Wear traditional Knitwear instead of a Cardigan
Instead of wearing a classy cardigan, I like to team traditional knitwear or a so called Janker (traditional jackets made of wool) with everyday clothes. This is, in my opinion, also the most subtle way to integrate traditional pieces into your everyday wardrobe.
I usually buy my traditional knitwear in Munich's vintage stores, but of course there are also some lovely new ones available at other stores.
*Affiliate links
Traditional knitwear or jackets go very well with "rustic" garments like plaid skirts and warm tights. However, they also look good on top of more elegant outfits and summery dresses, as they add a romantic touch to them.
What to wear with traditional Knitwear:
*Affiliate links

---
Team traditional Skirts with Everyday Clothes
Another wonderful possibility to wear traditional clothing in everyday life is by choosing a traditional skirt and teaming it with a pretty blouse, simple top, or lovely sweater.
My favourite skirt with traditional elements is the Ribbon Skirt by Lena Hoschek (I tell you more about it here). I personally chose a short skirt, as this one looks a bit more cheeky, but I really like the longer versions as well.
*Affiliate links
Traditional skirts look wonderful in combination with romantic (lace) blouses, or just a subtle top or sweater.
What to wear with traditional Skirts:
*Affiliate links

---
Where to shop Dirndls and traditional Bavarian Clothing
If you are searching for a Dirndl or other traditional Bavarian garments, I have some shopping tips for you: