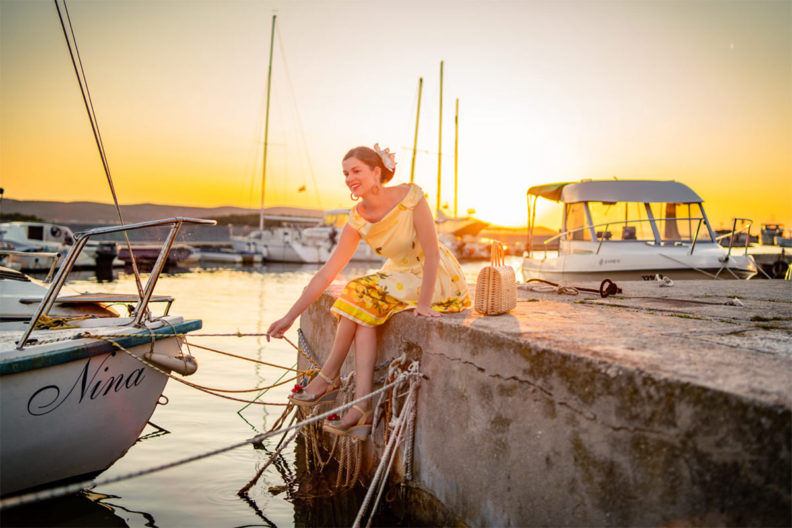 A summer in lemon prints
Chirping crickets, the sound of the sea, palms, and lemon trees – isn't this how summer should feel? Well, I am not sure if I will make it to the sea this year. But there is something that always gives me this riviera feeling, no matter where I am: Lemon prints on my garments!
Lemon print actually is one of my favourite patterns for the warm season and always makes me happy. This is why I want to completely dedicate this blogpost to lemon prints and tell you how to wear this summery pattern on different occasions.
This blogpost contains affiliate links (marked with *)
Wonderful Garments with Lemon Print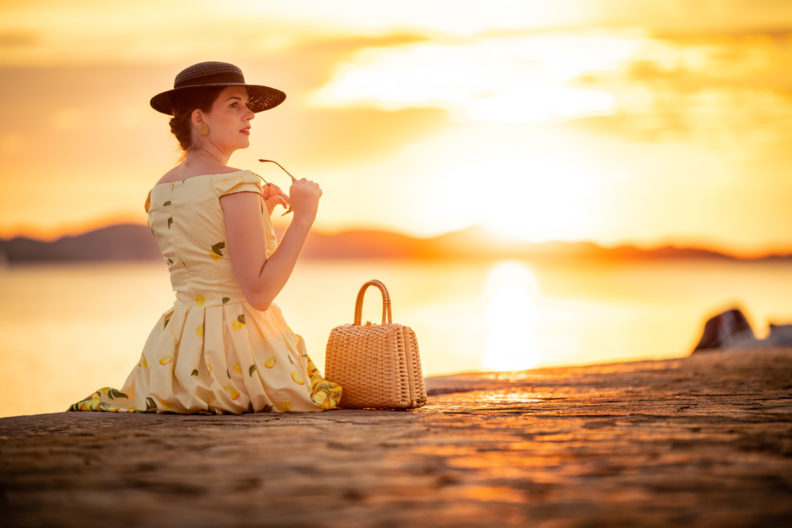 Lemon print looks good on many different garments like classy retro dresses (available here*, for example), as well as on tops*, skirts* and even swimwear*. My dress is by Lindy Bop, by the way, and unfortunately no longer available. But I found a pretty alternative on TopVintage*. Furthermore, I browsed a lot of online shops for lemon print garments and picked up a few of my favourites for you:
*Affiliate links

---
How to wear and style Lemon Prints
I especially love wearing lemon print during spring and summer, of course. This wonderful fun pattern also is quite versatile and can be worn on many different occasions, in everyday life as well as during summer vacation, or on festive events. In the following, I'm going to show you some outfit examples.
---
How to wear Lemon Print on festive Occasions
The fruity print looks wonderful on festive occasions like weddings, for example. Just make sure you choose a dress that has at least knee-length and is made of a high-quality fabric. If you want to wear it on a wedding, you might rather choose a slightly yellow dress with lemons instead of a white one. If you like, wear a silk scarf or something similar on top. The lovely dress in the pictres, by the way, is by Honór Couture.
*Affiliate links

---
How to wear Lemon Print on chilly Days
Garments with lemon print always make me think of summer and sunshine. This is why I wear lemon dresses* on rainy, chilly days, too. On these days, I simply team the dress with nylons and a matching cardigan* and the summery look for cooler days is finished. 😉
*Affiliate links

---
How to style Lemon Prints for Summer Vacation & Everyday Life
Clothes with lemon prints are perfect companions for summer vacation, of course, but they also look great in everyday life!
During summer vacation, more defnitely is more for me and I wear my lemon dress* with straw hats, retro sunglasses*, basket bags, summery bamboo earrings* and hairflowers*. In everyday life, though, I sometimes prefer a more subtle look.
So what about a lemon print top* in combination with elegant trousers* for the office, or a lemon print skirt* with a subtle top? And for the beach, you might want to invest in a fun swimsuit with lemon print*.
*Affiliate links

---