The lingerie boutique Chouchou Voyeur in Munich
You might ask yourself: Why should one spend a lot of money on luxurious lingerie that usually, almost noone will ever see. Well – at least in my opinion – lovely lingerie makes a huge difference. If I know I am wearing something pretty underneath, I immediately feel better and more beautiful. I, by the way, wear my lingerie only for myself. I absolutely love the feeling of delicate lace on my skin, or rustling nylons on my legs. Furthermore, a perfectly fitting bra and garter belt add some glamour to everyday life. And if my partner likes my lingerie as well – even the better. So in the following, I am going to introduce one of my favourite lingerie boutiques to you: Chouchou Voyeur in Munich.
Lingerie Boutique in Munich: Chouchou Voyeur
You will find Chouchou Voyeur at Türkenstraße 45 in Munich. I immediately fell in love with the nostalgic charme that somehow reminds me of a Parisian Revue Theatre. Heavy velvet curtains, golden mirrors, a vintage bar, sparkly chandeliers, lovely seating areas as well as the intimate athmosphere make the boutique a very special place to browse, try on and buy lingerie, while the lovely owner "Chouchou" will help you to find the right sizes and pieces.
Nostalgic Flair and an intimate Atmosphere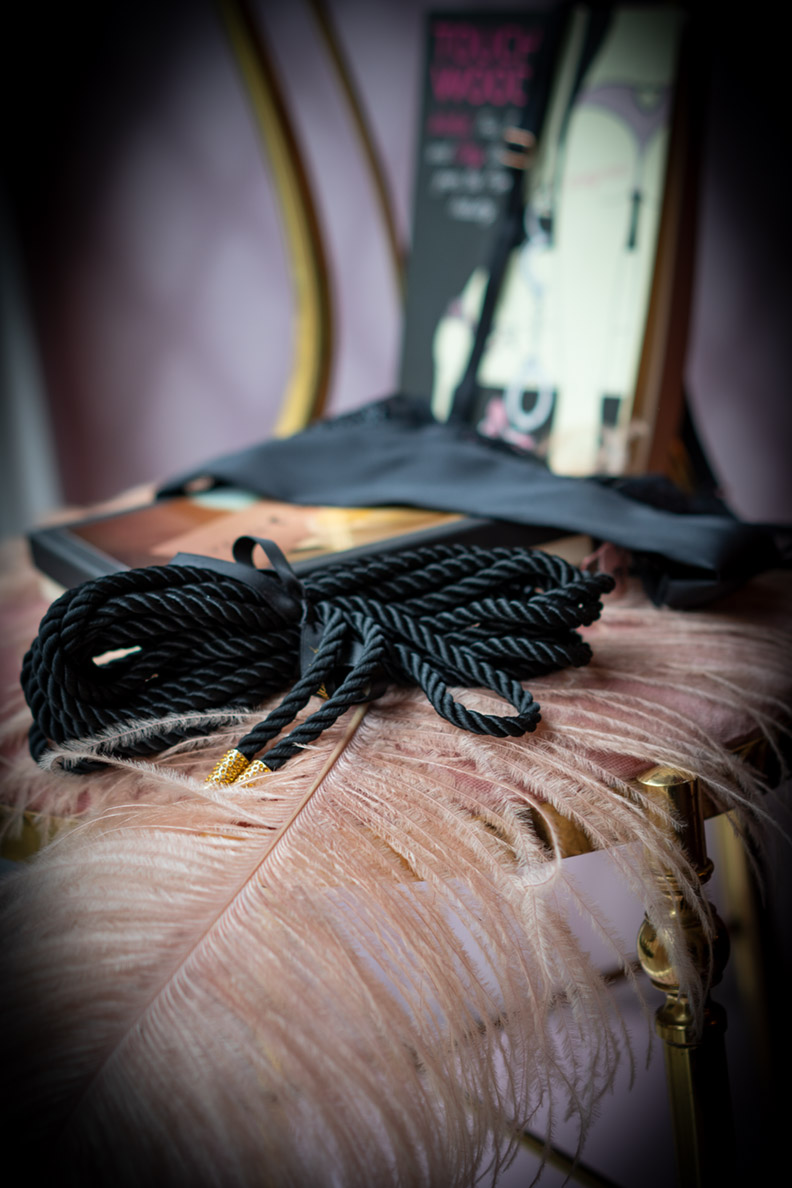 The changing rooms are located at the back of the store in a separate room. So noone will interrupt you while trying on the lovely lingerie and (maybe) presenting it to your love.
Being able to try things on before buying them is also why I always prefer buying lingerie in a boutique over online. Sizes are not always the same and some things look even better when worn. I also really appreciate a good and honest advice.
---
What to find at Chouchou Voyeur in Munich
Chouchou Voyeur offers some super lovely lingerie for underneath. But you will also find pieces that can be worn outside the bedroom. I also believe there is something for everyone available at this boutique: From delicate bras to panties with a pearl string and wetlook dresses. Furthermore, you will find seductive accessories, pasties and even bondage ropes. This boutique is defintiely worth a visit!
---
Where to find Chouchou Voyeur in Munich:
Türkenstraße 45, 80799 Munich
---
My Opinion about Chouchou Voyeur
The lovely boutique Chouchou Voyeur is definitely a wonderful address for everyone who loves lingerie and/or some seductive accessories. I especially like the intimate, nostalgic athmosphere as well as the honest and friendly consulting. Furthermore, I never before felt that comfortable while trying on lingerie. If you are searching for some lovely undergarments and like a personal contact while shopping, this definitely is your place to go.
---