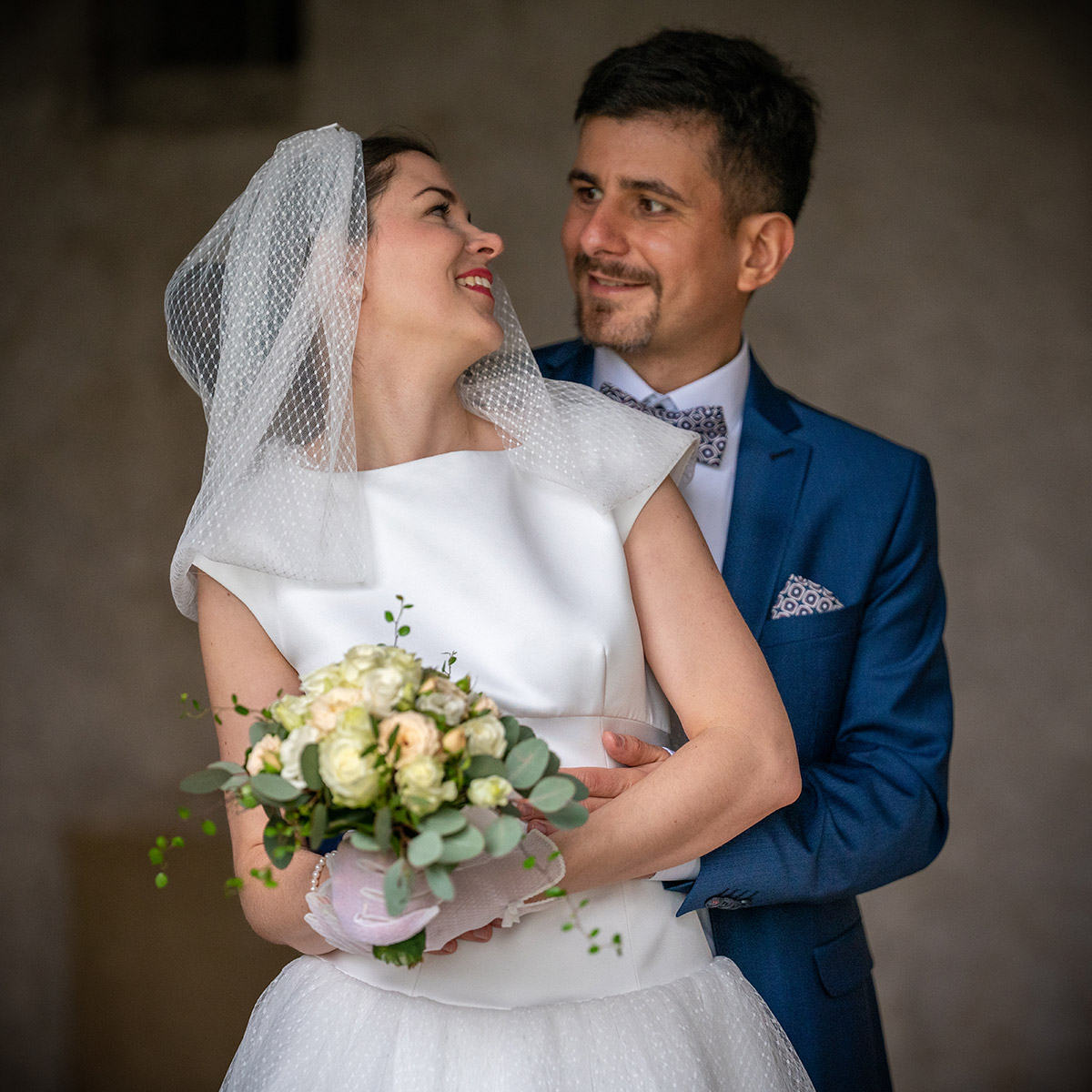 Advert/affiliate links. This blog contains affiliate links (marked with *). If you shop products via those links, I may get a small provision which helps me to maintain my blog. Of course the price doesn't change.
My bridal outfit inspired by Audrey Hepburn
Almost exactly three month ago, I got married. And now, I finally have time to share my bridal look with you! I already showed you a very little bit in this blogpost, and now comes the rest of the outfit from head to toe.
My Wedding Dress inspired by Audrey Hepburn in Funny Face
As soon as we decided to get married, the question of questions came up: What dress should I wear? As I wear a lot of dresses and already spend a whole day in a long wedding dress including a train for TV show, I decided to go for a shorter dress. The most important thing for me was to be able to wear my dress all day long and feel comfortable. One of my favourite bridal looks ever was the one Audrey Hepburn wore in Funny Face. However, I knew, of course, that it would be quite hard to find a similar dress in a boutique here in Germany. So I asked Ginger Jackie. And what should I say: She created my dream dress and satisfied all my wishes! My wedding dress is a 1950s style one inspired by Audrey Hepburn's in Funny Face.
Such a midi-length wedding dress has many advantages. We had the most horrible weather on our wedding day, for example. Lots of rain and muddy paths. Luckily, my dress didn't reach the dirty ground. I was able to wear my dress all day and night long. I could climb the stairs, dance and even go to the restroom without any problems. Furthermore, I felt very comfortable in my dress. Although the top was fitted, I decided to skip a corsage – a very good idea. I ate a lot and still felt amazing.
My dress is, as I already mentioned, by Ginger Jackie. You will also find pretty 50s style dresses at Atelier Belle Couture*, for example, a small German Shop. And even TopVintage* sometimes offers some lovely retro wedding dresses that are perfect for civil weddings, for example. And here are some more midi-length weddidng dresses:
*Affiliate links

---
My Bridal Outfit inspired by Audrey Hepburn in Funny Face: The Veil
My dress has a wonderful, flared tulle skirt. However, it still is quite subtle. No lace, no glitter, no deep neckline – just a very classy and elegant cut. So in the end, it was my amazing veil that made this look WOW. My veil was custom-made by Ginger Jackie as well, I was able to attach it to my dress with the help of two little buttons. So my veil always looked nicely and was also very comfortable, as it didn't pull on my head. PS: I wore my veil the whole time, as it was so comfy!
If you don't like veils, you can also go for lovely hats, fascinators or pretty head bands, for example. Flower crowns are a great choice as well.
*Affiliate links

---
My classy Bridal Shoes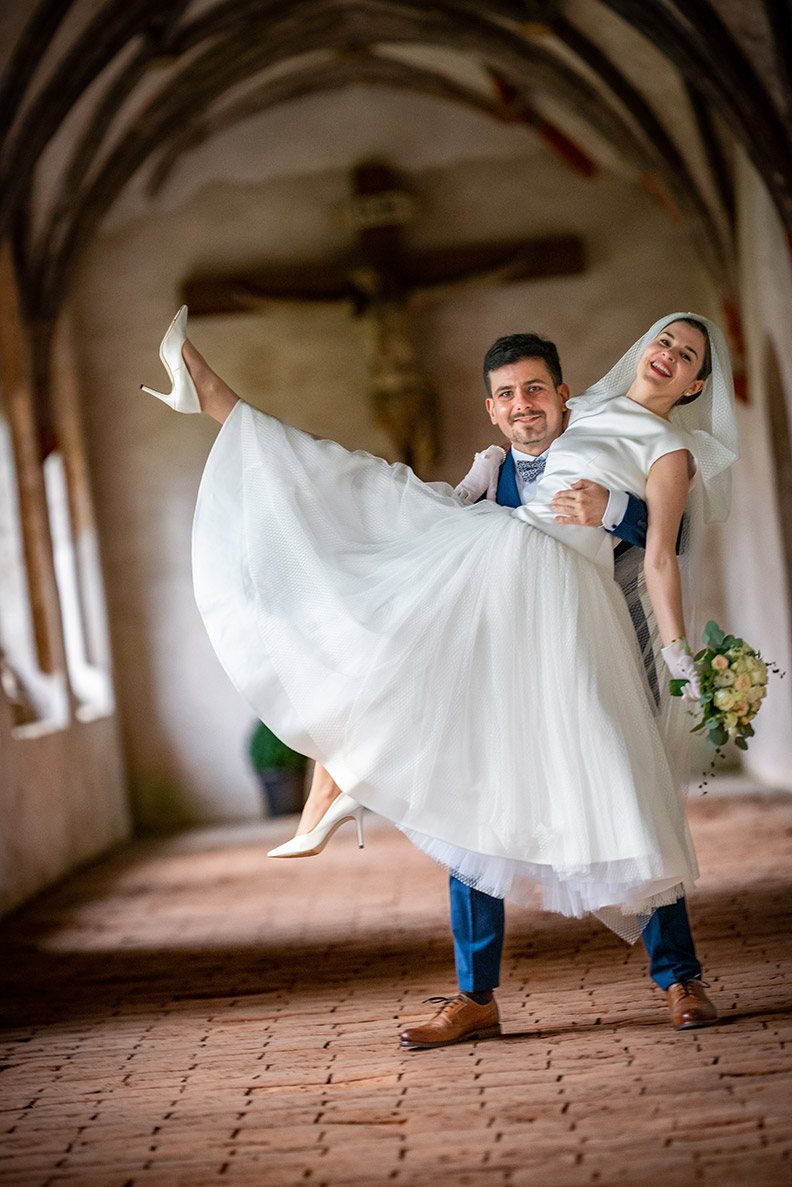 Audrey Hepburn wore her wedding dress in Funny Face with so called kitten heels, shoes with a very tiny heel. I absolutely adored these – especially the pointy shape of her shoes. However, I am not very tall and the midi-length of my dress made me look even smaller. So I went for pointy high heels without any fancy details.
I went for the bridal shoes DENICE by Peter Kaiser. And here are some other lovely bridal shoes:
*Affiliate links

---
A Heart for the Bride: My Wedding Handbag
Initially, I didn't plan to carry a handbag with me. However, a few days before our wedding, I thought it might be practical to have something where I can put things like my ID card, lipstick, powder, etc. in.
So in the end, I went for a light pink, heart-shaped handbag that added a pop of colour to my outfit and was just the cherry on the cake of my outfit. PS: I show more lovely bridal handbags in this blogpost.
*Affiliate links

---
Subtle Jewellery to finish the Bridal Outfit
I only chose very subtle jewellery. Beside my engagement and wedding ring, I only wore some pearl earrings and a matching bracelet.
*Affiliate links

---
Gloves for the Bride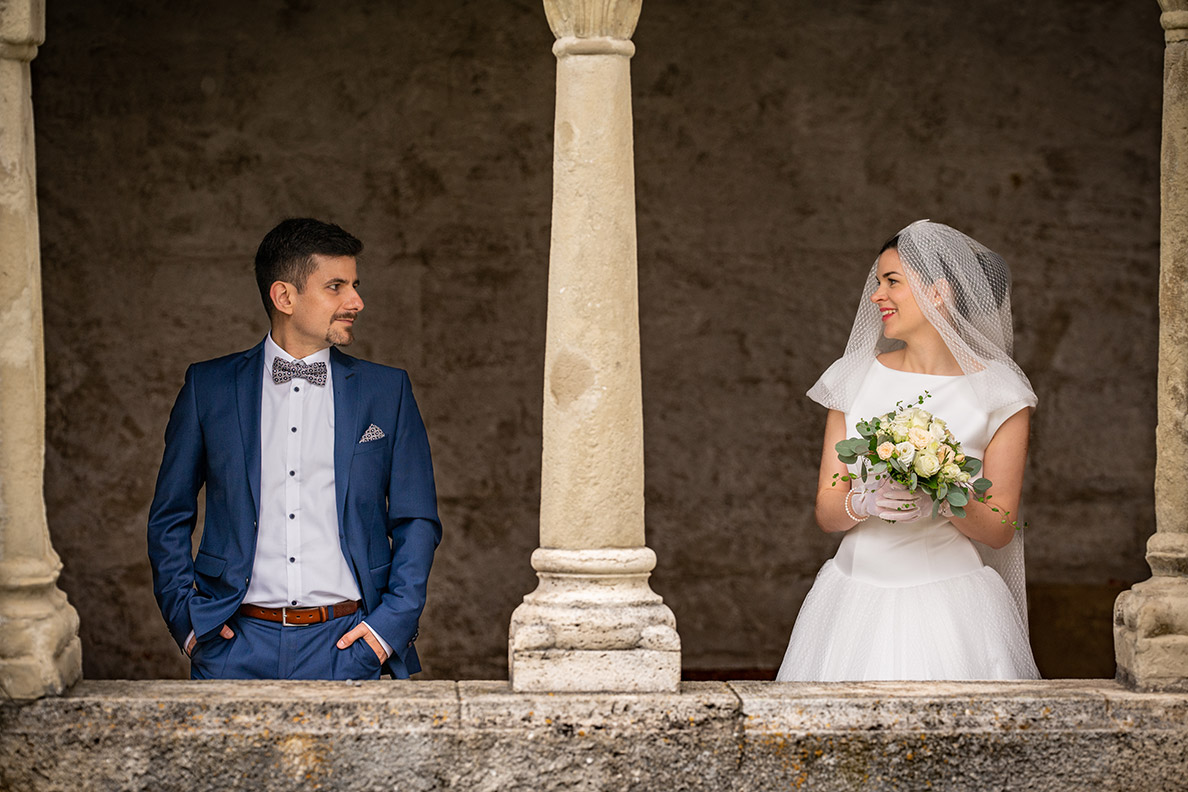 To be honest: Gloves are not the most practical thing when you want to exchange rings. However, they looked so perfect together with my dress that I decided to wear them anyway. PS: I bought them a few years ago in a vintage shop for only a few Euros. You might also check out Etsy*, they often have some very unique ones as well. 😉
---
Bridal Lingerie for the special Day
Well, I didn't wore a super fancy bra on my wedding day. I rather went for a nude-coloured one without any seams or lace, so that it can't be seen underneath my dress.
But when it comes to panties, you can go a little more crazy. I recommend Agent Provocateur* for wonderful and delicate lingerie.
I actually planned to wear lovely seamed nylon stockings. However, it was simply impossible to hide the garter belt underneath my dress. So in the end, I chose a classy pantyhose.
*Affiliate links

---
My Bridal Makeup
I personally think, the bridal makeup should resemble the makeup the bride usually wears. At least, that's my opinion. My husband is going to marry me, how I always look. So I decided to do my bridal makeup by myself, as I know my face and preferences best.
I started with my beloved CC Cream by Chanel, added some powder and a little bit of blush. On my eyes, I wore natural looking eyeshadows in different shades of brown. Some waterproof mascara and a a hint of red lipstick – that's it.
I wore a subtle nailpolish in a nude shade by Dior.
*Affiliate links
---
Subtle and classy: My Bridal Hairstyle
My hairstyle was inspired by Audrey Hepburn, too – but with a personal touch. My beautiful veil simply looks best with an updo and no hair in the face. And as one of my signature hairstyles is a bun, I decided to wear one on my wedding as well.
With a so called hair donut, some hairspray and a few bobby pins, this hairstyle was done in only a few minutes – also by myself.
*Affiliate links

---
I really loved my bridal look – and that's the most important thing. I know that a shorter wedding dress is not for everyone, but I couldn't have been happier with mine. 🙂
By the way: In this blogpost, I tell you what to wear as a wedding guest.