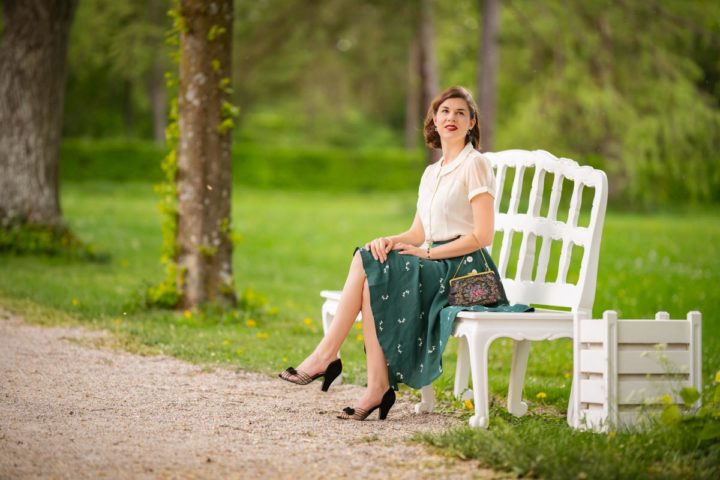 As suddenly as all the flowers started to bloom, they faded. A bit sad, isn't it? I think those first spring days are one of the most beautiful in the year. Everything awakes, the world looks much more colourful, and everyone seems to be in better mood. But although we already had to say goodbye to most of the blossoms, it's still very beautiful. The trees are super green, the parks are crowded again, and in the café, you can sit outside. Inspired by all the green in nature, I'm wearing the Isabelle Skirt in "Green Doggy", which I already showed you here. To match the doggy print on my skirt, I teamed it with a classy and chic white blouse by the Seamstress of Bloomsbury.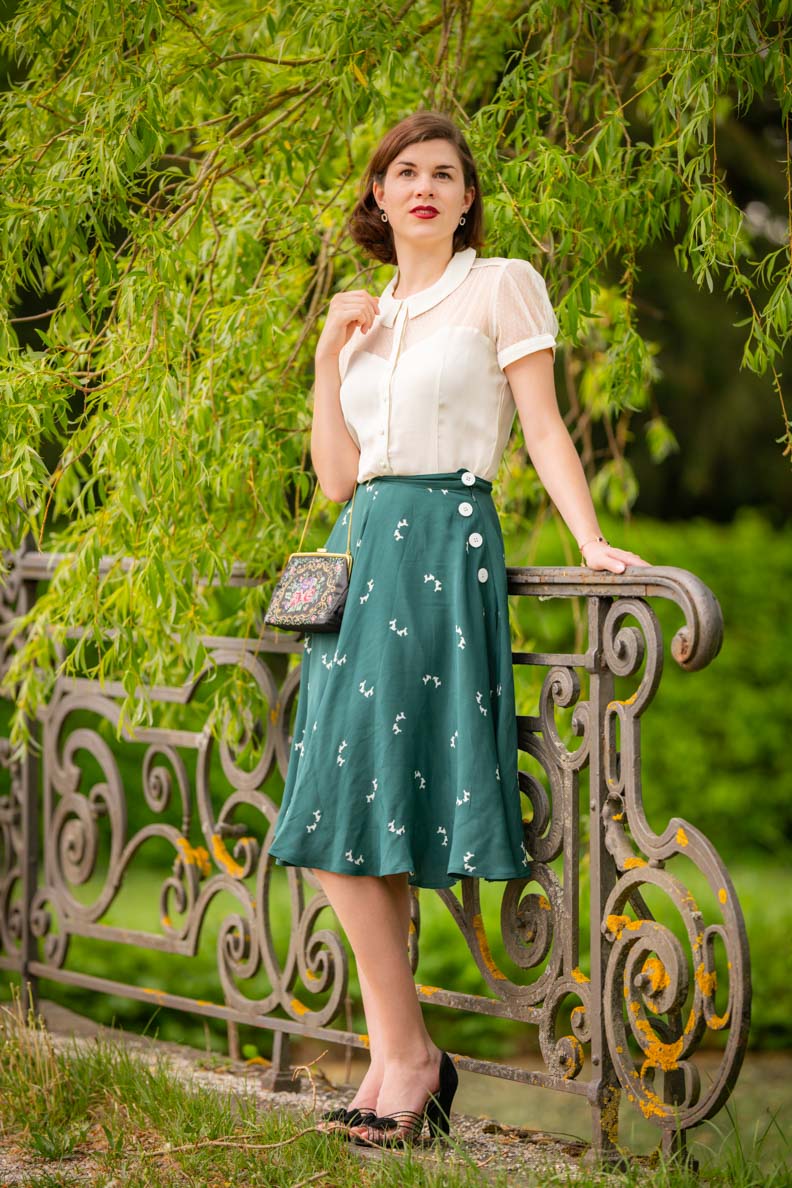 Classy and versatile: A white Blouse by The Seamstress of Bloomsbury
Isn't it fascinating? About a month ago, I wanted to shoot the Florance Blouse and almost wasn't able to take off my jacket, as it was so cold. This is why you only find one photo of the blouse in this blogpost. This time, however, I was able to show you "Florance" in a different combination without a blazer, thanks to a very warm last April weekend.
At the moment, I especially like subtle retro outfits. This is why I teamed the skirt and blouse only with lovely retro pumps by Miss L-Fire, small rose earrings, and a matching bracelet. A lovely vintage handbag together with a pocket mirror finish the 40s inspired retro outfit.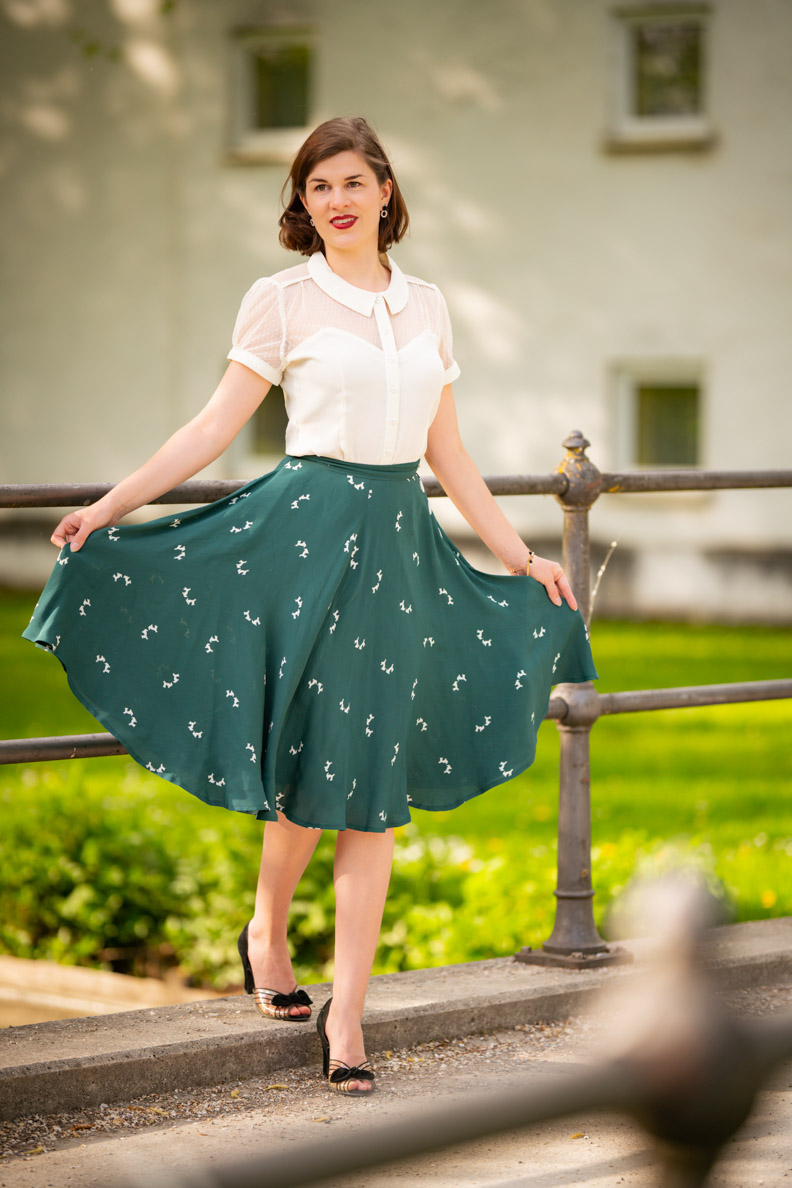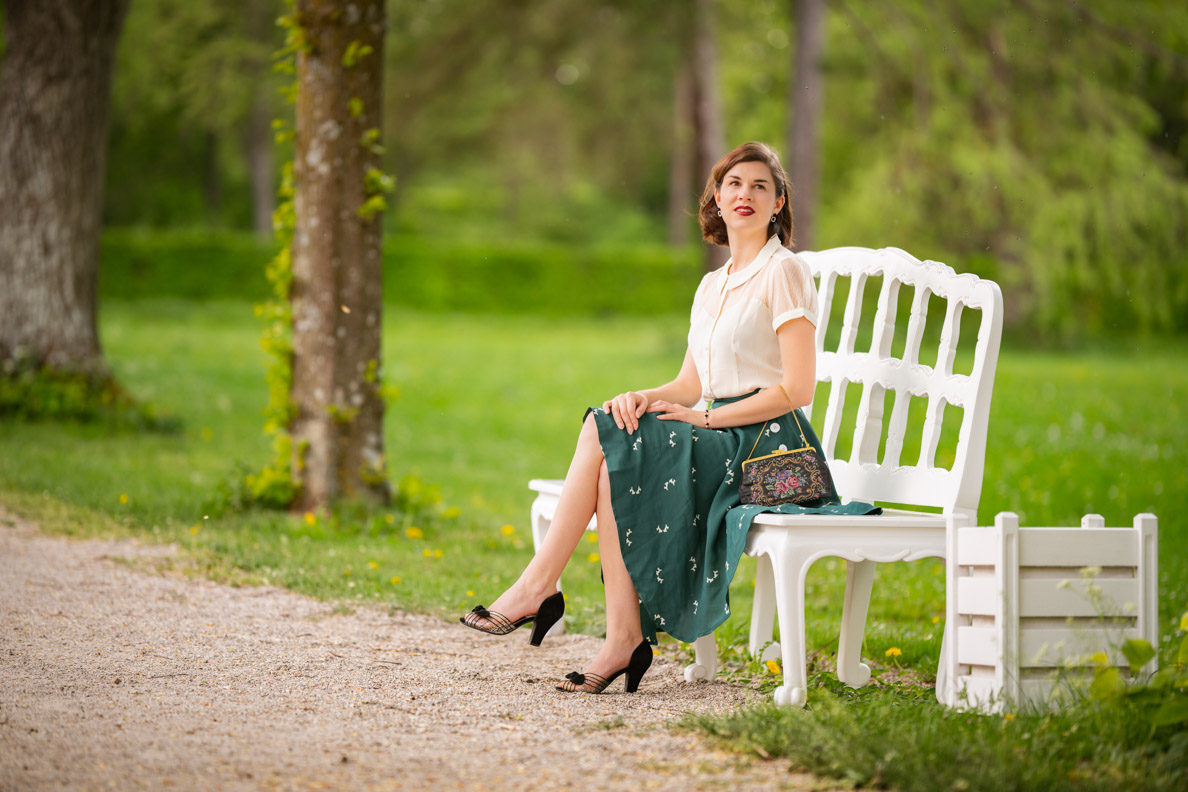 ---
A classy retro Makeup
My makeup this time is very easy and simple. As always, I start with the CC Cream by Chanel, and apply the Guerlain Météorites afterwards. I completely skipped eyeshadow and only applied lots of mascara. A little bit of dark powder enhances my eyebrows, while a hint of blush makes my face look fresher. A classy dark red lipstick (I'm using "Diva" by Mac) finishes this easy makeup and adds that certain something to the look.
---
Makeup Details:

---
Red lipstick is my secret tip, by the way: When I don't have much time, I only use a bit CC Cream, apply mascara and red lipstick – that's it. This kind of makeup looks great and doesn't need longer than five minutes. 😉
---
An elegant retro Outfit for Spring – the Details:
White blouse: c/o The Seamstress of Bloomsbury
Isabelle Skirt: c/o The Seamstress of Bloomsbury
Shoes: Miss L-Fire via Maison Chi Chi, similar here and here
Earrings: similar here
Bracelet: Swarovski, similar here
Handbag and pocket mirror: Vintage, similar here