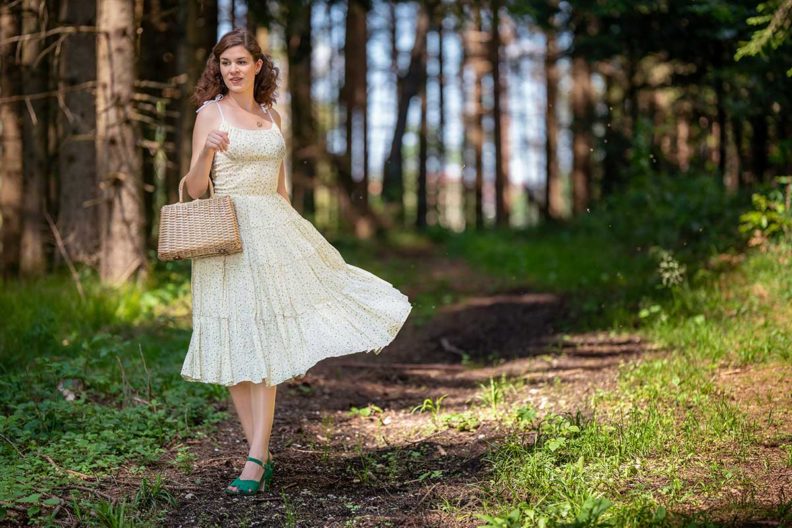 Relaxed summer days in the countryside
August already is almost over, and high summer is slowly but surely coming to an end. This makes me feel quite melancholic this year. Usually, I can't wait for my favourite season: Autumn. But this year, everything is different.
We didn't spend the warmest days of the year at the Croatian riviera, but rather at home in southern Bavaria. The gentle breeze that blows the smell of freshly mown grass into my face reminds me of my light-hearted childhood days and makes me feel really happy. Thanks to the wonderful and warm weather, we were able to see our friends and family outside without being too concerned – a kind of normality, so to speak – and even the nights were quite warm here in Germany. No, this year, I'm not ready to leave the warm and carefree summer days behind me. This is why I hope for a beautiful and warm late summer, and want to share my best advice for relaxed days in the countryside with you.
This blogpost contains affiliate links (marked with *)
A Walk into the Woods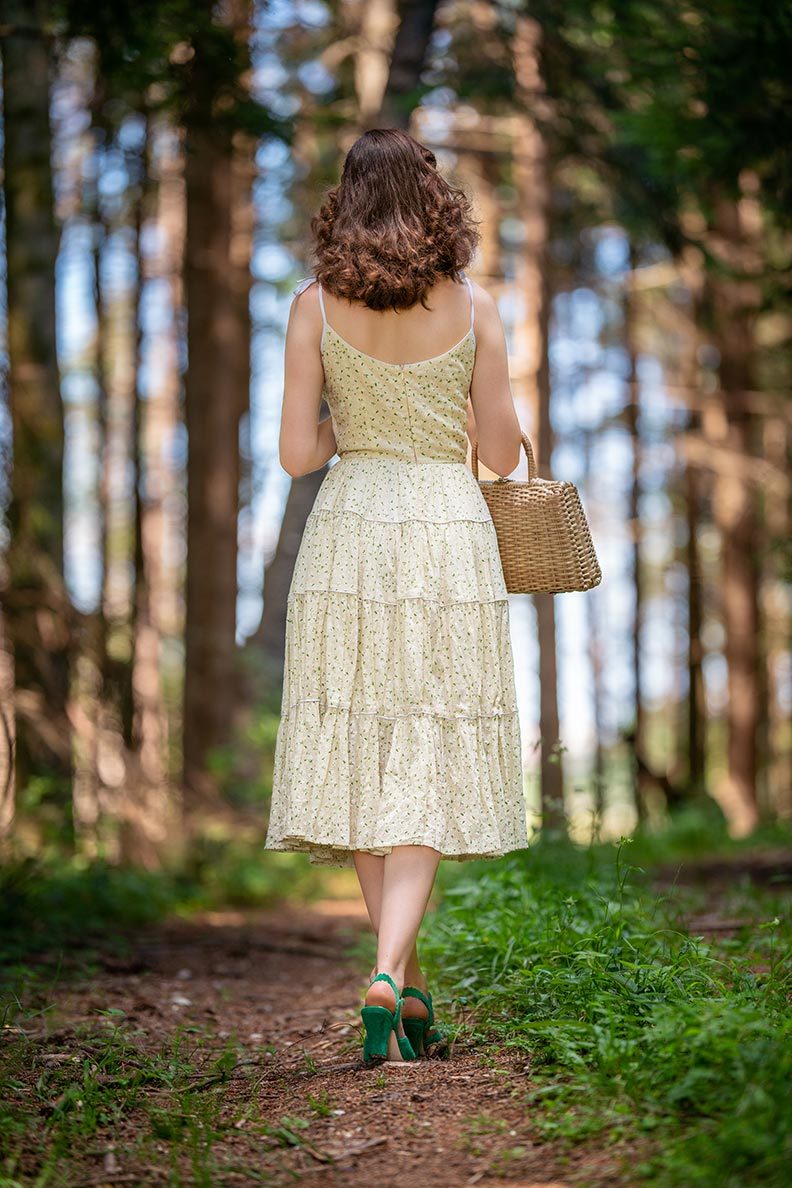 Even when temperatures are very high, there is one happy and very pleasant place, where I always find peace and quiet: The woods. I love the cool and fresh air in the forest, and really enjoy long walks through the woods – one of my favourite activities in summer!
PS: If you want to know more about the story of the German forest, I recommend this blogpost.
---
Wonderful Outfits for relaxed Summer Days in the Countryside
I'm one of those people who really enjoy dressing up for all the different occasions. I love thinking about my planned activities for the day and choosing an appropriate outfit for them. In the city, I like chic and elegant looks. In the countryside, on the other hand, I prefer a more playful and romantic outfit.
My outfit this time is super simple, but still very summery and lovely. During warm season, I love to wear flower patterns. So my outfit consists of a light yellow summer dress with small, green flowers. The dress is a custom-made product by Ginger Jackie, by the way. But I found some lovely alternatives for you:
Lovely retro Dresses for relaxed Summer Days in the Countryside:
*Affiliate links


You don't need much more than a lovely dress on such warm and relaxed summer days. I only team it with lovely sandals (mine are by Miss L-Fire), a vintage basket bag, sunglasses, and some subtle jewellery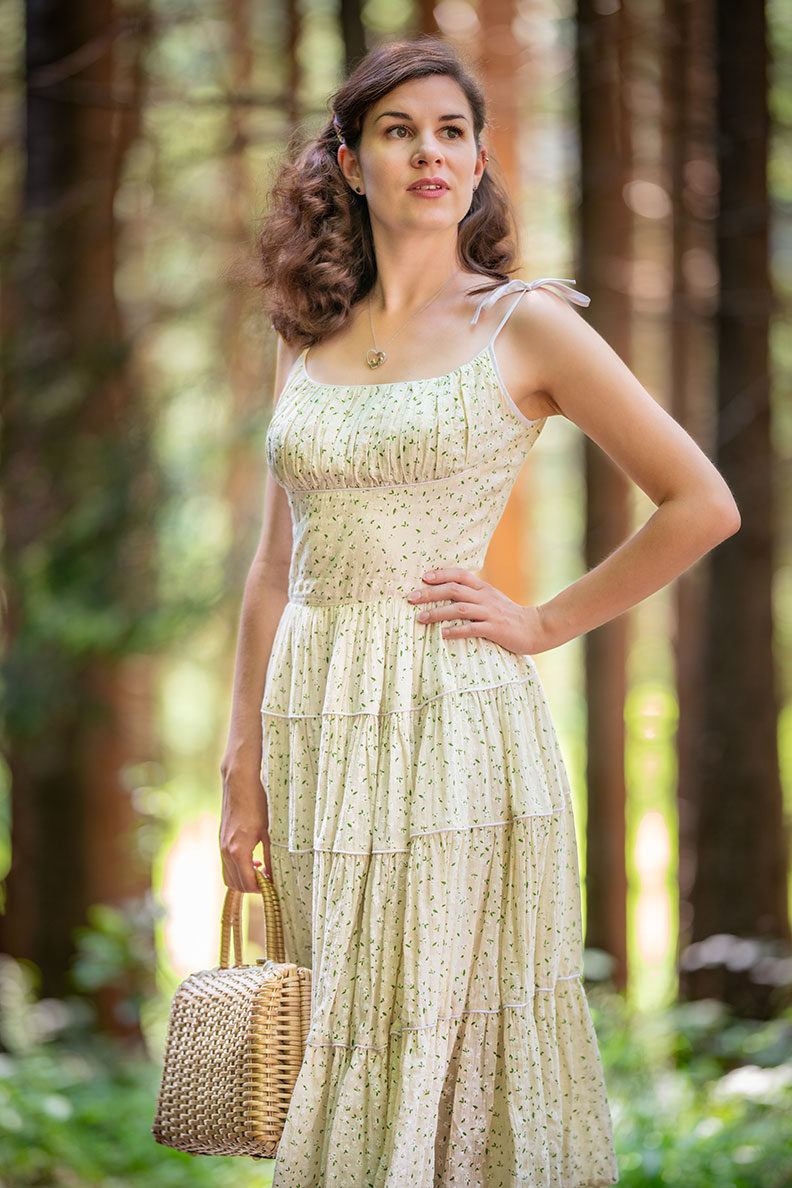 By the way: In this blogpost, I show you more lovely retro outfits for romantic summer days in the countryside.
---
Summer Days in the Countryside: Reading
Beside in the woods, I love to spend the warm summer days underneath the apple tree in my parents' garden. The shade underneath the tree is simply the best place for me to relax and read books. You will find a lot of book recommendations in the reading category of my blog, by the way.
---
Idleness meets Spirit of Discovery
To be honest, I get bored quite quickly and usually can't chill for longer than a few minutes, before the spirit of discovery gets me, and I start walking around. But on warm days, I enjoy to just sit in the shade, observe and photograph the nature and insects around me. You must know, I am a big fan of insects – as long as they are outside of my flat. 😉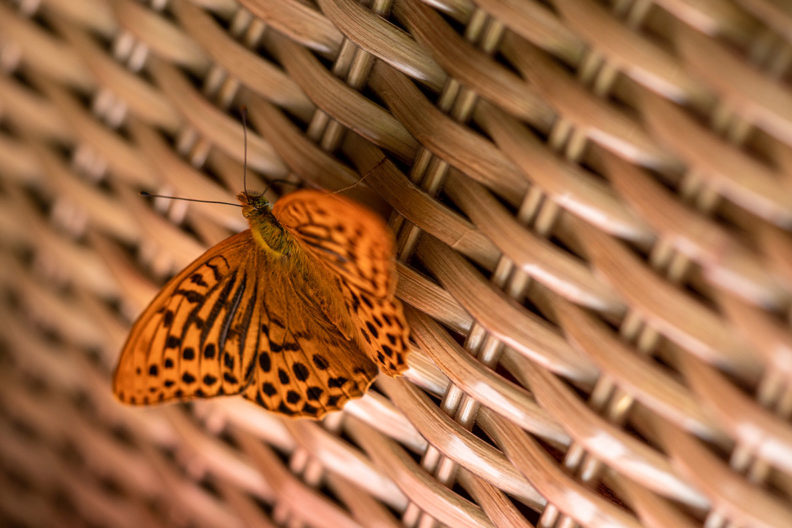 As soon as it gets a bit cooler in the evening, I like to grab my camera and leave for a photographic walk in nature. Such a relaxed day might sound a bit boring, but I really enjoy all the little things in life. Especially this summer, I found out that one doesn't have to travel far to find relaxation and discover new places.
Why don't you just use another path everytime you go out for a walk? Or you use the same path and pay attention to all the little details. I, for example, discover something new every day – even on my regular running way. And may it only be a cute little frog, an extraordinary insect, or a fox who searches for food in the dawn.
I really enjoy those last warm summer days, and take advantage of them to recharge my batteries. I sit outside on the balcony, relish the moment, and mentally prepare myself for upcoming autumn and cosy hours at thome. 🙂