The Dior New Look: beautiful, exciting, lavishly
This blogpost contains affiliate links (marked with *) & PR samples (marked with c/o)
Christian Dior is definitely one of the most influental designers of the post-war era. His New Look was an ode to femininity and beauty in womenswear. However, he also played with old role models and stereotypes. In this blogpost, I'm going to examine the popular New Look, tell you the most important elements of this style, and show you, how to recreate Dior's New Look.
Optimism meets Reality: What makes the Dior New Look so special?
Round shoulders, enhanced waists, swinging skirts with midi-length, and tons of fabrics – the New Look polarized and caused, beside excitement, also protests. What what makes this style so special? To get a better understanding of the revolutionary and special status of the New Look, we should have a look at the fashion of the preceding years.
The pracitical War-Time Fashion
During the war, fashion was mainly practical. While many, especially young men had to serve at the front, women stayed at home and did the work men were doing before. They worked in hospitals, factories, or volunteered and therefore needed practical clothes. Furthermore, some for the fashion industry important materials were rationed. So the hemlines got shorter (after the roaring 20s, they got longer again in the 1930s) and ended just below the knee. Moreover, padded shoulders for women were fashionable and some women even wore trousers, as those were simply more practical in some professions. All in all, the fashion of the first half of the 1940s was practicable and adequate, instead of glamorous or frivol. Also, women from the middle and upper class wore almost the same type clothes. Right after the war, this didn't really change. Europe was in ruins, many men were still missing or fallen in war. The returnees and those at home tried to make ends meet. Nevertheless, with time passing by, it must have felt as something like normality is slowly coming back.
The impacts on Post-War Fashion
In the post-war era, an economic recovery emerged, and even the stagnant fashion industry was finally facing better times. Even though Europe was still scarred by war, people were finally looking ahead and got optimistic. It seems like they were longing for glamour, beauty, and lavishness. Women usually stayed at home again and were often no longer employed. Society went back to a nostalgic mood and, at least in some parts, old distribution of roles.
Christian Dior's New Look is quite symbolic for the peoples' longings of opulence and beauty. His creations promise the start of better times and spread optimism.
---
The New Look by Dior
On the 12th of February 1947, at 10.30 exactly, 42 years old Monsieur Dior presented his first own collection. The location were the with flowers decorated rooms of 30, avenue Montaigne, and invited was the who is who of the national and international fashion scene. One of the many attendees was Carmel Snow, editor in chief of Harper's Bazaar. Her exclamtion:
"It's quite a revolution, dear Christian. Your dresses have such a new look."
and the news of this New Look from Paris spread like wildfire and reached, beside whole Europe, also the United States of America. But what exactly makes the Dior New Look so special and beautiful?
---
The most important Chracteristics of the Dior New Look
Diors designs were inspired by the forms of Belle Epoque. He discarded the modern lines of the 1920s and 1930s as well as the pracital war-time fashion. His creations enhanced female shapes and are made to look beautiful. Everyday suitability and practicability, on the other side, weren't important factors for his collection. An unstructured, softly sloping shoulder line, rounded busts, full skirts, and lavish amounts of fabrics are the keypieces of Diors New Look. He introduced his two preferred lines, that were the "Ligne Corolle" (Flower Line) and "Huit" (Eight).
The Flower Line resembles an upside-down blossom and therefore consists of a small waist and full skirt. The Eight, on the other side, mainly has a classic hourglass silhouette with enhanced busts and hips, and a tiny waist. Furthermore, Dior introduced a longer hemline again, classically ending between the knees and ankles.
Another characteristic of Dior's designs are the many details: buttons, drapes, or flower applications, lovely tops, and pleated skirts.
An Overview of the most important Characteristics of the New Look:
Corseted Waist
Unstructured, softly sloping shoulder line
Padded hips
Prominent and rounded busts
Longer hemlines
Lovely details like buttons and drapes
To achieve his silhouettes, Dior worked with padded hips and peplums, built corsets and busts into his dresses, used petticoats and many layers of fabrics. Dior's dresses lent the models their shape, not vice versa. It was quite hard to move or even sit down in some of his designs and putting on a Dior couture dress withouth help was almost impossible or, at least, very hard. His dresses were elaborate and expensive. He used costly materials like silk, or tulle, and his pleated skirts needed lots of fabrics. So only very few women could afford Christian Dior's designs.
---
Dior New Look: The Accessories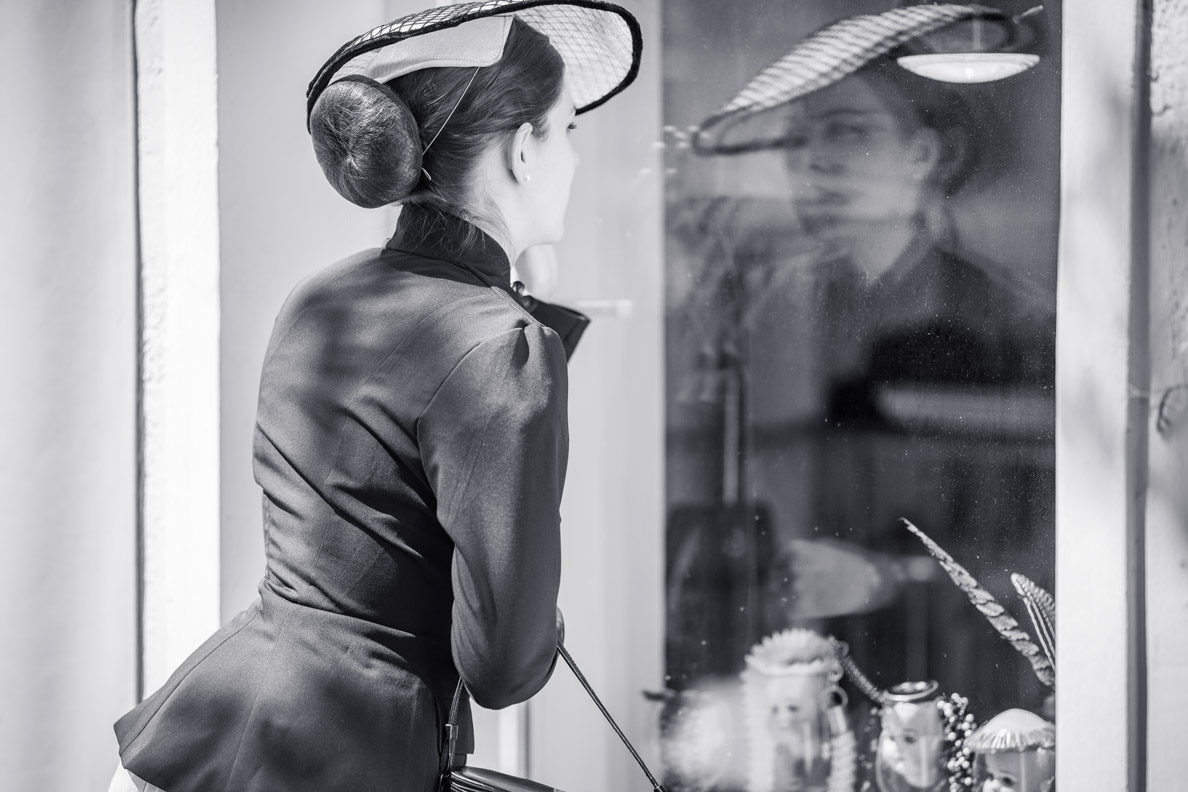 Of course accessories were important as well to build the New Look. The ladies wore gloves, pretty handbags and chic, pointy pumps with a thin, not too high heel. The times of wedges and platform shoes were over. Women chose seamed nylons, which were finally available again, and of course wore hats. Beside large, round hats, smaller cocktail hats, sometimes inspired by berets, were popular as well. Elegant jewellery and pearls finish the New Look outfit.
---
The "Bar Suit": The most popular New Look Outfit
Maybe the most legendary outfit by Christian Dior, yes maybe even of the whole post-war period, is the "Bar Suit". A beige silk jacket with peplum in combination with a pleated skirt with padded hips and a wasp waist really is revolutionary in contrast to the practical fashion of the past few years. The model is also wearing a round hat, gloves, and pointy shoes.
Even until now, the designers of Dior launch new interpretaions of this outfit. But Christian Dior is also responsible for some other fashion classics.
More Dior Fashion Classics:
---
Criticism of the New Look by Christian Dior
Although Christian Dior's first collection was a huge success, not everyone shared the excitement for the New Look. One point of criticism was the lavishing use of fabrics and the fact, that Dior sells dresses for 40,000 Francs, while children have no milk an the majority of the population is still facing poverty. More of fierce criticism came from feminists, claiming that Dior's corseted, restricitive silhouette is regressive, reducing women to object, and taking away a woman's independence.
Coco Chanel said:
"Dior? He doesn't dress women, he drapes them!"
In Dallas, the "Little Below the Knee Club" was founded with the aim to preserve the sanctity of the American leg. But all the protest and criticism didn't help. At the latest when Hollywood icons like Ava Gardner, Marlene Dietrich, and Lauren Bacall started to dress themselves in Dior, the feminine New Look was the new ideal of fashion and significantly influenced the look of the 1950s.
---
The Dior New Look: An Inspiration then and now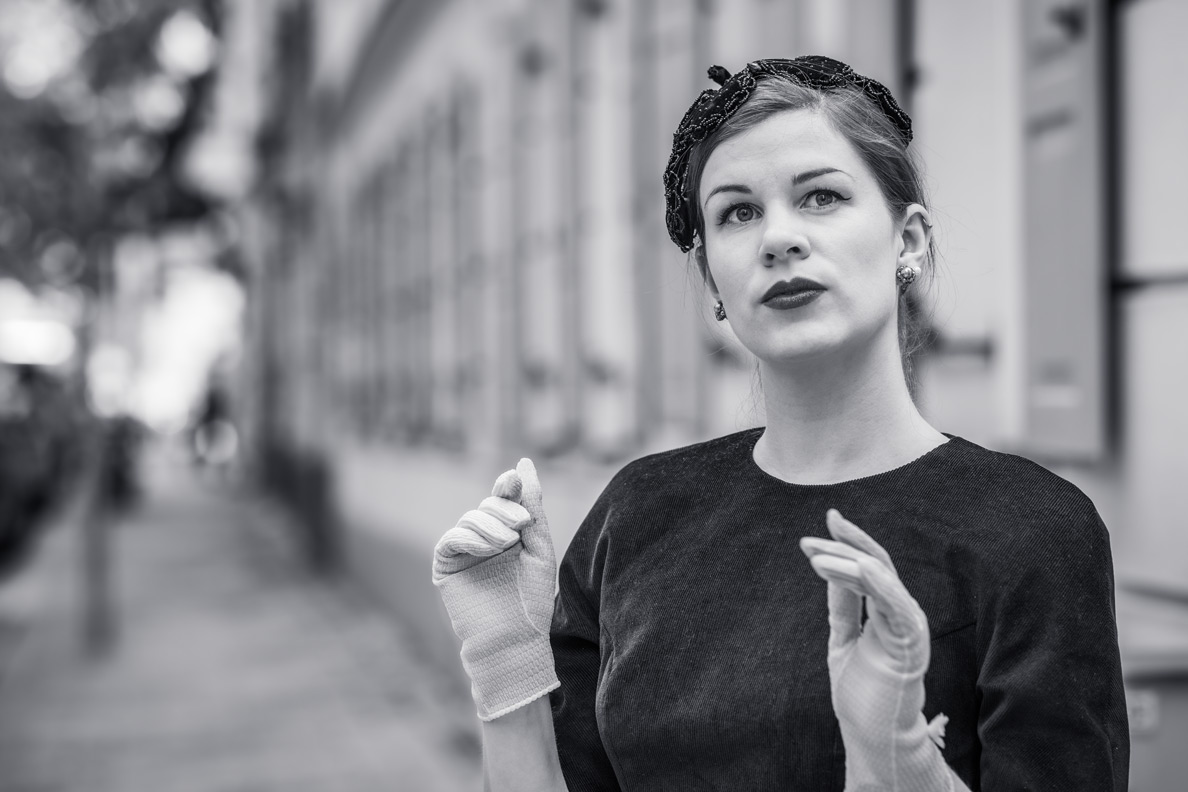 Even though the majority of the women couldn't afford a Dior couture dress, women had talent for improvisation. During the Great Depression in the late 1920s and early 1930s, as well as during war-time, many women learnt to make their own clothes. With the help of patterns, they were able to create their own New Look inspired dresses, maybe not as elaborate and glamorous as the original, but at least close to the style. Longer skirts and enhanced waists got a fashion standard of the 1950s and everything that showed a little more, like the capri pants for example, caused some trouble. Until his dead in 1957, Monsieur Dior showed new berathtaking designs on a regular base.
With the beginning of the 1960s and the arising youth culture, though, the New Look got more and more old-fashioned. Since the 1990s, Dior (and other leading fashion houses) get inspired by the New Look again and show new interpretations of old classics. A great example for this is the "Dior Red" Bar coat from the Autumn/Winter Collection 2012.
---
How to style the Dior New Look:
Such elaborate designs with so many details like Christian Dior once created are still very expensive. Nevertheless, it is possible to style a New Look inspired outfit without spending a fortune on clothes and accessories. As I wanted to create a quite authentic outfit, I started with matching underwear. To achieve such a tiny waist, shapewear is an essential. I don't like to wear corsets for more than one hours, so I went for a shaping Longline Bra by Secrets in Lace* (review here), in combination with a shapewear garter belt, and stockings. To show you the two predominant silhouettes of the New Look, I chose two different outfits for this blogpost. Number one is inspired by the legandary Bar Suit (I don't own a beige blazer, this is why I decided to change colours, so please don't wonder), the other one is inspired by the classy hourglass-silhouette.
---
Blazer, Pleated Skirt, Petticoat & Hat inspired by the New Look
Over the Longeline Bra, I'm wearing a lovely tulle blouse by Ginger Jackie and a figure-hugging blazer by Miss Candyfloss on top. My beige skirts is by Von 50′ and needs a petticoat for more volume. (The New Look skirts usually had a longer hemline than mine, but as I'm quite small, I rather went for a shorter one, as this looks better on me.)
The hat is true vintage and from the 1950s, but a similar one is available at "Mein Wunderbarer Hutsalon*", for example. When it comes to shoes, it is important to choose pointy ones with a thin but not too high high heel, if you want an authentic look. Furthermore, gloves are important as well.
Outfit Details:
Longline Bra: c/o Secrets in Lace*
Garter Belt: c/o Secrets in Lace*
Stockings: c/o Secrets in Lace*
Petticoat: Vintage, similar here*
Blouse: Ginger Jackie, ähnliche hier*
New Look Blazer: Miss Candyfloss*
Skirt: Von 50′, similar here*
Shoes: Peter Kaiser, very similar here*
Gloves: Vintage, similar here*
Handbag: Vintage, similar here*
Hat: Vintage, similar here*
---
Pencil Dress, sparkly Hat & elegant Accessories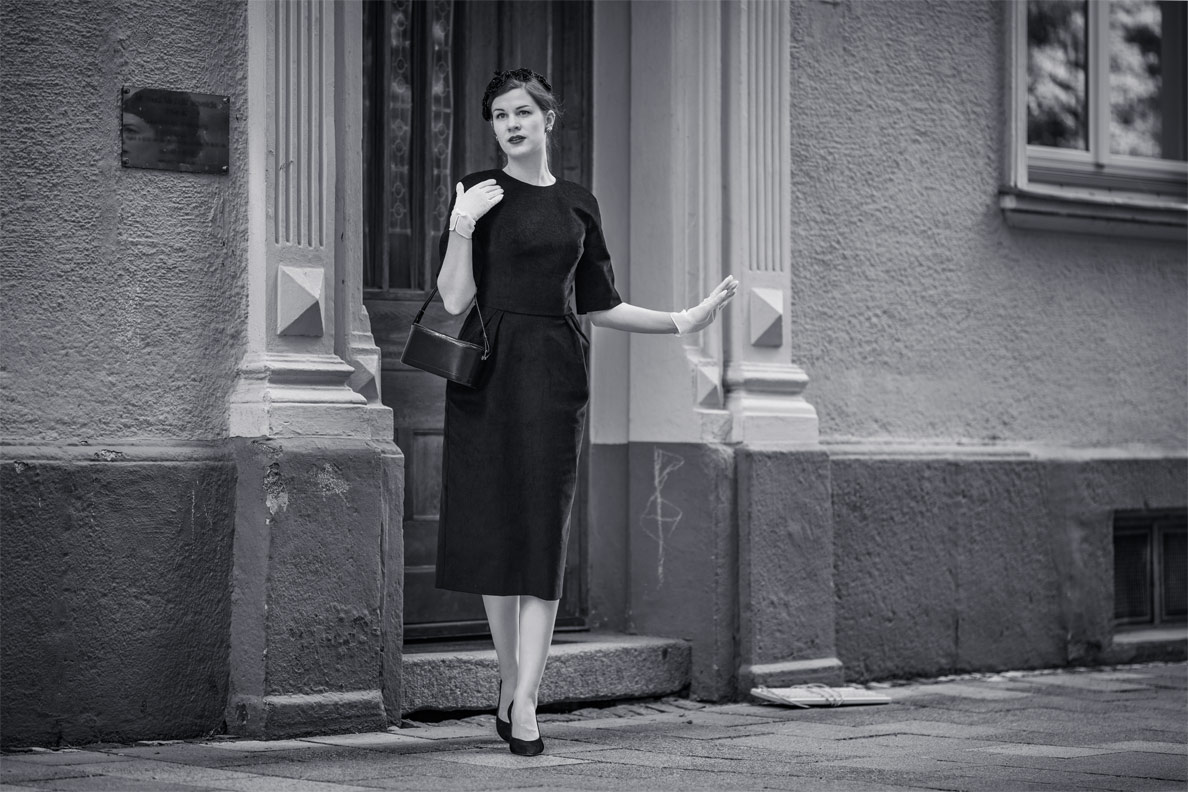 Beside full skirts, Dior also designed pencil skirts and dresses. My black dress by Ginger Jackie is an ode to the Dior New Look.
The shoulders have a softly sloping line, the drapes around the hip area enhance the hourglass-shape and lovely details like the buttons or the back neckline really add that certain something to the dress.
This hat, which reminds a little bit of the French beret, is a vintage piece as well. Gloves, stockings and a handbag finish the outfit.
Outfit Details:
Stockings: c/o Secrets in Lace*
Dress: Ginger Jackie
Hat: Vintage
Gloves: Vintage, similar here*
Shoes: Peter Kaiser, very similar here*
Handbag: Vintage, similar here*
---
If you want to learn more about fashion and the story of fashion classics, make sure to check out my page Fashion Know-how (click)!