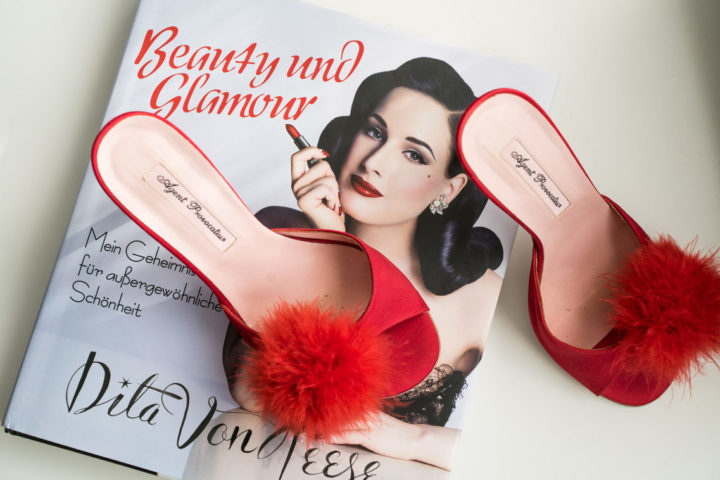 Reading is perfect to escape from the stressful everyday life. However, the last few weeks I didn't found time to read a book. Something I had to change so I decided to take at least half an hour off every day to just sit on my couch and browse a book. Beside novels I also really like illustrated books as well as beauty guides. Dita von Teese's "Your Beauty Mark: The Ultimate Guide to Eccentric Glamour"* is a perfect reading matter.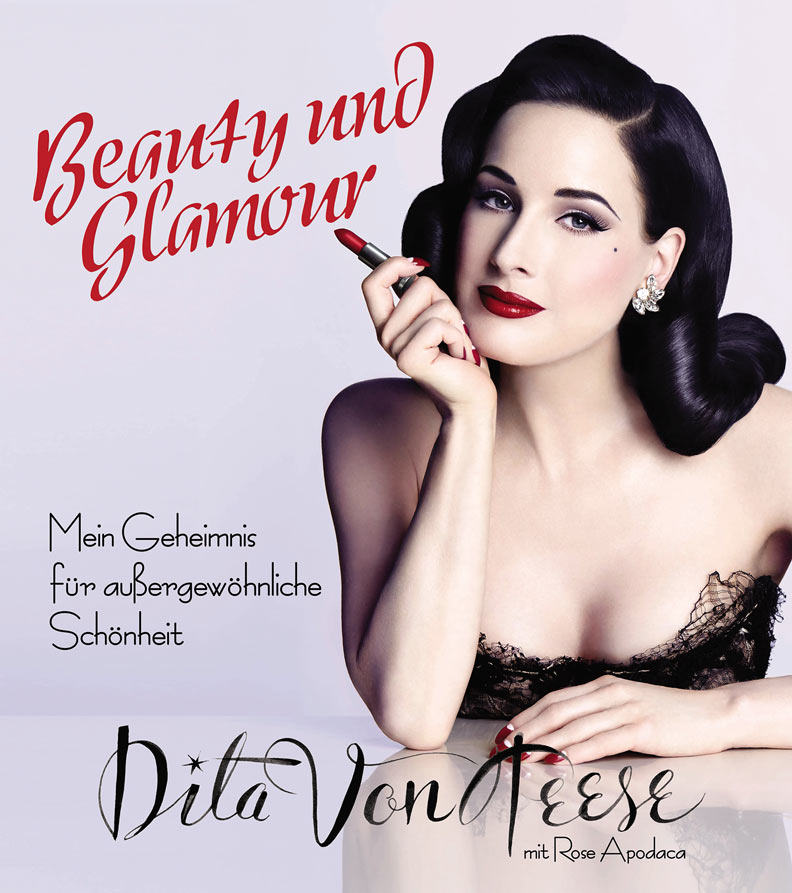 Delve into Dita's "Your Beauty Mark"
A perfect hairstyle, flawless makeup, classy outfit and self-confident appearance – Dita von Teese knows how to adapt the glamour of bygone eras into our time. In her latest book, she tell us how we can do this as well. "Your Beauty Mark" is not an ordinary beauty guide, but a book which gives us a deep insight into the beauty rituals and opinions of the Queen of Burlesque. In this blog post, I provide you an insight into the different parts of her book.
---
"Underneath it all"
After an introduction, part one "Underneath it all" begins. This first part of the book focuses on skin and body care. Beside Dita, a lot of experts get a chance to tell their personal beauty secrets.
We all know that Dita has a very pale skin, but did you also know that this is not retro at all? Instead, a tanned complexion was quite popular in the 30s to 50s. All this background knowledge proves, that Dita really did a lot of research and not only wrote down her beauty routine.
It's no secret that Dita has an amazing body. In her book, she tells you how to achieve this as well. However, the Queen of Burlesque doesn't preach that size zero is the one and only ideal of beauty. She rather tells us, that it's very important to have a healthy body in which we feel comfortable, no matter which clothing size we wear.
"Underneath it all" also focuses on themes like how to beautify your bosom, hair removal, and why she launched her very own perfume line.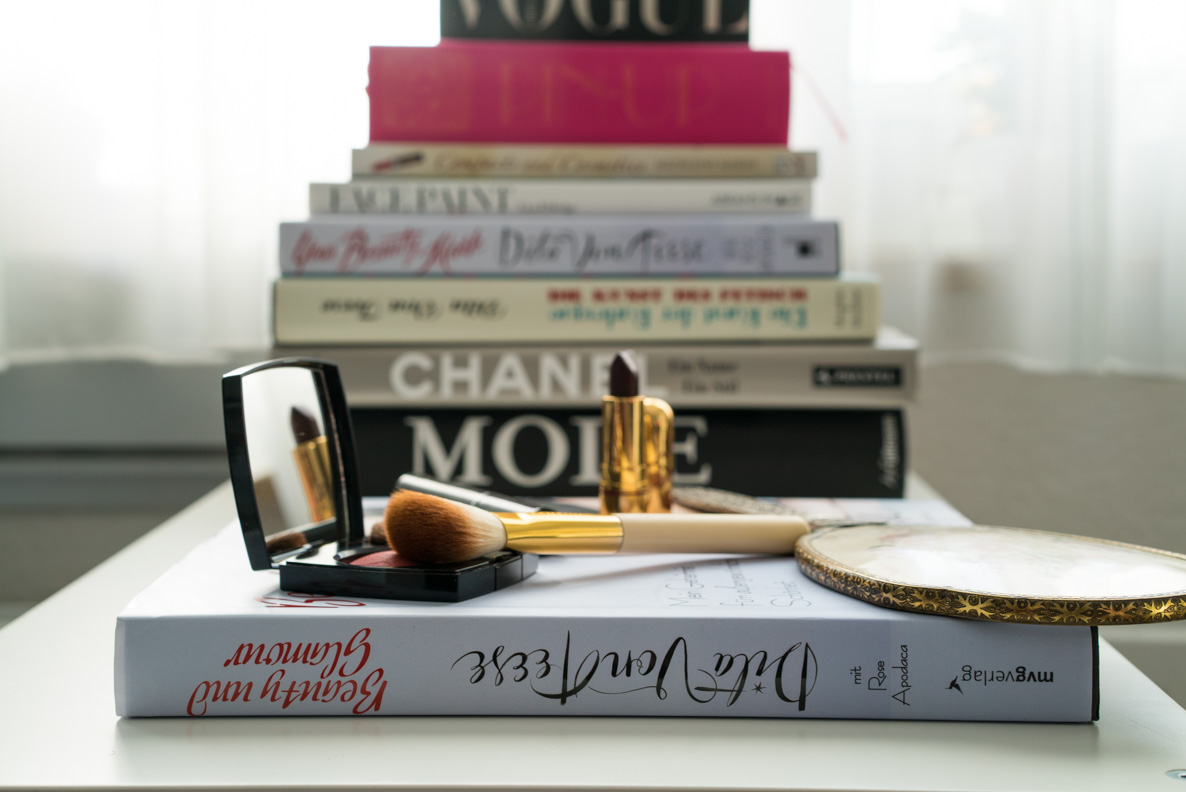 ---
"Cosmetically Yours"
After focusing on skin care and inner beauty, part 2 of "Your Beauty Mark" is all about makeup, manicure, and underwear. But first of all, Dita tells us why it's so important that women are able to change their apperance with the help of makeup in the way they want. She also wrote, that she has no problem with showing herself without makeup. I especially like her main message in this chapter: A women should never ever beautify herself just to please others, it's important that we do it for ourselfes!
We also get to know how to do a glamorous makeup in only 5 minutes, and of course, which products are important.
In this part of the book, you will also find a step by step guide with a lot of photos on how Dita does her signature makeup. Here, the reader gets a lot of informations about the different steps and she tells us that a perfect makeup doesn't have to be expensive.
Beside makeup, underwear is very important as well for a perfect look. Therefore, Dita also talks about corsets, stockings and pedicure. The motto is: Beautiful from head to toe!
By the way: Dita designed her very own stockings for the lingerie label Secrets in Lace. You will find her full collection here, and in this as well as this blog post I already showed you two different pairs of her hosiery.
---
"Mane Attraction"
The third part of the book is my favourite part! As you maybe already know from this blog post, I love playing with makeup but am not very talented when it comes to hairstyles. So Dita's tips are something I really need.
The base for a beautiful hairstyle is a well-groomed hair. So she tells us, which products are perfect for which hairtype and shows us her favourite brushes.
Did you know that Dita von Teese always colours her hair by herself? Therefore it's no wonder that she can give us some helpful advice when it comes to hair colours and techniques. But before we get to know how she styles her hair, there is a guide containing the most important styling products.
Dita without curls? Something we couldn't even imagine. Either does she, by the way. In this part, there is a step by step introduction with a lot of tips on how to get those amazing hollywood waves. Those are also the base for most of the hairstyles she shows us in "Your Beauty Mark". With a bit of practice, all the looks are feasible, but of course every style needs its time. It should be obvious that you can't do such elaborate coiffures in two minutes.
---
"Stages of Beauty"
In the fourth and at the same time last part of her book, Dita talks about plastic surgery. She tells us, if she had cosmetic operations and what she thinks about this topic in general. Of course this part also contains lots of expert opinions, background knowledge, and even a short insight into the history of plastic surgery.
Finally the Queen of Burlesque explains us, how to create the perfect stage makeup and gives us a glimpse into her rituals before and after a show.
---
"Your Beauty Mark" by Dita von Teese – my Résumé
All in all, "Your Beauty Mark" really surprised me in a positive way! It's not about general ideals of beauty. Instead, Dita asks for an expert opinion if necessary and points out how important it is to love ones body as it is. Of course there are detailed hair and makeup instructions as well. Beside present photos, there are also photos from Dita's childhood shown. A lot of funny quotes and background knowlegde make it a must-have – not only for vintage lovers.
You can shop "Your Beauty Mark: The Ultimate Guide to Eccentric Glamour" here
for example.
*Please note: In the pictures you see the German version of "Your Beauty Mark". As I own the English version as well, I know that the content is exactly the same. 
Merken