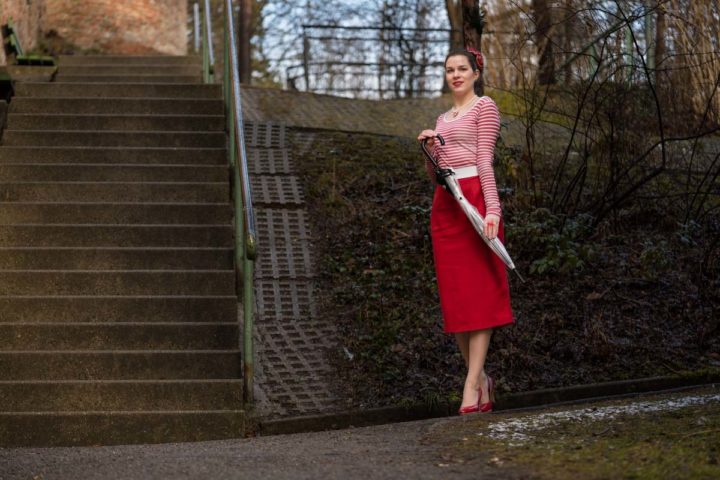 Sun and rain are changing quite often, recently. Therefore it's pretty hard to find a proper outfit for a day out – it's either too cold or too warm. An umbrella and a red skirt are a perfect choice, though. Why? Find the answer in this blog post.
A red Skirt and Kitty Umbrella for rainy Days
Bright colours are great to cheer up rainy and gloomy days. This is why I chose a red pencil skirt by Vivien of Holloway which I already wore in Bolzano, as well as a red and white striped top. Stripes are a wonderful way to ease severe outfits, by the way. Of course my favourite stockings, the "Dita Glamour French Heel", are a must to keep my legs warm while the cute necklace by Glitter Paradise is literally heart-warming.
Patent leather pumps are perfect for this weather, as they are super easy to clean and quite insensitive. Needless to say that an umbrella shouldn't be missing. You maybe already know mine from previous blog posts (I talked a bit more about it here), but I still love it and it's a faithful companion. 😉
A cozy jacket finishes the retro look for rainy days.
A walk in the Rain
A walk in the rain always helps me to clear my mind and recharge my batteries. You normally don't meet a lot of people and everything looks so peaceful. Afterwards, I like to warm up by a delicious cup of tea and a good book. Find more on how to stay happy on rainy days in this blog post.
---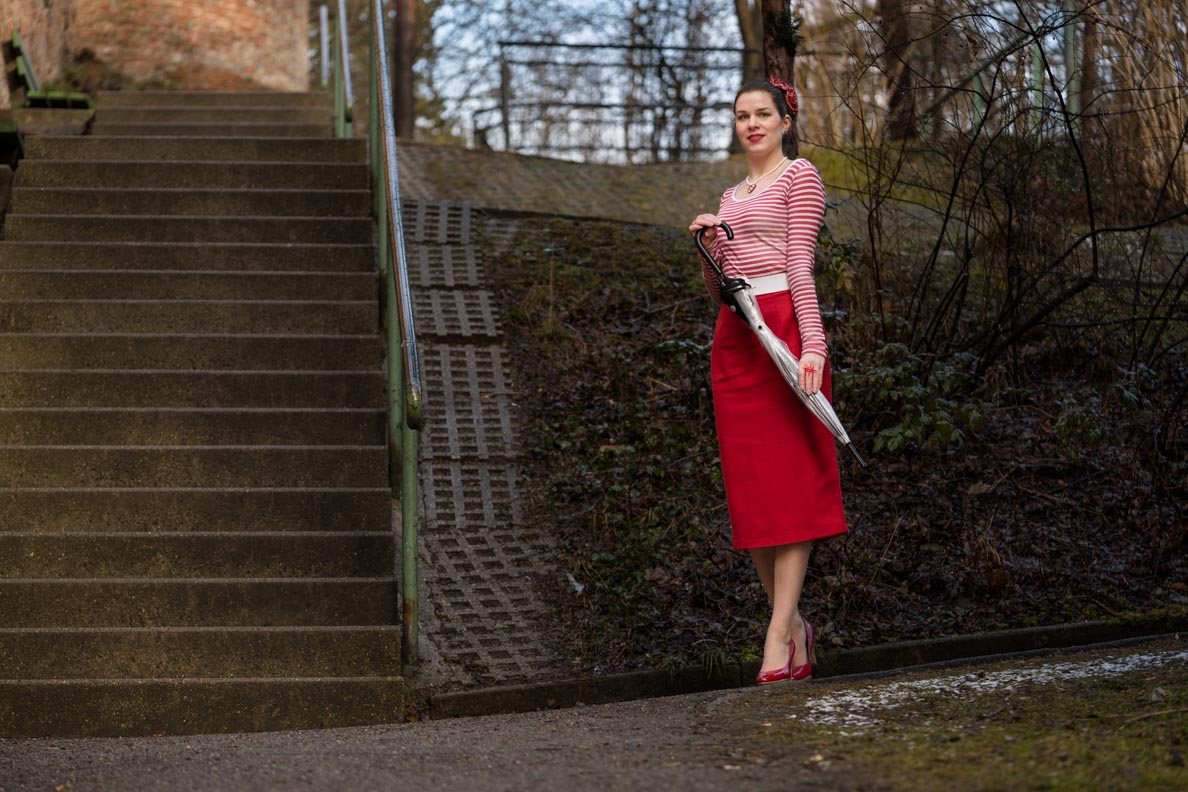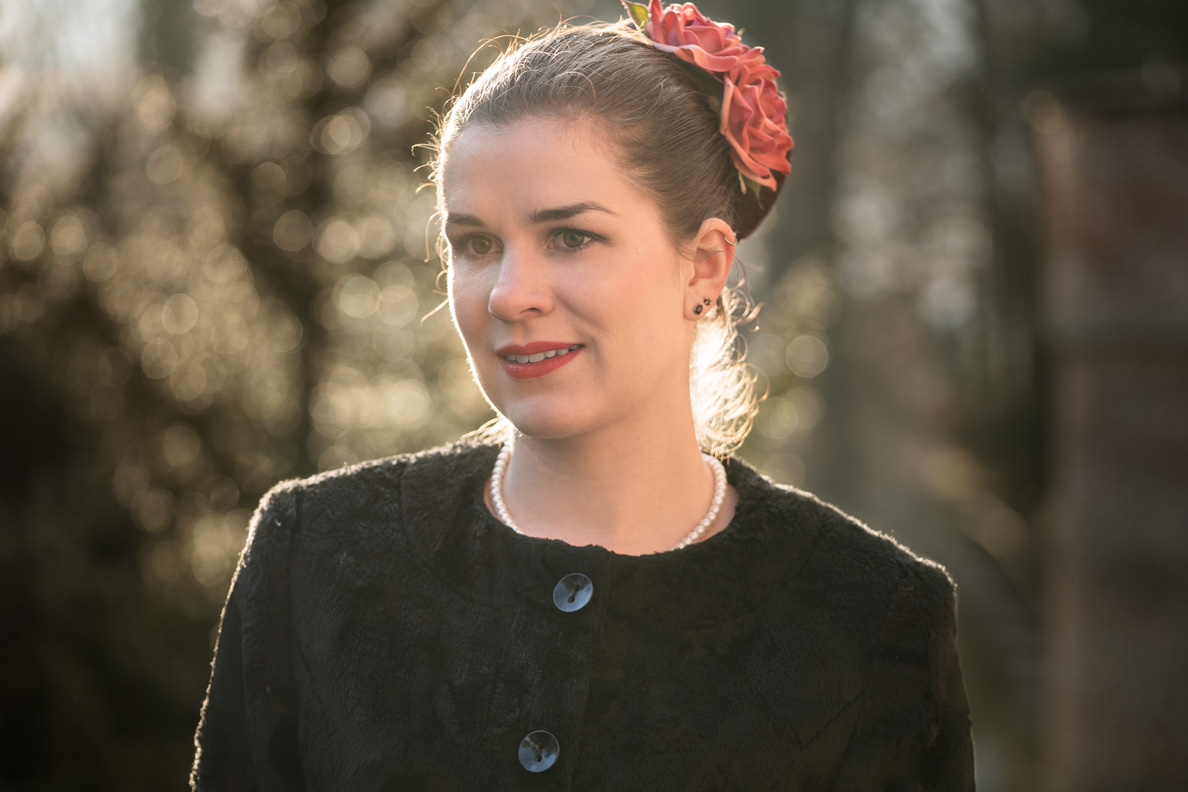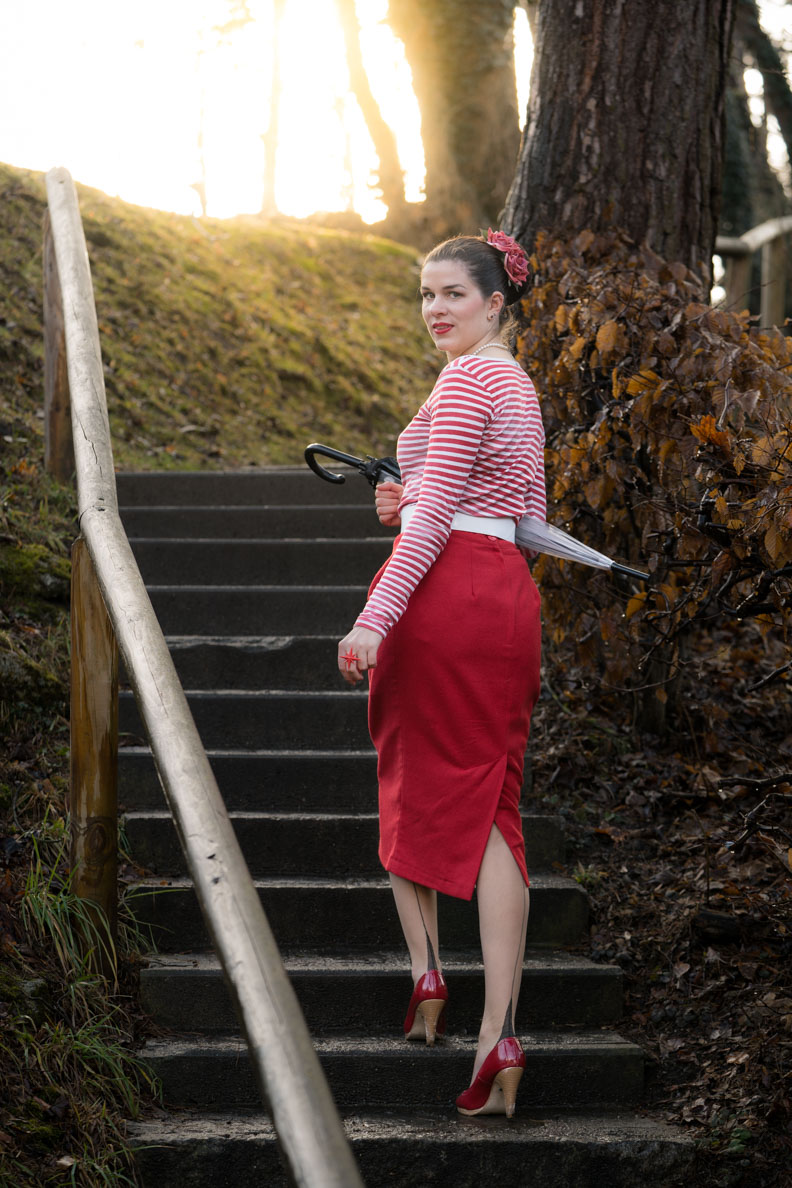 ---
A retro inspired Outfit for rainy Days – the Details:
Red skirt: c/o Vivien of Holloway
Striped top: old, but similar here
Belt: Vintage, similar here
Umbrella: via TopVintage
Stockings: c/o Secrets in Lace Europe
Pumps: Buffalo, very similar here
Necklace: Glitter Paradise
Ring: Glitter Paradise
Hairflower: Sophisticated Flowers