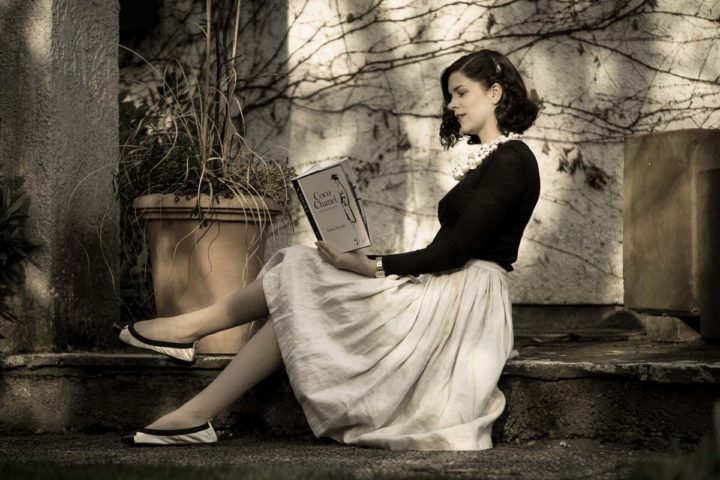 "Go and fetch my pearls. I will not go up to the ateliers until I have them around my neck." – Coco Chanel
Coco Chanel has always been inspiring and fascinating for me. I love the timelessly simple elegance and uniquness of her look. Nevertheless her outfits were always glamorous, not least due to the many pearls she wore. Mademoiselle Chanel also used lots of gold for her jewellery collections. She found her inspiration in Venice, inter alia, where she felt in love with the glamorous Palazzi and Byzantine mosaics just like I did!
"Why does all I do become Byzantine?" – Coco Chanel
Pearls and Black/White: An Outfit inspired by Coco Chanel
As you can maybe already imagine, I got inspired by Coco Chanel for this outfit. A simple black sweater is the base of my look. Since it's a little bit sheer, I wore the Satin Intrigue Shelf Bra by Secrets in Lace in "champagne" underneath. This one has a slight push-up effect and keeps smooth lines, even under very thin tops or dresses.
A huge pearl necklace with golden elements adds some glamour to the look. I bought it a few years ago, but linked a very similar one in the outfit details below. To match my outfit, I wear stylish but comfy ballet flats in black and white.
The only thing that isn't "Chanel" at all is my light beige flared skirt, which I wear with a petticoat. I liked the idea of teaming an outfit inspired by Coco Chanel with just a hint of Christan Dior's New Look. I guess Mademoiselle Chanel would turn in her grave if she saw this, but we won't tell her, okay?
As you can see, it's super easy to create an outfit á la Chanel without even wearing Chanel. (Of course I would have loved to team a Chanel 2.55 with this outfit, but I have to save a lot of money until I can afford one. ;-)) Well, if I think about it, Iacutally wear something from the luxury label: My favourite scent Coco Mademoiselle.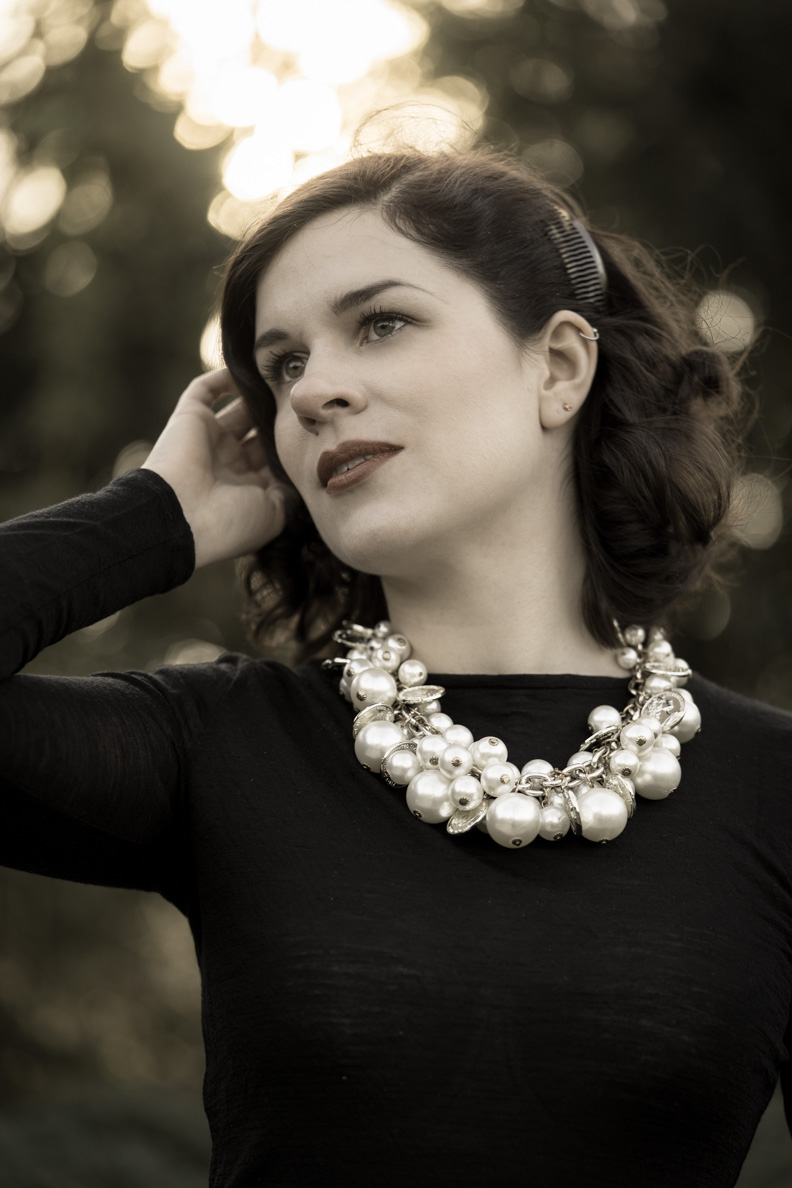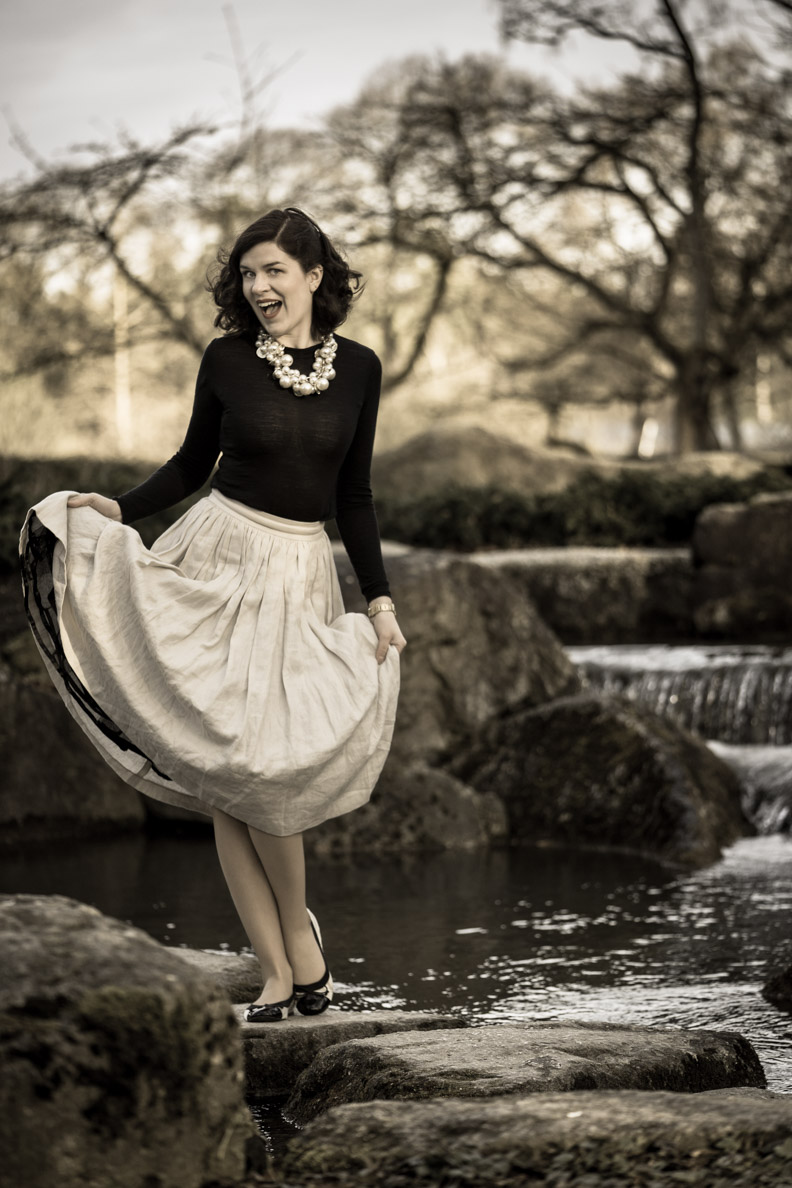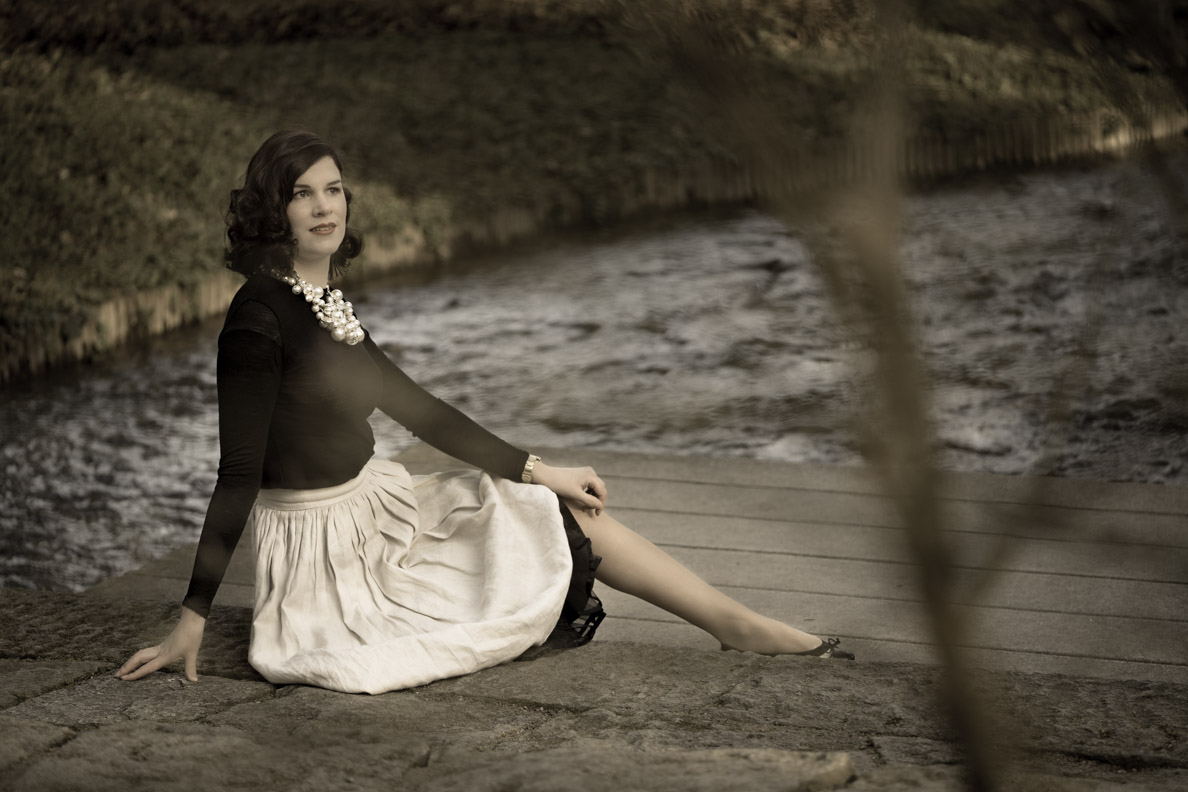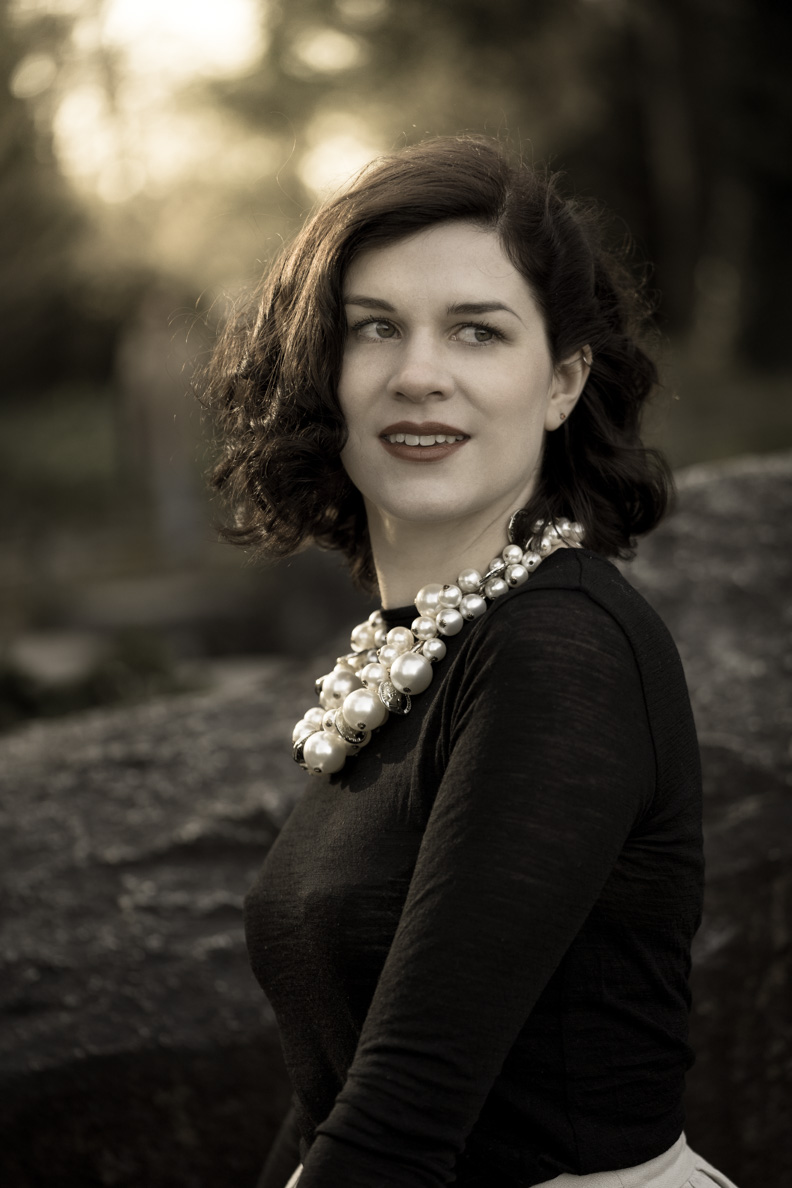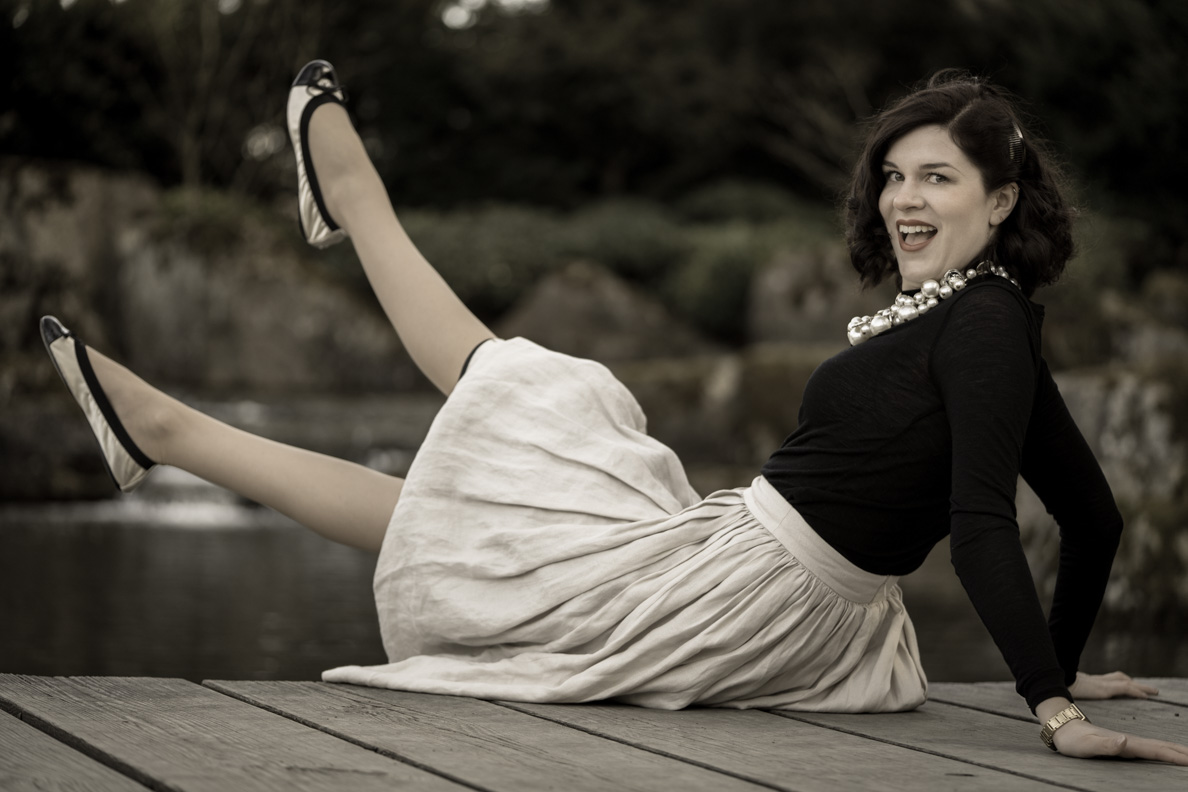 ---
Coco Chanel – Booktips
I read a lot of books about Coco Chanel and the label Chanel itself. Here is a list with my favourites:
If you know more good books about Chanel, please tell me! 😉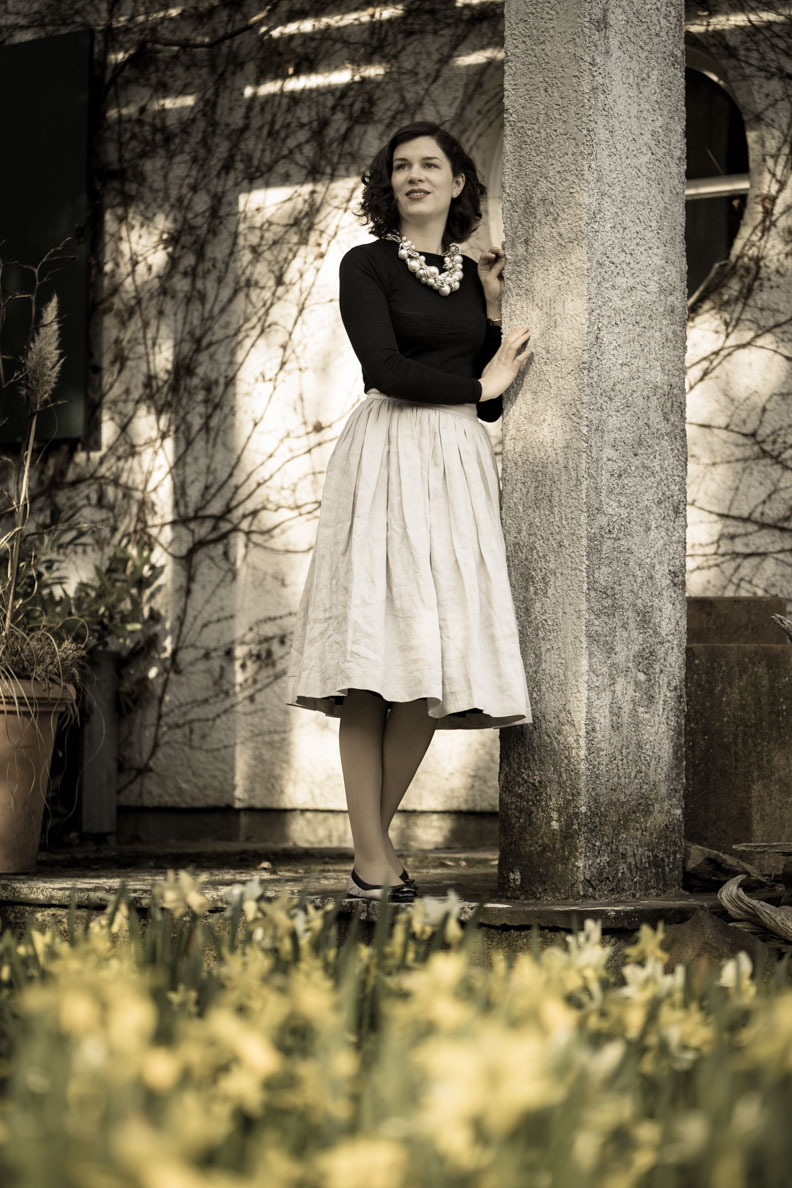 ---
Shop the Outfit (EU):
Sweater: & other stories, very similar hier
Bra: Secrets in Lace
Skirt: Von 50′
Petticoat: Vintage, similar here
Pearl necklace: similar here
Ballet flats: Buffalo, similar here

---
Shop the Outfit (US):

---