This blogpost contains affiliate links (marked with *). If you shop products via those links, I may get a small provision which helps me to maintain my blog. Of course the price doesn't change for you.
How to look stylish in 5 minutes
When I was pregnant, I naively thought that my style wouldn't really change as a mother. Well, six months later I'm wiser. Of course I'm still really into the retro look, I love beautifully cut dresses, stockings, high heels, hats and great coats. Since I no longer spend most of my days in the office, café or the city, though, but rather playing on the playmat (PS: the one from Little Dutch via Amazon* looks really great and is a huge hit with my kid ;-)), tight pencil dresses quickly became uncomfortable. In addition, the outfits of course have to withstand numerous washing cycles in the machine. Sweat pants and old sweaters would be ideal. But to be honest, I don't feel good in them. A stylish but comfortable alternative was needed. That's why in this blog post I'll show you my current favorite outfit for everyday life. On special occasions or when we have plans, I still wear my beloved retro dresses, of course. 😉
Outfit Details:
Cape: Ginger Jackie, similar e.g. via TopVintage*
Leggings: Calzedonia, e.g. via About You*
Sweater: similar e.g. via TopVintage*
Shoes: Tamaris, e.g. via Amazon*
Hairpiece: via Amazon*
*Affiliate links

---
How to look stylish in 5 Minutes: My comfy Outfit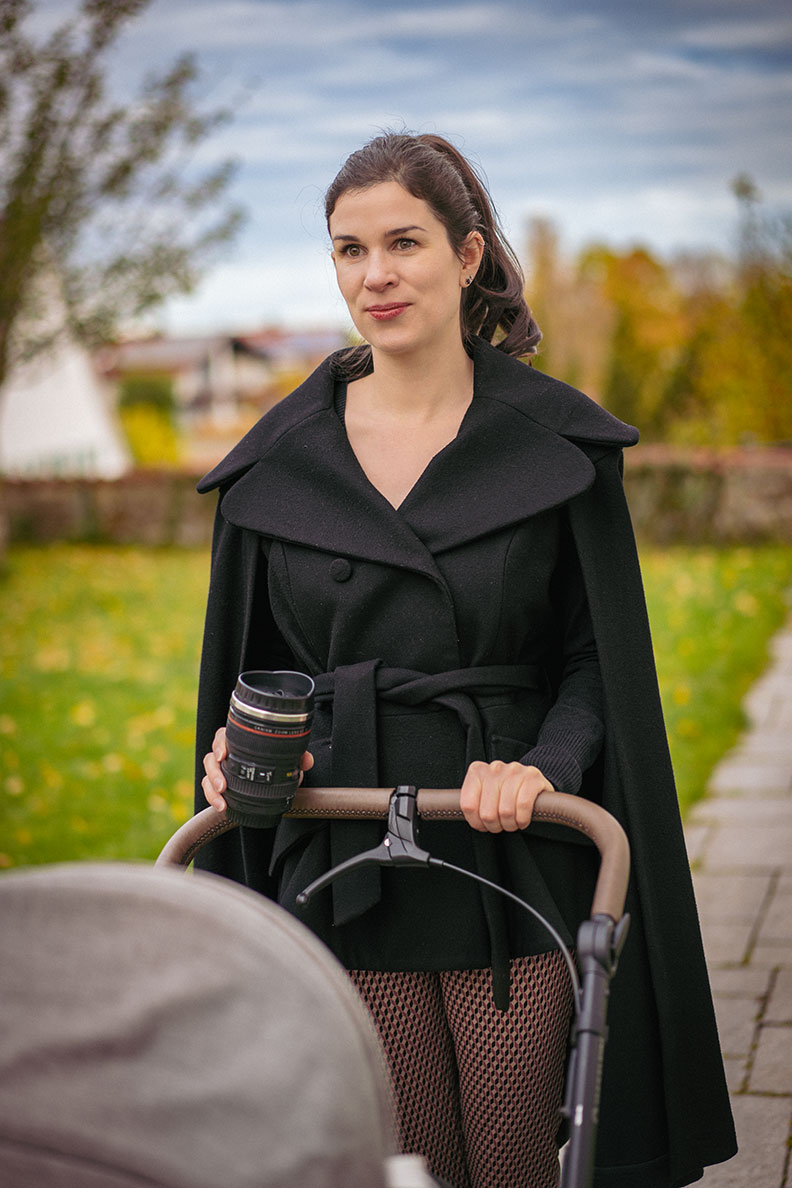 As mentioned at the beginning, sweat pants would of course be a comfortable choice for a day at home. But I also want to be able to easily open the front door and go for a spontaneous walk without having to change my clothes first. That's why I really like wearing leggings at the moment – stylish ones with a pattern or cool button details. They are super comfortable, you can bend over in them, play around on the floor with your baby and you can easily wash them in the washing machine. Nevertheless, they look like "real pants" and are therefore a much more stylish choice than simple sweat pants. Add a nice matching sweater and you're perfectly dressed.
*Affiliate links
---
When I go outside, I just wear a cool jacket over it. Currently especially my cape from Ginger Jackie (similar e.g. via TopVintage*), as it looks super stylish. As soon as it gets colder, I replace the cape with a coat, e.g. the Pearl Coat from Collectif Clothing (similar e.g. via TopVintage*).
*Affiliate links

---
Don't forget a cool coffee-to-go cup (e.g. in the form of a camera lens via Amazon*) and you can start a relaxed walk through the rustling autumn leaves. By the way, we have now exchanged my cool retro stroller for a sports version, because the baby is not that small anymore and now wants to see something when going for a walk. 😉
*Affiliate links

---
My 3 Minutes Makeup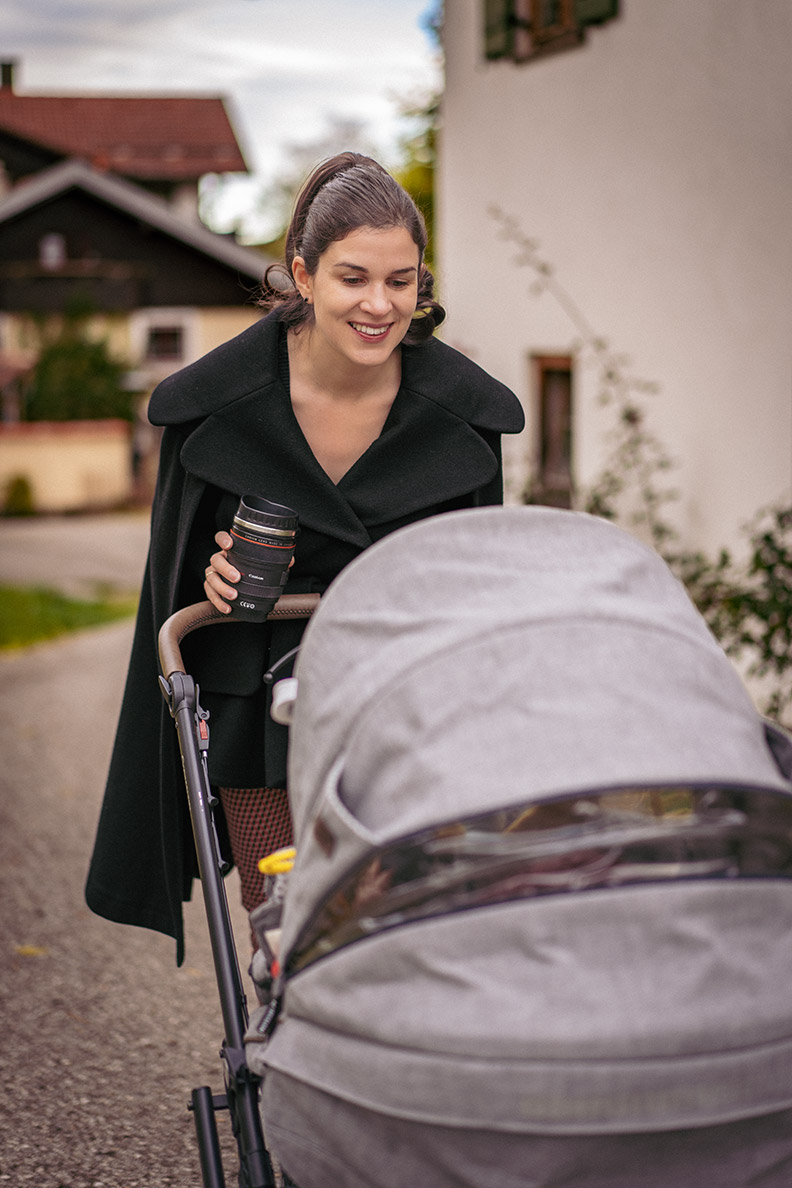 With a six-month-old baby, there is rarely more than five minutes left for styling. It takes two minutes to pick out an outfit and get dressed, leaving another three minutes for make-up and hair styling. In everyday life you can sometimes go without it, but every now and then it's just good to cover up the dark circles under the eyes and feel a little like your former self again. 😉 I always start with a CC Cream from Chanel (e.g. via Flaconi*). It nourishes the skin, ensures an even complexion and also has integrated UV protection – perfect! Then some mascara, brow powder and lipstick – that's it! Your cheeks will naturally turn rosy during an autumn walk, so you can definitely skip the blush. 🙂 With a little practice and products at hand, you can easily create this make-up in two minutes.
*Affiliate links
---
The stylish Hairstyle for everyone who doesn't have Time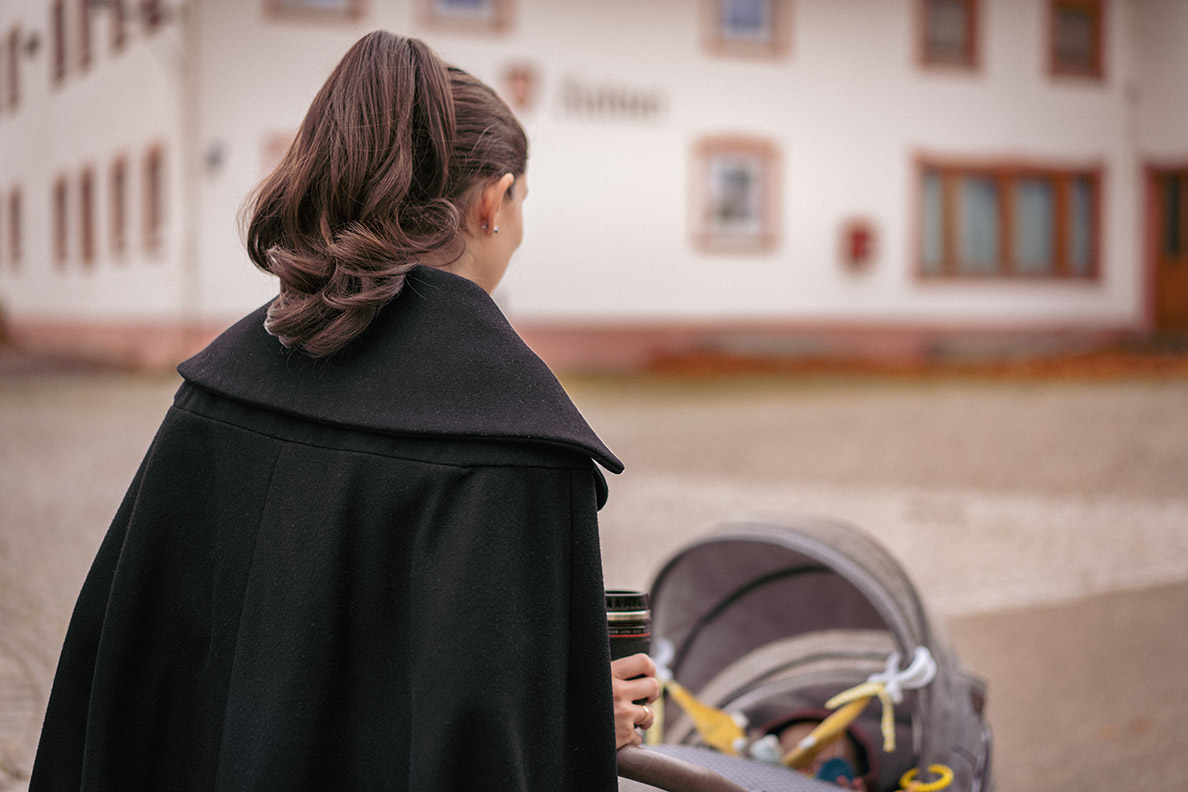 In the remaining minute I'll create a stylish hairstyle. All I need is a hair tie and my fake ponytail (via Amazon*). Simply tie your hair together, clip the fake ponytail onto it and the hairstyle is ready. By the way, this is also a perfect look to hide a bad hair day.
*Affiliate links

---
Styled like this, I'm ready for the day. 🙂
---
---