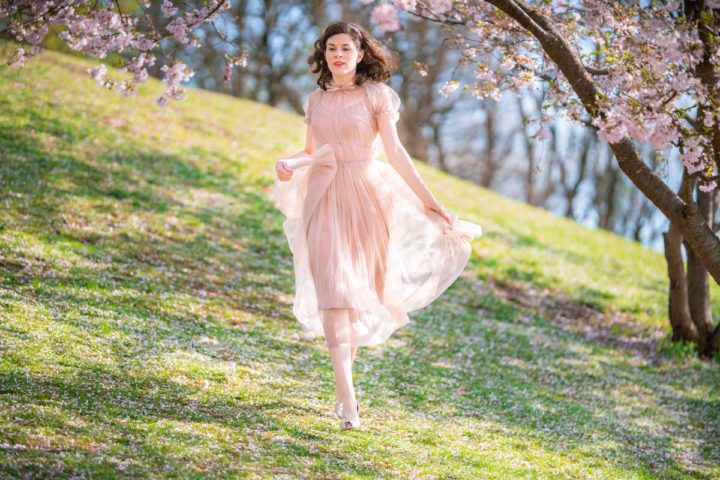 Tulle Dress: Styling tips & the story of tulle
This blogpost contains affiliate links
Innocent or voluptuous, cheerfully girly or seductively elegant: Tulle has many facets and is actually a pretty good companion for different occasion. In this blogpost, I'm going to tell you more about the story of tulle and show you how to wear and style tulle dresses for various events.
What is Tulle?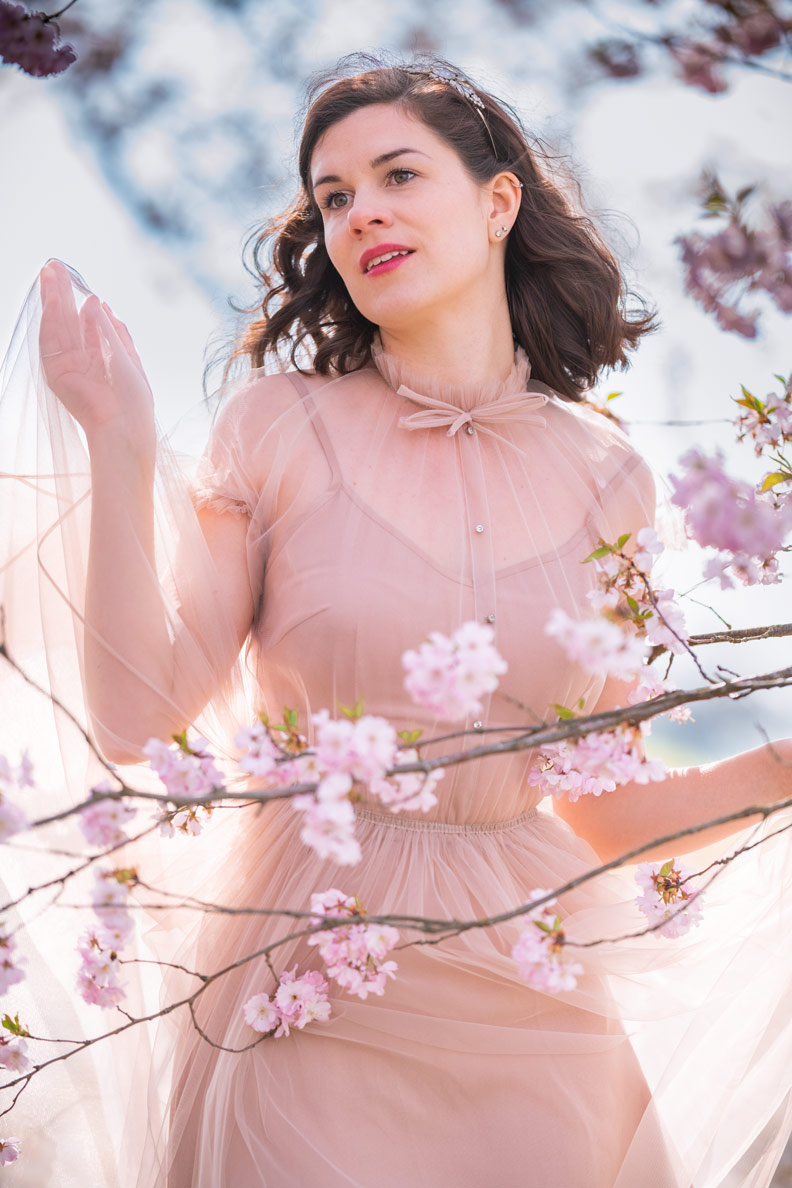 Tulle is a very fine, lightweight, and stiff netting. The name most likely refers to the French city Tulle, which was popular for lace and tulle products in the 18th century. Nowadays, tulle is made on the bobbinet machine. Tulle made on this machine is also called bobbinet tulle.
Tulle can be made of natural or synthetic fibres, inclucing silk, nylon, polyester and rayon; the most commonly used fibre for tulle is polyester.
For what can Tulle be used?
Tulle mainly has decorative purposes. It is used for fashion, especially bridalwear, dancewear, haute couture fashion, and lingerie, but also for exclusive curtains. One of the few practical uses for tulle is a mosquito net.
---
The Story of Tulle (Fabric)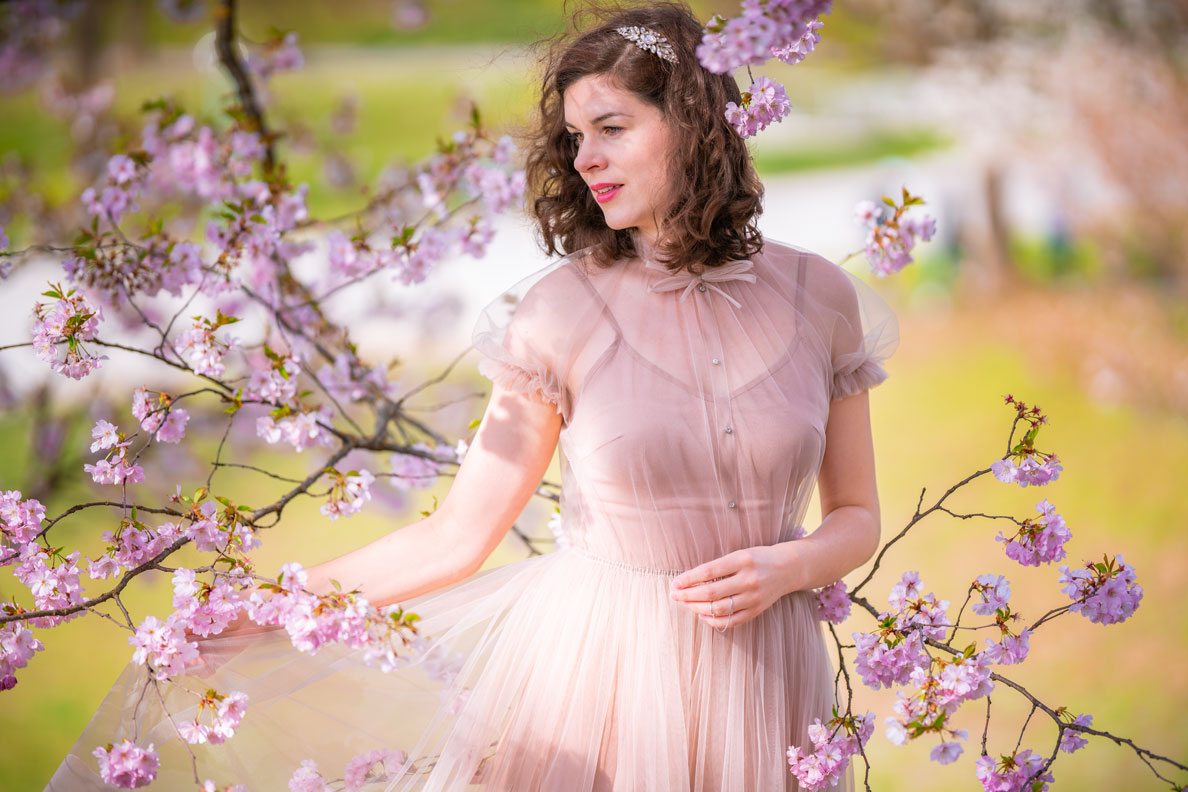 Tulle has its roots in bobbin lace, a textile made by braiding and twisting lengths of thread, which are wound on bobbins to manage them. The base of much bobbin lace was a net ground. Producing the net ground and lace back then was very tedious and therefore expensive, as everything had to be made by hand. By the end of the 18th century, industrialisation reached the textile industry and people tried to produce the net ground needed for bobbin lace mechanically. In 1765, the first steps towards a mechanic producation was made, however, it needed about 40 more years, until 1808, to be precise, until the first real tulle could be produced mechanically.
John Heathcoat was the one who invented the bobbinet machines in 1808. Of course some improvements were made, but basically, this is still the same kind of machine that is used today for bobbinet tulle production. The mechanic production made tulle and lace much more affordable and therefore available for a wider audience.
---
Tulle in Fashion
Using tulle and lace as a fashion accessory was already popular in the 16th century. Back then, tulle and lace was worn by both, women and men. Before industrialisation reached the textile industry, lace and tulle were very expensive, and therefore often only used for details like a collar or veil at a hat, for example.
With the invention of the bobbinet machine, though, the use of tulle and lace changed. As lace and tulle got more affordable, they were also used more often and on larger parts. Beside the ballet dancers, also the elegant women in Paris during the time of Napoleon III (1852-1870) wore entire dresses made of tulle. Unforgettable also empress Elisabeth, better known as Sisi, in an amazing tulle ball gown by Charles Worth. In the 20th century, tulle remained popular. In the 1920s, for example, tulle often got decorated with sparkly embroideries and was used for pretty boleros or elegant flapper evening dresses.
During World War II, more practical and subtle fabrics gained the upper hand. In the 1950s, though, tulle made a huge comeback! Christian Dior, for example, used more than 70 metres of tulle for one of his evening gowns! Tulle was also used for underwear and petticoats, and tulle details at necklines or sleeves, for example, were not only fashionable in the 1980s, but remained popular until today. Of course, tulle also plays a significant role in bridalwear, but what really makes me happy is the fact that lovely tulle dresses can be seen in the current collections of the big fashion houses like Dior, Fendi, Rodarte, and Carolina Herrera.
In the following, I'm going to tell you how to team tulle dresses for different occasions.
---
How to team Tulle Dresses for Evening Occasions
Tulle dresses are simply perfect for evening looks. Depending on the occasion, you can even choose a huge tulle robe. If you prefer a more subtle looks, I recommend dresses in black, beige, or light pink colour without any sparkly details.
---
Amazing Tulle Dresses for the Evening:

---
Here are some Outfit Ideas for Evening Occasions:
What about an ultra-glamorous look? Team a dark tulle gown with lots of (sparkly) details with gorgeous jewellery and high heels
For a very dramatic look, wear your tulle dress with fancy accessories with feather details, hats/fascinators, and eye-catching shoes.
If you prefer a more subtle but still very elegant look, choose a tulle dress without any embroidery or sparkly details. Add a little bit of "wow" by wearing a sparkly hairband and great shoes, but not more.
Team your Tulle Dress in the Evening with:

---
How to team Tulle Dresses for Daytime Occasion
Even though tulle is often associated with evening styles, this material looks great for daytime occasions as well. To be honest: Tulle is not the best companion for the office, but for a date with friends, a garden party, or a birthday party, tulle is a great choice, as it looks light, but also dressed and elegant.
To avoid looking overdressed, I recommend lighter colours and a smooth style. Black can work for daytime occasions as well, but here you have to be very careful with accessories so that your outfit doesn't look like you are attending an evening occasion.
Tip: If you choose a subtle tulle dress, you can either dress it down for daytime or dress it up with sparkly accessories for evening occasions.
---
Pretty Tulle Dresses for Day (& Night):

---
Some outfit ideas for daytime events:
To make a tulle dress appropriate for daytime events, it is best to choose light and summery accessories. Hairflowers, a straw hat, as well as a basket bag add a relaxed hippie touch to the look and are therefore perfect to dress a tulle gown down.
If your dress is beige or light pink, you can even wear some subtle, sparkly accessories like a hairband. This looks a bit fairylike and therefore goes very well in spring. Nevertheless, in this case, less is more. For this kind of look, I also recommend to go for pretty sandals instead of dark pumps.
A tulle dress or skirt can also look very stylish and great in combination with a leather jacket and boots – these pieces are an amazing breach of style and make the look more fashionable.
Team your Tulle Dress with:

---
What to keep in Mind when buying Tulle Dresses or Skirts:
Invest in high-quality tulle, as it feels so much better on the skin than scratchy cheap products.
A very delicate tulle often looks more expenisve and lighter/more filigree than coarse tulle.
Tulle made of synthetic fibres is often easier to care than tulle made of silk or cotton. Silk tulle, though, may feels better on the skin.
Rose-coloured Tulle Dress, sparkly Accessories & a spinglike Makeup: My Look
For my look, I went for a very beautiful and delicate tulle dress by Ginger Jackie, which I already introduced in this blogpost. I wear it in combination with a sparkly hairband, and golden shoes by Frollein von Sofa. Very subtle jewellery finishes my spring outfit.
For makeup, I went for subtle colours as well. I only wear a little bit of light pink eyeshadow, mascara, eyebrow powder, a hint of rouge and highlighter as well as the Dior Addict Gradien Lipstick in pink.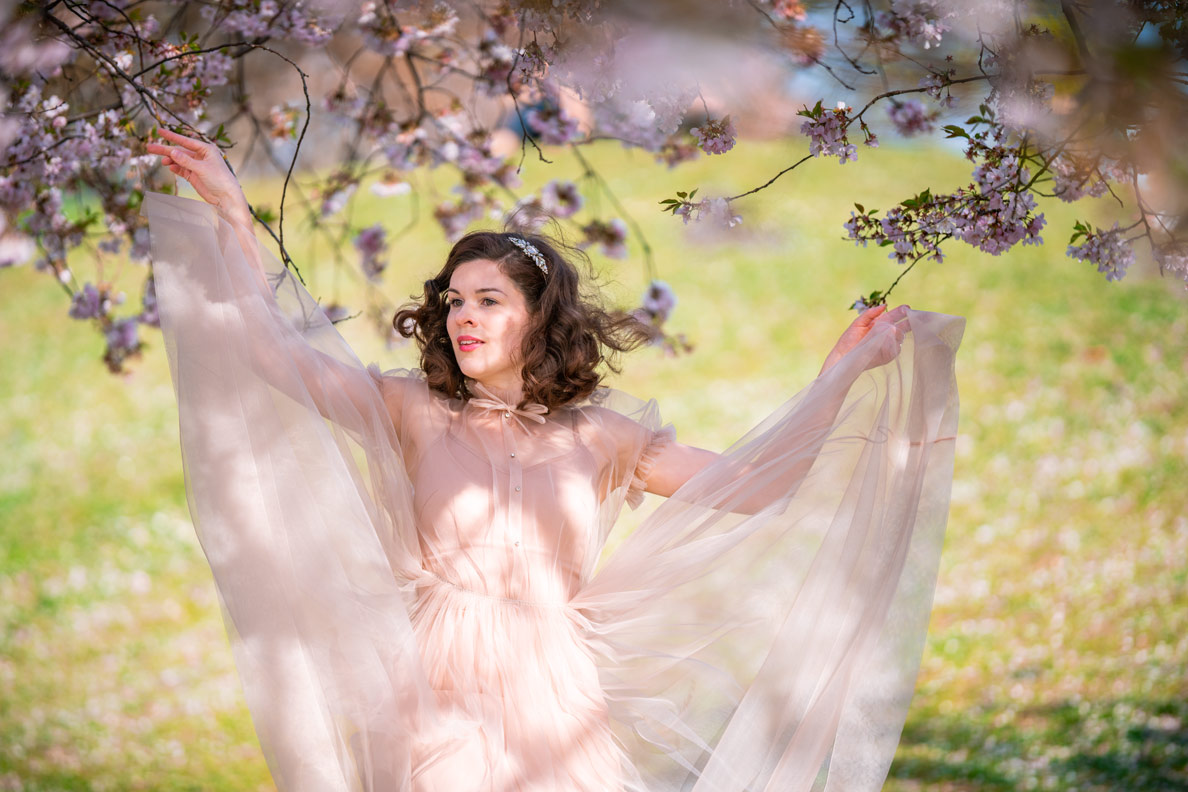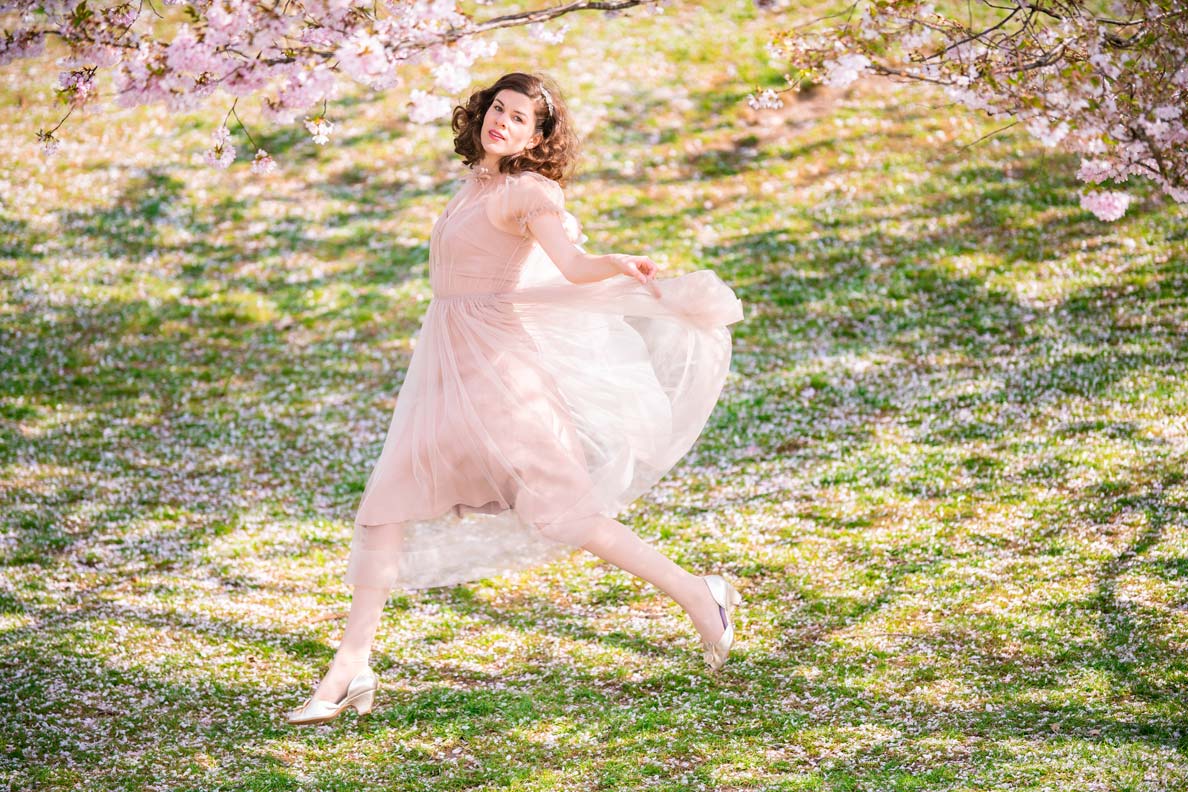 ---
Outfit Details:
Tulle dress "Bella": Ginger Jackie
Shoes: Frollein von Sofa, similar here
Hairband: Vintage, via Tricia Leonard
Tights: Wolford
---
If you want to learn more about fashion and the story of fashion classics, make sure to check out my page Fashion Know-how (click)!