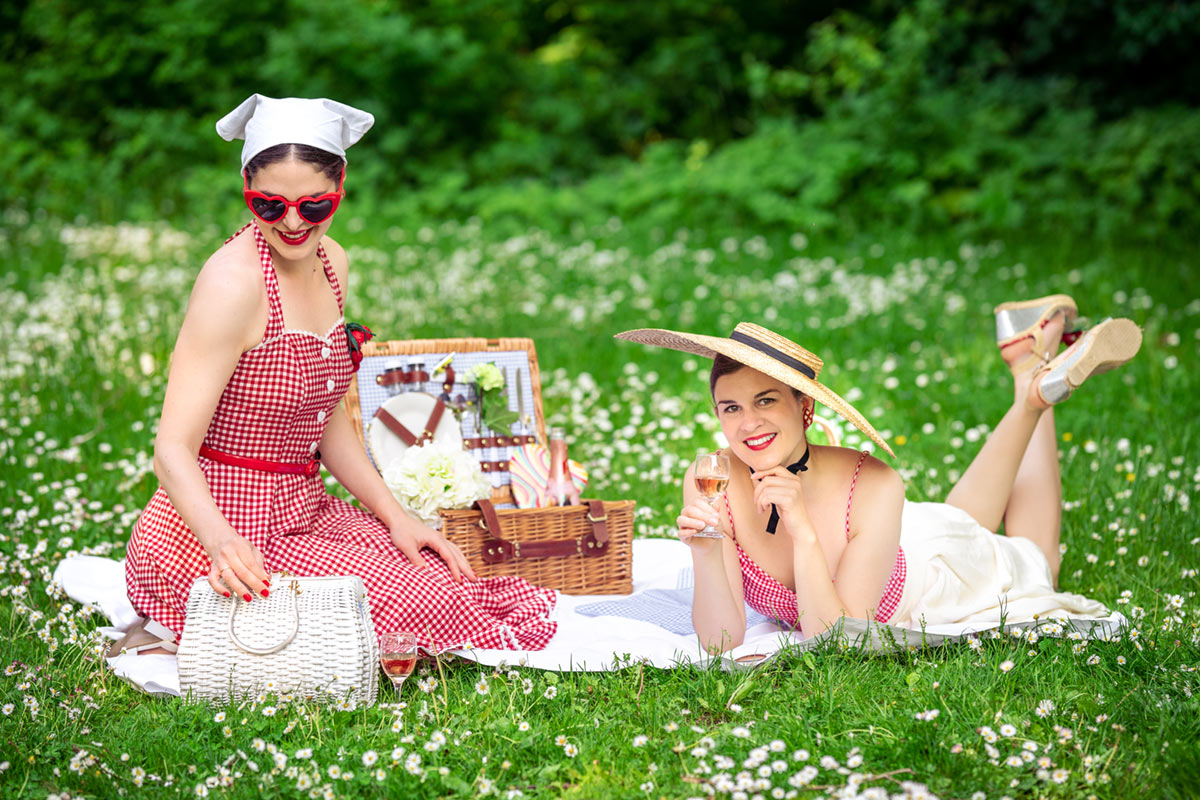 This blogpost contains affiliate links (marked with *). If you shop products via those links, I may get a small provision which helps me to maintain my blog. Of course the price doesn't change for you.
A picnic in nature
Is there something more beautiful than having a picnic with a dear friend in nature? I don't think so. After so many months in lockdown, I appreciate those lovely afternoons with friends even more. So in the following, I am going to share my best tips for a gorgeous picnic with you.
Inspiration:
*Affiliate links
---
A Picnic in Nature: What you need
You actually don't need much for a perfect picnic. Most importantly: Take a good friend with you, everything else is of secondary importance. But for a special picnic, I recommend the following: Something delicious to drink, a few snacks, a basket, a blanket and a cool outfit – now you only need a shady place to enjoy your time. 🙂
The perfect Picnic Basket
Picnic baskets not only look amazing, they are also super pratical, as they fit everything you will need for this litte break in nature: Dishes, drinks, snacks and even blankets. My super cool picnic basket is available on Amazon*, for example. PS: Usually, the picnic basket comes with a blue and white blanket. I went for a white one, though, as this fits our outfits better – you now, I am a perfectionist when it comes to such things. 😉
*Affiliate links

---
Drinks and Snacks
A picnic should be fun! And I don't have fun when I have to prepare things over many hours. So I personally prefer to take only a few snacks with me. A baguette and some sweets are great options, in my opinion. When it comes to drinks, I prefer soemthing sparkly, like a rosé champange, for example. This one not only tastes delicious, it also looks great, don't you think so?
---
The perfect Outfit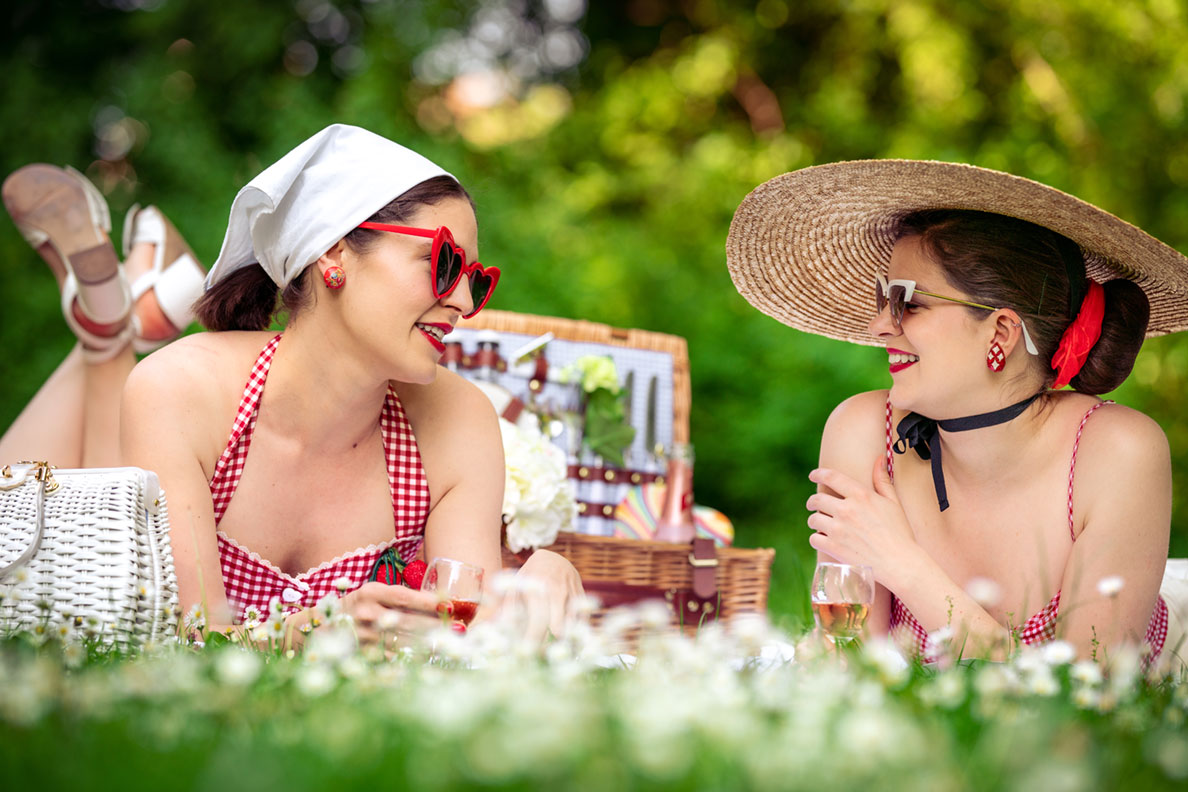 A perfect picnic outfit should be comfortable and one must be able to sit down on the ground in it. And my absolut favourite pattern for picnics is gingham, by the way. Knee-length skirts are definitely my first choice for a picnic, as you are able to sit down in them without showing your underwear. Now, you only need some stylish accessories like cool sunglasses and hats – that's it.
My dear friend Karoline (@karolinesk_studio on Instagram) and I went for a red and white gingham pattern, as you can see. While Karoline is wearing a dress, I went for a top in combination with a skirt.
---
RetroCat's Outfit Details:
Top: Collectif Clothing, similar here*
Skirt: Gracy Q, similar here*
Hat: Jacquemus, very similar here*
Sunglasses: no name, similar here*
Shoes: Miss L-Fire, similar here*
Basket bag: Vintage, similar here*
Earrings: Glitter Paradise*
*Affiliate links

---
Karoline's Outfit Details: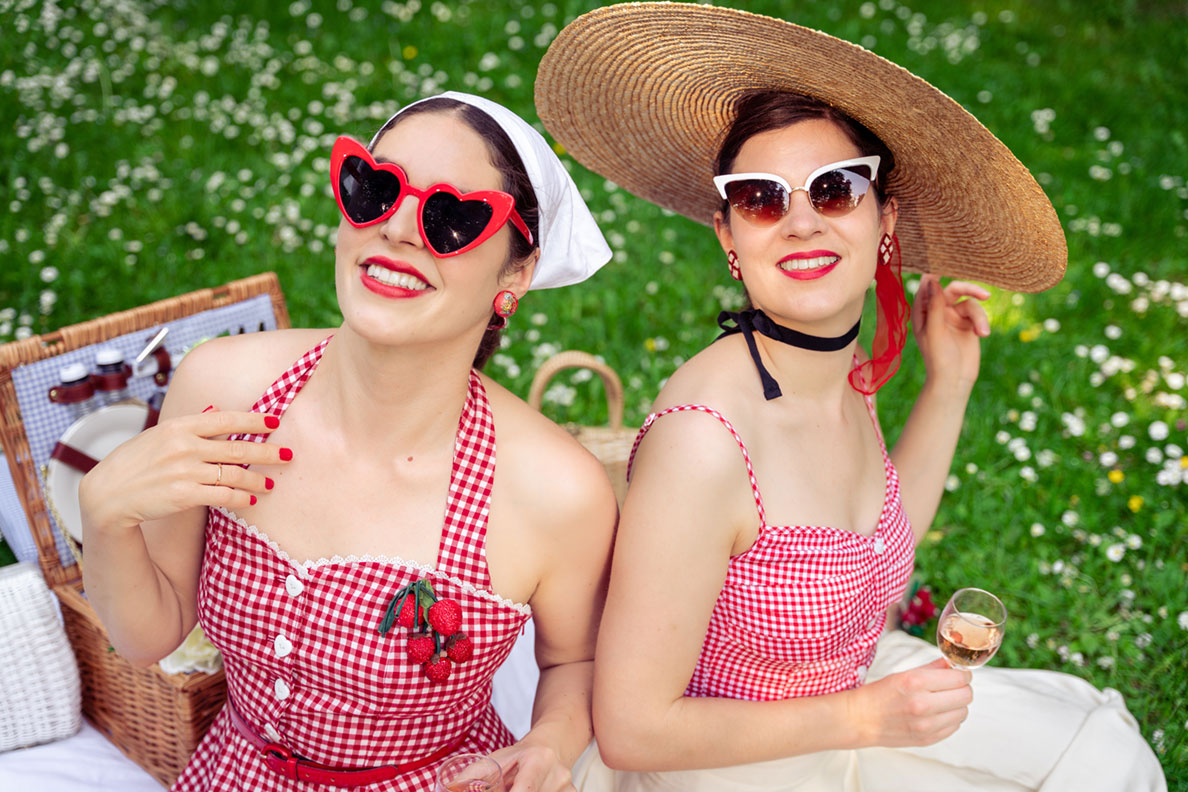 Dress: Collectif Clothing, similar here*
Sunglasses: very similar here*
Shoes: similar here*
Handbag: similar here*
*Affiliate links

---