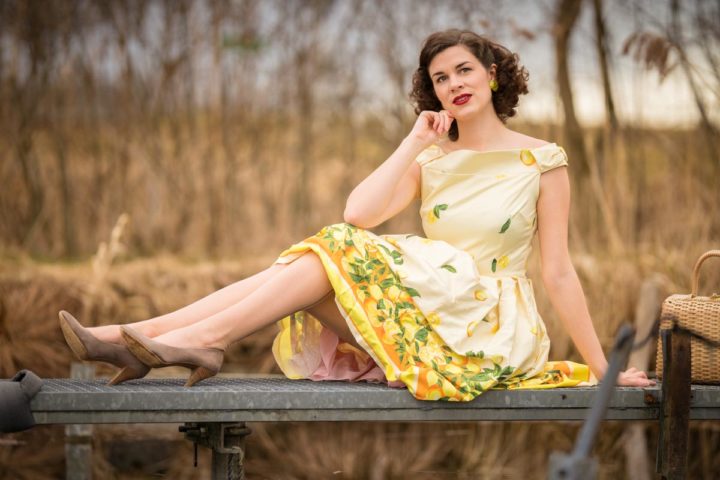 Shall I tell you something? I already dream of my summer vacation! Unfortunately, a lot of exams and a bachelor thesis separate me from my well-deserved holidays. Due to this, I also had to cancel my plans for our traditional Easter vacation. But as I'm a positive person, I decided to make the best out of it, true to the motto "when life gives you lemons, ask for salt and Tequila". So if I can't go on vacation, I bring the holiday feeling to me. The best way to do that is to go for a walk at the lake while wearing such a colourful and pretty retro dress like the Lemon Print Swing Dress "Christie" by Lindy Bop.
The Lemon Print Swing Dress "Christie" by Lindy Bop
The lemon print on the yellow swing dress immediately makes me think of warm summer days, cool drinks, and a balmy sea breeze. The skirt is knee-long and has pockets! For a bit more volume, I'm wearing a vintage petticoat underneath. The top looks very lovely as well! I really like the off-shoulder cut with some lovely details on the sleeves, which make "Christie" seductive and romantic at the same time.
Since it's still too cold for summer dresses, I decided to take my beloved white cardigan by Collectif Clothing (you maybe know this one from this or this blogpost) with me. Don't wonder: I pulled off the cardie for the photos. 😉 A vintage straw bag as well as yellow heart earrings by Glitter Paradise not only match my outfit perfectly, they are also wonderful accessories for a summery look. To protect my legs from the chilly spring air, I wear the Elegance French Heel Stockings by Secrets in Lace, which I already showed you in this outfitpost.
Shop the Accessories (Europe)

---
Shop the Accessoires (US)

---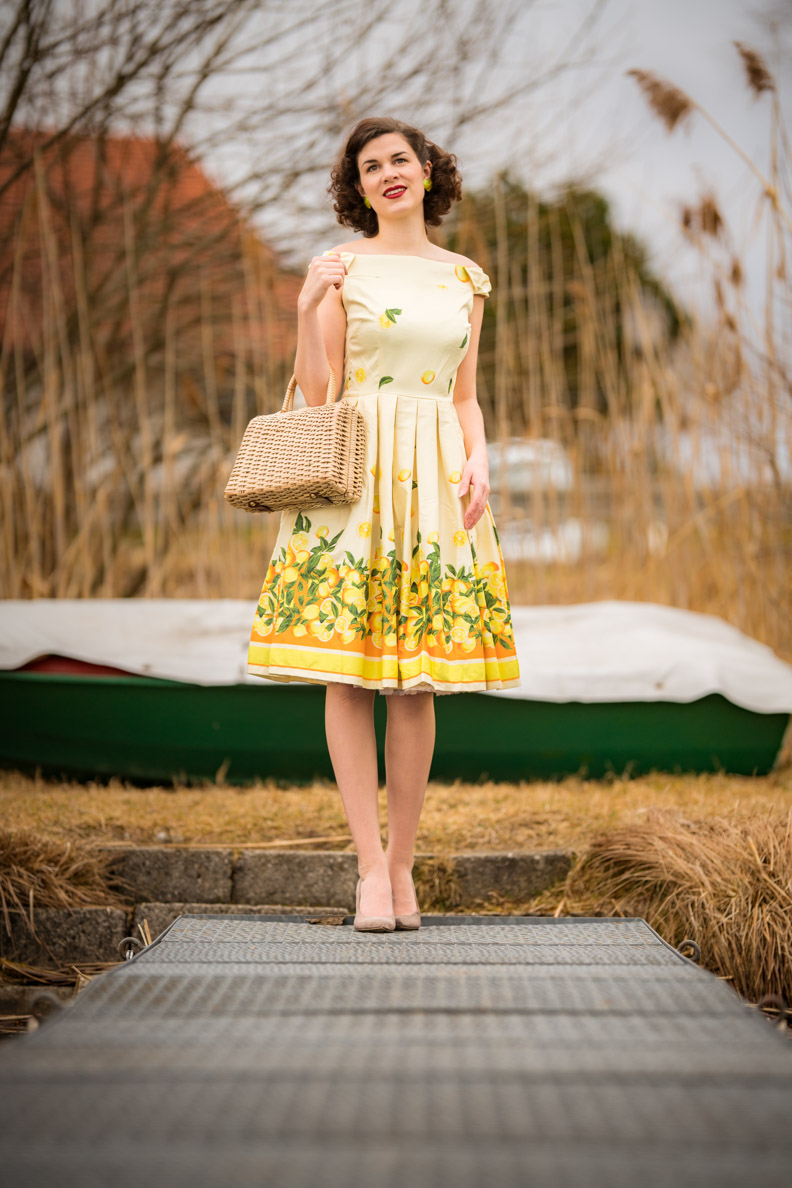 ---
Sublte and elegant: The Elegance French Heel Stockings in "Beige" by Secrets in Lace
The Elegance French Heel Stockings in "Beige" by Secrets in Lace go so well with light dresses or skirts. They have a black seam, but the heel, welt, and shadow welt are beige so they look very subtle and super elegant. Of course, they are made of 100 % nylon and the quality of the stockings is absolutely amazing. To keep everything in place, I wear the beautiful Speakeasy Garter Belt by Secrets in Lace, which I already introduced here.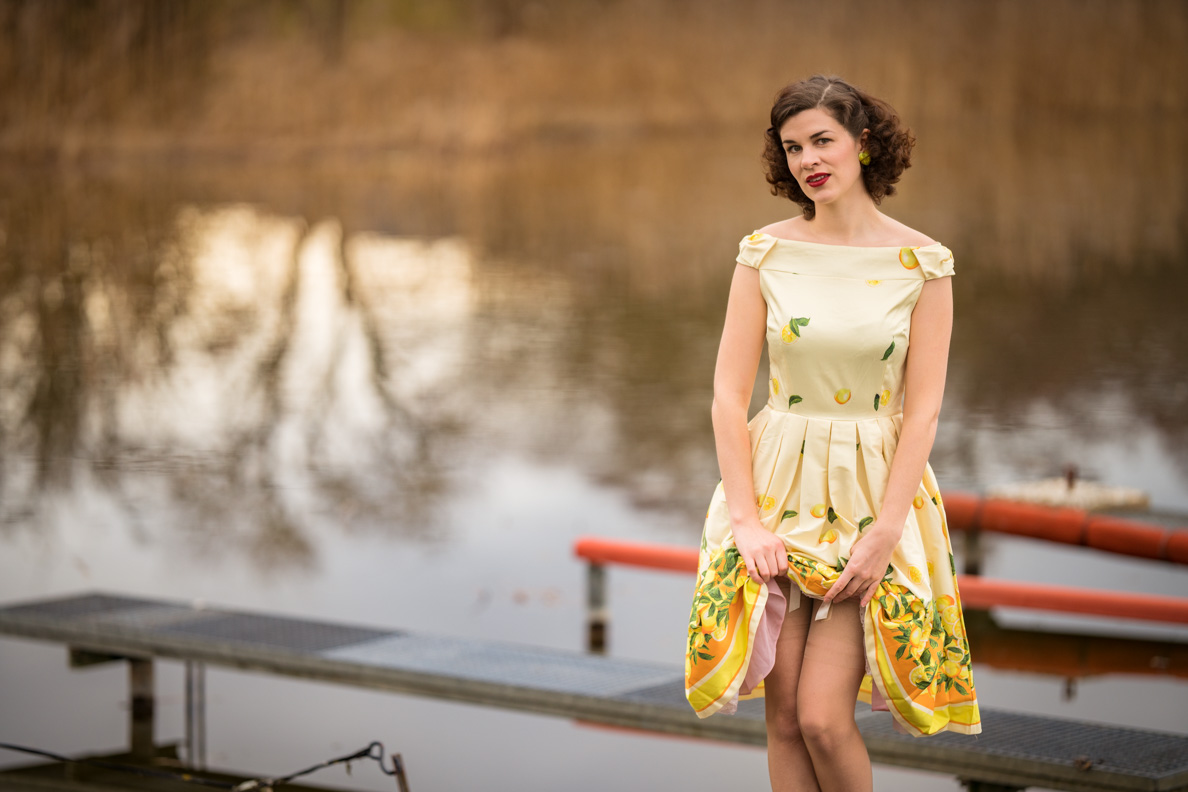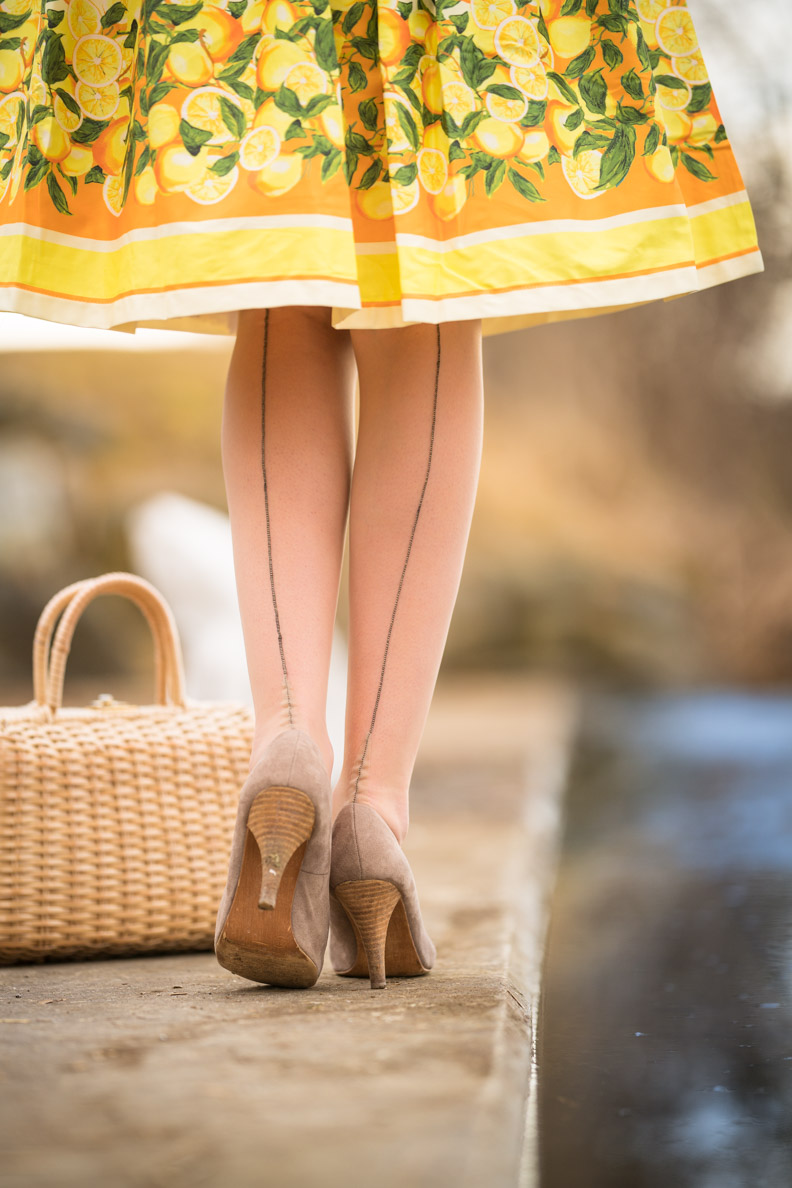 ---
A summery Makeup for pale Winter Skin
I'm very pale at the moment. But as such summery dresses look best with a sun kissed complexion, I went for brown eyeshadow and some bronzer which I apply on my cheecks, forehead, nose, and chin. A little bit of highlighter helpes to achieve a wonderful glow, while red lipstick finishes the makeup.
To get such small curls, I use tiny seelp-in rollers and brush my hair very carefully in the morning.
Shop my Makeup Look (Europe)

---
Shop my Makeup Look (US)

---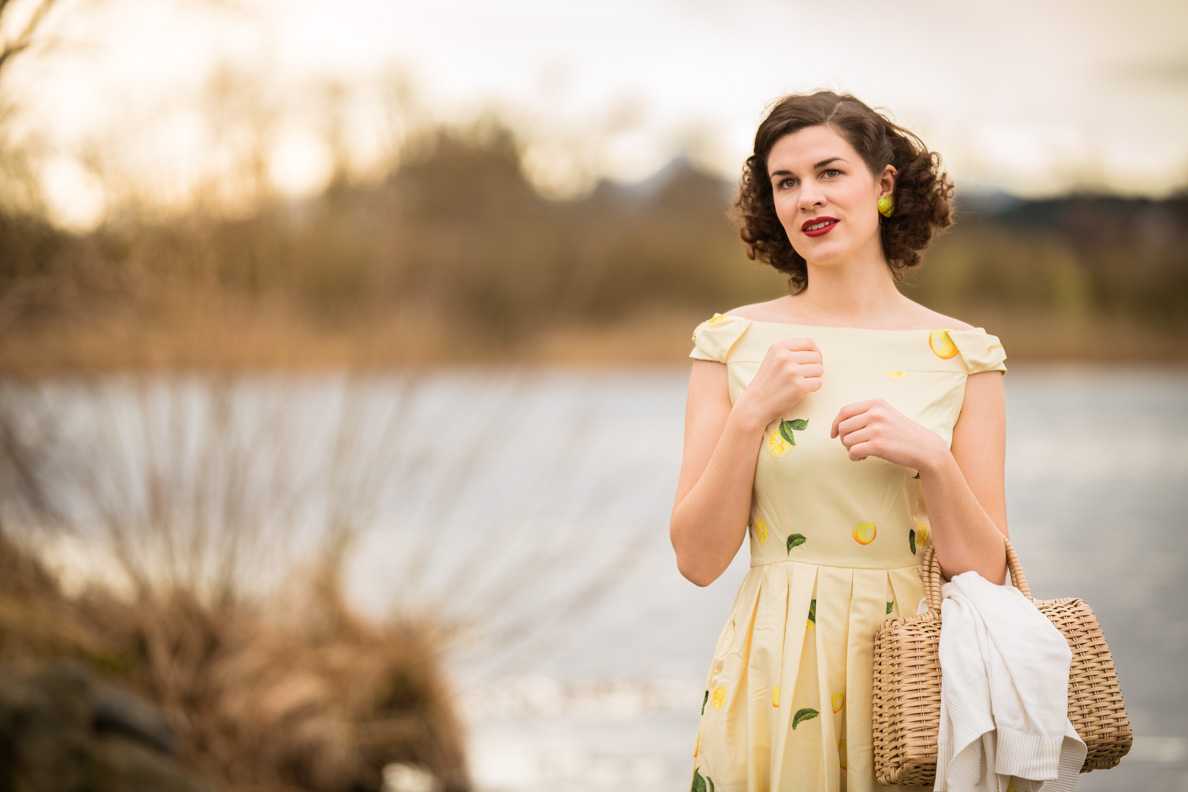 ---
A colourful retro Outfit – the Details:
Lemon Print Swing Dress "Christie": c/o Lindy Bop
Petticoat: Vintage, similar here
Cardigan: Collectif Clothing, similar here
Elegance French Heel Stockings: c/o Secrets in Lace – Europe
Speakeasy Fashion Garter Belt: c/o Secrets in Lace – Europe
Earrings: Glitter Paradise, similar here
Straw bag: Vintage, similar are available at Etsy for example
Shoes: Tamaris, similar here