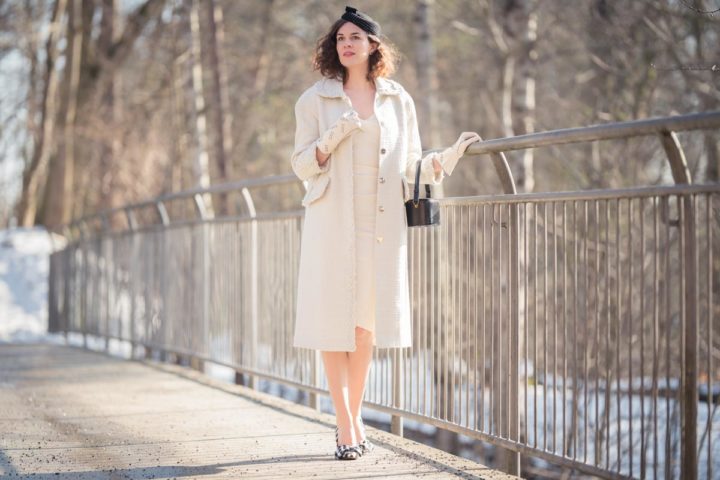 A hint of spring is in the air – finally! The sun is shining a bit longer every day, and those freezing cold temperatures are over. I used this as an opportunity to eventually put away my winter coats. Unfortunately, it's still a bit too cold for thin summer jackets. This is why I've always wanted a chic and warm spring coat. Trench coats like the one in this blogpost are great for spring, but sometimes I want a more glamorous alternative. After searching for many years now, I finally found an amazing Ginger Jackie coat called "Mademoiselle" at Maison Chi Chi Vintage. Even Martin really likes the coats and therefore he bought it for me – such a good boyfriend, right? 😉
The elegant 50s inspired Ginger Jackie Coat "Mademoiselle"
Coats are investment pieces. High-quality ones last for a lifetime if you care for them. This is why I like to buy classics which I will still like in many years. Neutral colours which go well with a lot of my clothes and items made of high-quality fabrics are very important for me. The beautiful Ginger Jackie coat satisfies all my expectaions. I really like the light milky colour, the wonderful details, and ornamental trims. But what I especially love is the long cut, so even my longer midi dresses and skirts are covered by the coat. Since it's not so easy to find the perfect coat, I'm going to share my best tips for sucessful coat shopping at the very end of the blogpost.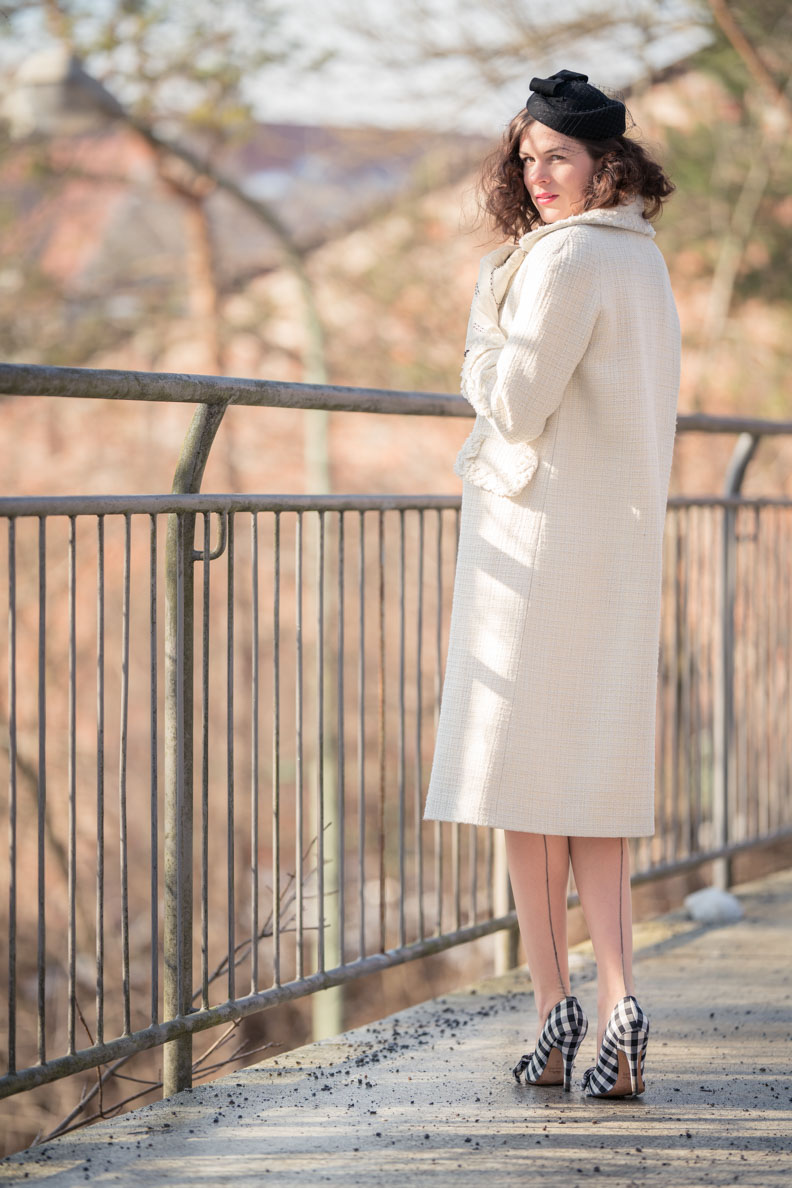 Underneath the coat, I'm wearing a white Stop Staring dress which you maybe already know from this as well as this outfitpost. The glamorous Elegance French Heel stockings by Secrets in Lace keep me warm and make the look even more elegant. A little black hat goes very well with such a fashionable outfit. Furthermore, I'm wearing white vintage leather gloves with black details, a vintage handbag as well as vichy heels by Lena Hoschek which combine the black and white details and therefore perfectly finish my 50s inspired outfit.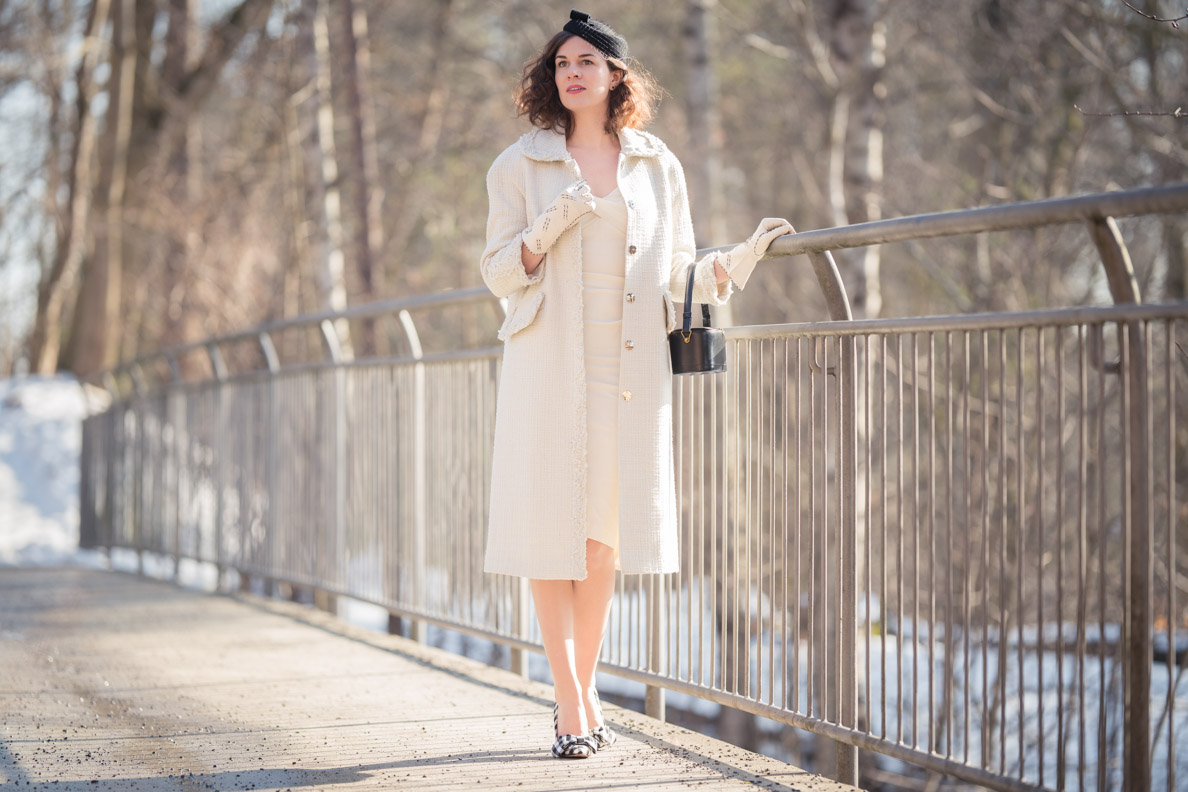 ---
To match the sunny, spring-like weather, I created a light, subtle makeup. A foundation with SPF, a little bit of blush, and pink lipstick go very well with the rest of the look.
Shop my Makeup Look (Europe):

---
Shop my Makeup Look (USA):

---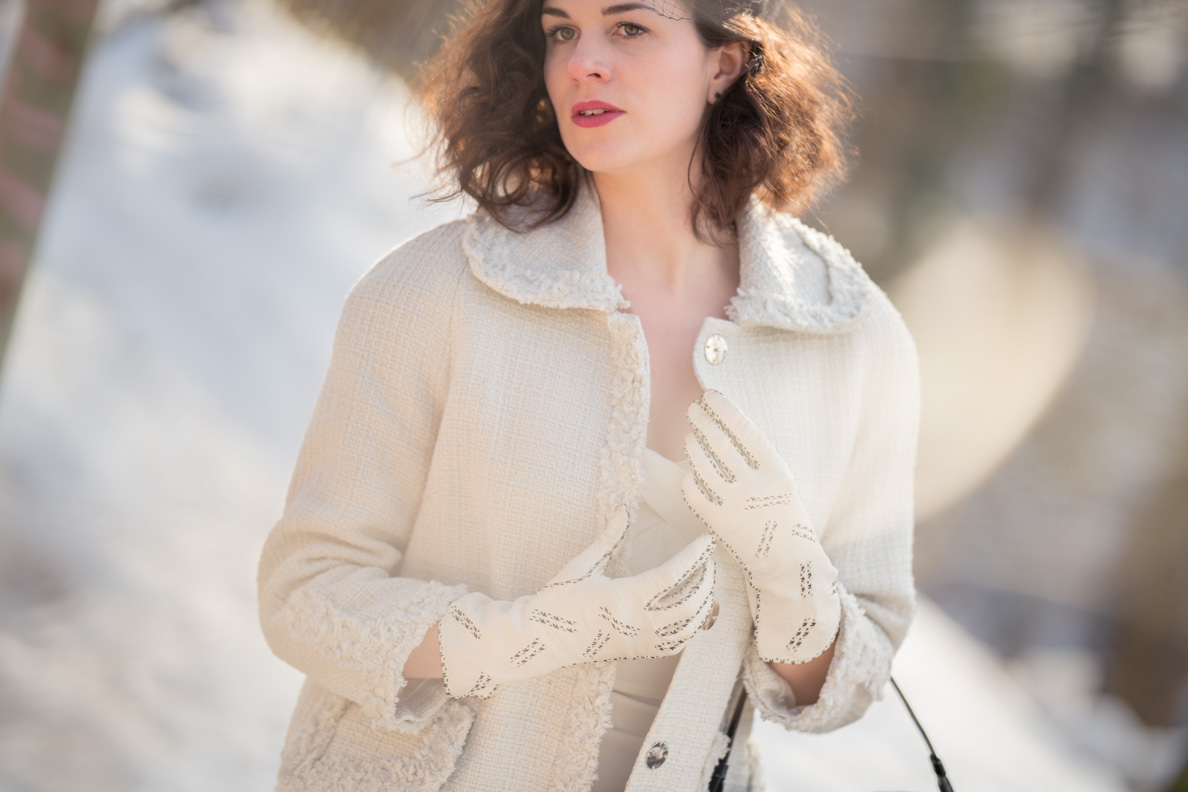 ---
A glamorous 50s inspired Outfit – Shop the Look (EU):
Coat: Ginger Jackie via Maison Chi Chi Vintage
Dress: Stop Staring!
Elegance French Heel Stockings: c/o Secrets in Lace – Europe
Shoes: Lena Hoschek, similar here
Hat: very similar here
Handbag: Vintage
Gloves: Vintage, similar here
---
Shop the Look (US):

---
Tips for a successful Coat Shopping Trip:
If you are searching for a coat that lasts a lifetime, it makes sense to keep some things in mind. In the following, I show you my personal checklist for a successful coat shopping trip.
Fitting is everything! If the coat doesn't fit perfectly, even the most expensive one wouldn't look good! When I'm searching for coats, I try to wear something season appropriate. So if I'm searching for a winter coat for example, I make sure to wear thick and warm clothes. If I'm searching for a spring coat, on the other side, I make sure it fits over my favourite sping dresses as well as over a bit warmer sweaters. It's also important to co-ordinate the length of the coat to the length of most of your dresses and skirts. As I usually wear a bit longer hemlines, I prefer longer coats. If you, on the other side, rather wear trousers of mini skirt, you might prefer shorter coats.
Have a look at the fabrics of the coat. Wool for example keeps you warm and is therefore perfect for winter coats. If you are looking for a coat for spring or summer, cotton fabrics might be better. It's also important to have a look at the inner lining! Does the fabric feel good on the skin? Does it keep warm? Is the fabric of the coat maybe good, but the the lining cheap?
Make sure the processing is perfect. Loose threads or buttons that aren't sewed on perfectly don't look good. As I'm willing to spend a lot of money for a good coat, it's very important for me that the coat is of amazing quality.
Makes sure that the coat matches your clothes. As I mentioned before, the length of the coat should match the length of your dresses. But it's also important that the style and colour of the coat goes well with the rest of your clothes. In winter, I prefer black as this colour goes well with almost everything. In sping, however, I want something lighter and brighter. A beige trench coat is an all-rounder, and white looks very elegant. Of course, colourful coats are also great. Just make sure the colour matches the colour palette of your clothes.
Choose classy cuts that you will still like in a few years. There is nothing worse than spending a lot of money for clothes that one doesn't wear often or look ridiculous in the next season. So I prefer classy cuts with lovely details over "it-pieces". Of course one can shop trendy coats as well. However, I wouldn't spend that much money on very trendy pieces as they can be out of fashion within the next few months. I rather invest in classics.
Take your time and don't buy the first coat you see! I know it's hard not to buy the first thing you find when you are desparetely searching for something. However, it's important to take your time and only buy something that you really love! Visit differents stores and try on different styles until you find the coat of your dreams and don't accept anything less. As I told you in the beginning of the post, I was searching for a good spring coat for many years. I finally found mine in the middle of winter and it was on sale! You see, it definitely makes sense to wait. 😉
And last but not least a tip on what to do when you found the perfect coat: Take care of it! I always take my coats to a professional cleaners. I once got wax on one of my coats. In the internet, you will find a lot of "tips" on how to get rid of the stain. Luckily, I didn't try them! The lady from the cleansers shop told me, a lot of people try to clean such delicate things by themselves and make everything worse. I invested a few euros and my coat looks as good as new!