Handbags are as important as beautiful shoes for a perfect outfit. I usually buy my bags at vintage stores. (Find my favourite vintage and retro shops in my shopping tips.) Those stores as well as flea markets are normally the best places to find beautiful, unique, and budget-friendly handbags that add that certain something to your look. Unfortunately, most of the time you don't find what you are searching for over there. This is why I'm going to show the most beautiful vintage and retro handbags for spring/summer, tell you where to find them, and share my best styling tips and advice in this blogpost. To make it easier for you to shop the bags, I linked to shops in Europe (shop the look Europe) and to shops in the US (shop the look US).
Straw and Basket Bags
Basket bags are my must-have for spring and summer! They look summery and light and go so well with almost every outfit. Unfortunately, such basket bags aren't that easy to find and are often quite expensive. I bought mine at Vintage Love in Munich. Luckily, basket bags seem to be fashionable again so you find some pretty cool pieces in a lot of "modern" stores. Furthermore, it's always a good idea to search on Etsy or DaWanda. And I found a super cute apple basket bag at TopVintage, just have a look here.
Straw bags, on the other side, are easier to find and less expensive. I found mine at Alexa's in Munich for a few euros. Such handbags go very well with relaxed summer outfits and are also stylish shopping bags.
I love to team basket and straw bags with summery and light skirts or dresses. If your bag is very simple, it's the perfect piece for almost every summer outfit. Fancy and colourful bags look best in combination with hippie outfits or subtle looks.
Shop the basket and straw bags (Europe):

---
Shop the basket and straw bags (US):

---
Handbags with floral Prints
As soon as Christmas is over, I love to take out my floral handbags to get this feeling of spring! The most beautiful floral bags are from Woody Ellen Handbags, in my opinion.
Retro bags with floral prints are wonderful to add a pop of colour to sublte outfits. But they go also very well with colourful looks! It's just important that the colour schemes of the outfit and handbag are the same.
Shop floral bags (Europe):

---
Shop floral bags (US):

---
Vintage and retro Bags with Fruits or Animals
Fancy bags with fruit or animal prints are the perfect accessories for summery looks. They make every outfit a real eye-catcher and put a smile on every face. My flamingo bag is Collectif Clothing and I got it from Fräulein Backfisch, shop it here.
Shop the fruit and animal bags (Europe):

---
Shop the fruit and animal bags (US):

Serpui makes the fanciest animal bags! Isn't the dog handbag just too cute? Unfortunately, their bags are quite expensive so at the moment, I can only dream of them. But maybe you are willed to rob the piggy bank, so I linked to them below. 😉
---
Shop the Serpui bags (Europe):

---
Shop the Serpui bags (US):

---
Gobelin tapestry Bags
Pretty gobelin tapestry bags can be found at flea markets, vintage shops, or maybe even in your grandma's cellar. I bought mine from Etsy, but DaWanda has some pretty handbags in this style as well.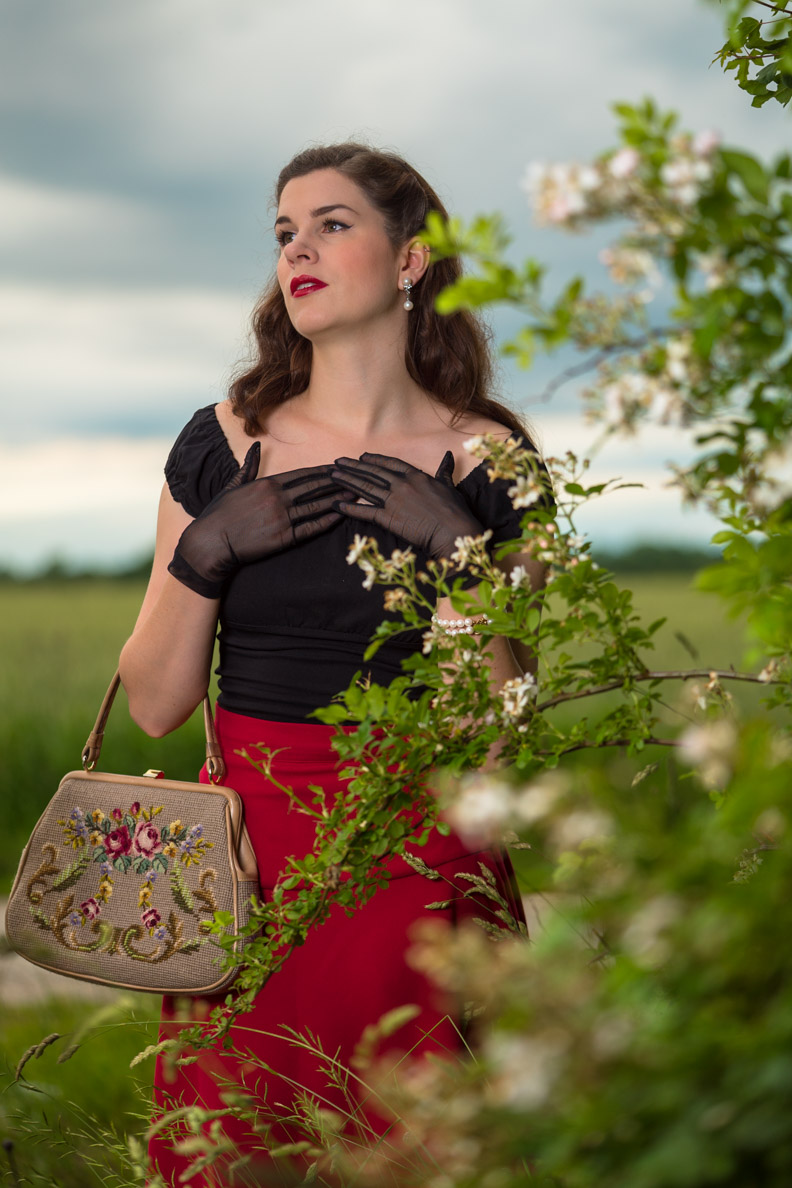 Gobelin tapestry bags go well with a lot of outfits! I like to team them with very authentic vintage outfits as well as more modern looks.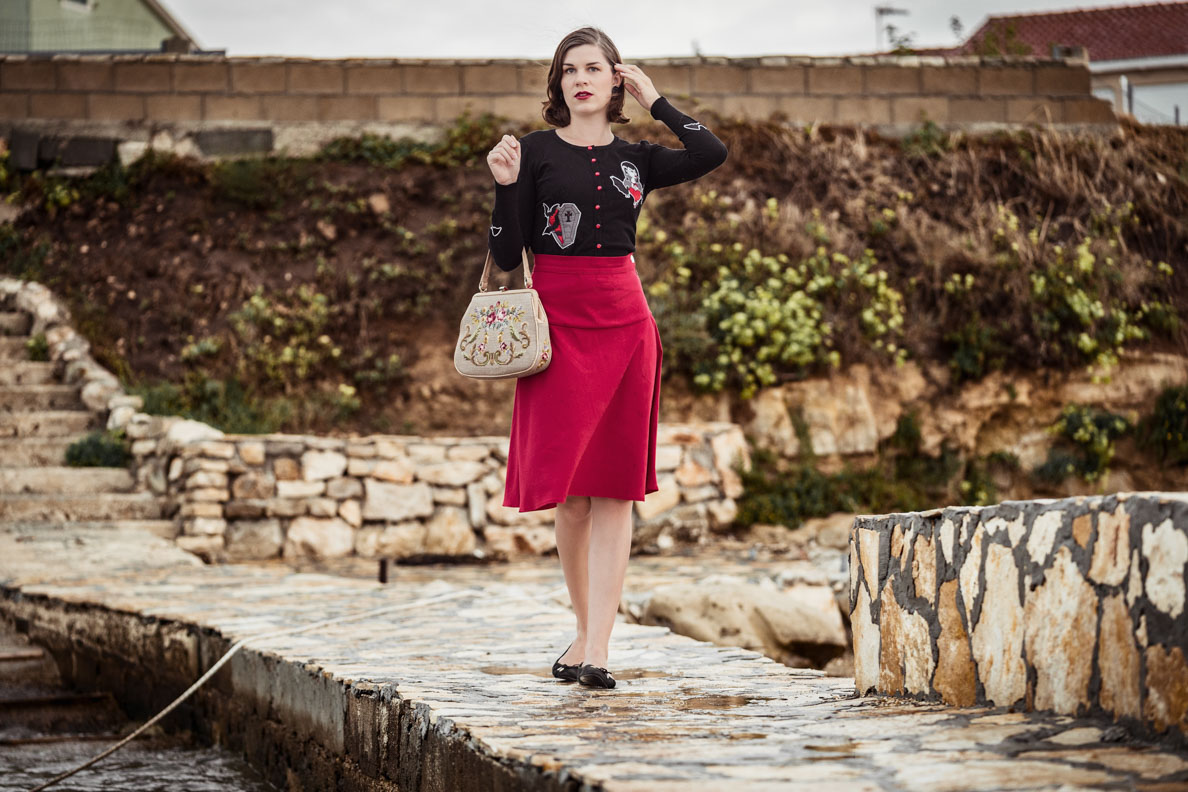 Shop the gobeling tapestry bags (Europe):

---
Shop the gobeling tapestry bags (US):

---
Colourful Satchel and Bowling Bags
Satchel and bowling bags are great for everyday life. They are available in a lot of different colours and price categories. I'm dreaming of the light pink Furla Candy Satchel, by the way. However, my red bowling bag, a gift from my grandma, looks very pretty as well. 😉
I love to team colourful bowling bags with colour matching accessories and shoes. If you prefer more neutral shades, I would go for a light pink or cream colour. But of course black is a good choice as well.
Shop the satchel / bowling bags (Europe):

---
Shop the satchel / bowling bags (US):

---
Which handbags do you wear in spring and summer?