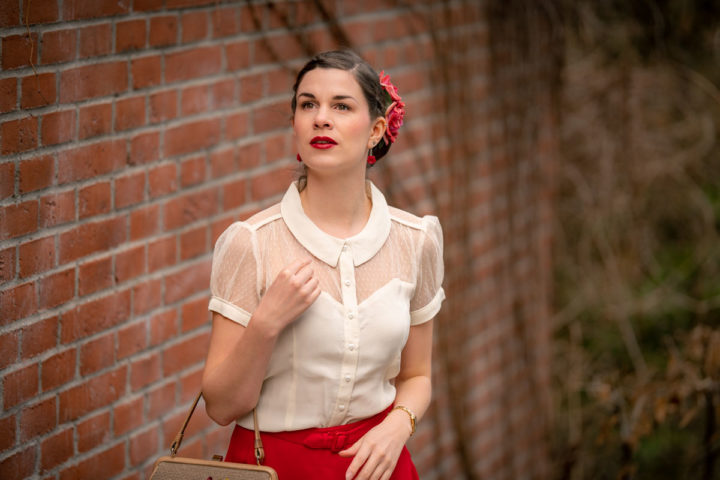 I always prefer timeless classics over the latest it-pieces. Since I completely changed my wardrobe into vintag and retro several year ago, I feel much more comfortable and also freer. And my purse is happy about the change of my style as well! Instead of spending horrendous amounts of money for the new designerbag that will be out of fashion the next season, I buy affordable accessories on fleamarkets or second hand shops and give them a new life. Furthermore, I like clothes which are very versatile and look good on several different occassions. One brand that offers this kind of garments is definitely The Seamstress of Bloomsbury.
A pretty Classic: The Florance Blouse by The Seamstress of Bloomsbury
The repro brand from the UK offers a wide selection of high-quality fashion inspired by the 1940s. Beside their dresses and skirts, I especially love their blouses. They are available in many different colour and shapes, however they have something in common: They are made of natural fibres an can be combined in many different ways. This time, I chose the Florance Blouse in white. I really like the classy cut and collar, but what I especially love are the many little details. Just have a look at the heart-shaped buttons and the upper part of the blouse with its sheer spot net!
To add some colour to the outfit, I teamed the Florance Blouse with the red Circle Skirt by The Seamstress of Bloombsbury, which I already showed you in this blogpost. But of course the blouse also looks great in combination with the Isabelle Skirt. Since the wind is still quite cold at the moment, I'm also wearing a black blazer on top. A vintage gobelin tapestry bag as well as retro shoes finish the 40s inspired outfit.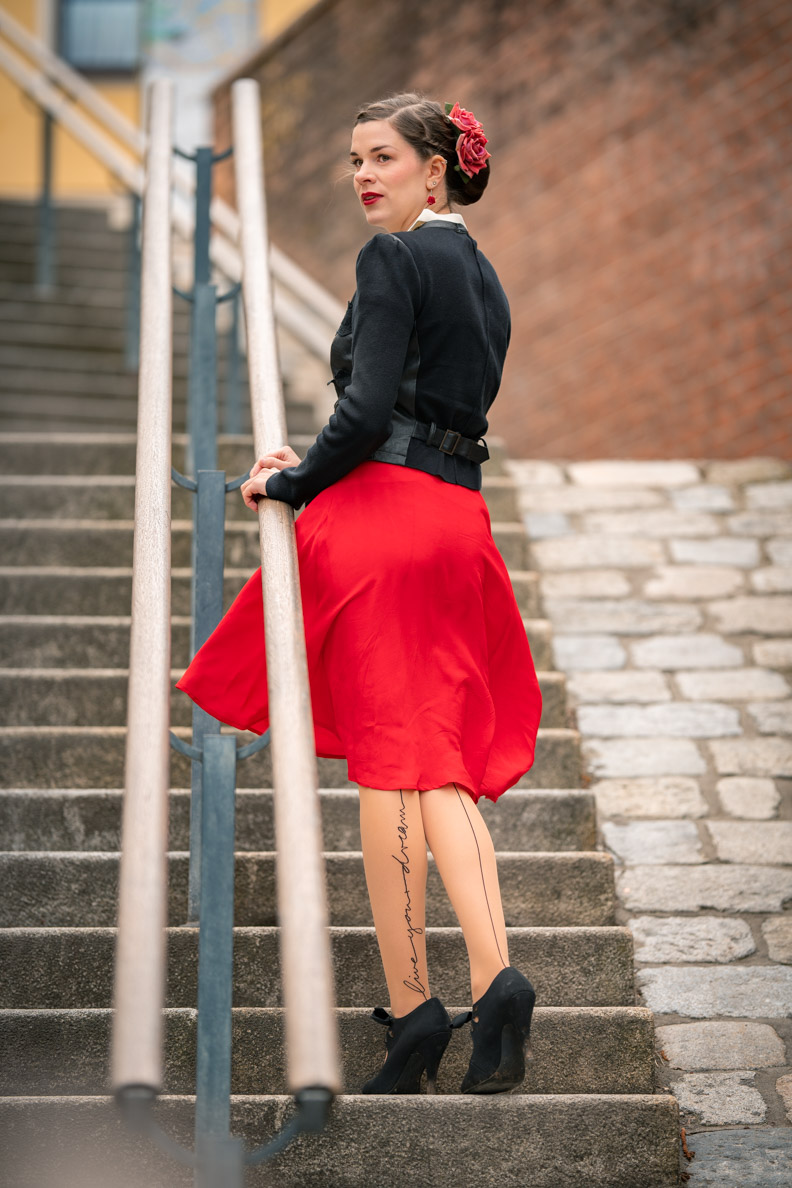 By the way: Although I usually wear vintage and retro fashion, sometimes I find clothes or accessories I like in modern fashion as well. And I really enjoy mixing vintage with modern garments! This time, for example, I'm wearing modern tights by Wolford as well as a modern blazer by Morgan.
---
Classy vintage Makeup & retro Hairstyle
As most of the time, my makeup is quite classy. I used the CC Cream by Chanel as a foundation. On my eyelids, I applied brown eyeshadow from the Dior Eye Reviver Palette as well as lots of mascara. My lipstick and blush, on the other side, is deep red.
Makeup Details

---
As I usually don't have time for time-consuming retro hairstyles, I prefer styles that are quick and easy to do but still look good. For this hairstyle, I braid four to five hair strands and put them toghether with the rest of my hair into a ponytail. For more volume, I put a hair donut on top and pin my hair around it. A hairnet keeps everything in place. In the end, I use a hairflower by SophisticatedFlowers to add that certain something to that easy but pretty retro hairstyle.
---
A classy 40s inspired Outfit – the Details:
Florance Blouse: c/o The Seamstress of Bloomsbury
Circle Skirt: c/o The Seamstress of Bloomsbury
Blazer: similar here
Gobelin tapestry bag: Vintage, similar here
Tights: Wolford, similar here
Shoes: similar here
Hairflower: SophisticatedFlowers
Earrings: very similar here
---
Shop the Look (US):