Although snow is slowly but solely fading, everything looks quite dull at the moment. I guess nature needs still some weeks to recover from a long and hard winter before everything starts to bloom again. Until then, I decided to wear very colourful outfits to get this spring fever. A perfect dress for this is the Katherine Long Sleeve 50's Swing Dress by Dolly and Dotty.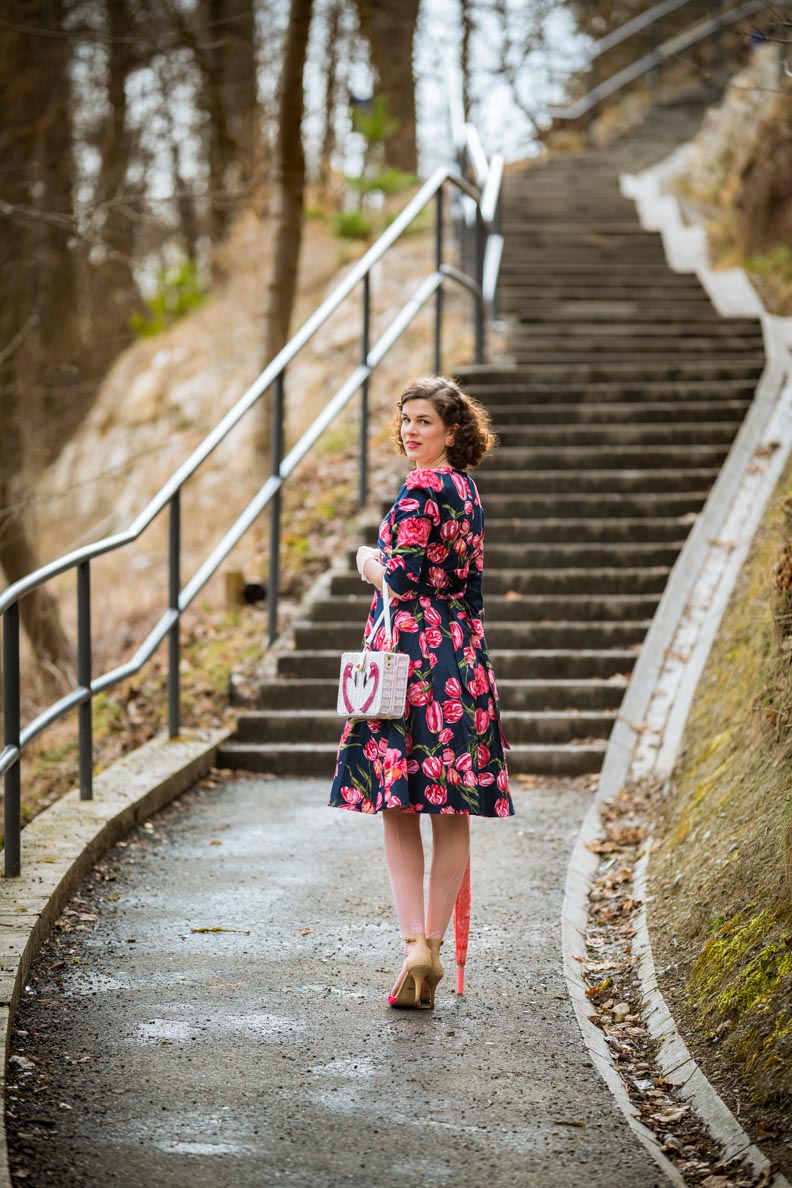 Flower Power: The colourful Katherine Swing Dress by Dolly and Dotty
The Katherine Swing Dress not only looks amazing due to its beautiful tulip print, it's also perfect for transitional season. As the sleeves are long, one doesn't have to freeze, even on chilly days. I also really like the neckline, the slightly flared skirt, and the fact that the dress has pockets! Furthermore, the cotton fabric feels great on the skin.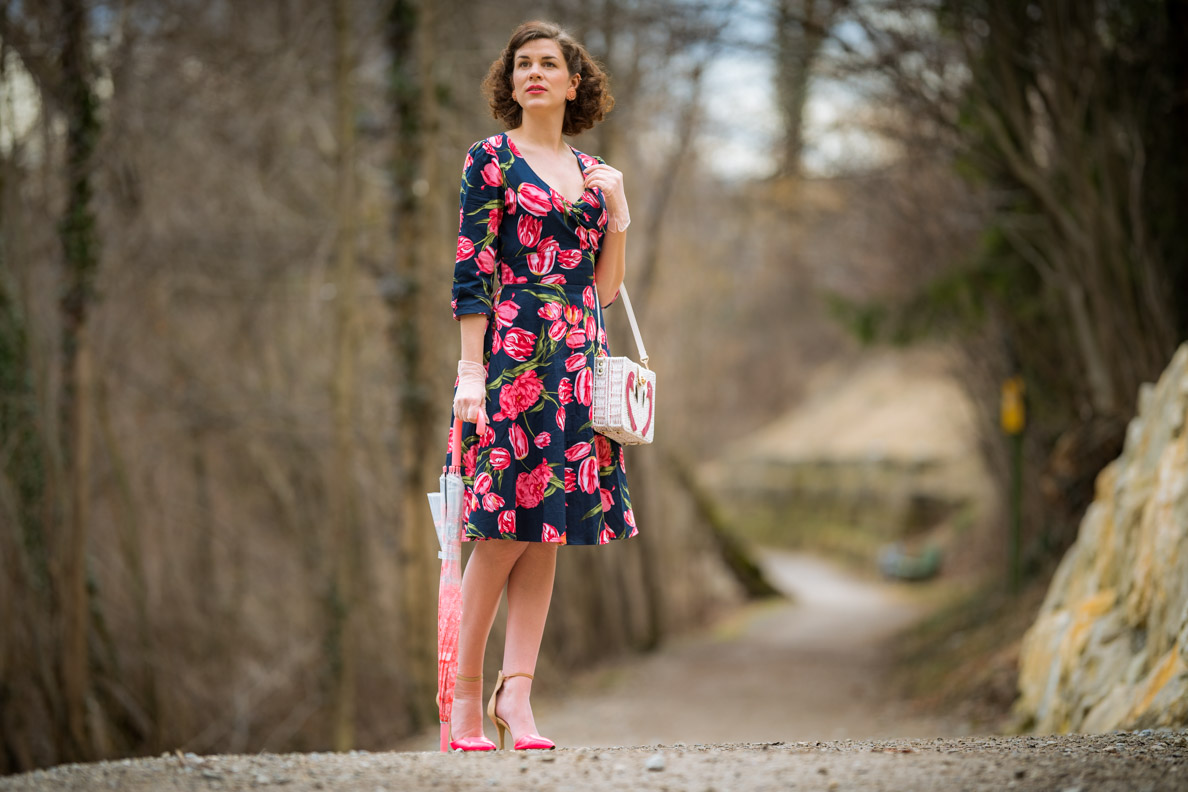 I decided to pick up the pink of the tulips on the dress in my retro accessories. My light pink rose earrings by Glitter Paradise almost call spring, while the pink heels add a modern touch to the look. As rain and even snow showers are not unlikely nowadays, it's a good idea to take an umbrella with you. But when everything is dreary and wet, at least my umbrella should be colourful and fun. So I went for one with a pretty cherry blossom print. A flamingo bag as well as light pink stockings by Secrets in Lace finish my colourful retro outfit for spring. By the way: Even my underwear is springlike! I'm wearing the Speakeasy Sets by Secrets in Lace. 😉
PS: In this blogpost I show you more beautiful retro handbags for sping and summer.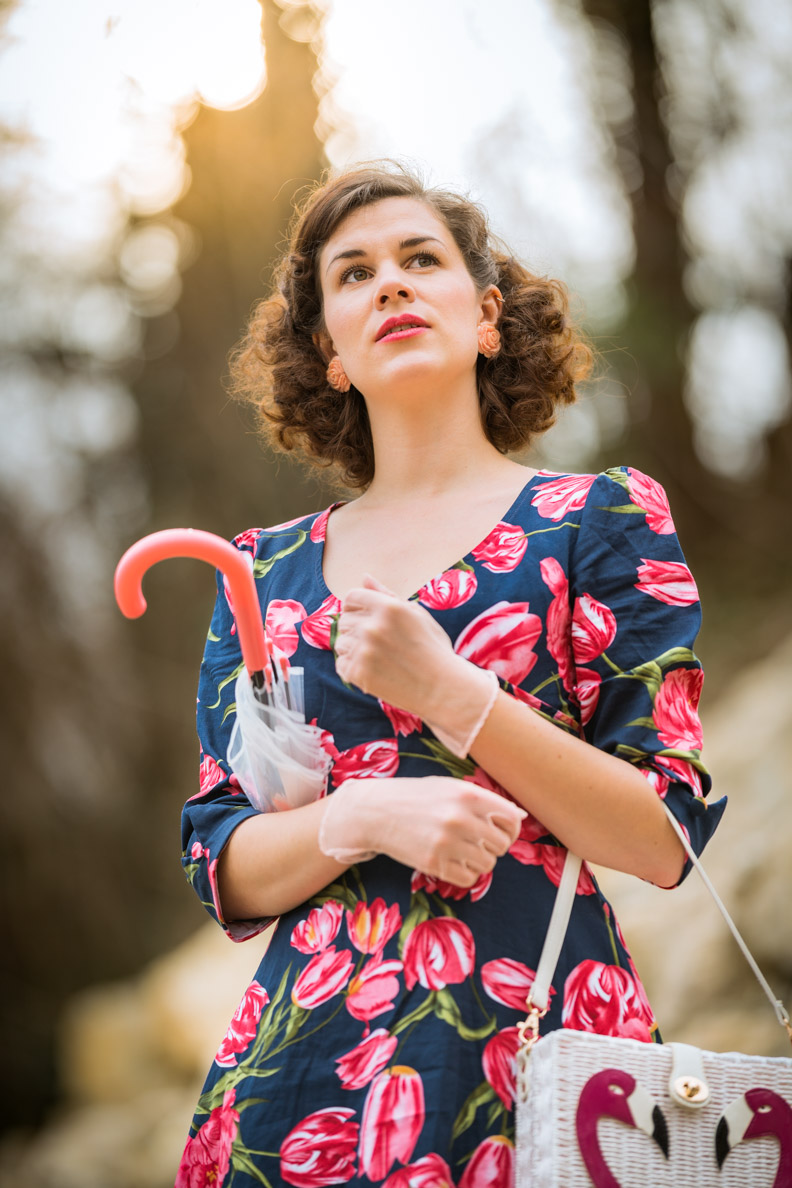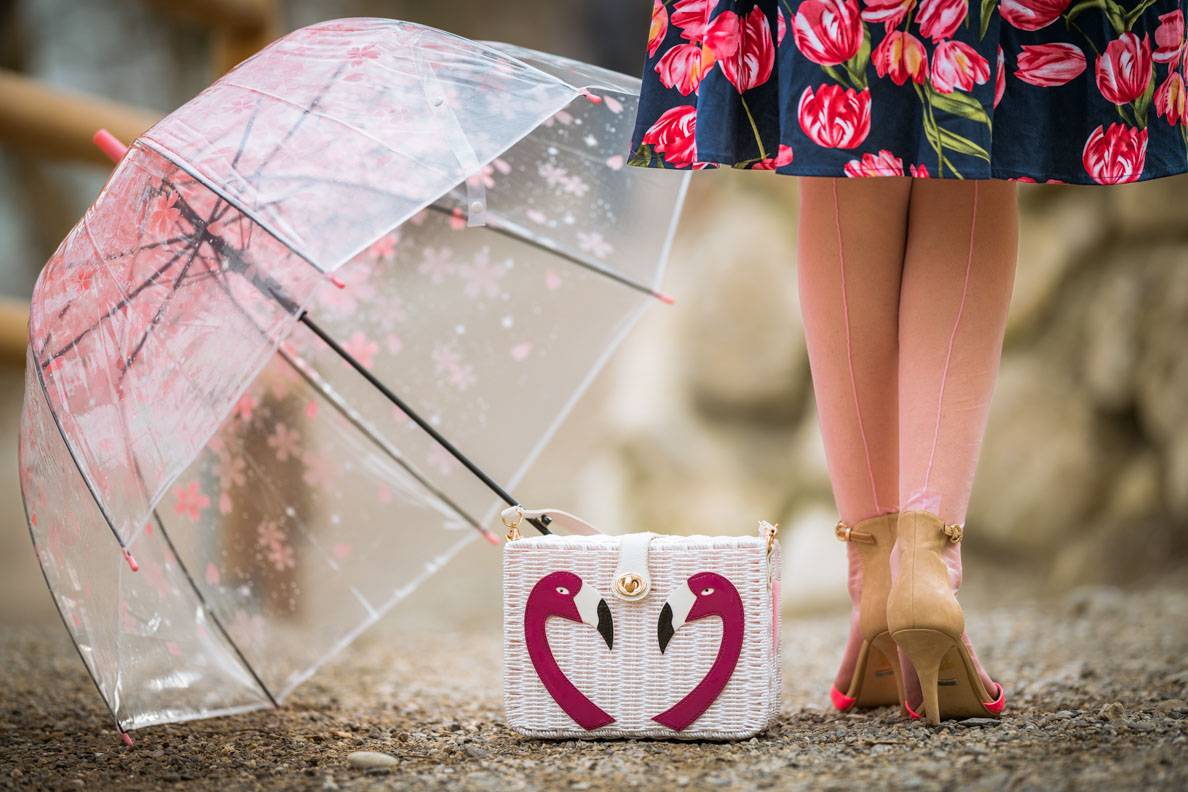 ---
Shop the Accessories (Europe):

---
Shop the Accessories (US):

---
A springlike retro Makeup
Of course I always match my makeup with my outfit and the season. At the moment, I especially love pink lips! For a perfect finish, I start with the Dior Addict Lip Sugar Scrub. On top, I apply the Dior Addict Gradient Lip Stick in "Fuchsia Twist". My eye makeup is quite simple and natural. Pink blush makes me look fresher, while the Météorites by Guerlain help to achieve a beautiful glow.
By the way: As the sun is quite aggressive and my skin super pale at the moment, I always wear sun protection when I leave the house. My favourite product is the Chanel CC Cream as this one is care, foundation, and sun protection at the same time.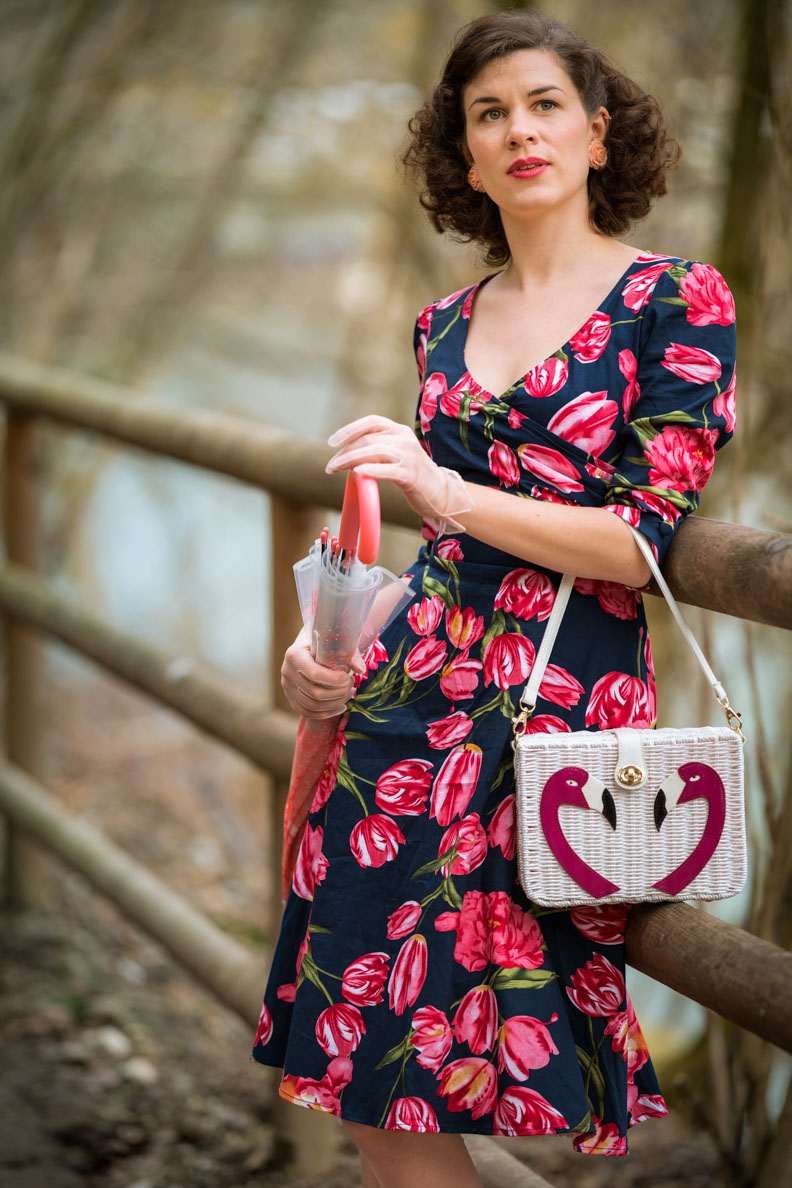 ---
Shop my Makeup (Europe): 

---
Shop my Makeup (US): 

---
A colourful retro Outfit for Spring – the Details:
Katherine Long Sleeve 50's Swing Dress: c/o Dolly and Dotty
Pink Stockings: c/o Secrets in Lace – Europe
Speakeasy Bra: c/o Secrets in Lace – Europe
Speakeasy Fashion Garterbelt: c/o Secrets in Lace – Europe
Heels: Buffalo, similar here
Earrings: Glitter Paradise
Handbag: Collectif Clothing c/o Fräulein Backfisch
Umbrella: via Amazon