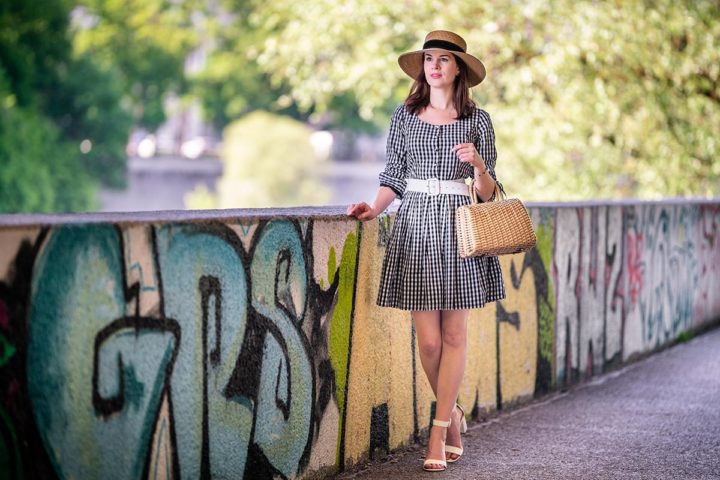 Gingham dresses for summer & how to style them
Sunshine, warm temperatures, ice cream, and summery outfits – it is simply wonderful, currently. Despite all the challenges we still have to deal with, life in Germany is almost back to normal. And while we won't travel in the near future, we enjoy our hometown Munich to the fullest. We go out for long walks at the Isar (our river), have some ice cream to go, and simply relish the moment. And what would be a more apropriate outfit for such early summer days than charming gingham dresses? So in this blogpost, I'm going to show you some wonderful summery gingham dresses and tell you how to style them.
*This blogpost contains affiliate links (marked with *)
Gingham Dresses for Summer
Gingham dresses are available in all different variations: in the classy black and white pattern, colourful, short, long, tight, flared – I'm sure there is a proper gingham dress for everyone! My lovely gingham dress is by L'école Des Femmes and already a summer favourite! Although I usually prefer longer hemlines, I really like the length of this dress! It reminds me so much of the swinging sixties and summer days full of love! And have a look at all those details: The bows at the sleeves, the covered buttons and the pleated skirt. But what's best at this dress: It is timeless and will look as stylish and good in a few years as it does today.
Outfit Details:
Dress: L'école Des Femmes
Belt: Vintage, similar here*
Hat: similar here*
Sandals: very similar here*
Bracelet: Swarovski, similar here*
---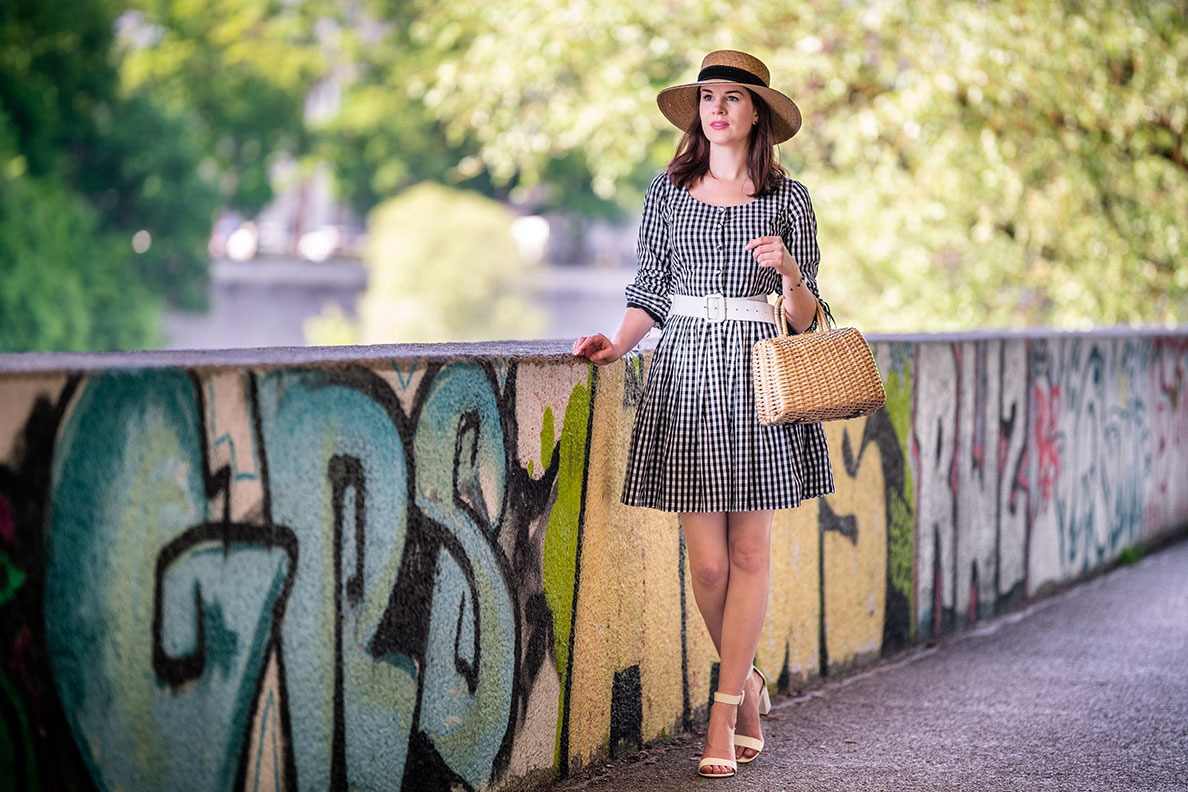 I'm going to tell you how to style gingham dresses in a minute, but as there are so many wonderful gingham clothes available, I checked lots of online shops and want to share a few things I really like with you! PS: TopVintage* also offers some lovely retro gingham clothes.
Lovely Gingham Clothes:
*Affiliate links

---
How to wear and style Gingham Dresses
Gingham dresses always remind me of summer and look stylish, cheerful, but never overdressed. So they look best when wearing during leisure time, on garden parties, or similar occasions. I personally wouldn't wear gingham on very formal occasions or in the office, or if I do so, I would only wear some gingham accessories like shoes, for example, to make the outfit a bit more stylish. And now, let's have a look how I like to style gingham dresses:
---
How to style Gingham Dresses: Wear a Headdress!
Straw hats, not matter if huge or rather small, look absolutely amazing in combination with gingham dresses, and additionally, protect us from the sun. Berets in combinaiton with gingham dresses look trés chic and trés francaise. Hats and berets are too much for you? Don't worry! Some more subtle hair accessories like headbands or hairflowers look gorgeous as well!
Pretty Head Accessories to wear with Gingham Dresses:
*Affiliate links

---
How to team Gingham Dresses: Choose Basket Bags!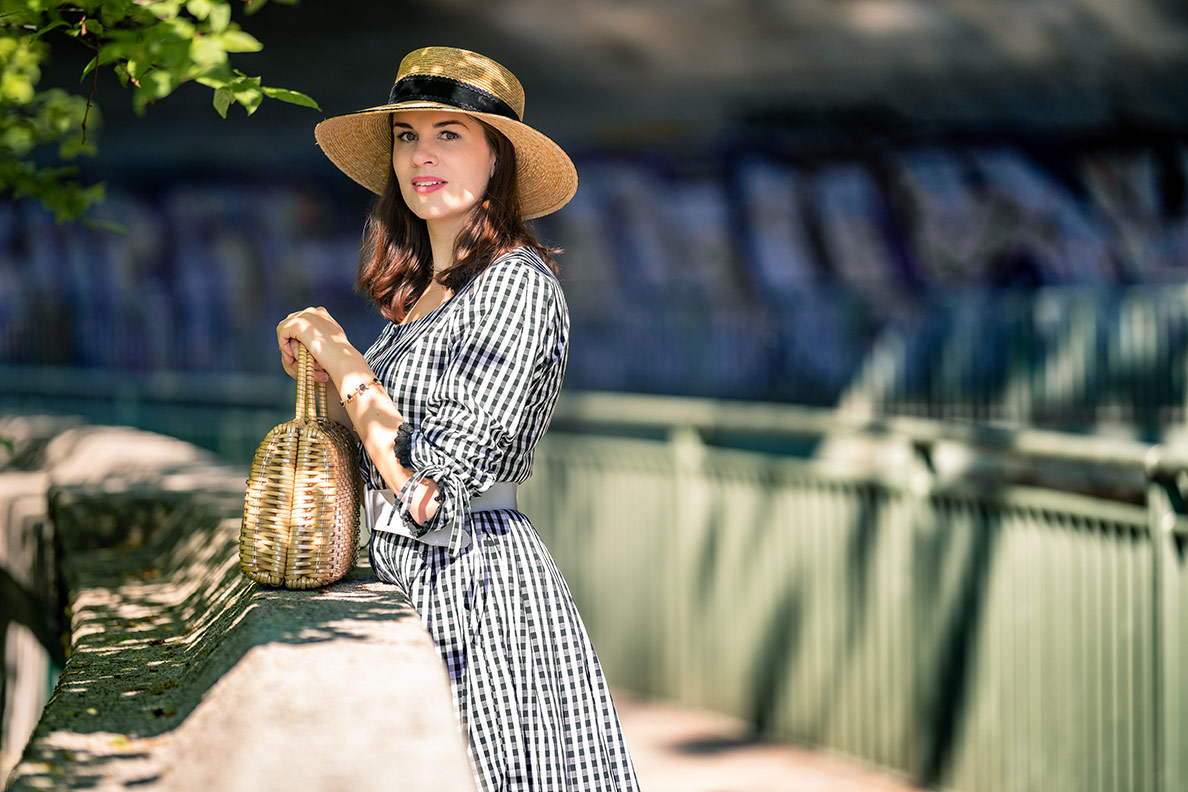 Basket bags go very well with summery ginghang dresses and are my absolute favourite handbags for spring and summer. PS: Search for basket bags on flea markets, in vintage stores, or on platforms like Etsy*, for example. Often you will find some wonderful ones there for a very good price!
Pretty Basket Bags to wear with Gingham Dresses:
*Affiliate links

---
How to style Gingham Dresses: With Sandals & Wedges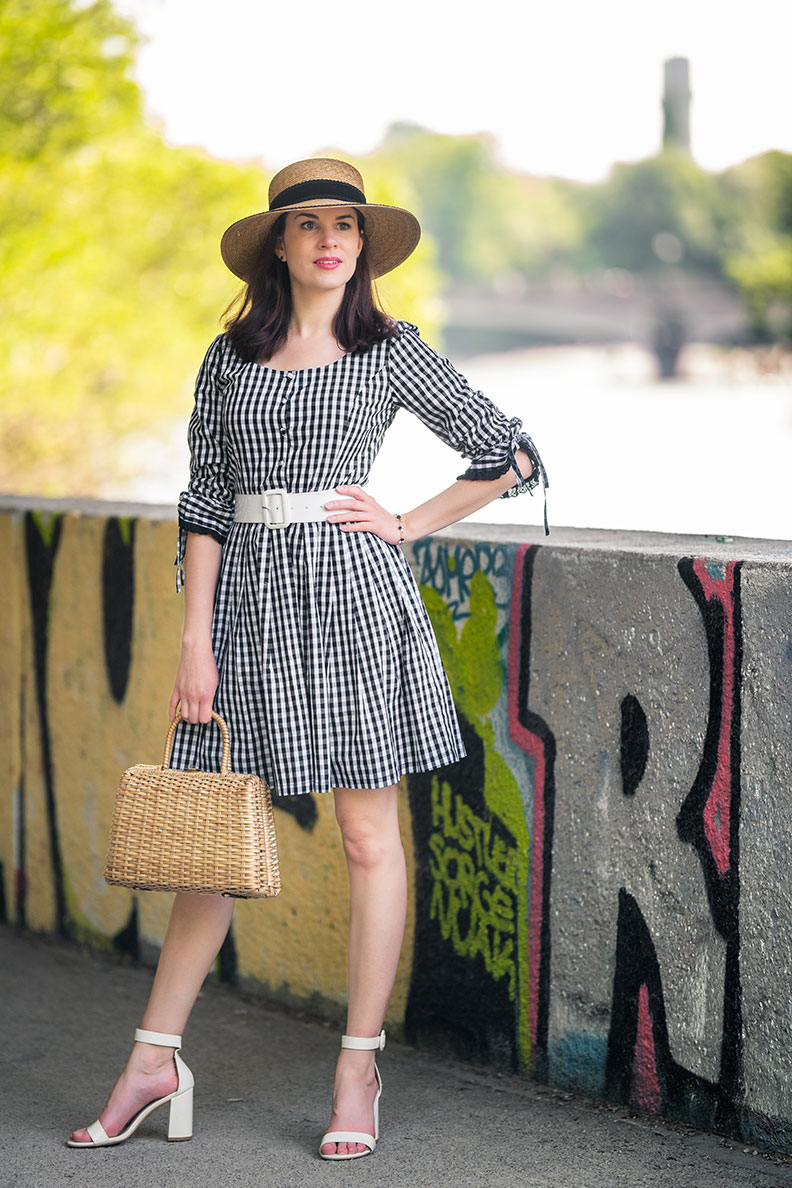 As I already mentioned in a previous blogpost, white sandals are a must-have for me in summer, as they go very well with so many different summer dresses and skirts! Of course, they look great in combination with gingham dresses as well. If you want to add some pops of colours, you can team your dress with colourful sandals as well. Wedges are another very pretty and comfy option. All in all you can say: Summery gingham dresses look best with summery shoes. 😉
Summery Shoes:
*Affiliate links

---
How to style Gingham Dresses: Accessories
Beside hats and basket bags, sunglasses go well with gingham dresses as well! I personally always choose some fancy retro sunnies. Other accessories that look good with gingham dresses are: Huge boho earrings, pretty bracelets, and waist belts. Just make sure your accessories look summery and experiment a bit. 🙂
Summery Accessories to wear with Gingham Dresses:
*Affiliate links

---
Do you like gingham dresses as much as I do?