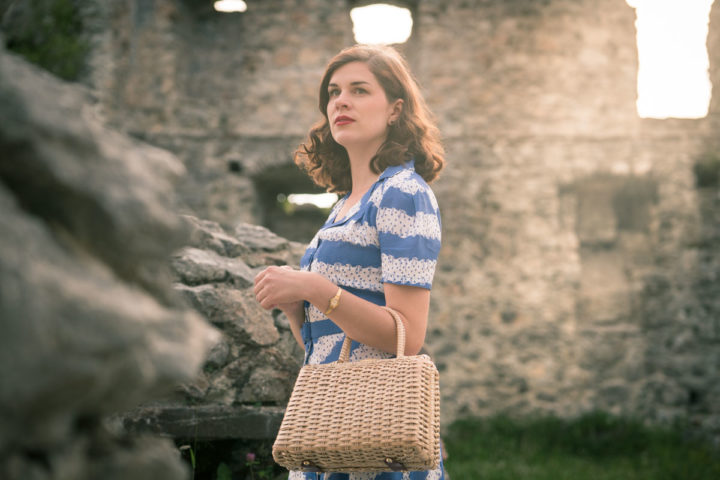 Advertorial | paid collaboration
In the 1940s, fashion didn't really change – mainly due to the war. Nevertheless, fashion has never been as simple and ingenious as in this decade. A lot of women were working and therefore needed comfortable clothes. This is exactly the topic I talked about in my blog post about the movie outfits inspired by "Their Finest". This time, I want to show you an elegant 40s daytime look inspired by "Their Finest".
40s Fashion inspired by "Their Finest"
Catrin Cole (Gemma Arterton) usually wears a pencil skirt and blouse when she is at work. When  she went to the cinema, however, we see her in a lovely blue and white day dress.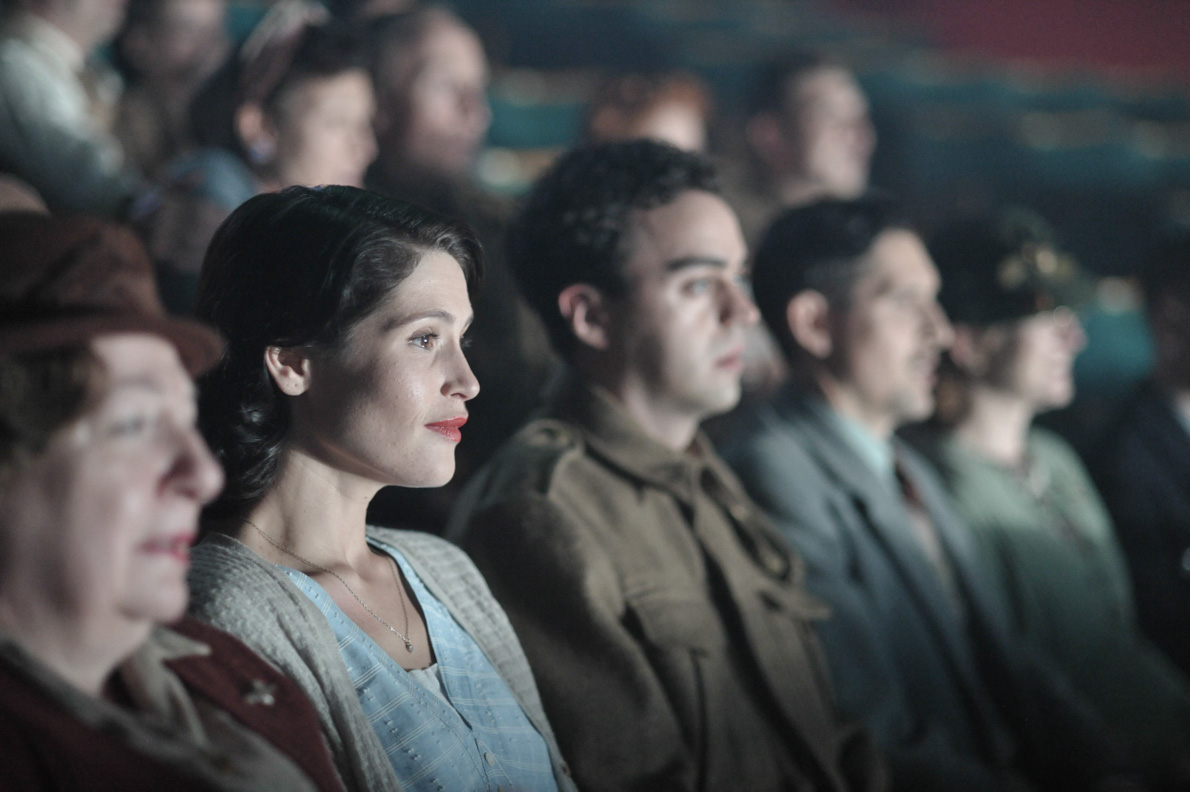 Fabrics were under strict control by the government during wartime. This is why fitted cuts and only slighty flared skirts were very fashionable in the early 40s. Women liked to enhance their waist and shoulders and therefore dresses often had matching belts as well as puff sleeves. As even zippers were rationed, buttons became popular again.
The Lisa Dress in "Blue Ribbon" by The Seamstress Of Bloomsbury has all those features. The Crepe de Chine fabric feels amazing and I especially love the gorgeous print as well as the little details like the buttons.
---
From Summer to Winter with a 40s inspired Cardigan
A lot of people couldn't afford a seasonal changing wardrobe during the early 40s. Cosy and warm accessories are a great way to wear summer clothes even in winter.
I teamed the Lisa Dress with the Jenny Cardigan by Vivien of Holloway, which I already introduced in my latest outfit post. "Jenny" keeps me warm and looks super lovely. By the way: Catrin Cole likes cardigans as well. 😉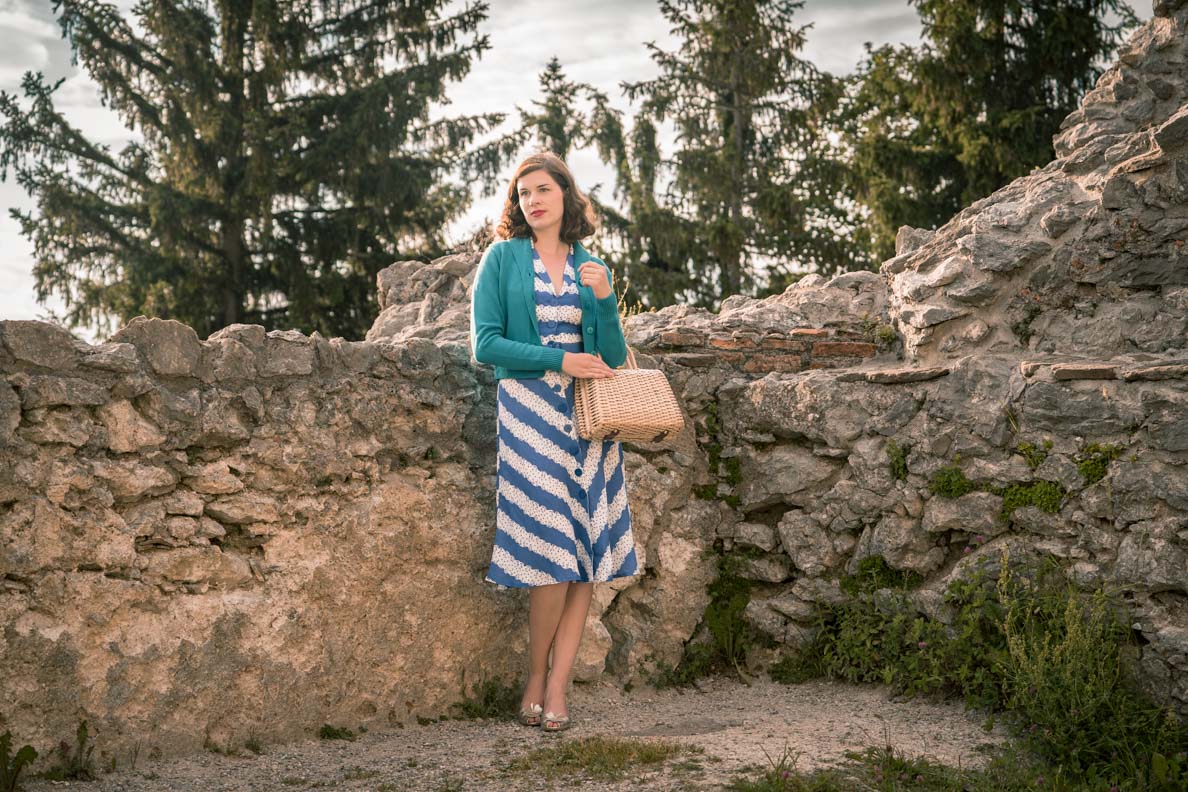 When it's really cold, we also need things like a coat, shawl, hat, stockings, gloves and warm shoes, of course.
---
40s inspired Accessories
As I already mentioned in a previous blog post, leather was quite expensive during wartime. Therefore designers launched wonderful handbags made of materials like wooden beats or even straw.
Decadent jewellery wasn't fashionable in the 40s. Catrin only wears a small watch and necklace, most of the time.
I found a very similar watch in my mum's jewellery box and borrowed it for the photo shoot. Simple earstuds finish the 40s inspired daytime look.
---
An easy 40s Makeup
The 40s daytime makeup was quite natural. I only wear a CC Cream by Chanel and a little bit of powder for a better complexion. On my eye lids, I applied two different shades from the Dior Eye Reviver Palette. Afterwards, I used mascara and a bit of eyebrow powder. A little bit of blush makes my face look fresher. To finish my 40s makeup, I applied the Mac Ultimate Lipstick in "Dangerously Chic".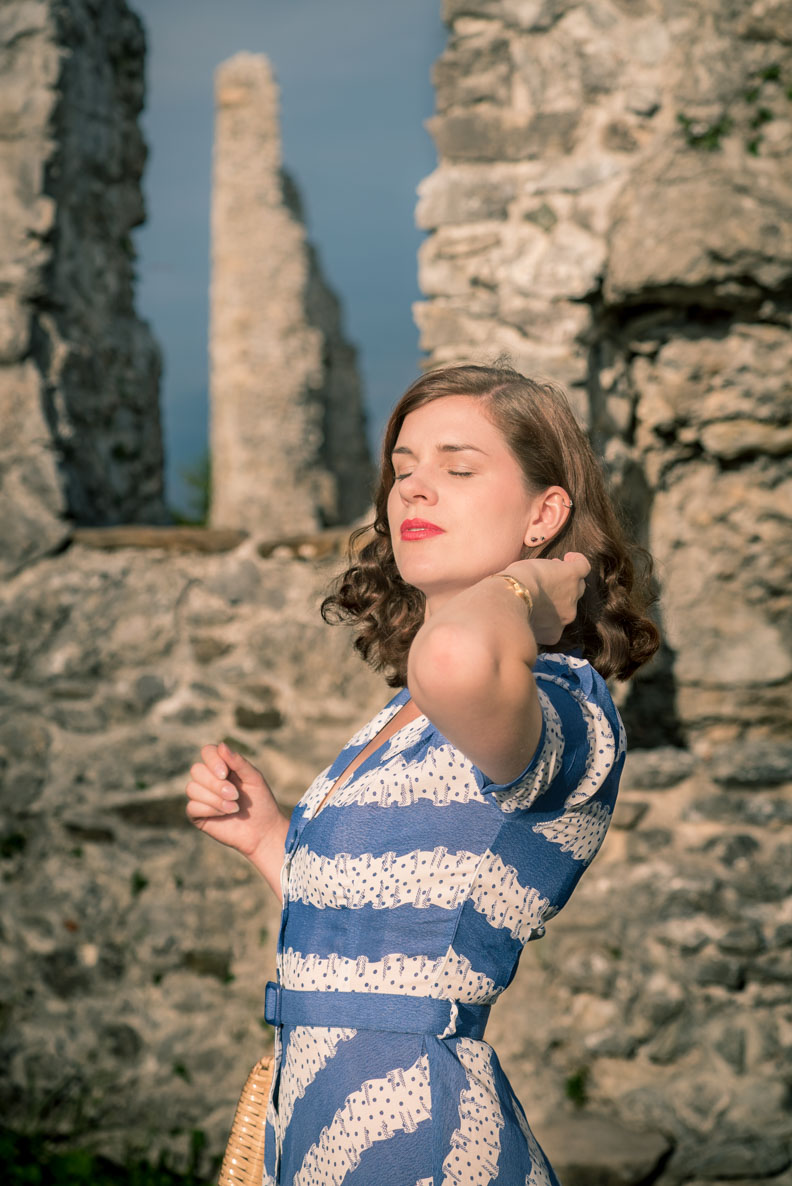 ---
A 40s inspired Daytime Look – the Details:
Lisa Dress: c/o The Seamstress Of Bloomsbury
Jenny Cardigan: c/o Viven of Holloway
Shoes: Frollein von Sofa, similar here
Handbag: Vintage, similar here
---
*In collaboration with Concorde Filmverleih