Often, accessories really make a difference. They are able to transform a daytime outfit into a breathtaking evening look or convert an office outfit into a glamorous vintage inspired look. To achieve that, I usually choose chic seamed stockings. However, we had a real heatwave lately and therefore I often skipped hosiery. Temperatures are more pleasant now, and I'm super happy to finally show you my new Elegance French Heel stockings by Secrets in Lace.
The Elegance French Heel Stockings by Secrets in Lace
This time, I chose a rather untypical colour for me: "Copper". It's a wonderful shade to make your legs look tanned, even if they are as white as mine. As always, the quality of the Secrets in Lace stockings is simply amazing. They are made of 100 % nylon and feel absolutely gorgeous on the skin. The Elegant French Heel features all details of a 1950's full fashion stocking. I don't know another brand that transports the glamour of the 40s and 50s into our time like Secrets in Lace does. By the way: I show you a lot more authentic stockings and tights in this blog post.
If you are searching for a matching garter belt, please click here. Over there, I show you my favourite pieces for every occasion.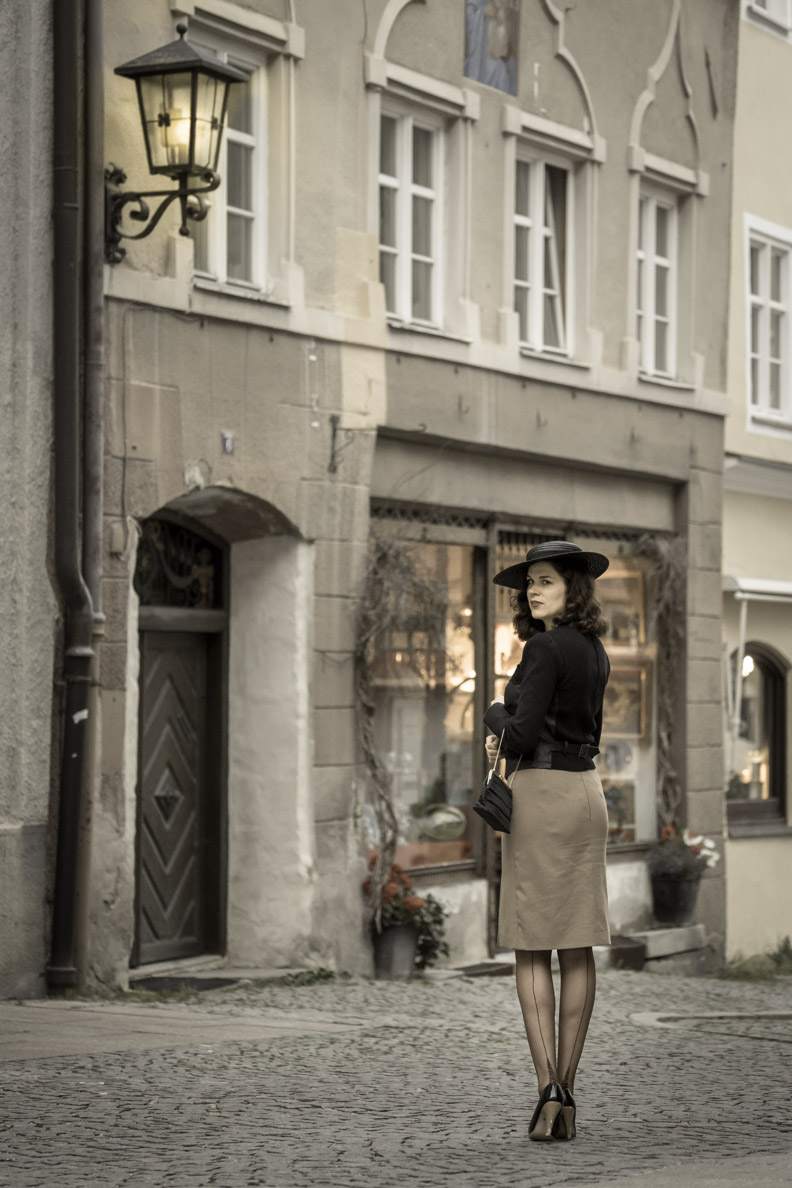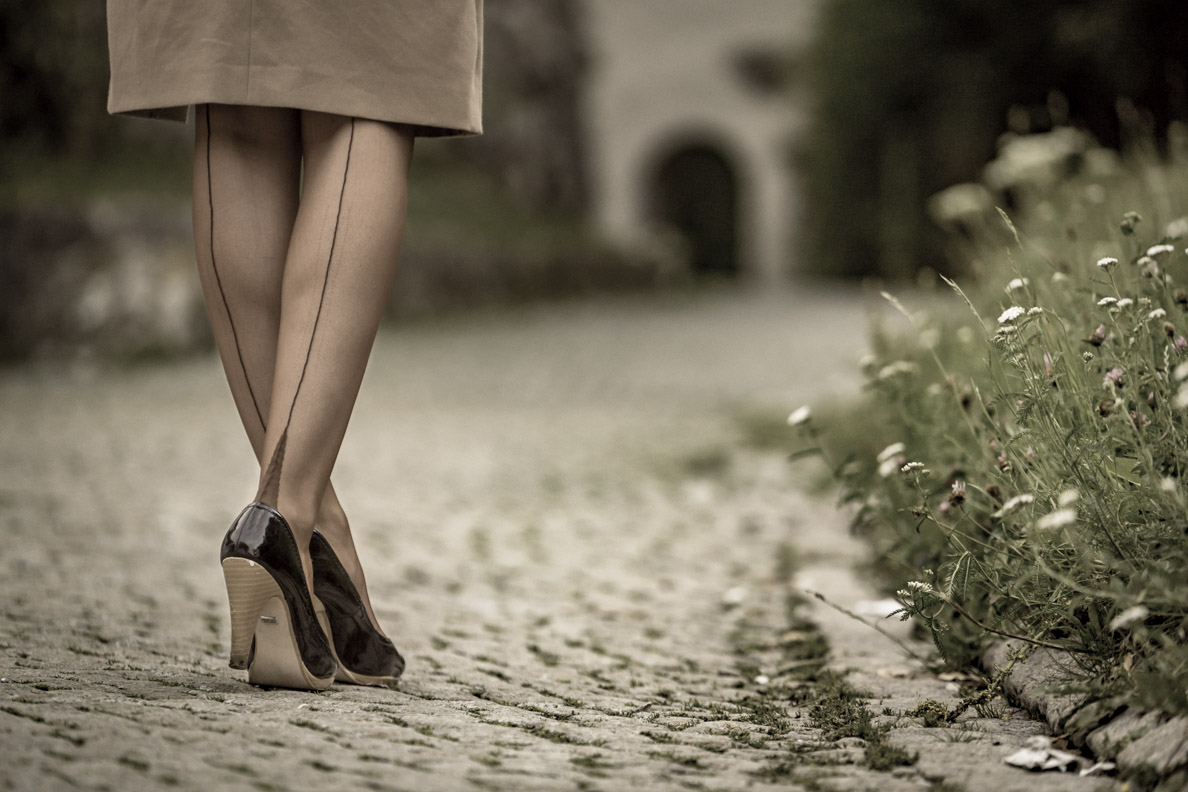 ---
Back to the 40s: A chic Outfit for Office and everyday Life
I teamed the seamed stockings with a simple but very elegant outfits inspired by the 40s. The beige pencil skirt actually belonged to my mum, as I already mentioned here. But since I wore it more often than my mum did, she finally gave it to me. 😉
Black always looks great in combination with muted colours and therefore I chose a black cardigan by King Louie, which I already introduced here. And since it was quite chilly in the evening, I was really happy to have a blazer with me.
This would be my outfit for the office, I guess. However, in the evening I believe in "more is more". A hat always adds that certain something to a look; mine is a black vintage piece from a small second-hand shop in Munich called "Tricia Leonhard Vintage". A small vintage handbag, and black pumps finish the 40s inspired outfit.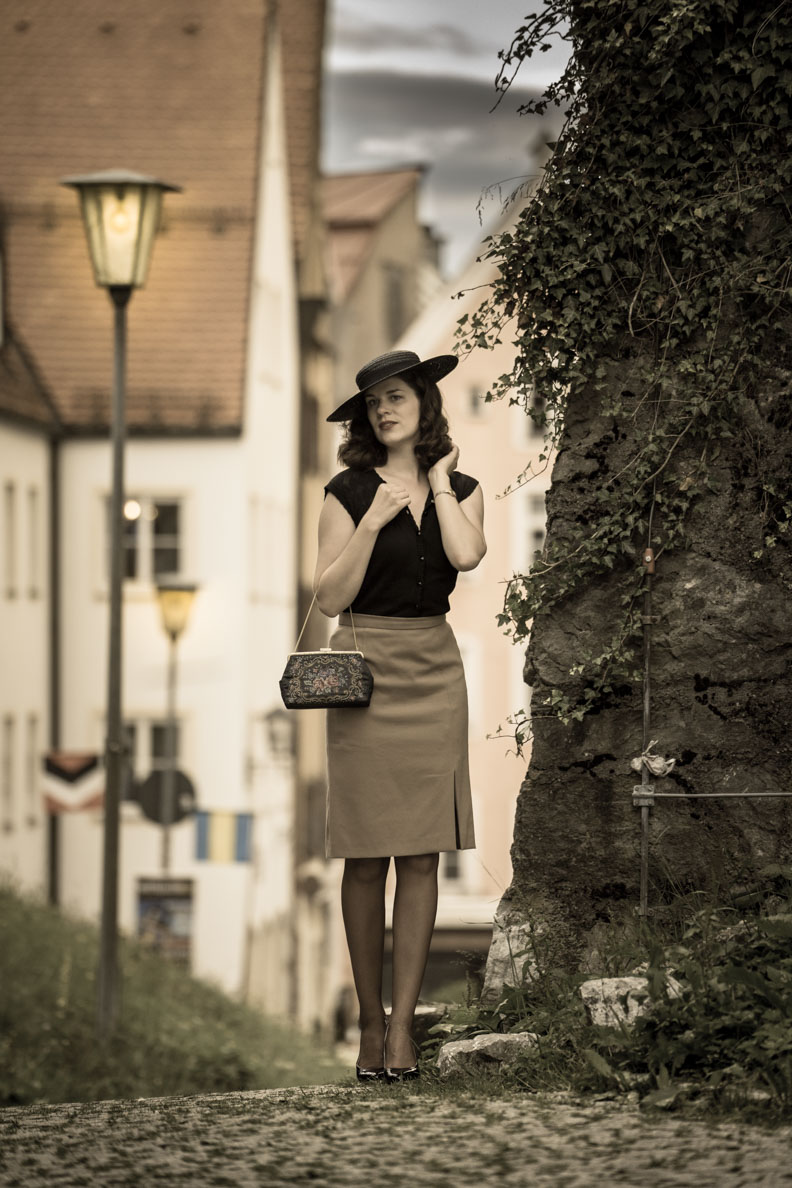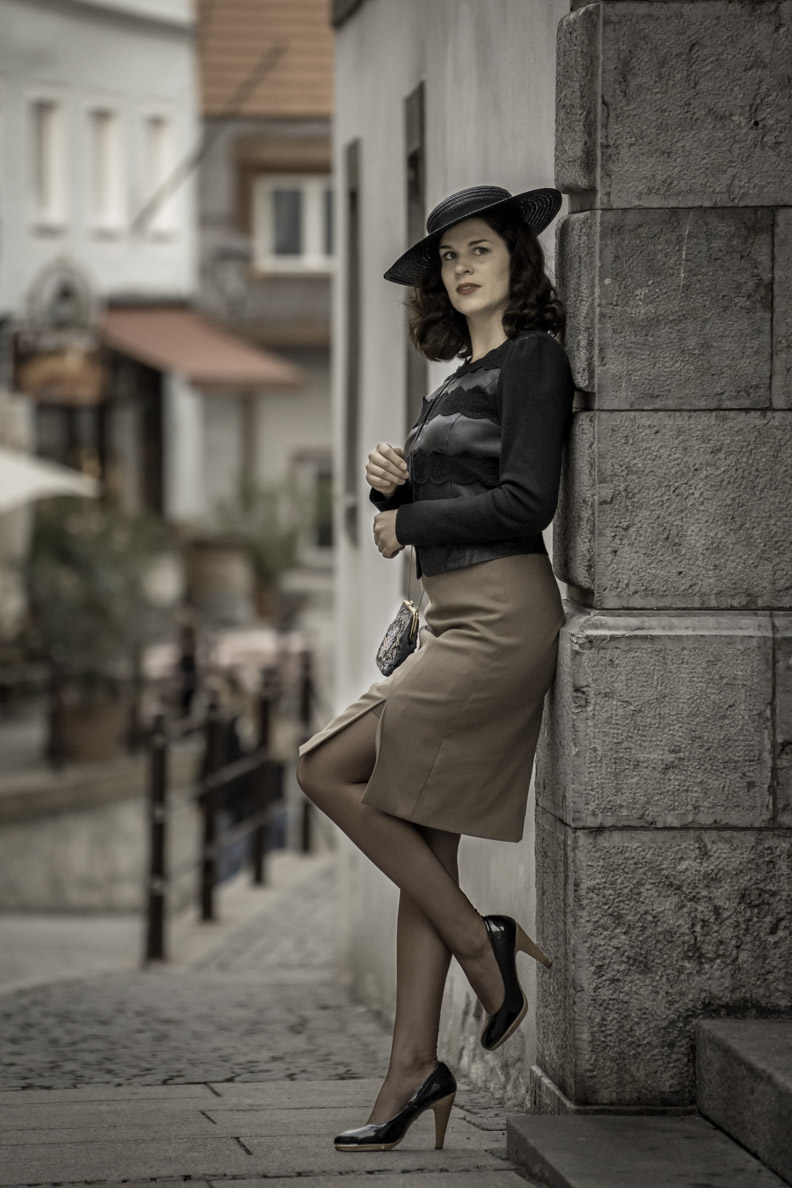 ---
A 40s Outfit with seamed Stockings – the Details:
Elegance French Heel Stockings: c/o Secrets in Lace Europe (also available at SecretsinLace.com)
Pencil skirt: old, but similar here
Cardi Front Ajour Franny: c/o King Louie
Blazer: old, but similar here
Hat: Vintage via Tricia Leonhard Vintage, similar here
Handbag: Vintage, similar here
Pumps: Buffalo, similar here
---